Discussion Starter
•
#1
•
As some of you know and have seen in the past, for the past 3 years I have been dedicating a large part of my archery season to helping youth hunters that dont typically get out in the woods much. This year, my first mentored youth hunter is a 16 year old named Austin. Austin was not raised on hunting, and really has had a lack of anyone to take him. However he has remained passionate and persistent about the sport, particularly archery. He bought a bow from a friend and archery hunted a day or two last year without seeing a deer. We have been shooting together for the past several weeks, making trips into the woods together, and preparing for the season.
I put him in one of my best "see lots of deer" stands yesterday afternoon around 4:30, and sat with him to film as I often do. I climbed into the tree first to get in the camera stand, and before I reached the top of the sticks, I noticed two bucks already feeding in a small clear cut less than 40 yards from us. I urged him to climb up quickly and quietly, get his safety vest hooked, and pull up his bow. Meanwhile, I was getting the camera set up, and the bucks were working their way closer. Within 5 minutes, the bigger of the two had reached 30 yards, and turned broadside. He was comfortable with the shot, drew, and released an arrow. It found its mark, but hit back. I reviewed the film, and could clearly see it was guts. With it beginning to rain, and heavy rain in the forecast, we made a quick search for blood to find his general direction, and backed out.
We returned at 9am this morning with some help, and spread out to search the area. I knew the buck was headed for a small creek, and within 10 minutes, Austin stumbled upon him right in it. We ended up with a happy ending to an unbelieveable (and fast) hunt, and he was blessed with a beautiful young 6 point. More importantly, we made a memory neither of us will ever forget, and the addiction has been passed along once again to the next generation.
Austin's 6pt Killed October 1, 2011 at 4:45 pm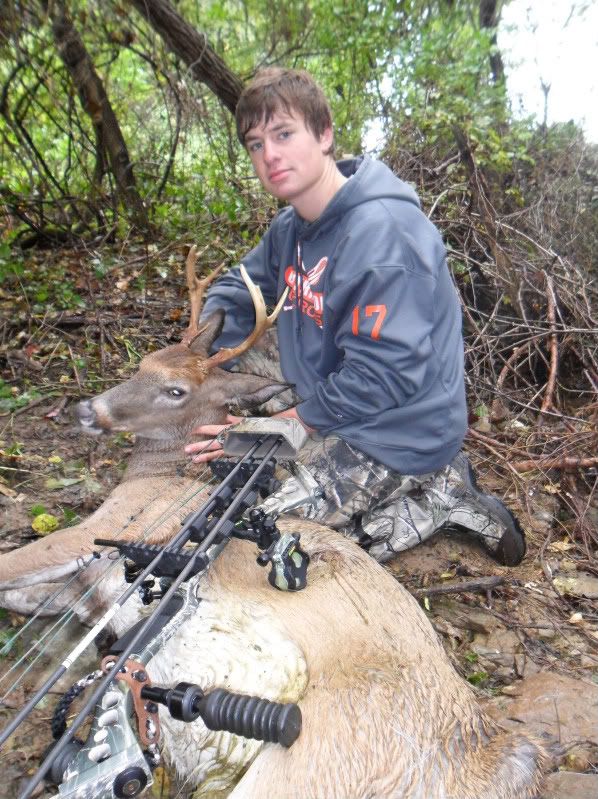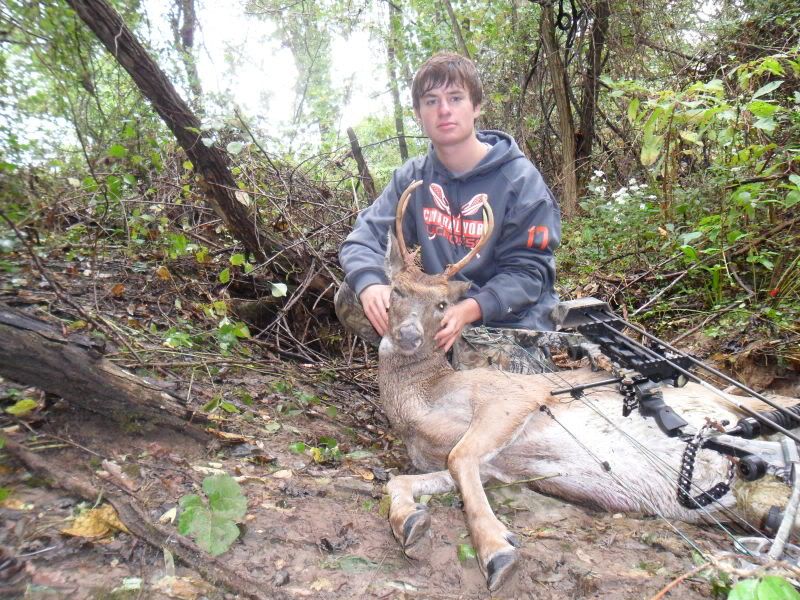 I will be posting the video after it is edited on my blog. I will create a new thread with a link, hopefully by the end of the week!