Winter Trout Fishing​
Last year, I opened the new year by fishing on New Year's Day. That didn't happen this year, but I was able to open my trout fishing year the next day. My original intent was to wait another day because the overnight low air temperature was supposed to be much warmer, but fairly heavy rain was also forecast. With the streams already being high, I knew that even a moderate rain would render them unfishable.
I headed to a popular stream but thankfully, the section where I wanted to start had no vehicles parked there. On my first cast of 2022, I caught a trout. Wading in, my thought was, "No way two straight years open with a trout on the first cast." While retrieving my spinner on my opening cast, a trout struck. A 13 ½ inch wild brown on the first cast! Some anglers consider a trout on the first cast to be bad luck, but I never understood that. I never heard of a basketball player hope they missed their first shot because it was bad luck. It's customary to take a picture of my first trout of the year, so here it is.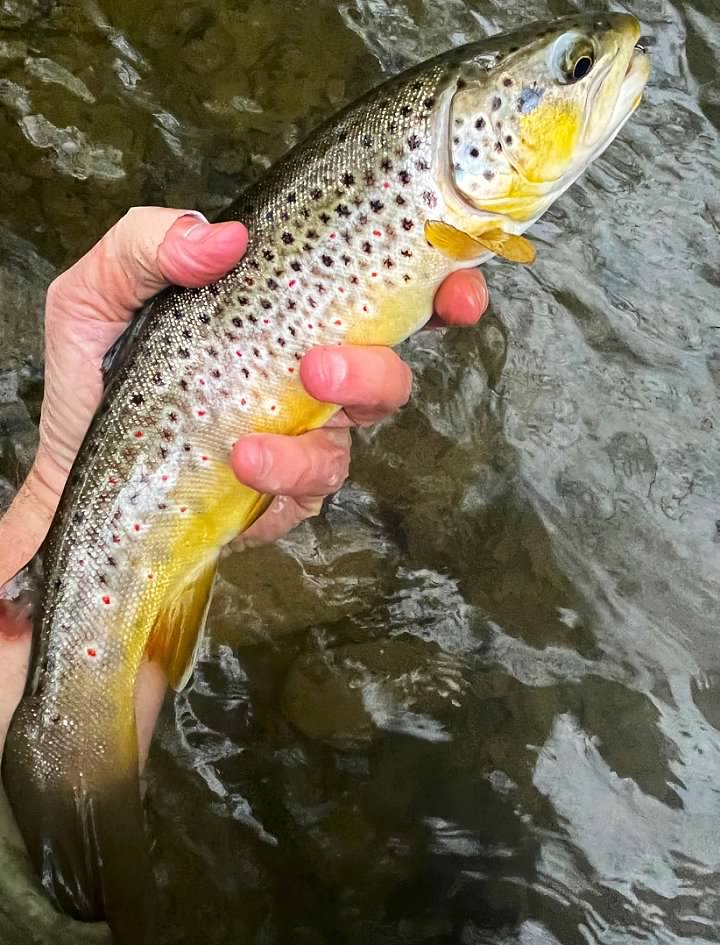 As is often the case after catching my first trout, I took the water temperature, which was 45 degrees. A short time later, a small trout followed without hitting. Then another 13 ½ incher struck. The next trout was a 7 ½ inch brown. Moving up into a deep pool formed by a split, a small brown followed without hitting. After a few casts, I switched to a plug to see if it would entice a larger trout to strike. It did! A very nice 15 ¼ inch brown came to hand. It's not a very good picture, but it was an excellent fish.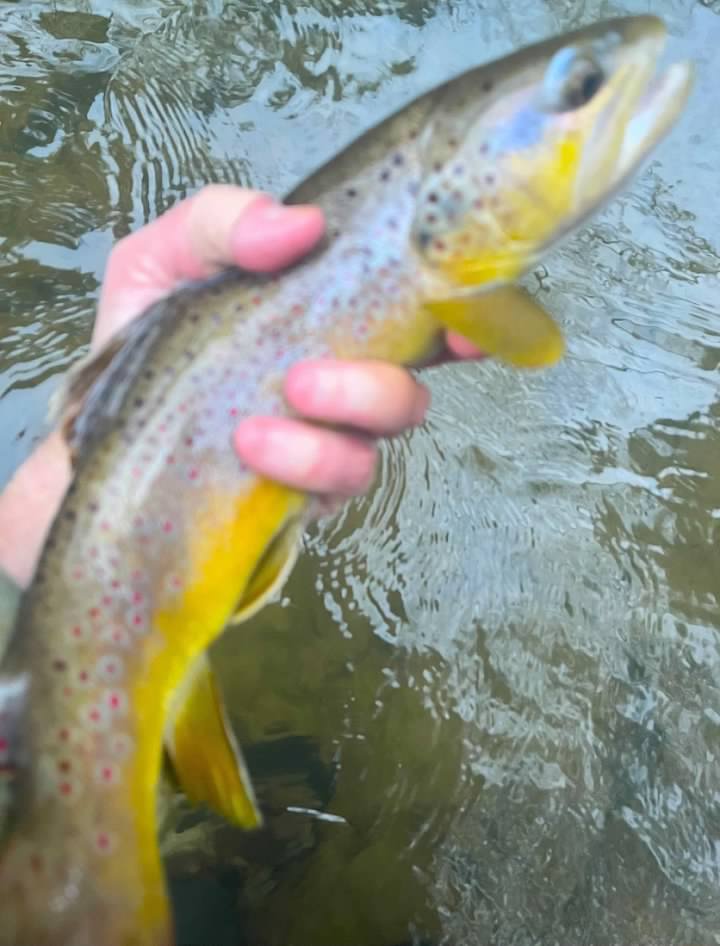 The next hour yielded no trout and only a couple of follows. The stream level was up and I had to walk around several fast flowing sections. Finally, the lull ended and browns of 13 and 11 inches were released. Again, it was necessary to walk around some fast flowing water. During the other seasons of the year, I would have fished it, but not when the water is in the mid 40s.
The action started to pick up and browns of 9, 15, 10, and 12 inches were added before enduring another lull. Further upstream, a third 15 inch brown came to hand, followed by a 13 incher, and a 13 ½ inch brown. Two others followed without hitting. After a few troutless minutes, browns of 11 ½ and 12 ½ inches hit on consecutive casts, my first back to backer of the year. There was a vehicle parked a short distance upstream, so I knew I only had a brief window to add another trout before running into already fished water and having to go to another spot. A 13 incher concluded the fishing in that section.
Driving upstream, I saw two cars along the road, so I continued, was surprised one spot was unoccupied, but decided to see if a favorite spot had anglers. There were two cars there, so I returned to the unoccupied spot. Initially, there was no action of the spinner, so I tried a plug and caught a very nice 14 inch brown. Unfortunately, there was no further action on the plug. I tried to cross the creek, but the heavy current convinced me to walk back downstream and cross in a less hazardous area.
At the tail of a deep pool, a 13 inch brown intercepted my spinner and to my surprise, cleared the water three times. After that, there was no interest in the spinner so I tried the plug again. Several small trout followed it in and struck at the end of the retrieve, but I failed to connect. A heavy brown piled into the plug but I lost it while trying to adjust the drag on my reel. That trout was definitely at least 15 inches and may have surpassed 16, but I'll never know.
A few casts later, an 11 incher was my last trout of the day.
It's always nice to be able to fish early in January, plus you never know when the conditions will be suitable for the next outing. I'd like to fish this week, but after the heavy rain received yesterday, it looks very doubtful.
Overall, I tallied 19 wild browns on the day, with 16 on spinners and 3 on plugs. I lost four trout to boot. The overall average size was good, as it often is in the winter. It was aided by the use of a larger spinner and a 2 ¾ inch plug. Three of the trout were at least 15 inches, with the largest at 15 ¼ inches. I walked 6.2 miles during the day.