Discussion Starter
•
#1
•
We had big plans on going to the lake and trolling, but our plans were ended quickly when we got to the lake and it was about 80% covered with ice!! Lol. Guess I should have checked first. It was up about 6', so it was off to plan B. A place I knew from the past, when the lake is up the trout school there.
We started unloading, and it didn't fail. One idiot always has to come around. He pulls up, and with a snooty attitude says "you do know you can't fish here until next Saturday, right"? I smiled at him and continued on. He gets louder and meaner, "hey, you can't fish here today"! I turned around, at this point he is lucky kids are with me. I say "what part do you want me to correct you on??" Then I say "you aren't only wrong in one aspect, but you are wrong TWICE. First off, this water is approved trout water open to YEAR ROUND FISHING. Second, it is MY trout day". He tells me I am wrong, so I pulled my phone out and showed him. He says "oh, I made those people down there leave". I said he was a great person and walked away. This is kind of like following people legally fishing the SE MY trying to police whether or not they catch the goldens legally, and harassing them while they lawfully fish....
Upon arrival with my 12yr old niece and 5yr old daughter it was a murky green/tan color, which I thought was perfect. Powerbait was the theme for most of the day. They love putting it on, and it just plain works. Nice easy spot to fish for the kids, as the casts are only 10' Or so. It was instant, as soon as it hit the water on the first cast they caught fish. Only about 15 minutes in, my kids rod starts to bend and the drag starts going. She picks it up and I see the colored monster swirl on top and immediately take her into the brush. My niece grabs the pole with her and somehow they get it out using just a 4lb leader. They fight it for a few minutes, and now it's my turn to land it. They get it to the bank three times and I kept dropping it!! Lol. Finally I grab it and pick it up. A beautiful 22", 4lb 4oz hooked jaw golden!! What a start!!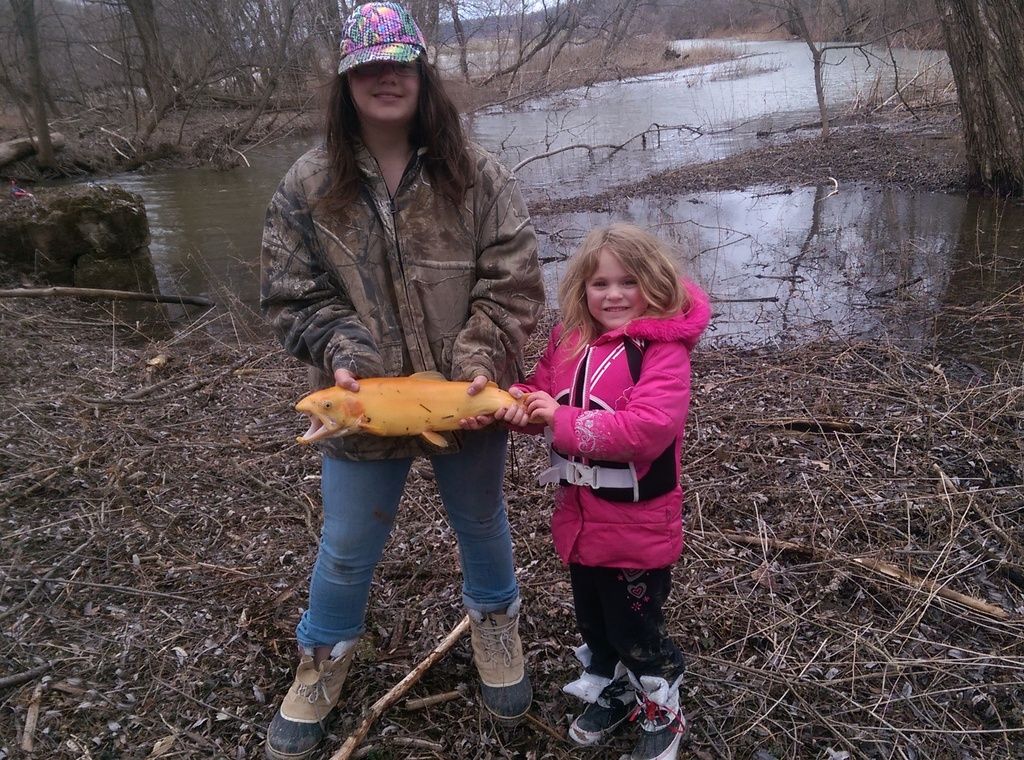 There was no telling them it wasn't coming home.
Doubles were the theme for the day. It was hook up after hook up all day.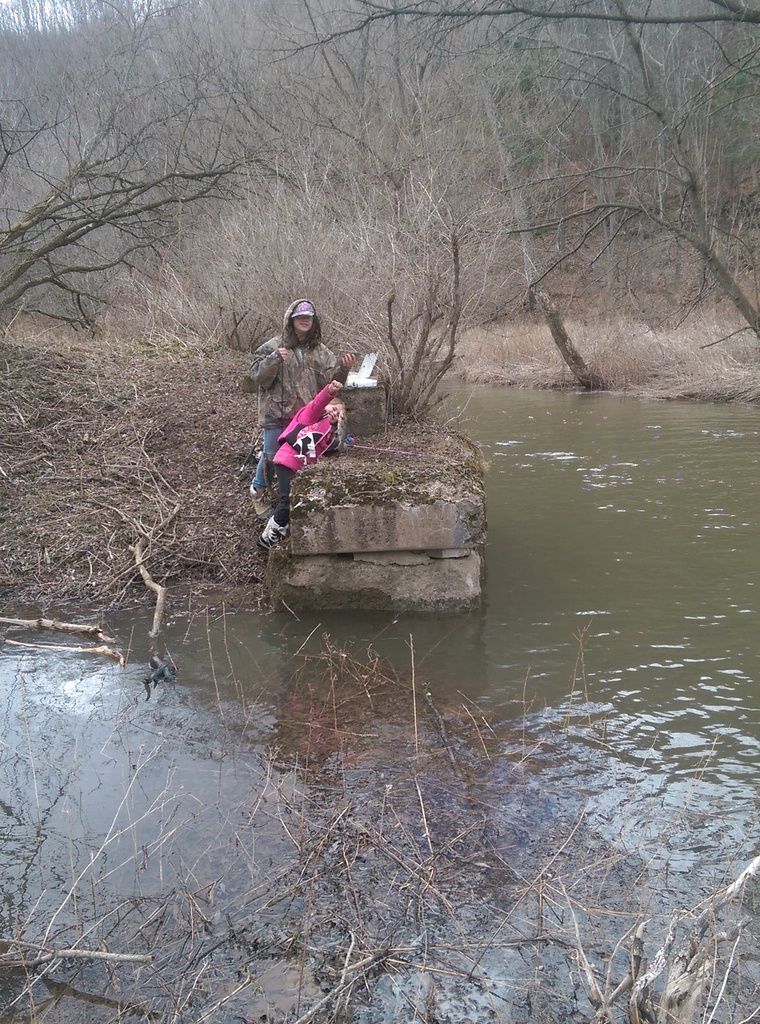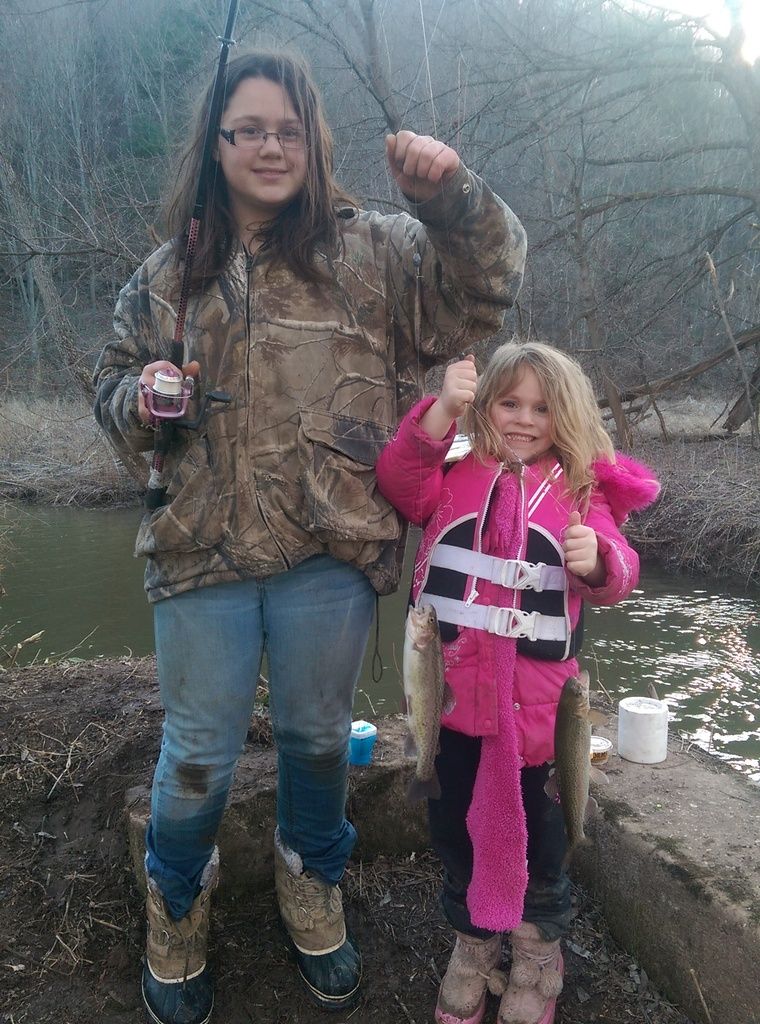 I couldn't believe how many brookies they caught, as this lake is stocked with rainbows.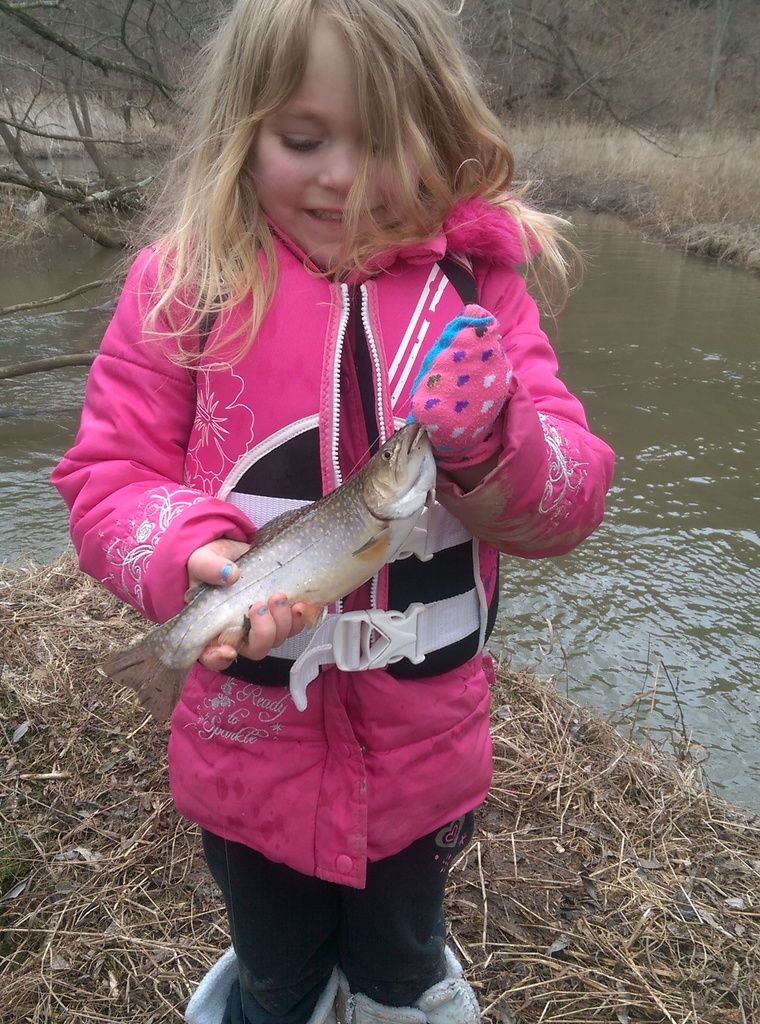 Then, the unthinkable. My daughter's pole starts thumping again, she pulls up and start fighting and obviously bigger fish. It swirls. ANOTHER golden!! This one only came in at 17 1/2" though. It was hooked deep and bleeding badly. While I don't know if my daughter would have willingly released it, it didn't matter. It would have died anyway.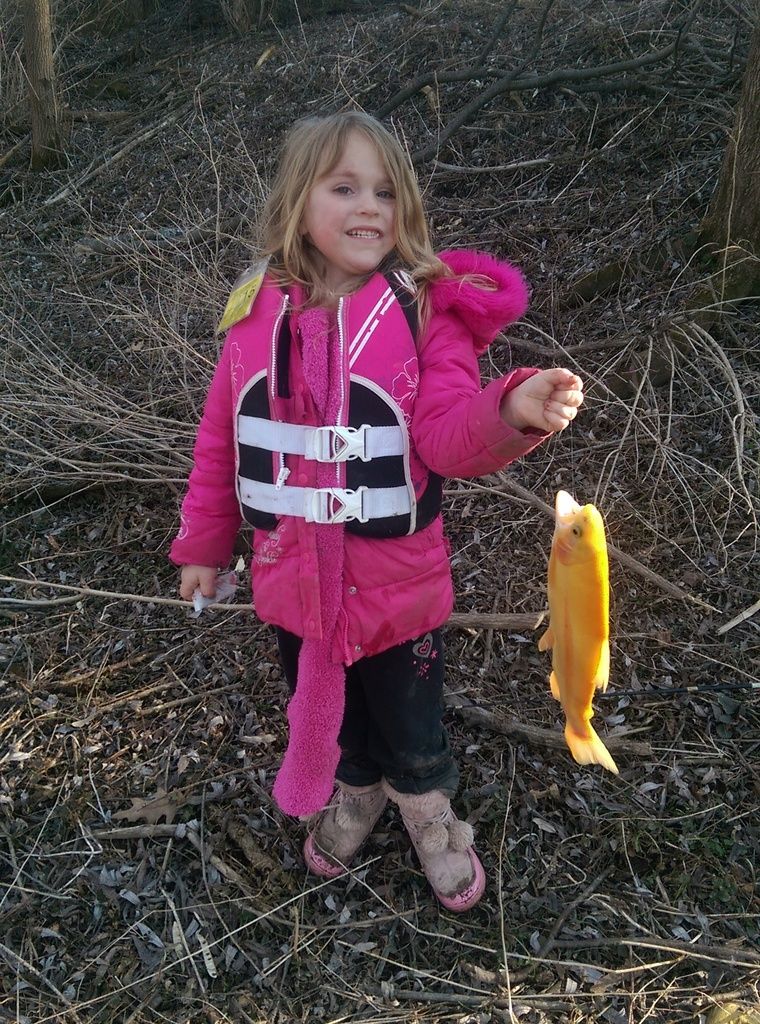 Here are a couple of more pics of some of the rainbows. They lost two bows well over 20" as well.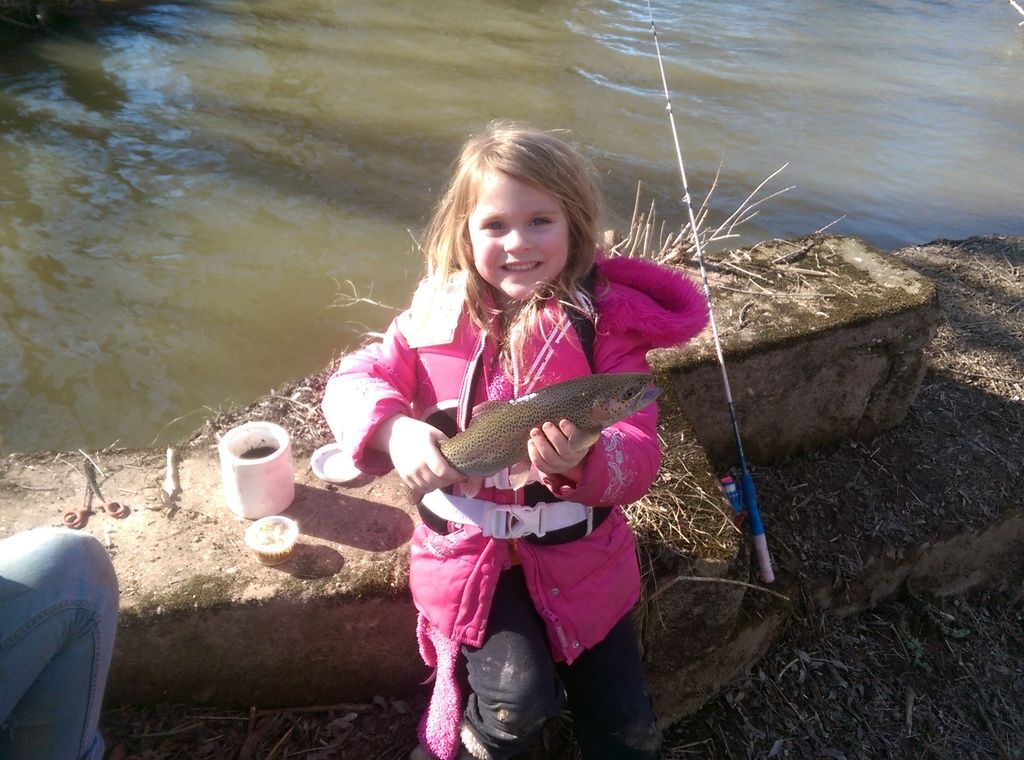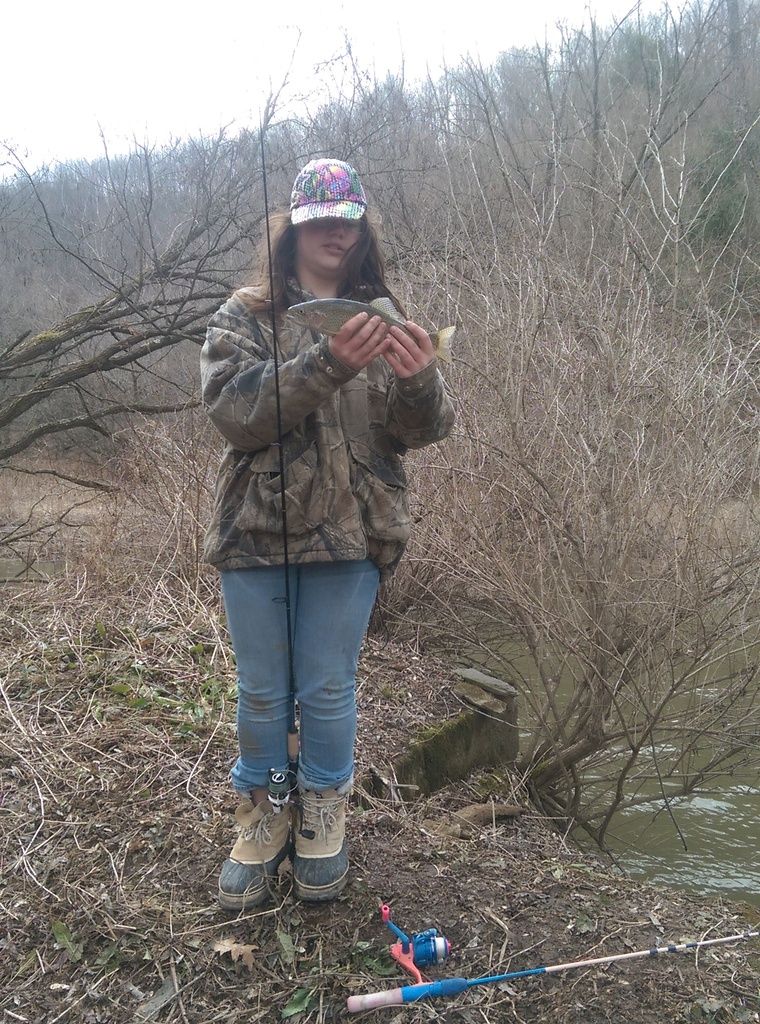 Their last one of the day.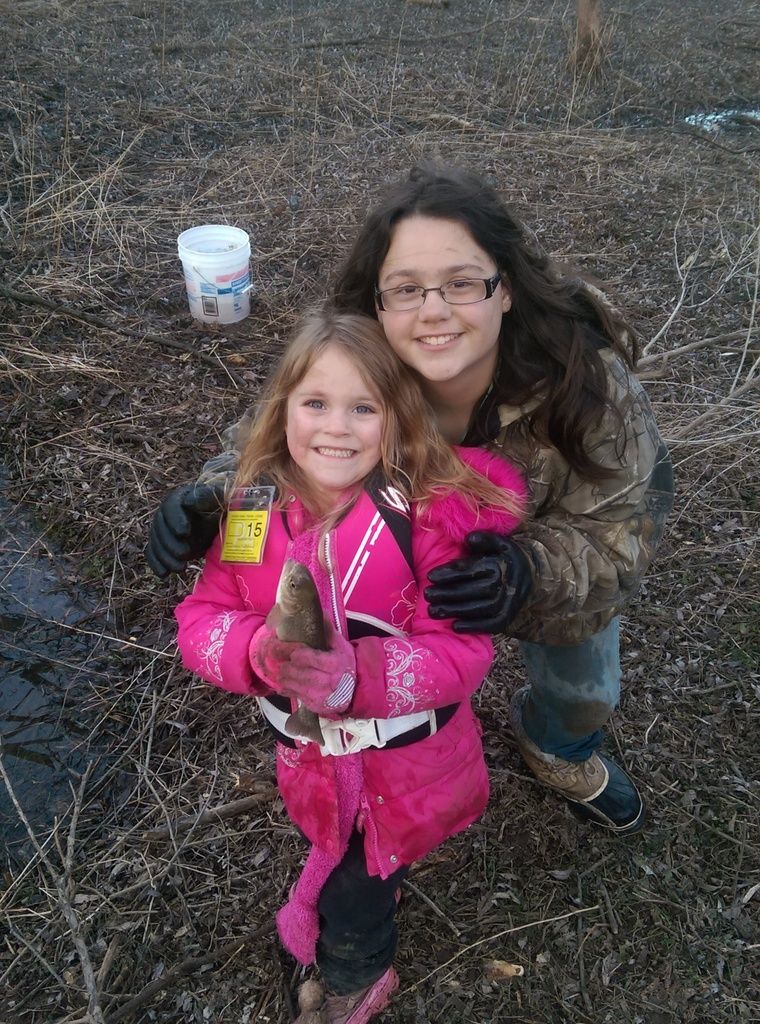 After a full day of fishing we went through 3 jars of powerbait, a container of butter worms and night crawlers, a few spinners, and a bunch of hooks, they had landed well over 100 fish. I also caught 14 tossing spinners on the walk back out. Saw three other groups fishing. One mom with two kids and two dad's with two kids each. Guess they didn't get the memo to have 15 adults fishing with each kid, and have them fight over fish.
What an awesome day with two amazing kids!!!! Thank you PFBC for allowing this low pressure day for these kids to practice, learn and just plain have fun!!