Discussion Starter
·
#1
·
I'll get on the post parade today with everyone else.
I took an opportunity to snatch a 4 day weekend this past weekend. My son had a large soccer tourny Sat and Sun so I didn't plan to fish either one of those days and decided that I'd go Friday and Monday instead. What I didn't know was that the weather was going to throw me all sorts of loops over those two days.
Thursday evening, as usual, saw me posted up at my desk pining over data on where to fish Friday AM. Area streams were very very low but my low water spots weren't really low enough. I was caught in the middle with no optimal options. After about an hour I decided to risk fishing a little higher water than I wanted to and off to bed I went rather excited. BOOOM! at 3:44 I woke to the crack of thunder and immediately knew i was in trouble. After sitting in 1.5 hours of stand still accident traffic in the pre-dawn hours I finally arrived at the stream and confirmed my fears. Chocolate milk!
Boy was I in a pickle. Streams weren't really elevated at all. Just muddy. I was also pretty far from reasonable alternates but I figured a idea real quick and headed for plan B!
When I arrived to this headwater stream I was grateful for what I saw. Water levels were in good shape. Being that it was 7:40 in the morning and WAAAAAY later then I would normally start, I was in a hurry. I geared up and got rolling.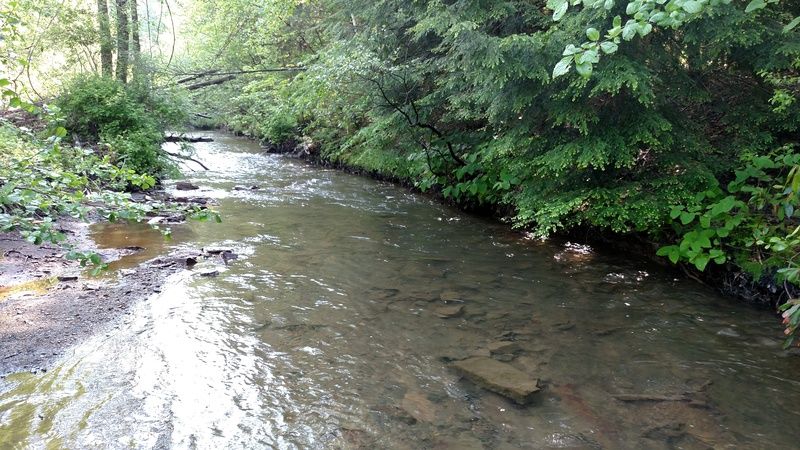 This stream has a thriving population of native brook trout, some of which get pretty large by brook trout standards.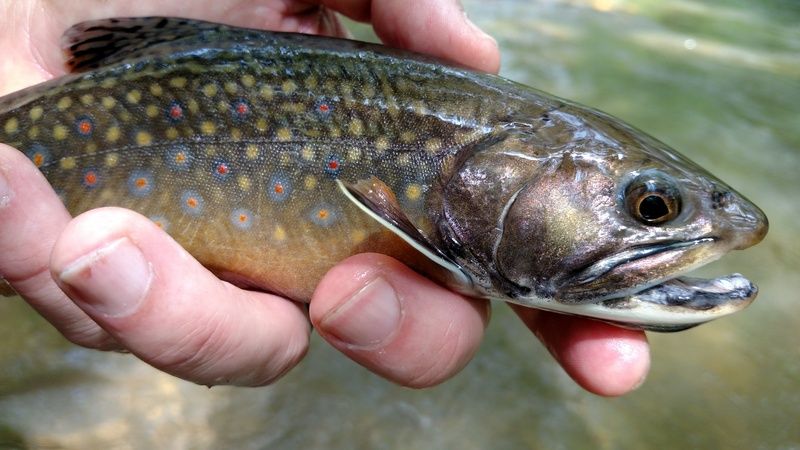 I caught quite a few native brookies in the 11-12" range throughout the AM and also a pesky 13" that shook out of my hand before the pic happened (which, of course, means it never happened at all haha). I even managed a few heavy browns from some of the better pools although they are few and far between in this stream.
The hot humid weather contrasted greatly with the 58 degree stream while fishing through a dimmly lite hemlock grove.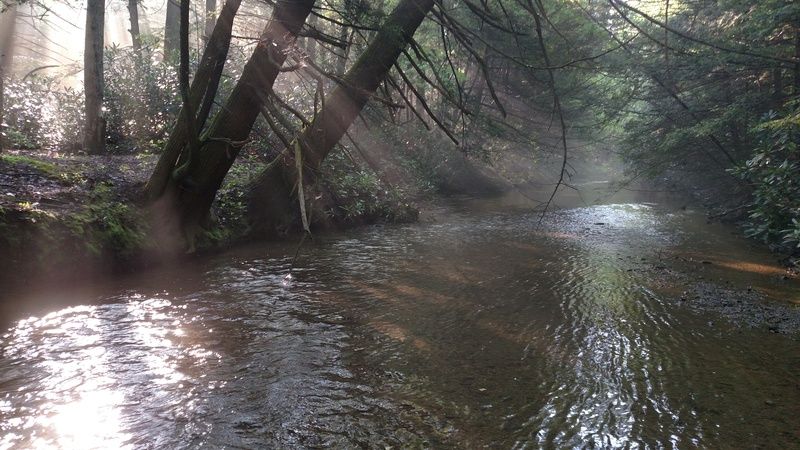 Near the end of the trip I landed this beast. I wished him luck in the future and asked to see him again in about 6 years!
I forgot my bike at home so I had to walk back on the steaming pavement. I fished much later than normal due to the late start so it was peak heat for the day. I really missed the cool breeze of that bike. The fact that I caught an awful lot of pretty trout help though. It was the walk of victory in overcoming a tough start!
The weekend went well with my kid's team winning the Ukranian National Memorial Day Tourny. Pretty cool event. After that on Sunday afternoon the kids and I took the new members of the family out for some fun in the yard!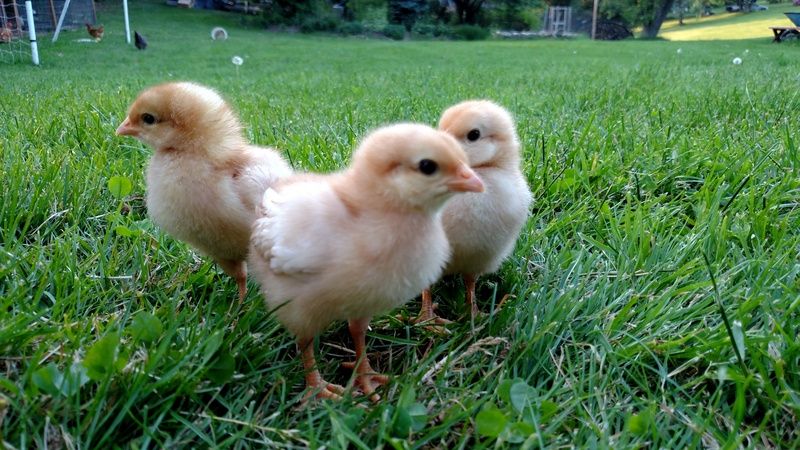 But soon it was back to planning for Monday AM. With the tropical depression spinning off the Carolina coast I knew that whatever I chose Sunday night was gonna change so I set the alarm 15 minutes earlier to give me time to contemplate. The rain did come down good Sunday night and I was off to 'storm chase' like Ive done so many time before. Since the storm was rather isolated I was really just taking an experienced guess so I drove. Stream #1....blown out. Stream #1......blown out. Stream #3 .....Blown out. Stream #4.....Flowing nice but muddy. UGH! I was not very good at the guessing game on Monday. I'd been in the truck for 2 hours and had yet to find a place to settle. With that I retreated towards home and finally found a place to fish and boy did I ever! While the stream was still low it was a little stained and the trout were out and I mean really out.
The trout were absolutely ferocious and action was intense to the point that my fingers started to hurt torwards the end from being wet all day and then grinding against trout teeth. My left hand was soaked for hours on end. Never had time to dry between catch and releases. Some of the trout were very cool looking.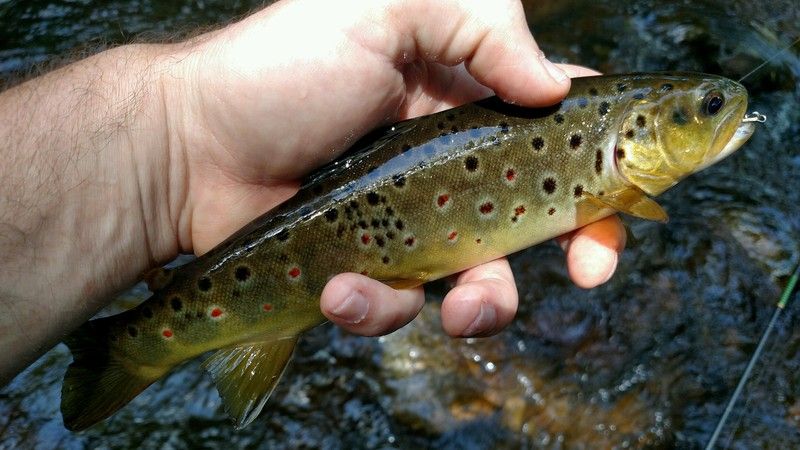 Note the cluster of spots on this one. I've never seen that before.
Bright red spots and a little worminess to this wild one.
And not many spots at all on this one.
As I kept going so did the creek. It never got smaller or less interesting.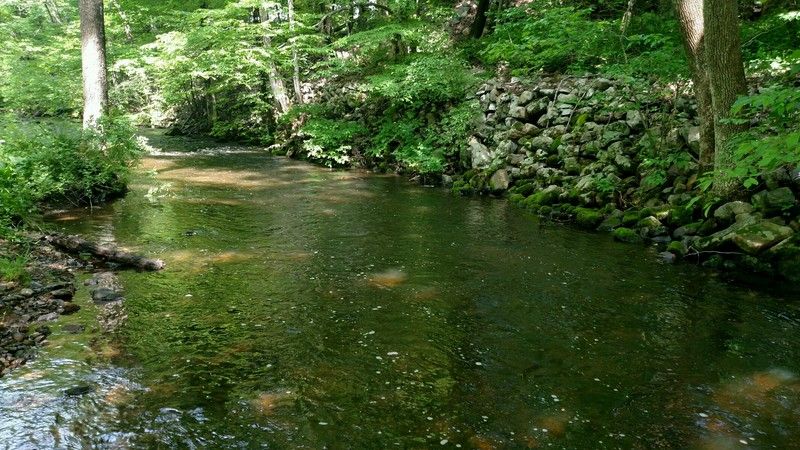 and the fishing remained equally as good.
No matter how much I knew I needed to leave to get a turkey breast on the smoker I just couldn't pull myself away. I caught myself at one point mutter 'this is awesome' under my breath as I was hopping from pool to pool raking multiple trout from each spot and missing many others. The number of trout coming to hand was crazy.
Eventually though, I came to a spot where I finally couldn't seen another peice of attractive habitat in front of me. I knew better, that right around the next bend would be more great water and I was catching trout from shallow riffles anyhow but it was time to go. I had to. So I pryed myself from the stream and left. Brutal haha!
And so ended another Memorial Day fishing weekend. Just something about holiday fishing. I'm very lucky on holidays even when mother nature does everything she can to make it not so.