Discussion Starter
•
#1
•
Each year thankfully there are more and more organizations hosting and participating in youth pheasant hunts where they introduce young hunters to the special treat of hunting over some find bird dogs. That is great and I hope even more get involved in introducing kids to hunting, and especially pheasant hunting over dogs in the future but there is another group out there that could really benefit from similar hunting opportunities.
The past couple years our Pheasants Forever Chapter, Chapter 630, has teamed up with the National Wild Turkey Federation and some of the local Veteran's Organizations to host a Veteran's pheasant hunt. Last year we held the hunt on Veteran's Day but discovered that many of the Veterans we wanted to attract for the event were involved in other Veteran events on Veteran's Day. So, this year we decided to hold the event the day after true Veteran's Day.
Today we had forty Veteran hunters show up to hunt over our dogs. We had sixteen dog handlers, many of who took a day off work to come out and hunt with one of our nation's veterans. Though it was cold with snow and bad roads it was still a very enjoyable day with many new friendships developed. Most of the Veterans even harvested a pheasant or two as well as a number of the chukar we stocked for the event.
I would highly recommend other groups get involved in hosting a mentored hunt for our nation's veterans. What better way to observe Veteran's Day than by taking Vets on a hunt? It is not only a rewarding day for the Veterans but also for the many volunteers who put the hunt together.
Below are a couple of pictures from today's hunt.
First are the two brothers, both Vets, who I had on my second hunt of the day with my dog, Boomer, and I.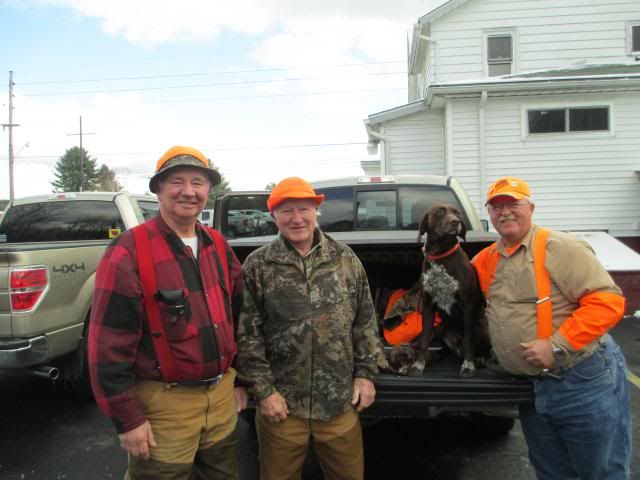 The next picture is inside the Marienville Veteran's Club who hosted the group for dinner after the day of hunting.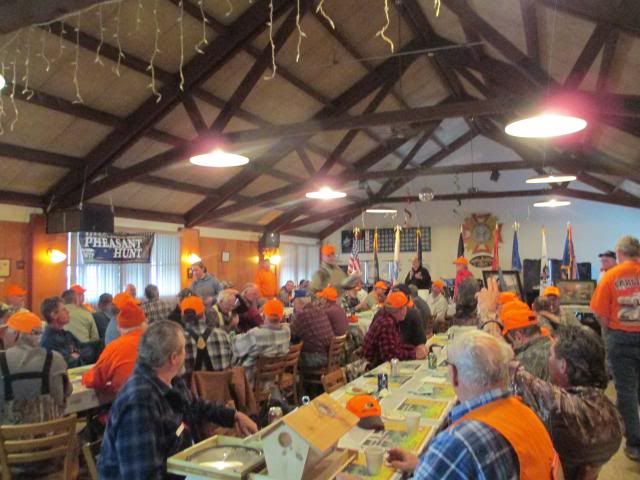 Dick Bodenhorn