Discussion Starter
·
#1
·
Well, my season started out same as every other year with my annual March shed hunting and turkey scouting trips. I located several groups of birds with some good toms in them. I actually saw 12 longbeards in one bachelor group! Things were looking up and I couldn't wait till the season arrived.
April 23rd Youth Day:
This was the first year that I took my son hunting. He is 8 and we had been shooting the .410 all through late winter into early spring and he was pretty good with it. I was apprehensive about how it would go but when I rattled him out of bed at 4:30, he jumped out and was raring to go.
It was a long hike back to where I wanted to go but he was a trooper and plodded along with me with no complaints. I anticipated the birds to be roosted on a slight ridge on the opposite side of the field and sure enough 2 sounded off just as I was getting the decoy set out. We got set up against a good tree and we're getting settled in when one sounded off no more than 60 yards behind us in a patch of hemlocks. Then another just a little further in. The thick hemlocks kept them hidden from us and is from them. We slowly got eased around the tree and into position without spooking them. They continued to sound off and then a hen opened up. I threw back some tree yelps and they fired back again. We heard the furthest one pitch out of the tree and gobble when he hit the ground. I immediately did a fly down cackle and the closest one pitched out of the tree right towards us. He hit the ground at 40 yards and went right into strut. I hit him with some putts and purrs and he roared back. I could feel my son jump and his breathing increase. I know the feeling buddy! He was inching ever closer to us but we needed to get him to 20 for me to be confident in him taking the shot. He continued to put on a show for us and I couldn't believe that this was going to happen. Well....all of a sudden his girlfriend hit the ground right behind him and started heading in the opposite direction and he followed right behind her. They must have met up with the other gobbler and those two hammered back and forth for about an hour but wouldn't come back. I looked at my son and he had a huge grin on his face and I knew then that he was hooked.
Around 8 I happened to glance over my right shoulder and spot two jakes sneaking in behind us. It was just too open to make a move so I just watched as they came right in to less than 15 yards and hang around for about 10 minutes before losing interest and wandering off. By then my son was getting chilly and we called it a day. And what a day it was! It couldn't have gone any better short of killing a bird!
April 30th Opening Day:
My brother in law was up for the weekend and this was the first time in a long time that he was able to hunt opening day. We decided to hunt a farm that we knew had multiple birds on it with my father in law hitting another good spot across the road. We set up on opposite corners of the field and got settled in. Two birds sounded off directly in front of me, across the corner of the field and things were looking up. I could hear no less than 6 other birds across the road and deeper into the woods from my location. I threw out some tree yelps and the closer bird answered. I then went silenced and waited. He gobbler several more times and then shut up and I knew he was on the ground. I upped the volume of my yelps and he fired back. He was slowly closing the distance and then when silent again. 5 minutes passed with no gobbles and then an owl sounded off right behind me and he boomed just inside the woods. I clucked and purred and he roared again. Suddenly I saw a white head emerge from the treeline and he went into strut. He put on a show for a few minutes and threw in a couple gobbles for good measure. He worked his way within 30 yards and I dropped the hammer on him.
6:20
20 lbs
8" beard
13/16" spurs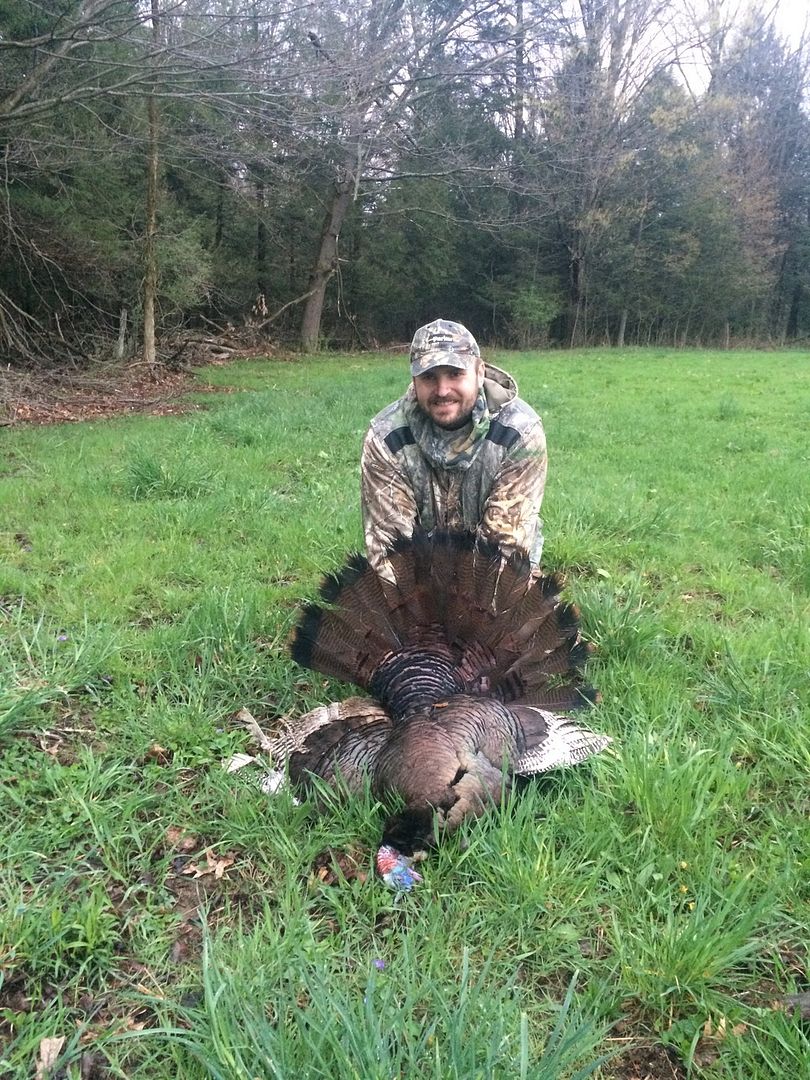 It was a little wet that morning so the in the field shot wasn't the greatest...
As I was tagging him, we could still hear them gobbling across the road where my father in law was and then BOOM. We figured it had to be him doing the shooting. I secured my bird and told my brother in law we should go after the other one that we heard gobbling deeper in the woods. We worked our way down to the creek bottom and I got him set up about 30 yards in front of me and I ducked down behind a huge stump. I just hit the call for the first time and I heard a band of jakes fire back just across the creek. I couldn't see what was going on but I just kept clucking and putting as they closed the distance. The last time they gobbled I figured they had to be right on top of him and I waited for the shot. BOOM! I jumped up and we ran to the creek bank to find his jake piled up at the bottom. We high fived and shook hands and started down the bank and I stumbled right over a nice shed laying there. Bonus!
8:15
15 lbs
3" beard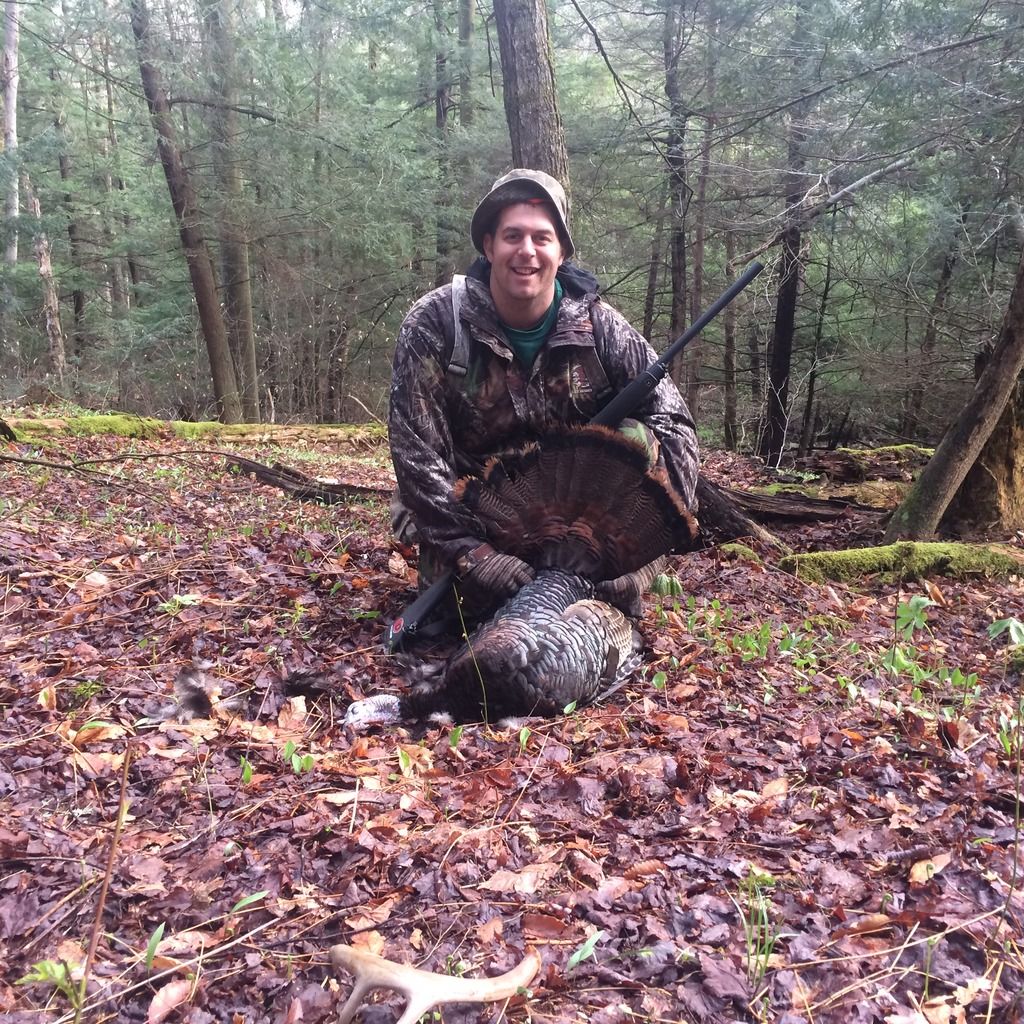 We got back to my father in law's house around 10 to see his jake hanging in the tree. We managed to go 3 for 3 on opening day for the first time ever. His went 16 lbs with a 5" beard.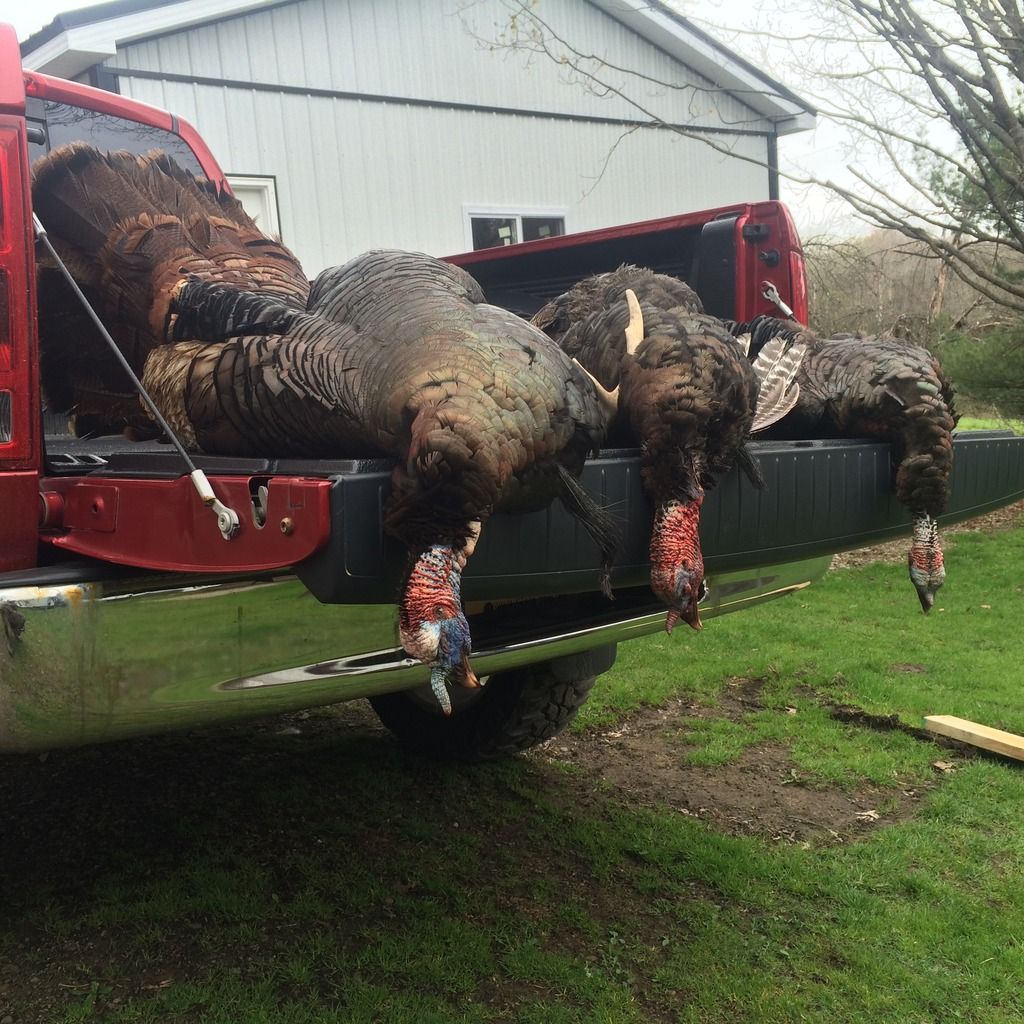 May 7th:
Took my dad out and got set up were I was for the youth day. They were roosted in the same spot and started making their way to us right after fly down. They circled around and into the edge of the field so I got spun around the tree and ready. Suddenly a hen came into view 20 yards out working the edge of the field. I saw another behind her and tightened my grip. She turned right toward me and came within 3 yards of me as she passed. Then 3 jakes stepped into the woods in tow. They got within 5 yards of me before they all turned and headed back out to the field. Exciting morning but not what we were looking for. We stayed till 11 and never heard another gobble. Got a text from my uncle that he killed one behind his house.
17.5 lbs
12 1/2" beard
1 1/8" spurs
May 11th:
Got a text at work from my wife that my father in law had filled his second tag.
6:15
20 lbs
8" beard
3/4" Spurs
May 14th:
Went solo as my dad couldn't make it out. Went back after the birds that we had been chasing since the youth day and sure enough they were in the same spot. Strangely enough the only gobbles I heard in the tree were jakes. A few other birds sounded off in the distance but nothing very close. I never heard them fly down but before long I heard loud yelping off to my right. I should have been able to see it but I couldn't. All went silent for a half hour when all of a sudden I caught movement about 70 yards away, directly in front of me. Hen, hen, strutter, hen, strutter, strutter, hen, jake, jake, jake. I hit the call and all 3 strutters boomed back. But they weren't interested in me with the real thing surrounding them. They crossed over onto posted land and out into a pasture where I watched them strut and gobble for hours before heading into the woods on the other side. Heavy rain was moving in so I backed out of there and decided I would come back when the rain ended and see if I could fire anything up. I was headed back out at 10:30 and by 11 I had 4 jakes in my lap that wouldn't leave until 5 minutes to 12. I snuck out and started to unload my gun when all of a sudden it jammed. It took me a minute to figure out what was going on but then I saw that the ejector spring was broken. Well, good thing the hint was over. My back up gun is another 870 Super Mag that I won at a raffle. I had never hunted with it before so I got it ready for its maiden voyage. I swapped my choke tube and was good to go for the first week of afternoon hunting.
May 16th:
I knew where these turkeys were roosting and where they were hanging out during the day so as soon as I got home from work, I headed out. I made the long loop to stay well away from the field to get to where I wanted to set up. I finally got to the corner of the wood lot where I wanted to be and cut loudly to see if I could illicit a gobble. Nothing. I took 2 more steps and heard it. I wasn't sure exactly where it was so I called again and he boomed close this time. I immediately dropped down at the nearest tree and had just gotten my facemask pulled up when 3 jakes popped into view at the field edge. I was about 25 yards from the edge and watched them walk through in front of me, yelping as they went. I thought to myself that it couldn't have been them that gobbled when I heard another one out in the field. The jakes turned and headed back out and suddenly a hen came into view with a full fan behind her. I called softly and she answered and he gobbled again. She fed her way along the field edge, slowly working away from me and Mr. Tom in tow. They went out of sight for a couple minutes and then I spotted her coming back with gobbler following. 2 more hens appeared and then another strutter and then another. It was the same flock from Saturday for sure. They went back and forth along the treeline for what seemed like forever and I purred and clucked the whole time and lightly scratched the leaves. Finally the lead hen came into the edge of the woods purring up a storm and headed right for me. A second hen followed and then another and another and then a jake and another jake and another. These turkeys were on a path to run me over and were within 10 yards to my left and I wondered where the longbeards had went because these turkeys were bound to spook if they got any closer. Finally I saw him step into the woods at 30 yards, following the same path. He went into a dip and when he stepped up out, BOOM, lights out.
6:30 pm
18 lbs
10" beard
1 3/8" spurs
Excellent bird and awesome way to end my season!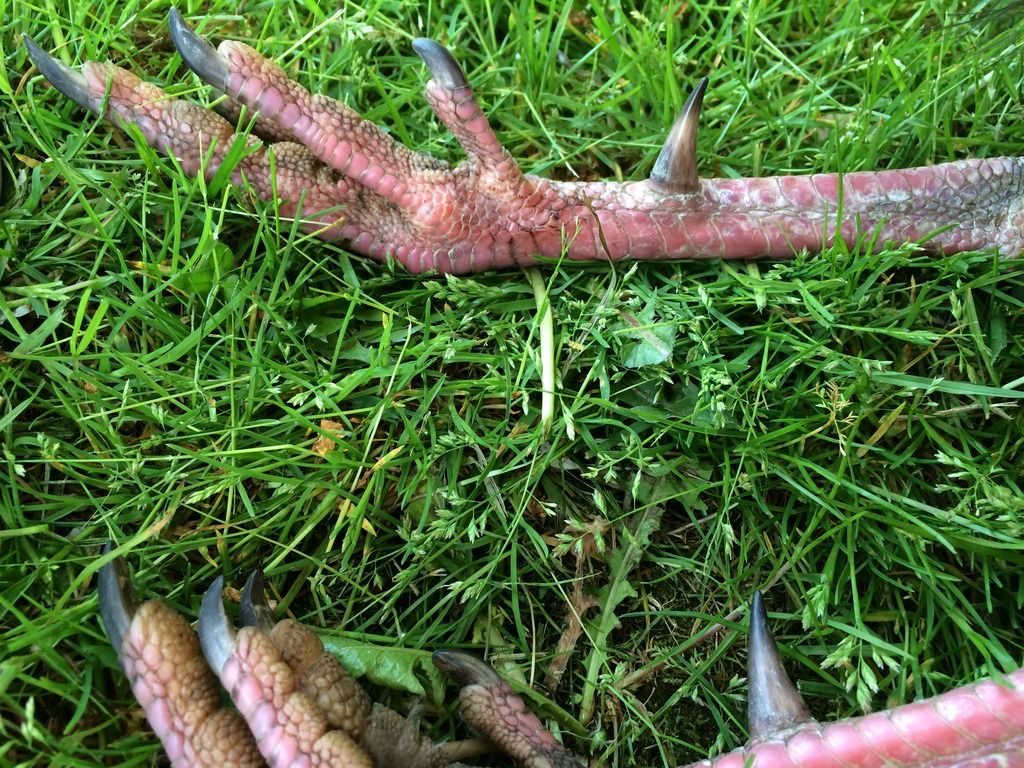 Another amazing season in Penn's Woods!