Discussion Starter
•
#1
•
On March 1st we went to Cameron County to trap and band some more hens for the hen mortality study. I thought some of you might enjoy some of the pictures.
Most of us met in St. Marys at 5:30 am to car pool and head into a Cameron County game lands where the net box and blind were already set up at a site that had been baited for over a week. The birds were hitting everyday and on this day we finally had enough help to attempt a capture.
We arrived in the area of the trap and staged most of the vehicles and helpers about a quarter mile for the trap. BigGuy54 and I gathered the gear we needed and jumped in with Cameron County WCO Wayne Hunt and we drove up a gated road to where the net box and blind were already in place. We quickly connected the rockets to the net, added some fresh bait and BigGuy and I climbed into the blind while WCO Hunt took the vehicle back out to the staging area to await word of a capture.
After connecting the blaster to the wires, attached to the rockets, and getting the little heater going in the blind a check of the watch indicated it was about 0630 and just starting to break dawn. Now all there was to do was settle in, wait and hope the turkeys cooperated.
About 0715 I told Big Guy that I was pretty sure I was hearing some soft turkey talk behind us. Pretty soon we could hear turkeys walking and purring directly behind us. A bit later here they come walking past the blind about four or five yards away. I can see that all seven are jakes and not what we are after. They soon went on down over the hill and out of sight so it is back to waiting. I told Big Guy that it might be a good sign that they were all jakes because it probably meant that the jakes had all split out of the flock and when the others came in they might all be hens and jennies.
Finally about 0915 we started hearing what we again thought was soft turkey talk behind us. Sure enough about ten minutes later we could hear birds close behind us and soon they were once again walking right past us. This time though they were hens and headed toward the bait in front of the net box.
As they were walking past I counted 17 and saw beards on three of them. Two I could tell were bearded hens but the one I wasn't sure if it was a bearded hen or moderately bearded jake. I told Big Guy to go ahead and get a couple pictures while we waited to see if more birds were still coming.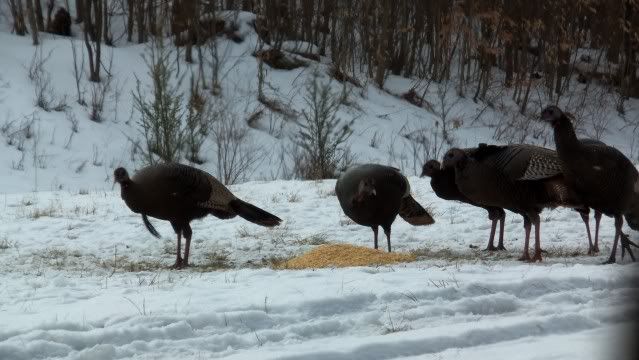 After a few minutes of waiting for more hens to arrive and not seeing or hearing any more I decided to launch the net. It was a good launch and we caught all 17 under the net but as we were scrambling to get the covers out of the box and up to the struggling birds we watch one bird escape from the net and take off. At that point the crews at the staging area started pouring in to help cover birds. We cover them to help settle them down, remove some of the capture stress and to keep them a little warmer until we can get them processed. But, the down side is that usually everyone is too busy for picture taking.
But once we had our assembly line set up and eventually got all of the birds out of the net, waiting their turn to get their leg bands a couple the processors got the time to take a few pictures.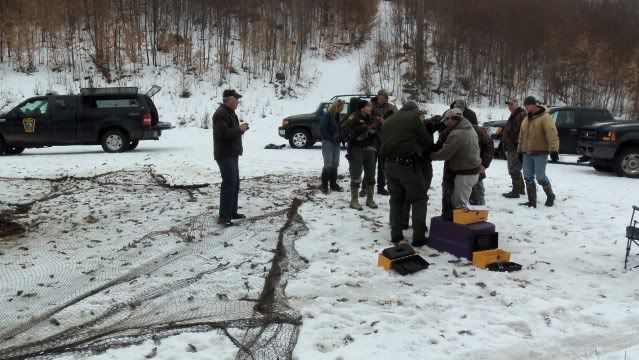 Each turkey gets a band on each leg and then released. Two of the adult hens were also equipped with GPS transmitters so the Biologists will know how far they disperse from the wintering grounds, where they go to nest and also when and where they become a mortality and probably even be able to determine what the cause of mortality was.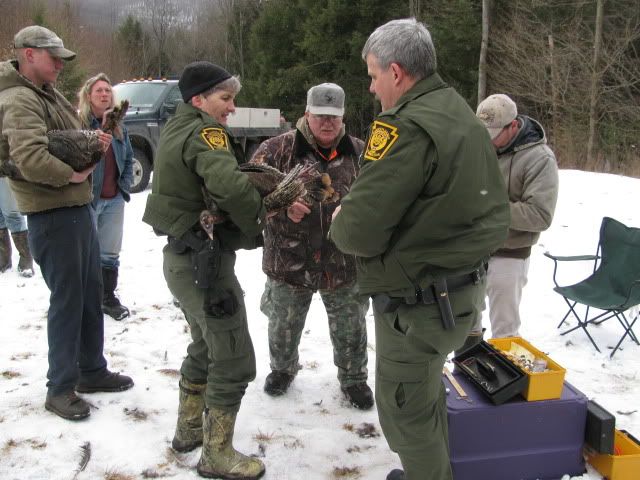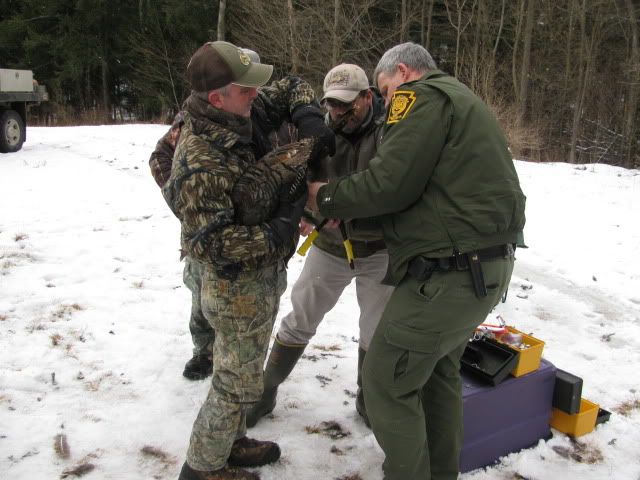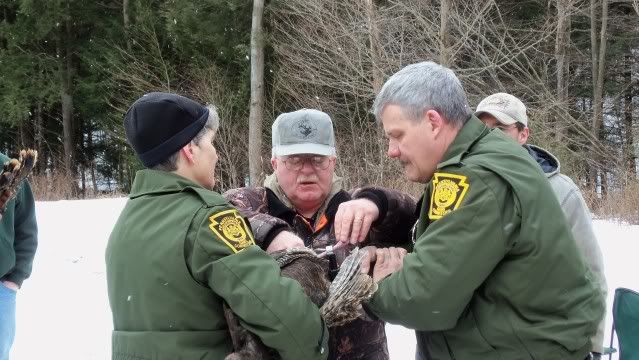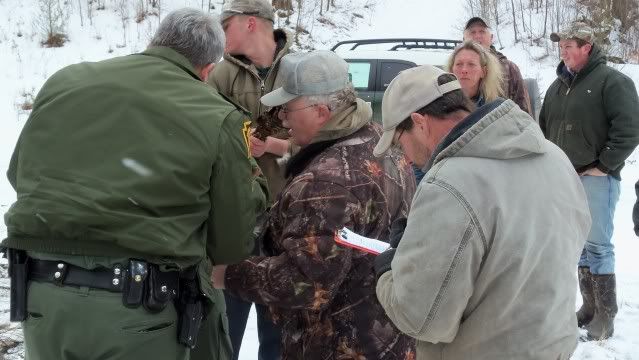 Once they have their bands and/or transmitter and all of the data recorded they are released and off they go.
When all of the birds are processed and on their way, the net repacked and equipment loaded up then we finally had time to get a group photo.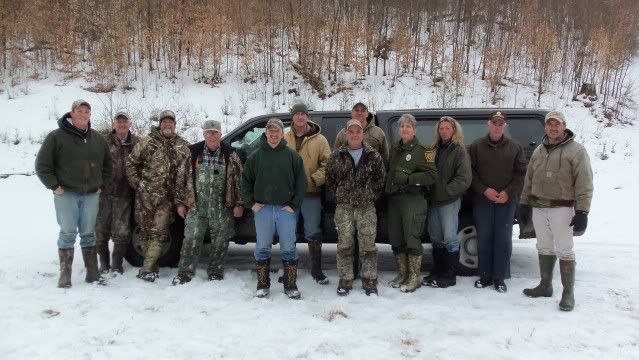 I would like to thank all who volunteered their morning to assist in another successful turkey research project.
Dick Bodenhorn