Discussion Starter
•
#1
•
Hey everyone, somewhat new to trapping my dad has been showing me what to do and what to study as of lately and my cousin has been showing me some of his fox and coyote sets as well.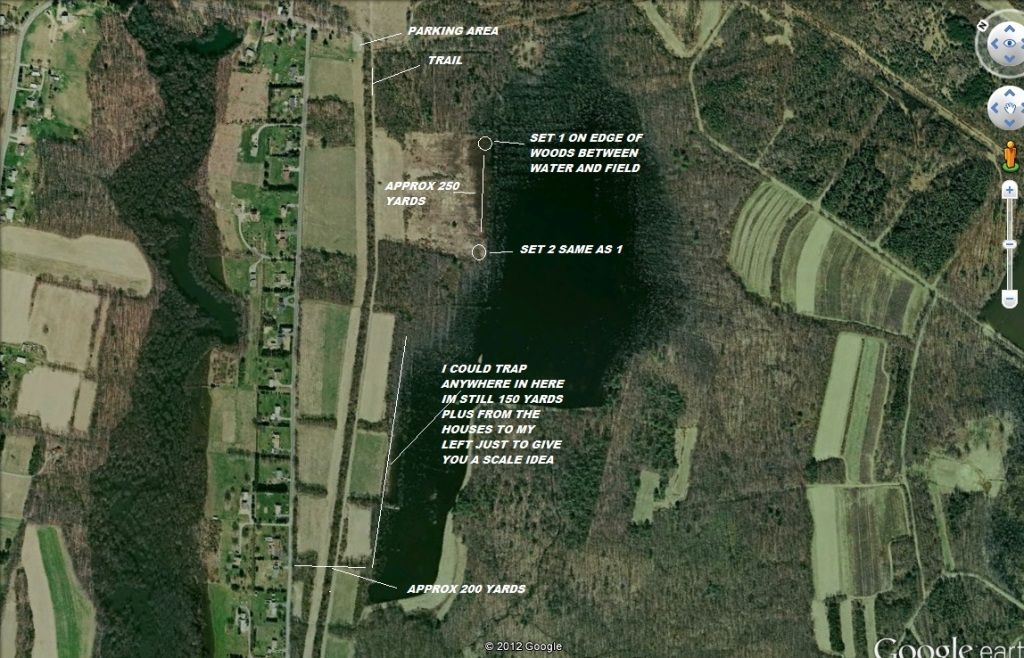 This picture shows where i plan on running 2 traps just to get started at edges of fields where they meet the woods, just before the decent size lake/swamp that is there.
I'll be making the basic dirt hole set with 1.5 dukes. my main target is fox and raccoon. I hunt there for fox and have been very successful but have not seen or heard a coyote or i would of been better off with a bigger trap.
Apart from doing all the scent control on the traps and wearing the proper scent control clothes and gloves and such, what would you reccomend using as the bait/lure..
im planning on setting them tonight and i have started out with some red fox urine at the edge of the hole, and minced mice down in the bottom of the hole.
Ive seen reds running the field/woodline where i have my trap 1 and trap 2 suggested placements so is there a reason why i wouldnt or shouldnt place them there?
also and most importantly, i have both my traps tagged with my information. i know there are some guys who hunt there for pheasant so ill be marking the brush above my trap with an orange marking tape, as i'd hate to get a dog stuck in one.
Suggestions or comments or ideas for me?
i appreciate it
Chris