Discussion Starter
•
#1
•
First off, thanks to everyone who helped me in one way or another during this hunting adventure. Little things meant a lot. Everyone I had asked or talked to about the elk hunt was helpful. With a cow tag, it seems there is no competition amongst hunters. I apologize if I missed anyone. As you will read, there were many people and many of them HPA members who helped me out with this hunt. I highlighted all the HPA member names in <span style="font-size: 11pt"><span style="font-weight: bold">BOLD</span></span>
This all started while I was in Colorado on a DIY archery elk hunt with <span style="font-size: 11pt"><span style="font-weight: bold">Teeton1</span></span> who I connected with when he posted on HPA looking for someone to join him back around June. After spending a week backpacked 6 miles back and not seeing an elk, we packed out to relocate to a new area. Once I got cell service in town, my phone lit up with multiple text messages, emails and Facebook notifications. The first one I read was a text from <span style="font-size: 11pt"><span style="font-weight: bold">Killin'time</span></span> "You got to be shooting me…. Colorado AND pa elk?!?! Who did you pay off?! LOL contrats on the pa elk tag." After the week I had just had in Colorado it was a breath of fresh air to know I had a PA elk tag. With my phone, I was able to log onto the PALS system and see I drew a Zone 2 cow. I was pumped!
Having visited the area quite a few times the past couple years, I knew the 'No Hunt Zone' well from taking photos but was a bit unfamiliar with most of Zone 2. People on HPA were providing me locations to check out. There are a lot of HPA members that fall into this category and I appreciate every message or PM with information. One key person was <span style="font-size: 11pt"><span style="font-weight: bold">elkdogg1</span></span> who has a camp inside Zone 2 and has had 3 members of his camp get cow tags over the years, including himself. With the type of work I do I have easy access to download and plot out aerial photographs. I mailed <span style="font-weight: bold">elkdogg1</span> some of these plots and he had them marked up with places the elk hang out, food plots, local landmarks and trails to access different areas back to me in 2-3 days. The turnaround was great as I was headed up the next weekend to look around.
About this same time I started PMing other HPA members who I saw had the same Zone 2 cow tag that I had. Might as well work together to accomplish the same task. <span style="font-size: 11pt"><span style="font-weight: bold">Pahunter1331</span></span> (Mark) agreed to meet me for breakfast early one Saturday morning in Benezette then go do some scouting. My initial plan was to drive up after work (approx. 3hrs) and sleep in the back of my truck until morning. That fell through quick when the carriage bearings went out on my drive shaft. I ended up with a company vehicle and leaving early Saturday morning and pulling into B-zette at 6:15am. After a little breakfast and maps all over the table, we made our way towards Dents Run. On the way, we saw <span style="font-weight: bold">elkdogg1</span> was at his camp so we proceeded to wake him up spread maps all over his camp table. After about 2 hours and lots of information gained, we made our way into Zone 2 to check things out. This trip was more to get familiar with new territory then scouting for elk. Elk will move and we still had 2 weeks until the hunt.
We wondered around for a good bit, seeing plenty of sign and a few elk. On our way off the food plots we walked into two bull elk, a 5x6 and a 6x7. Mark took some pictures while the elk weaved their way through the mature oaks and up a hill. Majestic animals. After that, we got turned to the right a bit and what should have been a .25 mile walk to our vehicles turned into a 1.75 mile hike as we got turned a bit. With no compass or GPS we got a bit confused. Once we finally got back out in the open into some food plots, we were able to locate ourselves using the aerials I had along and we made our way back. Luckily, people were at the camp we were parked by and the first words they asked when we walked in was "You guys want a beer?". Did I tell you everyone was great on this adventure! Lol
After a late lunch at Medix Run, Mark headed home and I headed to the Visitor's Center with my camera. I got some good photos and left the hill before everyone else that evening and made my way back home. It was a longgggg day.
In the weeks before the hunt <span style="font-size: 11pt"><span style="font-weight: bold">dce</span></span> offered to use his horses to pack out an elk if I needed. He lives fairly close by and was more than willing to help out. Thanks for the offer Doug.
I had a cabin arranged in the Medix Run area but a PM from <span style="font-size: 11pt"><span style="font-weight: bold">Blaze Cammo</span></span> (Lonnie) changed those plans up. Him and his brother <span style="font-size: 11pt"><span style="font-weight: bold"> Kimar 18</span></span> (Kim) have a camp in the Caledonia Pike area and offered to have me stay there. These two brothers and their friends were great! Not only did they host me during my hunt but they also opened their camp up and cooked a great steak dinner for the guys at camp, and 2 other HPA elk hunters; Mark and <span style="font-size: 11pt"><span style="font-weight: bold"> bigguy54</span></span> (Tom) who scored a Zone 2 bull tag! Also included where Mark's friend Ron and a few friends of Lonnie and Kim's.
Here is where I will start with the pictures.
Steak dinner get together at Lonnie and Kim's camp.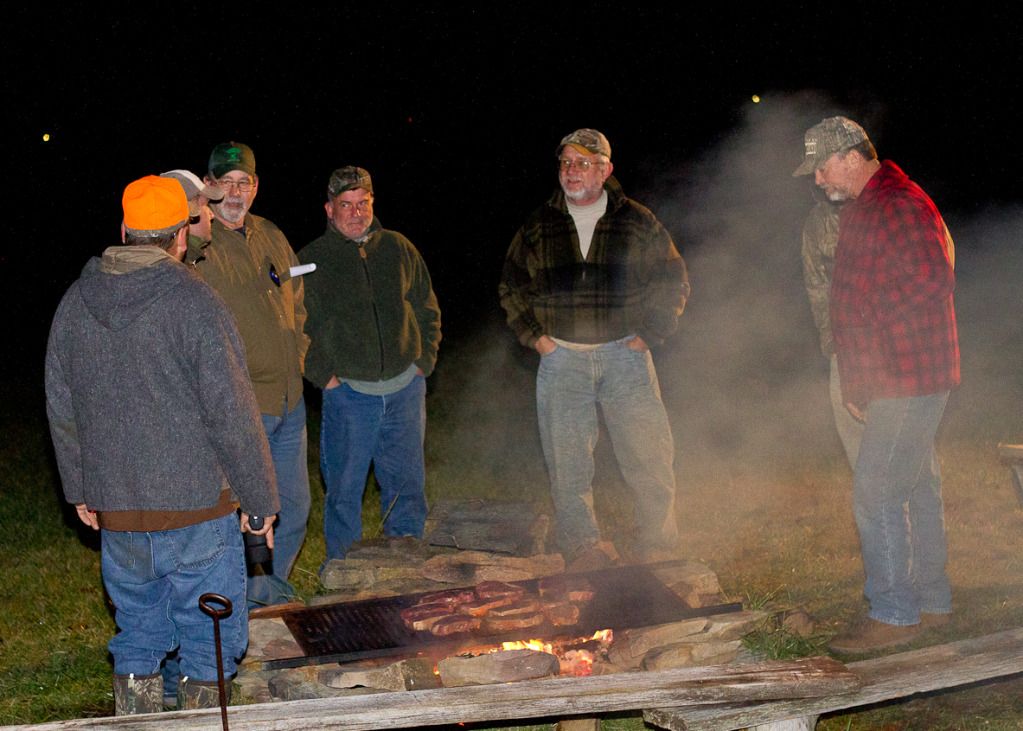 Lonnie (orange hat), Friend of Lonnie (help me Lonnie. Can't remember names), Mark (3rd from left), his friend Ron, Kim 18 (3rd from right) and Tom (red flannel).
Mmmmm, steaks over the fire.
One hungry crew….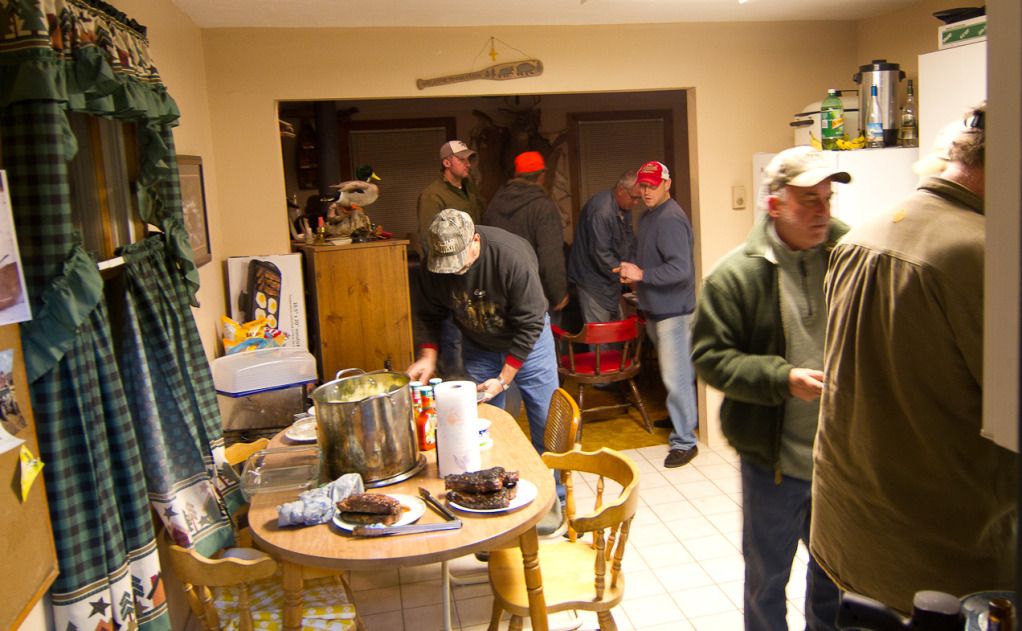 Dinner was great and we all had a good time. It was nice getting together with everyone.
We also had some fun at camp with Lonnie breaking out a pumpkin, some pillow feathers and a shockwave target.
CLICK FOR VIDEO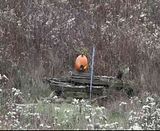 The next day scouting continued. I was seeing elk way back in Zone 2.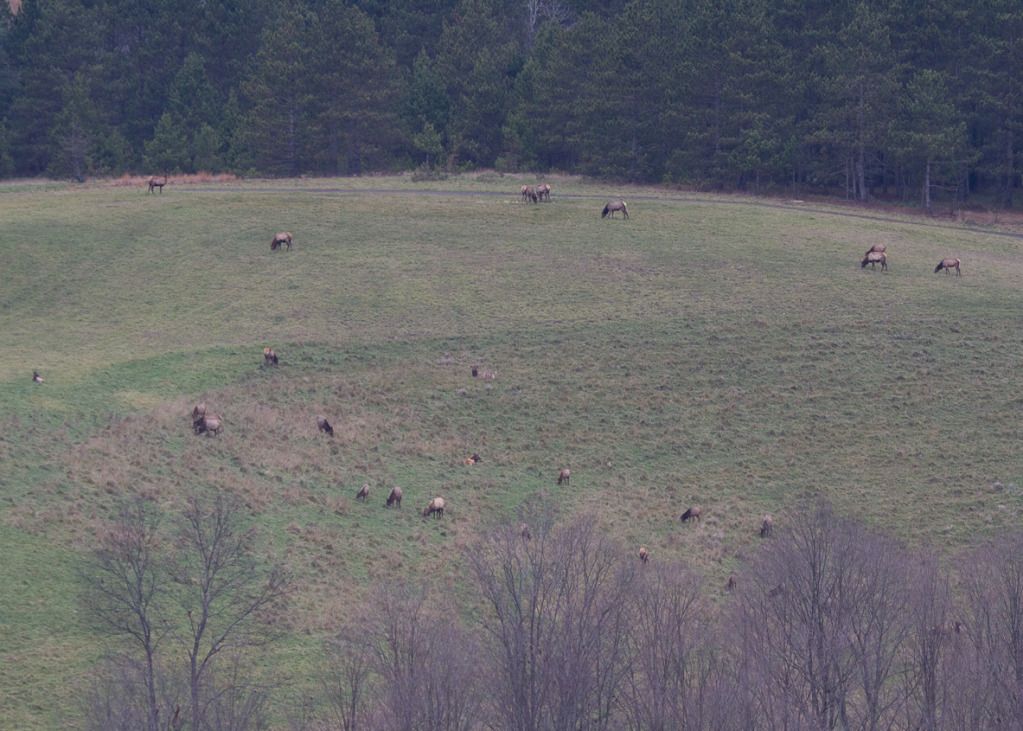 It was late this afternoon that I also got to meet <span style="font-size: 11pt"><span style="font-weight: bold">Triple B</span></span> (Corry) who also had a cow elk tag for Zone 2. I had PM'd Corry via HPA about teaming up like I did with Mark but he had already hired ECO to guide him. Great meeting you Corry, sorry I did not get to talk more with you. It was at this time that I struck up a conversation with Brady with ECO, asking where the guides of ECO were taking clients. I just wanted to coordinate my hunting so I was not interfering with anyone. Brady was great to talk with and when he found out I was using the longrifle he became interested in my hunt even more. His family has a history of building longrifles. He offered help if I needed providing he was not busy with ECO clients.
About this time my friend <span style="font-size: 11pt"><span style="font-weight: bold">RLongbeard</span></span> (Rick) had showed up. I invited Rick to join me during the hunt to take photos. We both do photography as a hobby.
That evening the PGC had a voluntary elk hunt meeting in case anyone had any questions. WCO Doty McDowell provided answers and words of encouragement to guys that had some very difficult zones and were going DIY. Doty suggest an off the beaten path area to both Mark and I where elk were being seen and we would probably not see another hunter. It was an area neither of us had scouted but we were interested as the WCO was stating that other areas in Zone 2 would be like a war. He had my interest. Later that night, I called Mark to get better directions to the new spot and gave him the directions that if I was not there by 6:30am, head in without me. Things would change overnight though as I thought about it more. I know multiple locations where elk are and I know the land where they were at. Why go to a place I had not even walked? The next morning I went with my gut and found myself at one of those locations.
Monday morning, the day of the hunt. With me using a flintlock longrifle, I decided to just go for a walk once it hit daybreak and what ever happened that day, happened. I had all week if I needed and I was pretty confident that I could get an elk with it. After parking my truck and getting everything ready I walked over and struck up a conversation with some ECO guides hanging back, including Brady. While talking I watch other hunters race back the gated road, trying to get to their spots before it got daylight. Once it was light enough, my buddy Rick and I started to take a walk, looking for elk.
Our walk did not last long as we saw two elk up on a grass hill above us. One thing that was relayed to me was to make sure what I was shooting at was indeed a cow and not a spike bull. It can be difficult in low light. Looking over the elk carefully one was indeed a spike but the other was a cow elk and a nice sized cow elk. Game on as Rick and I ever so slowly walked towards some stumps to set up behind. Along the way I dropped pack off on the ground. We made our way behind the stumps and I got my longrifle and a shooting stick ready for when a shot might present itself. After a few minutes, the cow stood slightly quartering away and I proceeded to take aim.
After a few seconds I decided to abandon my shooting sticks for a stump just a foot away. In the couple seconds it took to change position, the cow elk disappeared over the hill. I think Rick was more disappointed than I had to listen to his grumblings that I had blown the opportunity or something to that effect, LOL.
No elk were visible now so we slowly made our way laterally across the field then up the hill until I could see the backs of three elk. Two cows and one spike were just over the hill. On hands and knees I made my way up the hill, closing the distance to get a shot. Once I could see the big cow standing broadside.
I again took aim but this time, BOOM!!, a shot was taken. Rick was watching through binoculars and confirmed that the elk was hit as it disappeared over the rise in front of us. Immediately after the shot I marked my position with a napkin and dropped back down the hill a little to give the elk some time. Rick proceeded to drop back and retrieve my pack that I had left earlier while and reloaded my longrifle. Once he returned, we made our way back to where I shot then up on top to look for blood. Looking for blood in all that grass was tough and we never did find any. A lone cow elk was visible but there was no way I was shooting again until I could determine if that was the elk I had shot or another. This is one thing the PGC stresses, that every year guys shoot at an elk and think they miss only to go and shoot another one with the first expiring at some point. I was not going to be one of those guys.
Still not finding any blood closely examined this cow elk through binoculars and determined it was indeed the elk I had shot. We could see a hole with a very small thin line of blood down the side. We could not see this with a bare eye. At that point I knelt down, took aim and took a second shot, this time right through both lungs. The elk took off running for 40-50yds over the rise out of our sight and piled up.
Big Cow Elk Down!
Holy crud, this cow elk is big!! I do not think Rick or I imagined how large the elk was until we walked right up to it. After a few congratulations it was time to take some photos.
I had coordinated radio channels with both Mark and Lonnie in the weekend before the hunt. A quick radio call out to Lonnie returned a quick reply that he and Dave were in the area and would be in for pictures and to help out.
(Me, Lonnie Dave & Rick)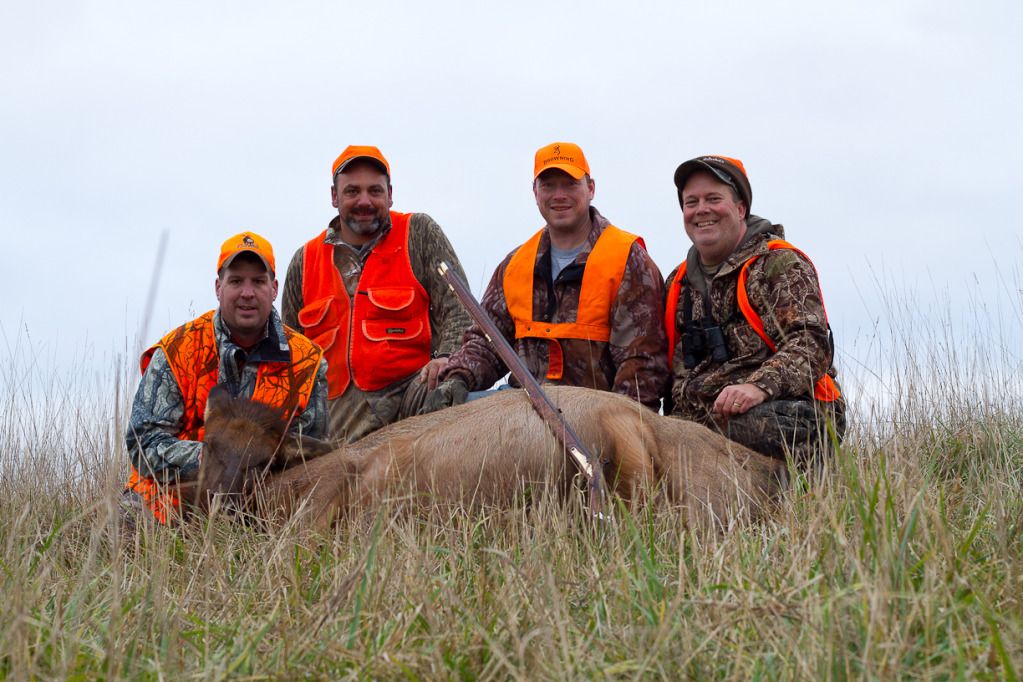 Once the pictures were done, it was time for the "work" to begin. Again, holy crud are their stomachs big!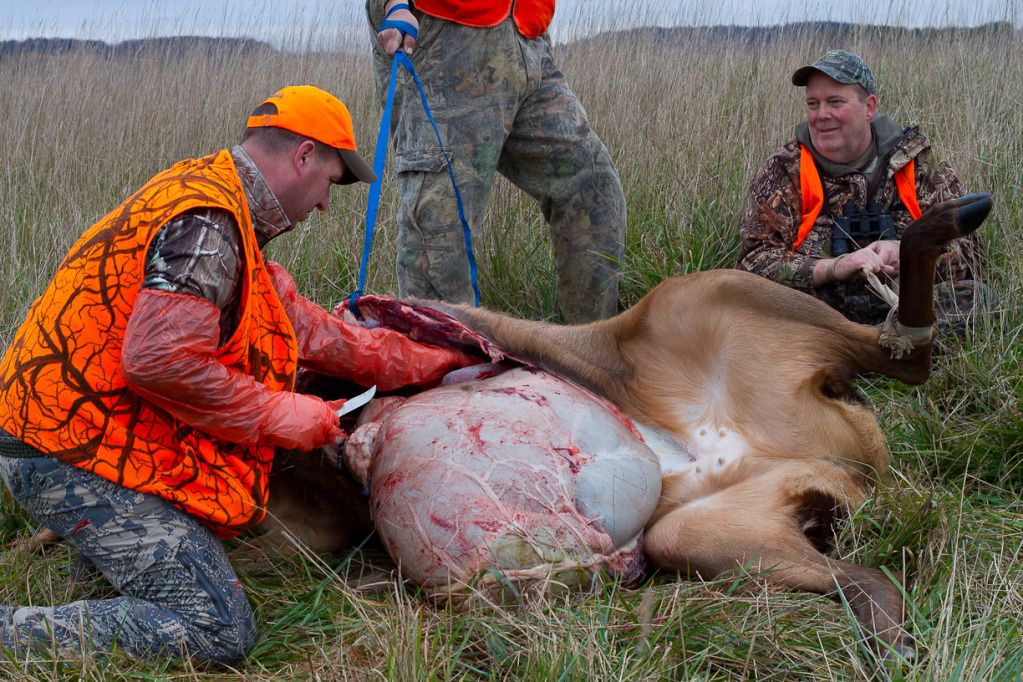 While dressing the elk and collecting some samples that the PGC asks of the elk hunters, Dave made his way back to the vehicles to see if he could borrow a big cart he saw that someone had. Brady with ECO was the big cart guy and I radioed Dave to tell Brady he was with the longrifle guy and see if he could borrow the cart. Brady did not disappoint. Not only did he make the cart available for us to use but he also came to help out along with two other ECO guides. After a little pulling to get the elk on the cart, we were on our way to the truck.
That big cart is available at Bass Pro and I highly recommend it for cow elk or bear. I believe it is rated to 500#. It worked great!!
After backing my truck up to a hill we were able to push the cart right to the tailgate and load the elk up.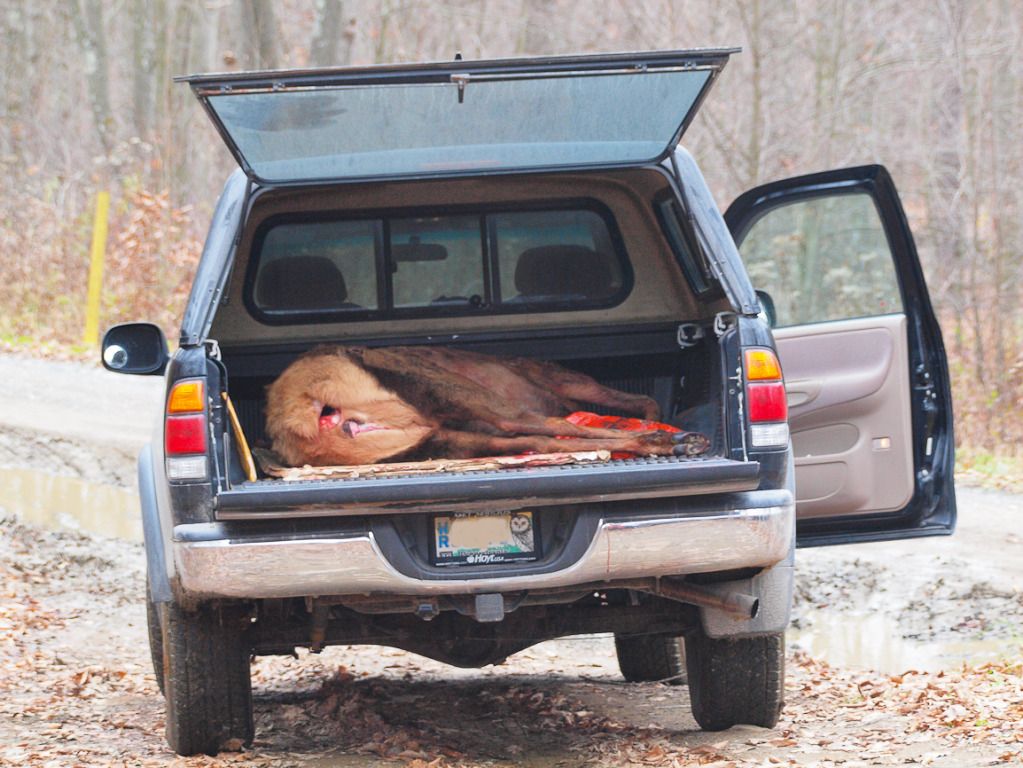 I would have never imagined it being so easy. I was prepared to quarter the elk in the field and haul it out with a small deer cart inside game bags.
From there Rick and I stopped over where Mark and Ron were hunting and got hold of them on the radio. They went to the spot the WCO recommended and did not see anything. The came out and met with us and I told them about my experience. After getting some lunch, there were headed to the area I was at.
Next stop was Hick's Run Outfitters to see if maybe Tom was back with a bull elk yet. No one was back yet so we talked with an older gentleman for a bit. The previous morning I met Jeff Colwell, owner of HRO, while out scouting and struck up a conversation with him. Jeff was great and very informative. He talked with me for a good half hour, point out different areas on my aerial maps. With no one back at HRO, Rick and I headed to the check station.
Pulling into the check station was something I had not ever experienced. Cars lined the Quehanna Hwy as there was a crowd of people waiting for elk to be checked in. Upon arrival, a good friend was there waiting for me with a Commemorative PGC Elk Hunt patch he had purchased for me. He and his wife retired to Winslow Hill and both are involved with the Visitor's Center and were working the KECA booth at the check station. Word made it ahead of me to the check station that the guy using a longrifle had got a cow elk. It was great to receive that patch from my buddy (his son is <span style="font-size: 11pt"><span style="font-weight: bold">weasel65</span></span>)
I pulled my truck in, got out to open the tailgate and it would not open. Last year I broke the tailgate latch and replaced it with an aftermarket part. Well, if I slam the gate it becomes disengaged. I must have slammed it when I was back showing Mark and Ron the elk. Luckily, being at a PGC maintenance building, they were able to get an allen wrench for me to use and I had the gate open in a few minutes. It provided some laughing from the crowd as they watching while I worked at it, all smiles.
Once the elk was out, PGC personnel weighed the elk ( 355# dressed, 460# calculated live weight ) and took measurements.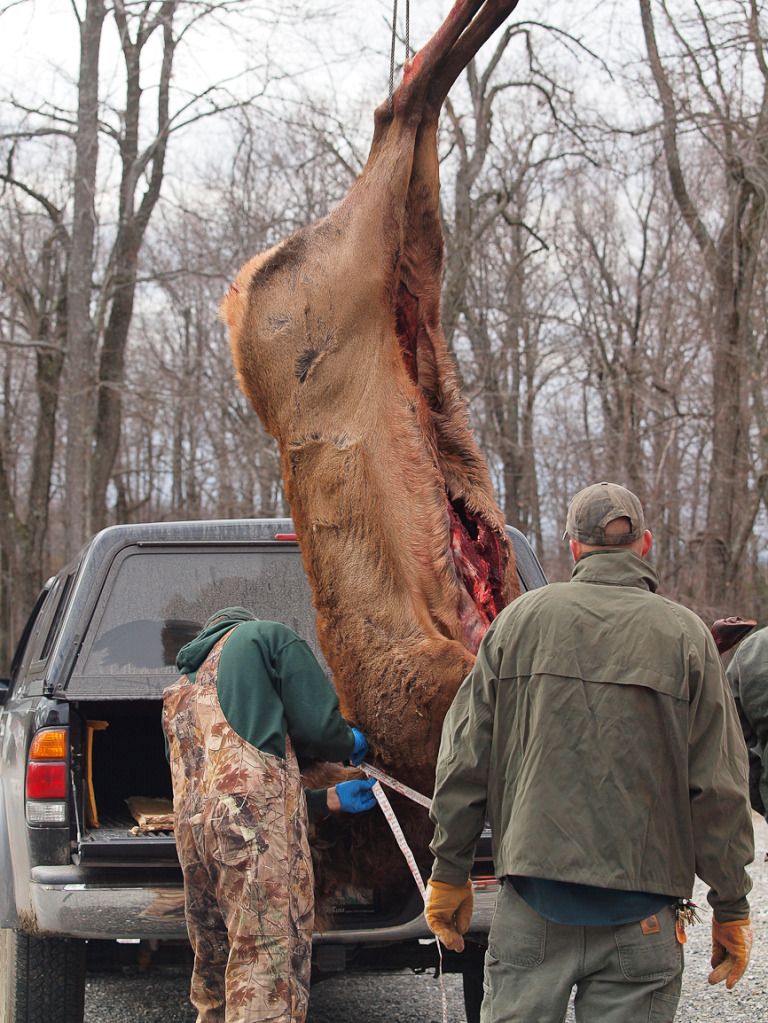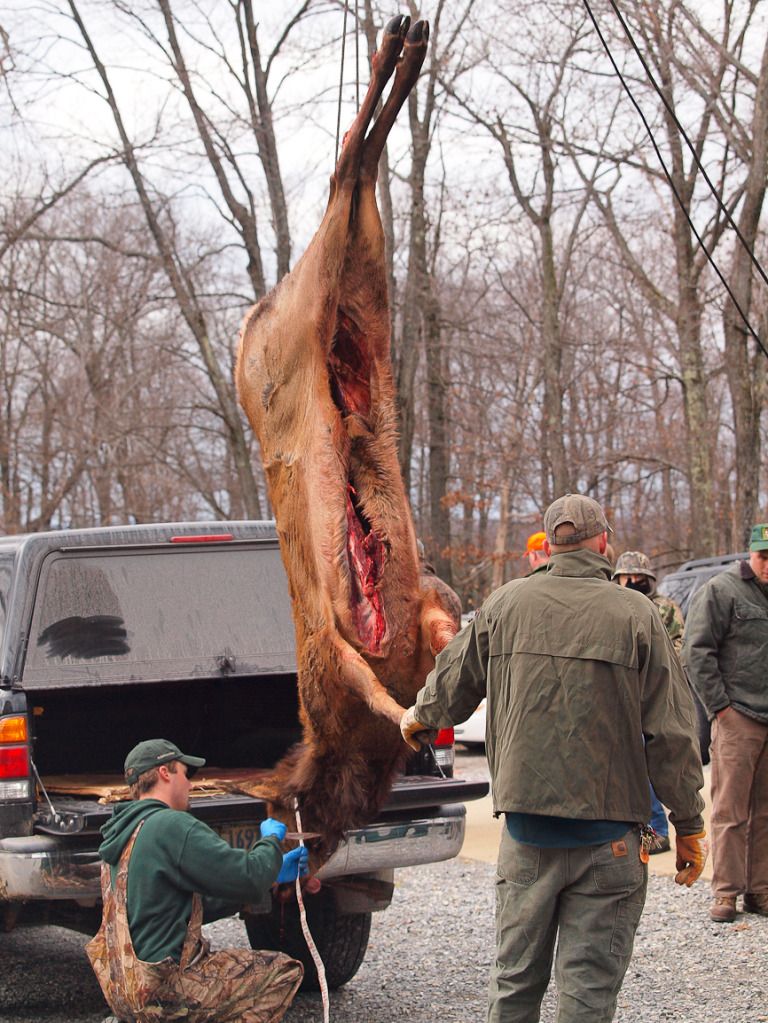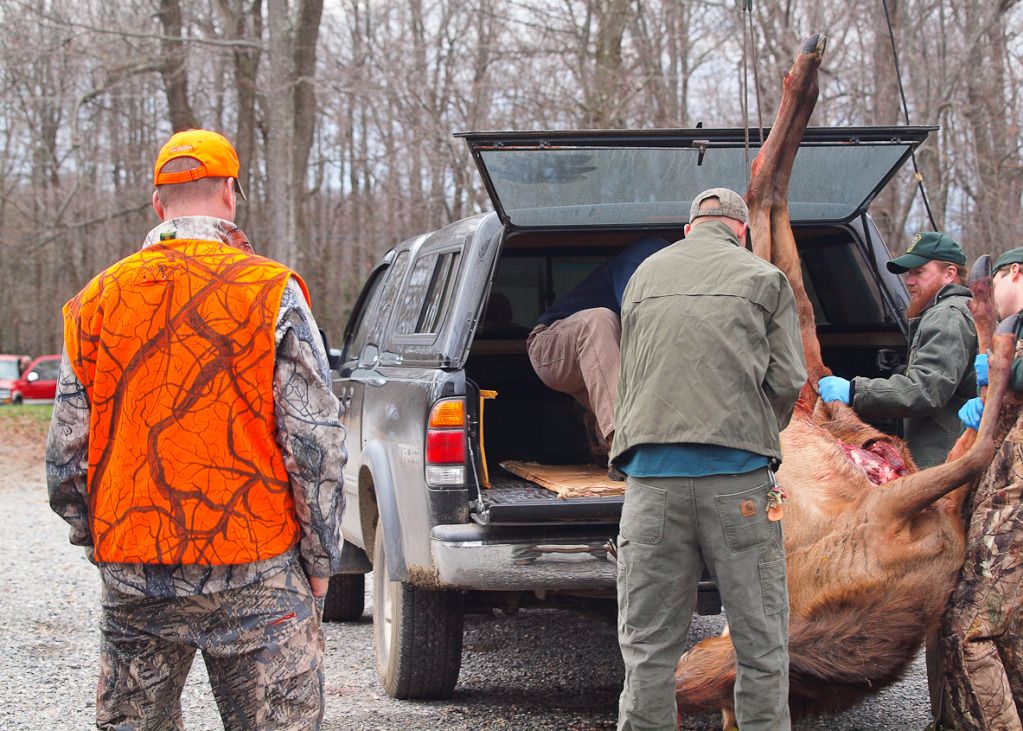 After being asked if I had planned to mount the elk and if I minded if they collected samples for a CWD test they proceeded to cut into the neck to get at the spinal fluid inside for testing.
During this whole process I got my longrifle out for show. I love hunting with this gun and I wanted to display what I harvested the elk with. Quite a few people were interested in the gun including PGC staff and WCO's. People were coming up to me telling me they had heard someone was using a longrifle and were interested in my story. It was quite an experience.
Once the processing was complete I made my way back to camp to hang the elk. Later, I was back at Zone 2 looking for Lonnie and Dave. They had Mark and Ron on the radio and Mark had just shot a cow elk. Back down I went to Brady's camp to see if we could borrow that big game cart again. Like I said before, everyone was very helpful that I met during this hunt and borrowing the cart was no problem. Into the back of my truck and back into Zone 2 I went, hooking back up with Lonnie and Dave to haul out the cow elk Mark had shot. (Mark has a post with pictures on his hunt.)
That evening I got to meet <span style="font-size: 11pt"><span style="font-weight: bold">huntfish2</span></span> as he put away a large plate of lasagna at the ECO cabin, down the lane from where I was staying. He was out all day guiding for ECO and, evidently, built up an appetite, lol. Just kidding Cory. Nice meeting you.
Once home the skull went to <span style="font-size: 11pt"><span style="font-weight: bold">ChasinTail</span></span> for cleaning along with a 9pt buck I harvested the previous Wednesday. The hide is going to <span style="font-size: 11pt"><span style="font-weight: bold">Randy Kuntz Taxidermy</span></span> who is an advertiser on HPA for quite a while.
Ok, that is a lot of typing. I am sure there are mistakes up in there and people or events missed. As I re-read it I will make corrections. I just wanted to get something out there for all of you.
Thanks!
TPlank