Discussion Starter
•
#1
•
I haven't hunted cottontail with beagles in quite a few years. I haven't shot a rabbit in may years as well. My brit has pointed them on several occasions but I never shot them. Today, I headed out with a couple buddies and their two dogs, Red and Molly. Our first stop we had three jumped but they holed up very quickly. My one buddy had to take off so Russ, Molly and I hit a little patch of woods on a friends farm. Right away, Molly put one out. After a short circle, rabbit #1 was in the bag. We walked another 20 yards and rabbit #2 and a hen turkey took off. The rabbit came back to me and I drilled it. We put out another one that holed up after a short chase but it wasn't too long before another one was off and I drilled rabbit #3 for the day. 3 shots, 3 bunnies. Here's my brace of coneys.....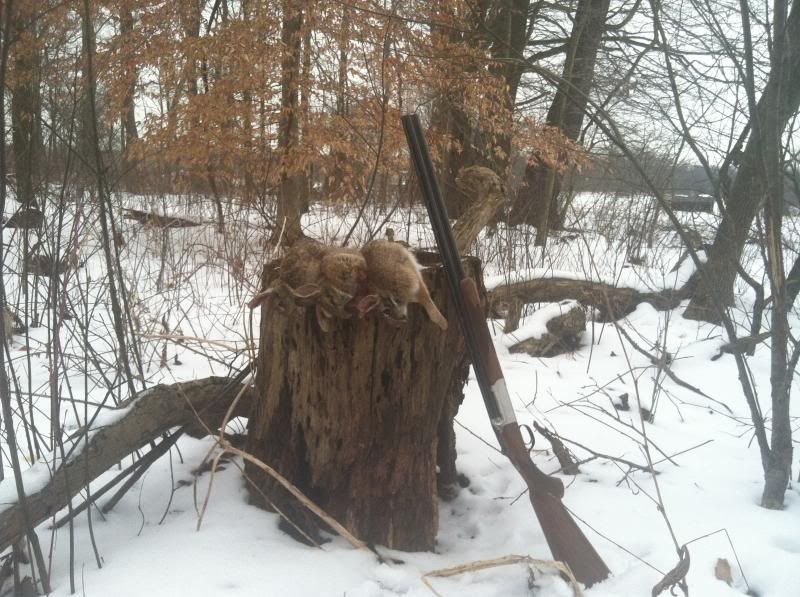 As I was gutting the first rabbit, I looked up into a tree and spied this coon. After closer inspection, I could see it was dead. It looks like he got his head in the hole in this tree and either got stuck or slipped. Either way, he won't be eating any turkey eggs again.....
It was fun to get out after rabbits again. I was happy to see I could still hit them.