Discussion Starter
·
#1
·
To Fish Or Not To Fish
The forecast for the weekend of May 14th and 15th, 2016, didn't look too good. A major cold front was expected to push through central Pennsylvania on Saturday, with a couple hour period of cold rain around noon. Then on Saturday night it was expected to drop to the freezing mark, with a high in the 40's and even possible snow flurries on Sunday. On top of this, both days were forecast to be very windy.
It didn't look promising for trout fishing -- and this was mid-May when the fishing should be top-notch. To fish or not to fish, this was the question. I decided to go out on Saturday to give it a try and base my decision for Sunday on Saturday's results.
My alarm sounded at 4:00 a.m. and by 4:30 I had the Trout Mobile pointed to a favored stream. I chose a stream that I felt would be minimally affected by the chilly night. Brook pimpernel lined the left bank at this spot.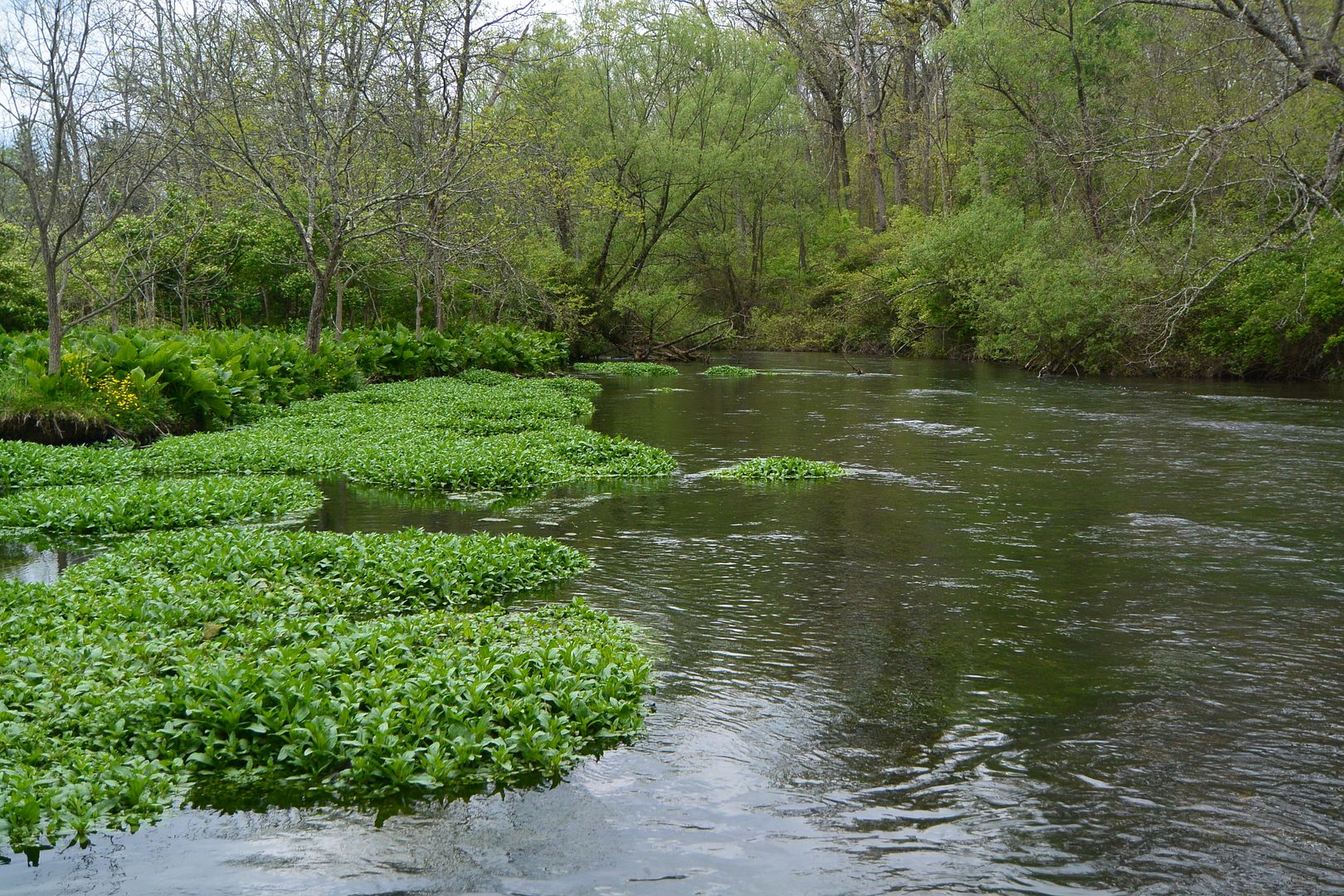 The air temperature was 45-degrees and the water temperature was a nice 54-degrees. On about my third cast a nice brown trout hit but got off at my feet, something that seems to happen quite often with the first trout of the morning. It took fifteen minutes to land my first trout.
The action was good but there were times when it seemed like no trout were out feeding. I attribute this to other anglers fishing with spinners and educating the trout.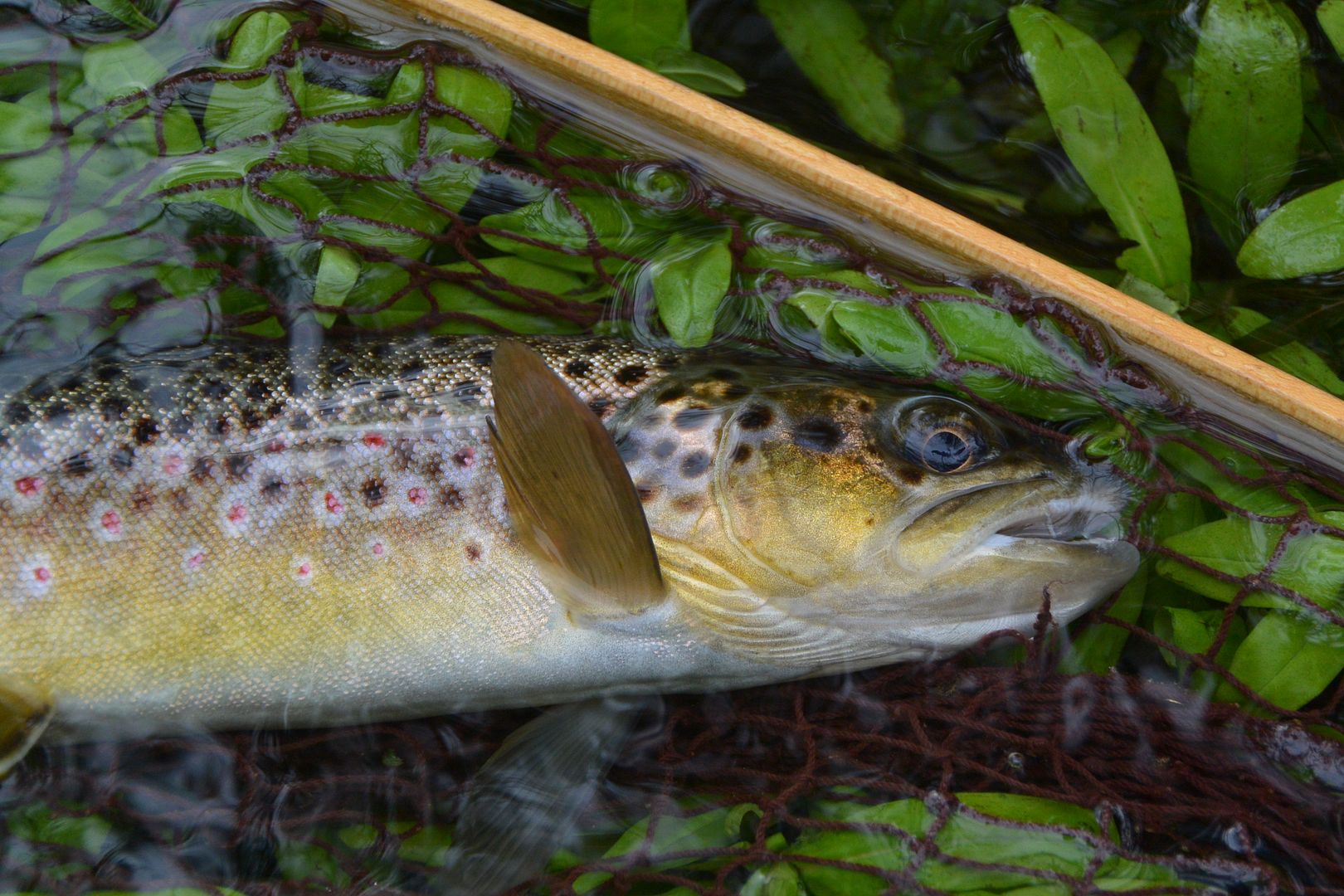 Luckily, these two trout-disturbers chose not to get in front of me after I waded fast to cut off their angle to the creek.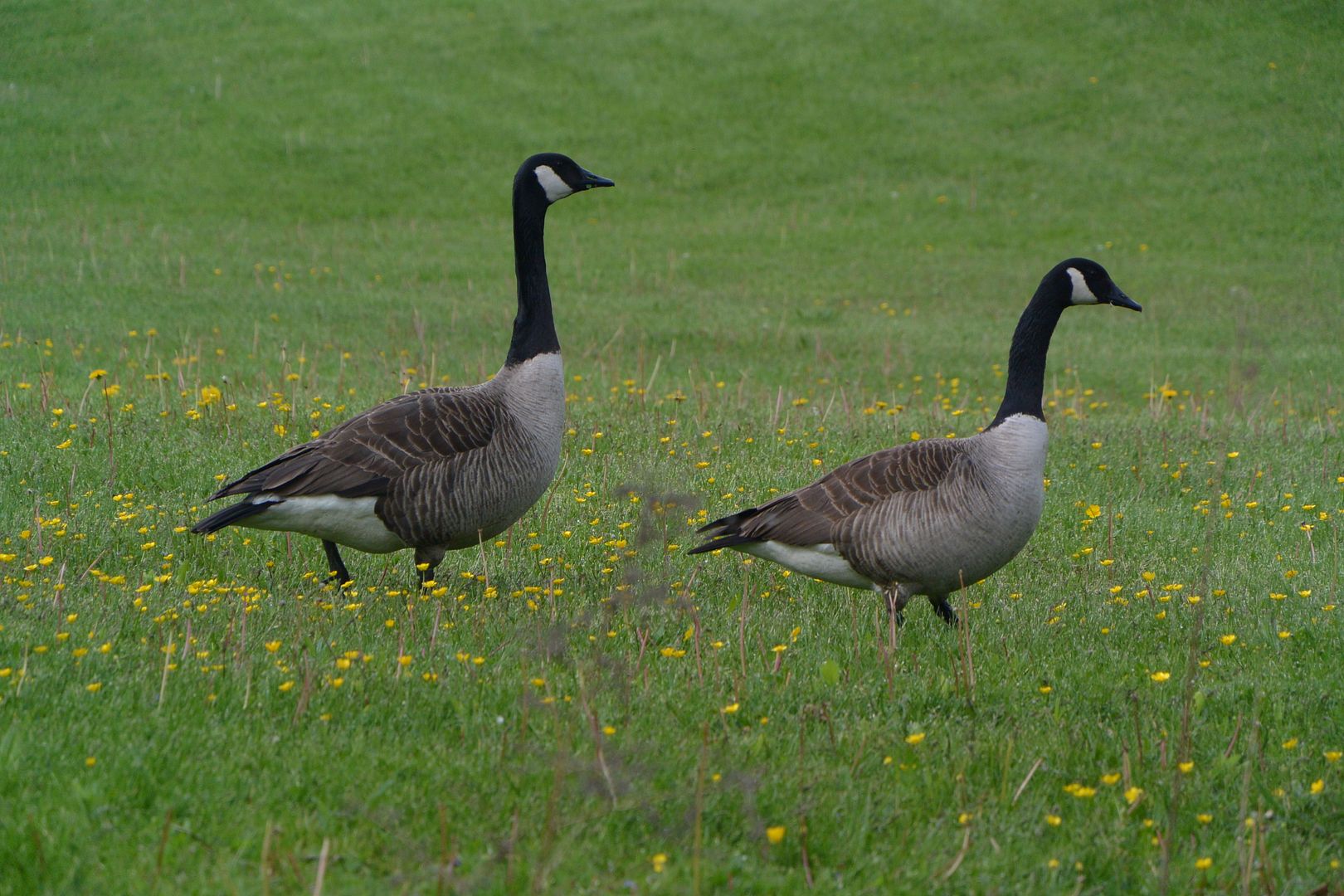 I fished 5.50 hours in this first section and caught 74 wild brown trout. It began to sprinkle just as I arrived back at my SUV.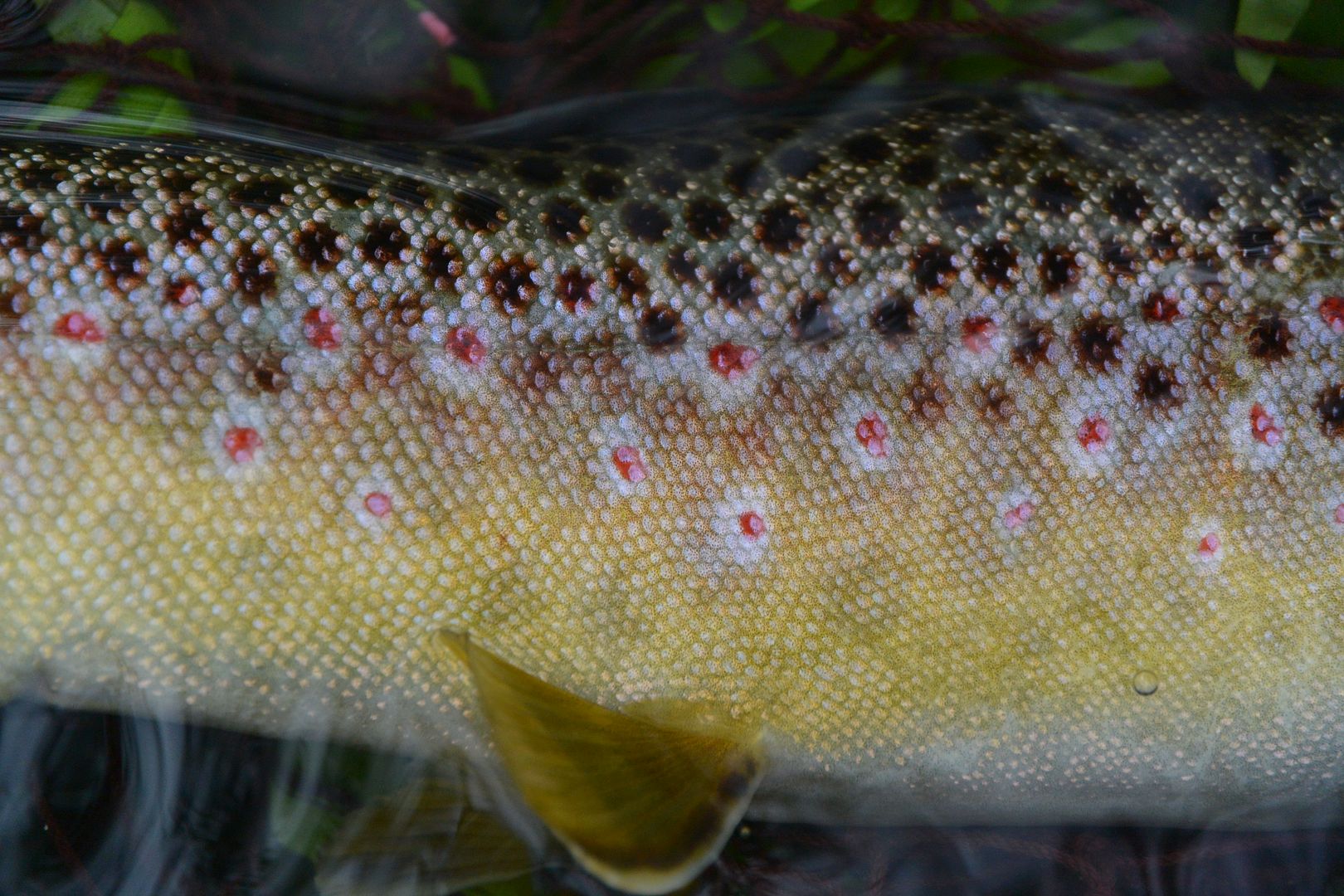 Steady rain moved in during my second stop on the same stream. Fresh boot tracks told me the reason why I caught no trout in fifteen minutes.
The skunk cabbage looked pretty, though.
From there I decided to head to a small stream I hadn't fished yet this year. By the time I arrived the rain had subsided and the stream had "that look" like it was going to be really good fishing.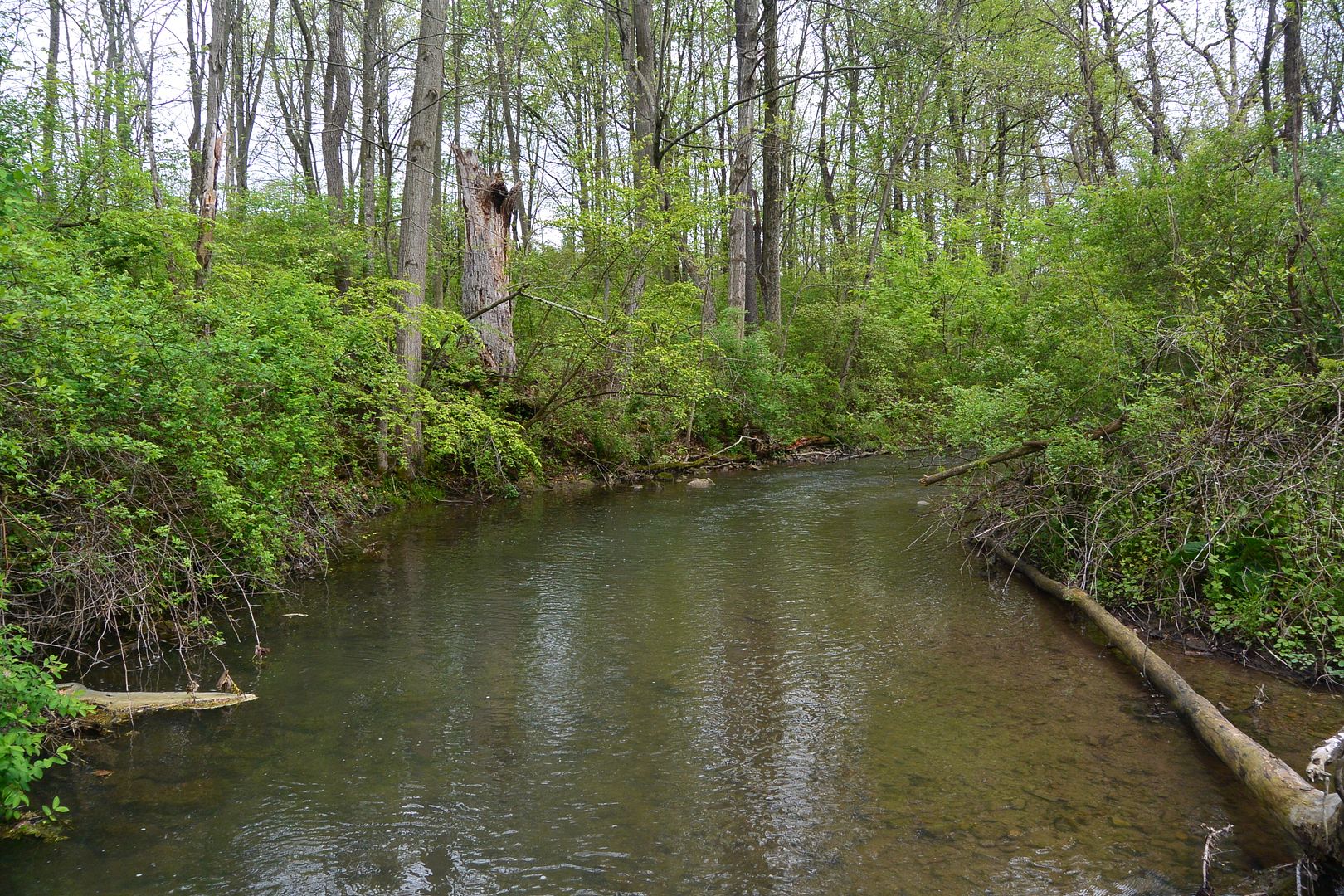 My very first cast yielded a nice brown.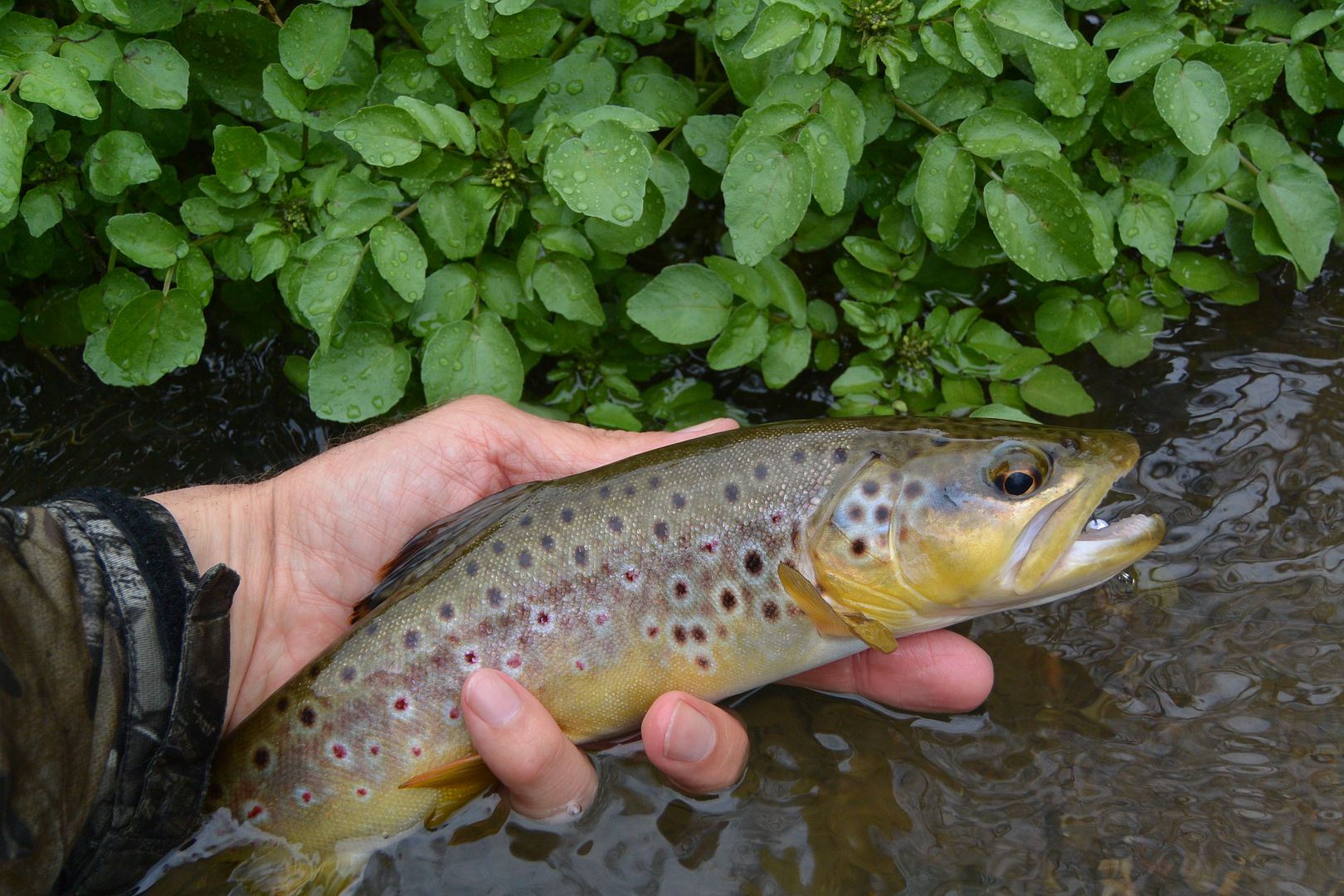 I smiled, sensing something special was imminent. No signs of another angler were to be seen, either.
The trout were out everywhere. Thirty-six wild browns were landed in the first hour.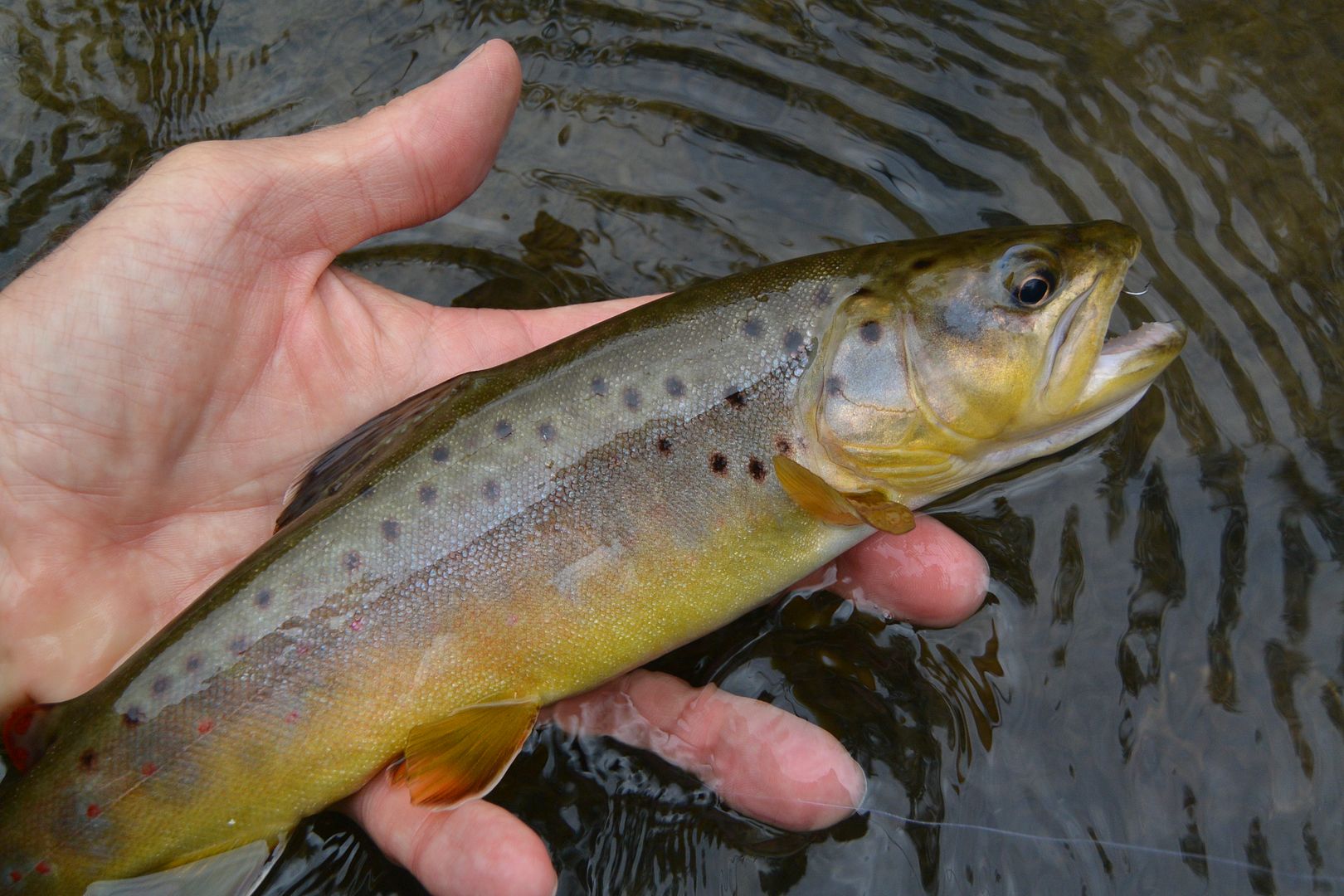 Great action continued until I flushed a great blue heron upstream a few hours later. In 3.75 hours I caught 102 wild browns.
My total for the day was 176 trout in 9.50 hours.
The decision was easy. I'd be going fishing on Sunday!
I got up at 3:30 a.m. on Sunday since my chosen stream required a hike of over one mile to get to. Due to the 42-degree air, rain, wind, and expected high in the mid-40's, I wore longjohns and my down vest. This might be a first for mid-May.
I decided to pack my spare tackle box full of my homemade not-yet-copied Pink Tread Silver spinners.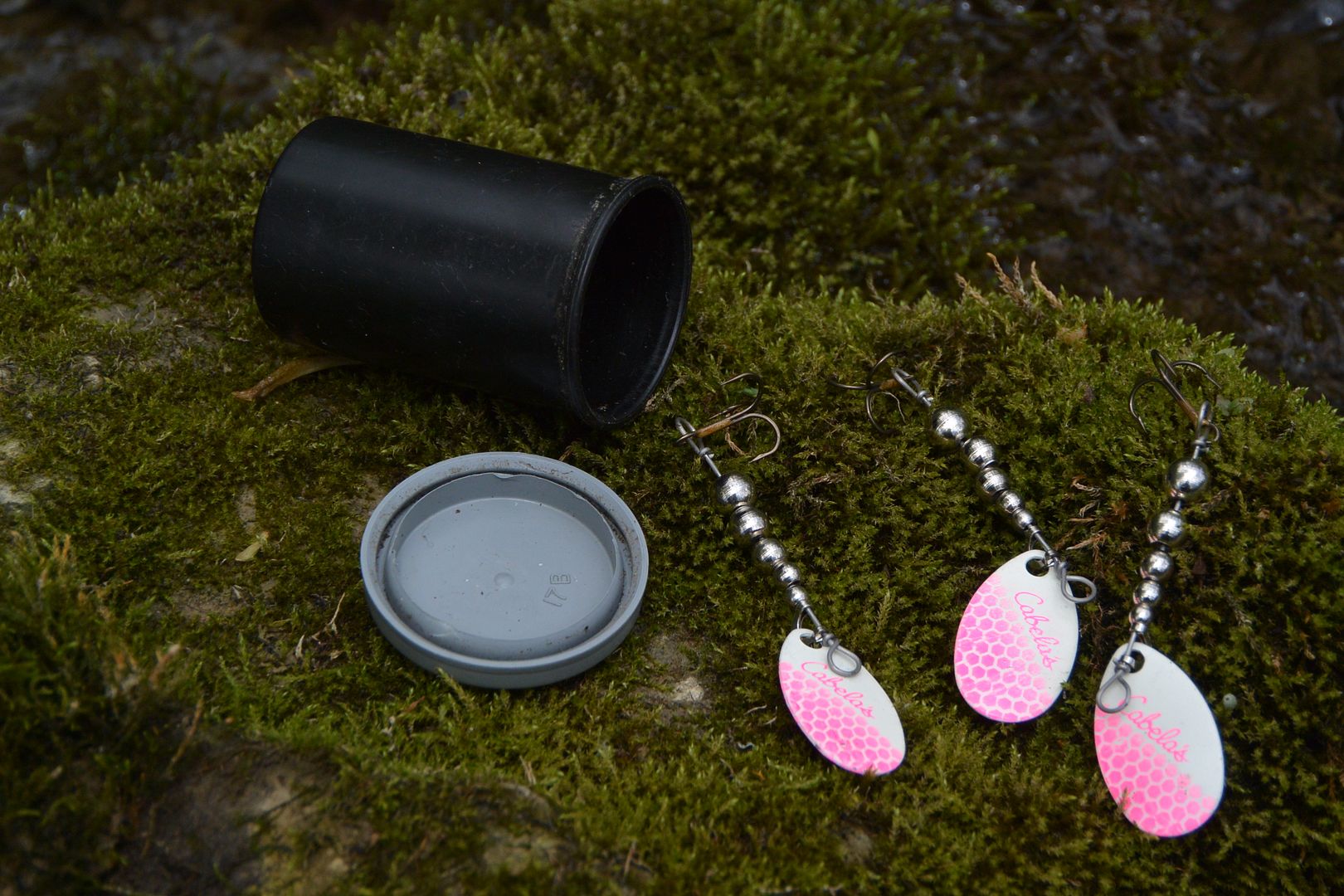 And, like the turkeys on the surrounding ridges, the trout really gobbled them up.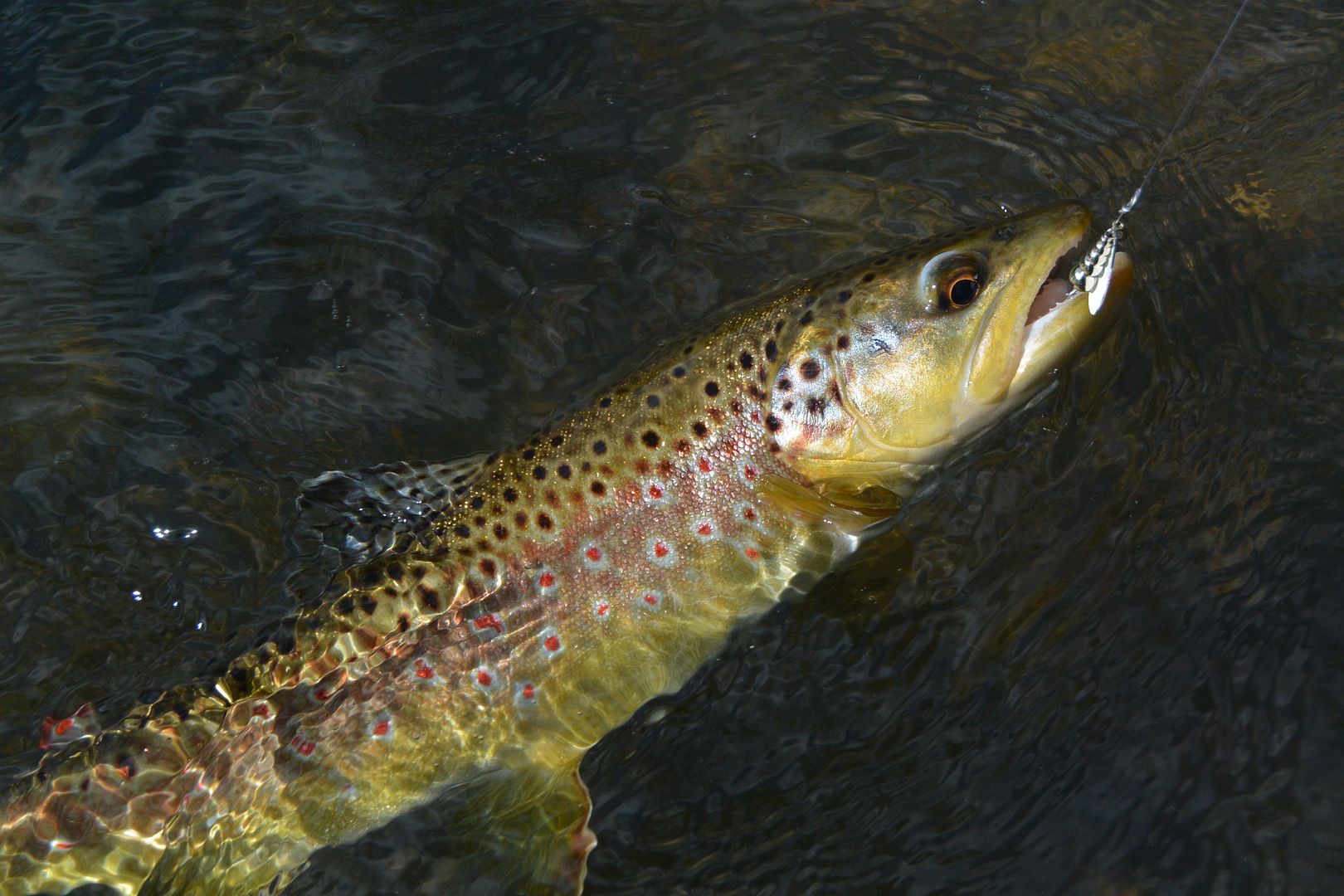 At 10:15 a.m. the air temperature had dropped to 40-degrees as yet another rainstorm blew through. But this didn't deter me from continuing onward or the salmonids from viciously attacking.
A snowstorm arrived about the same time I ran into a bunch of other anglers. I had logged 96 trout in 6.50 hours at this time.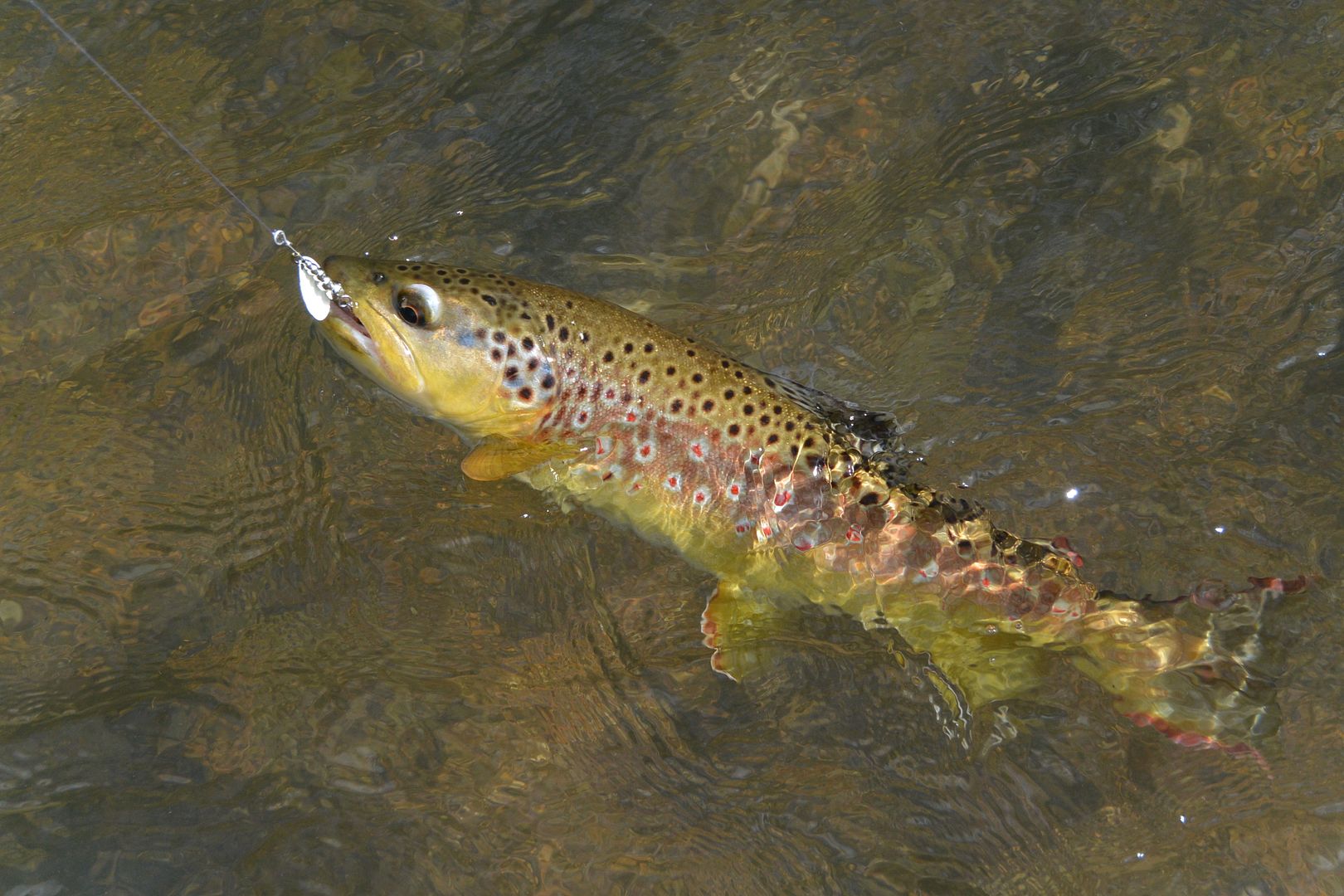 It was time to move to another section of the same stream.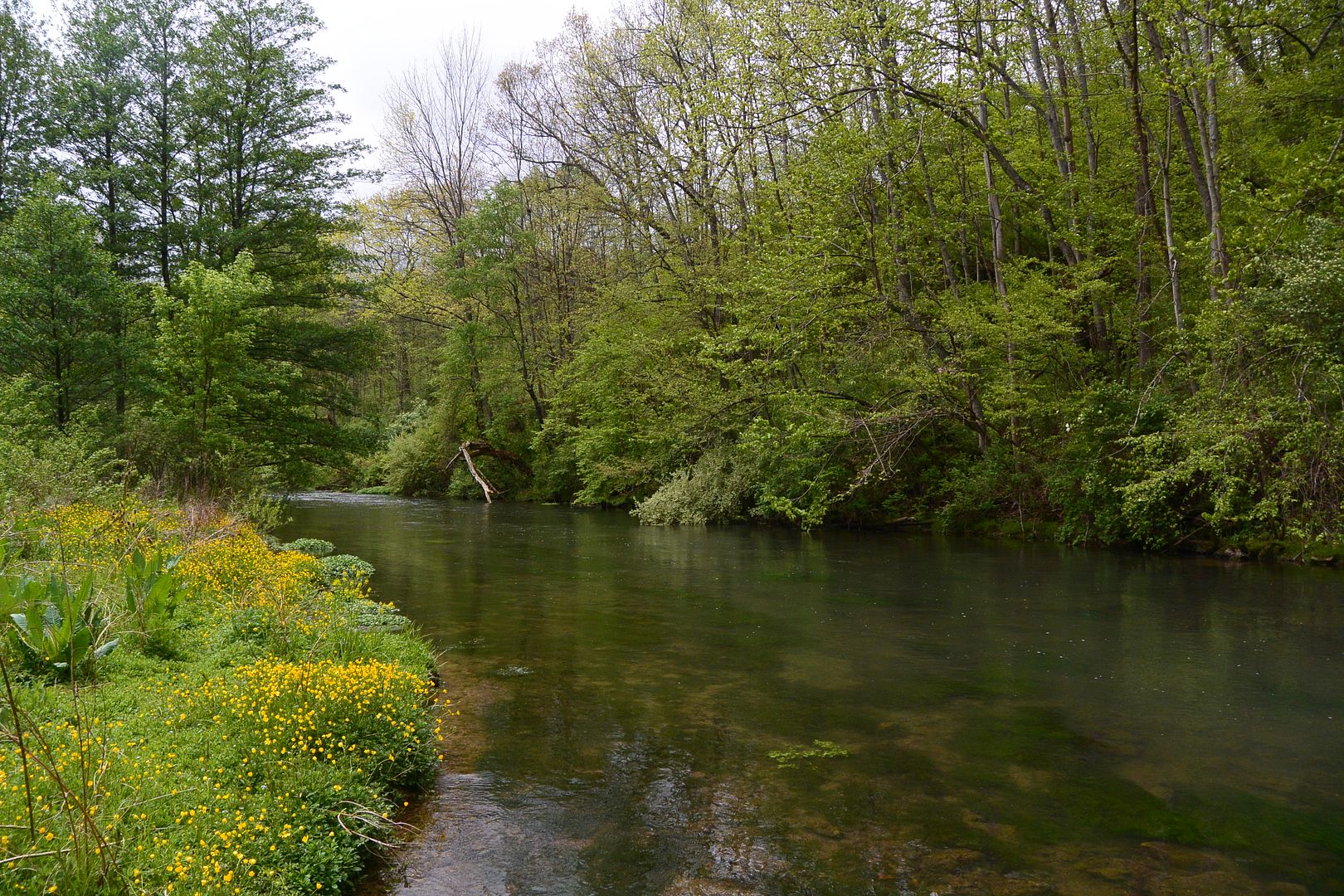 An alder tree branch hung out over the water.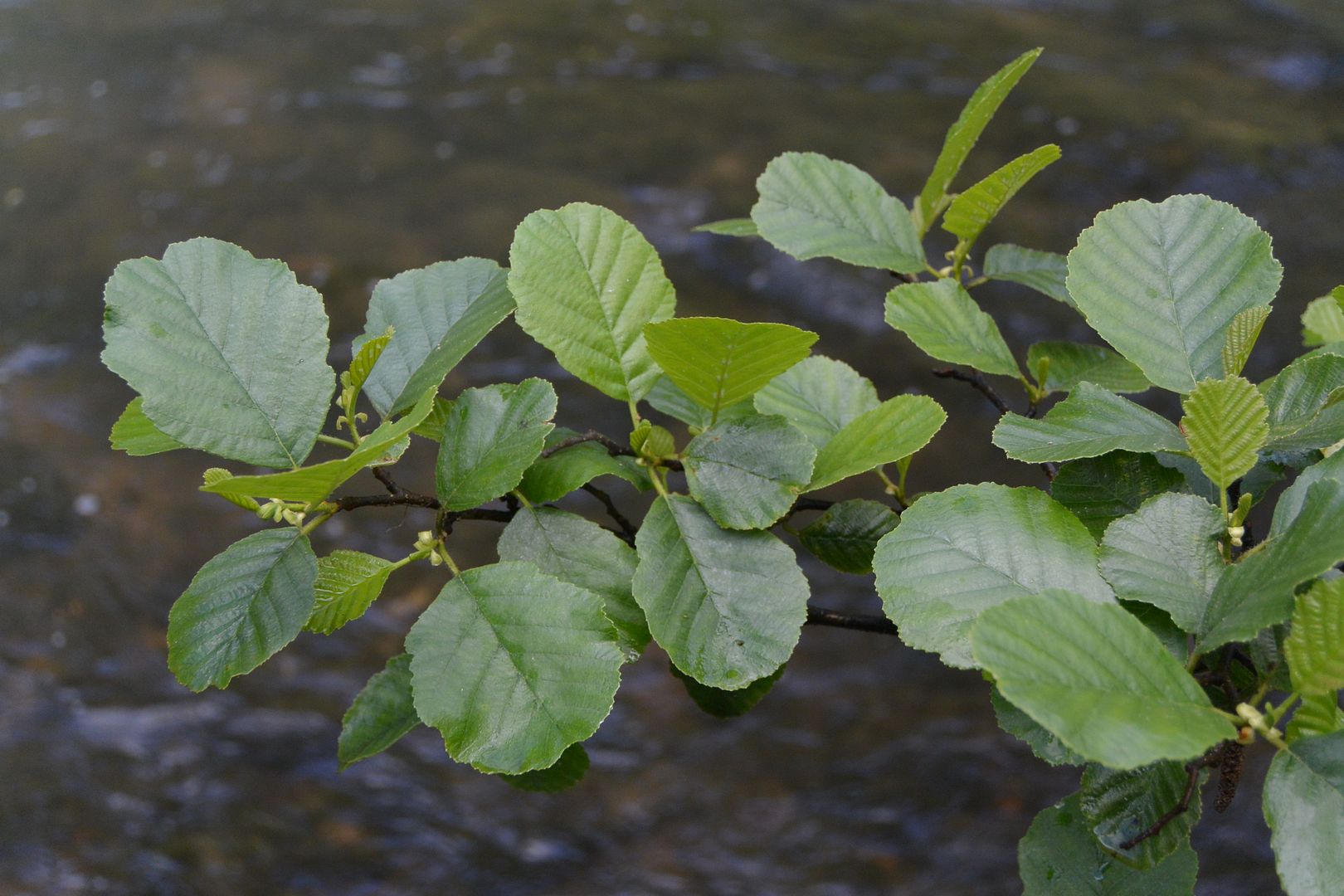 I fished two hours and caught 38 more wild browns from the chilly depths.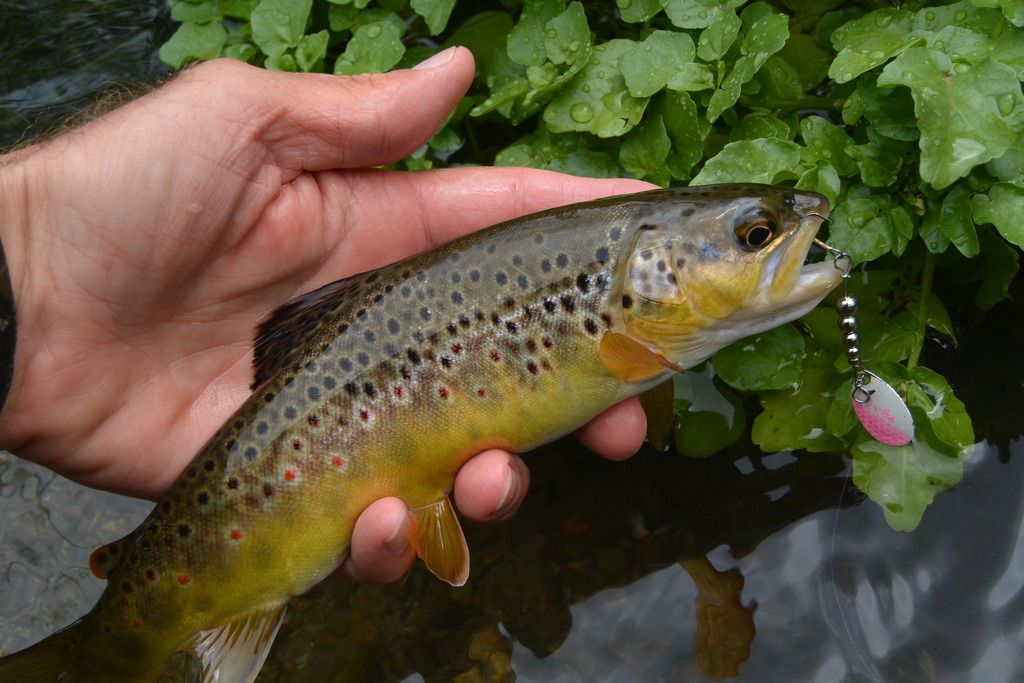 Overall I tallied 134 trout in 8.50 hours.
For the weekend I caught and released 310 trout in 18.00 hours.
I was glad I had decided to fish.
- Frank Nale -