Discussion Starter
·
#1
·
My first few options for today were completely blown out. I missed my assessment of the timing and quantity of precipitation by a wide margin. However, this opened up a few more opportunities.
There is a section of my trout fishing territory that I rarely get to, mainly because I have had poor results and the overall health of the watersheds in that area is "fair" at best. I selected a stream that I have become familiar with over the last few years during trapping season. While pursuing mink, beaver, and muskrats, I have on occasion seen trout lurking in the water. I fished here once last year on an exploration trip when the water was entirely too low. I recorded 9 trout in 2 hours so my hopes weren't extremely high today. This is a tiny stream that drains quickly. It would be perfect for the torrential rains over the past few days and put the county into state of emergency for flooding. It drains into a stream that is stocked by two different states. The stocked stream warms up quickly in the summer and I suspected that trout might take refuge in my target stream.
The evidence of recent major flooding was everywhere.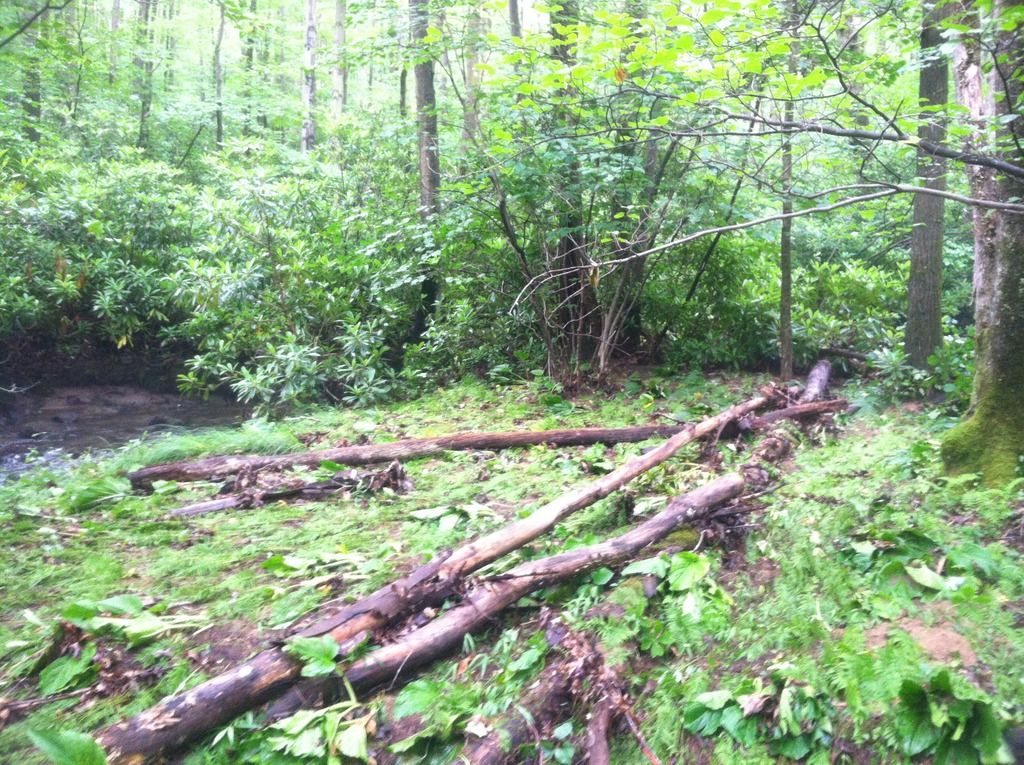 The stream was rolling right along and looked much better than my last visit. The first quarter mile or so of fishing took place south of the mason-dixon line and I worked my way back into our state. (Yes I have a fishing license for that state.) I know it still looks small, but you can see the water is up into the grass.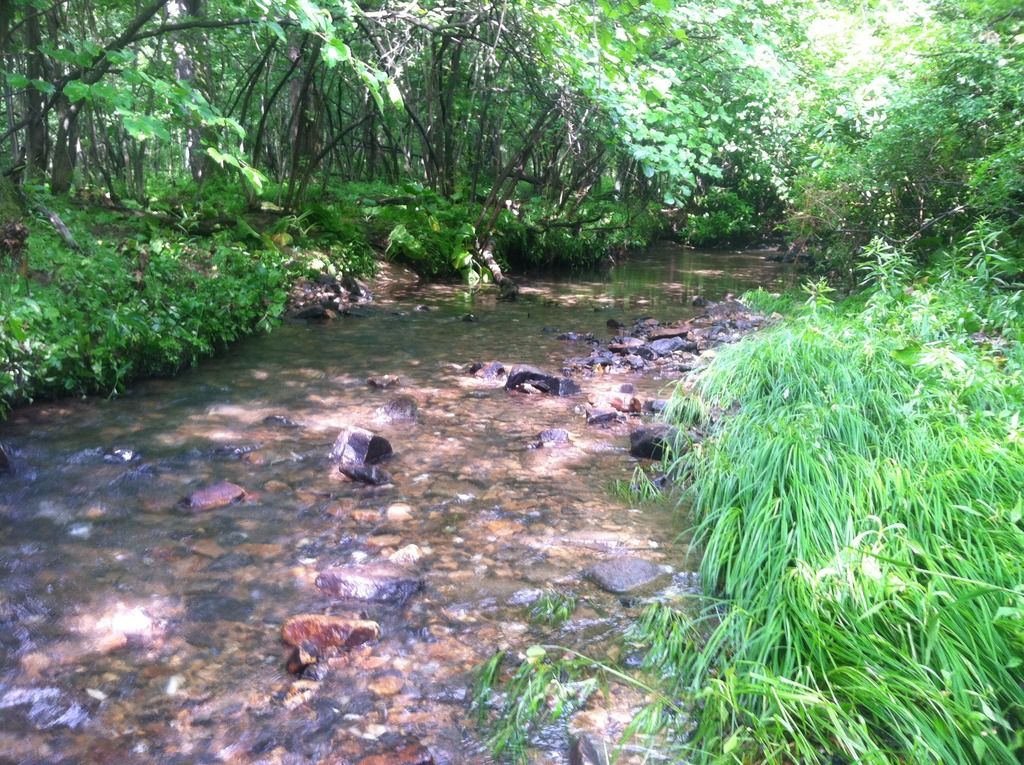 The first two fish came from the slow water near the undercut grassy bank in the picture above. One native and one stocked brookie, which I was glad to see as it confirmed my suspicions.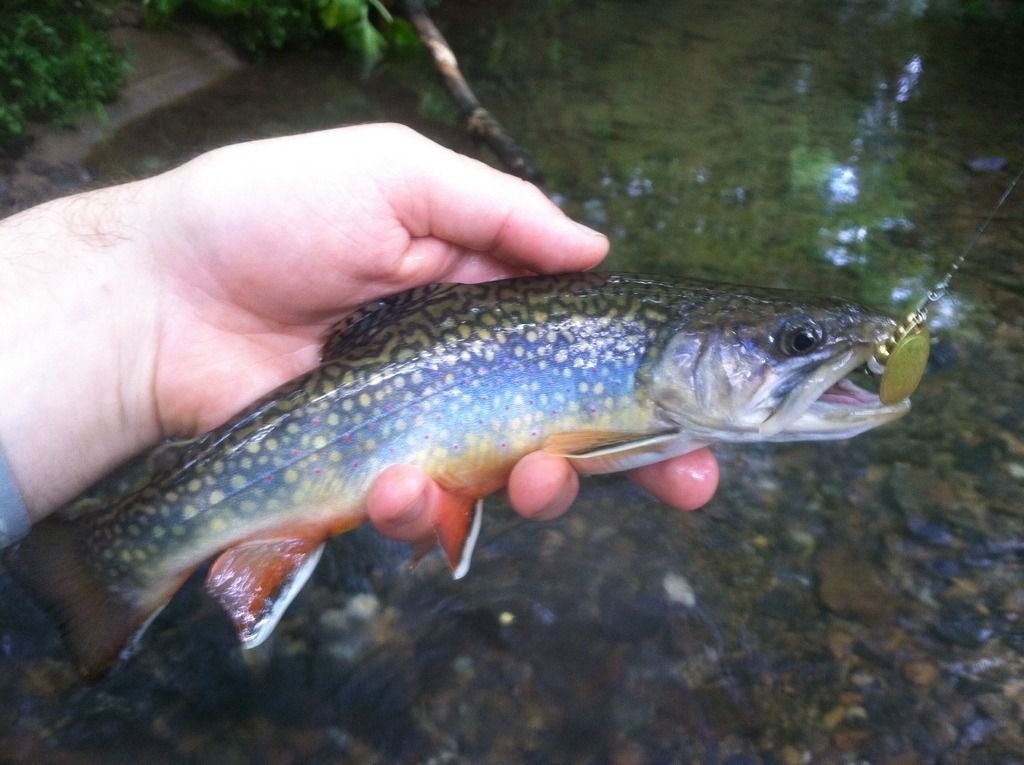 This was the first big hole that I came to. I was pretty excited and was making sure to be extra stealthy on my approach. I climbed half way over a log jam at the bottom of the pool and got into a concealed position to cast. As I flipped my bail, the log I was leaning on crashed down into the pool I was sneaking up on.
Thinking that I blew it, I half heartily casted and was slammed by a nice stockie.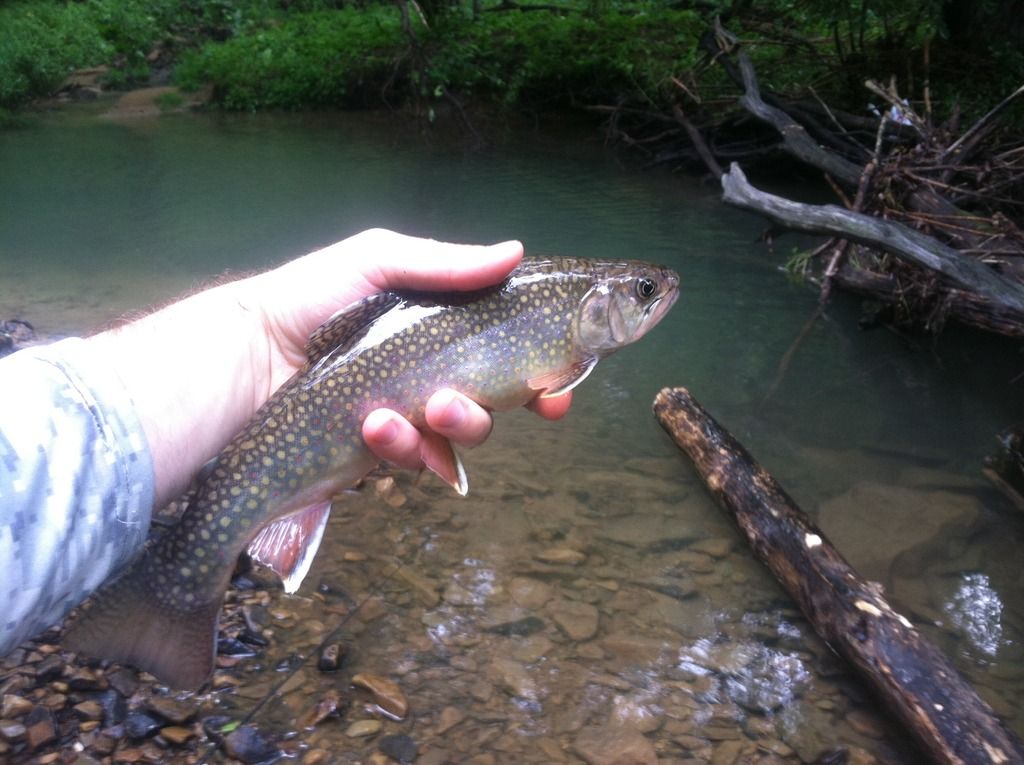 You can see the huge log I sent crashing into the water. I caught trout 5 consecutive casts from that hole despite my disruption.
The stocked trout were fairly abundant for a stream that is not stocked.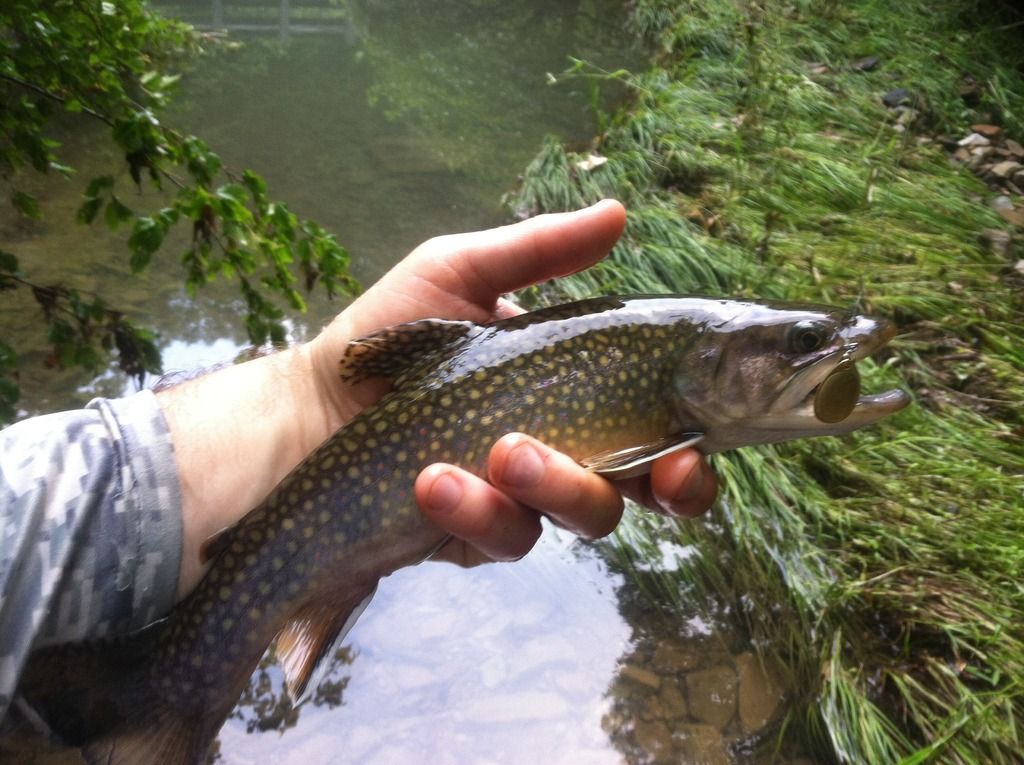 You can see how narrow this stream is. These trout must really appreciate the water temperatures.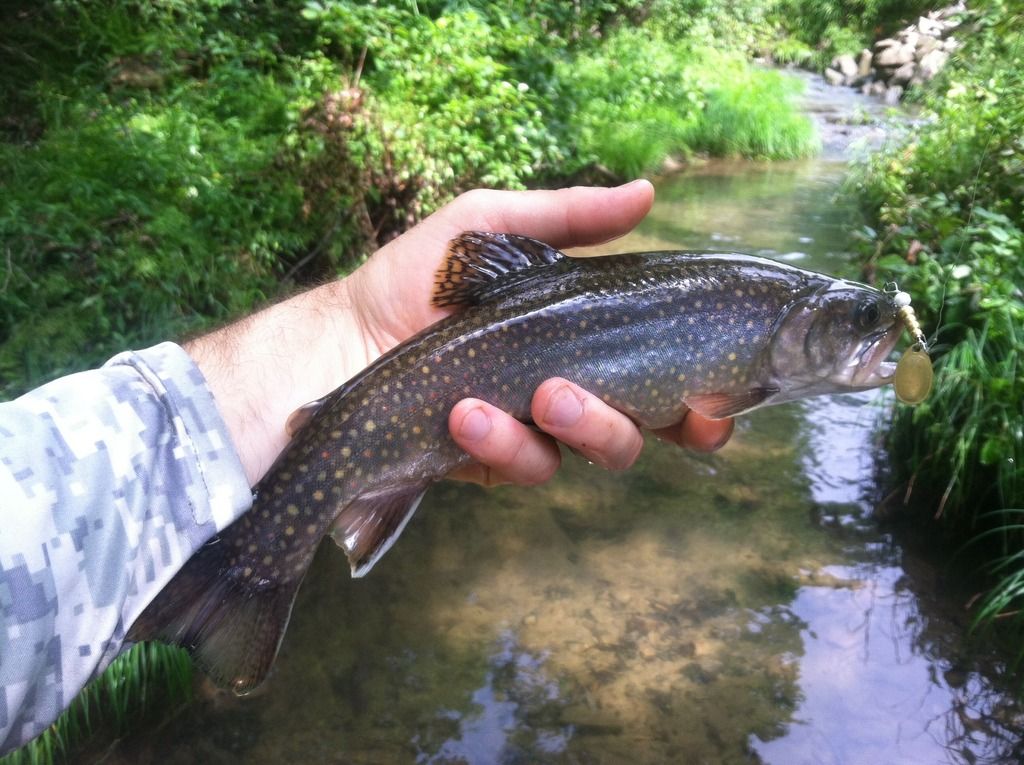 And of course more "damaged goods" resulting from attempted predation.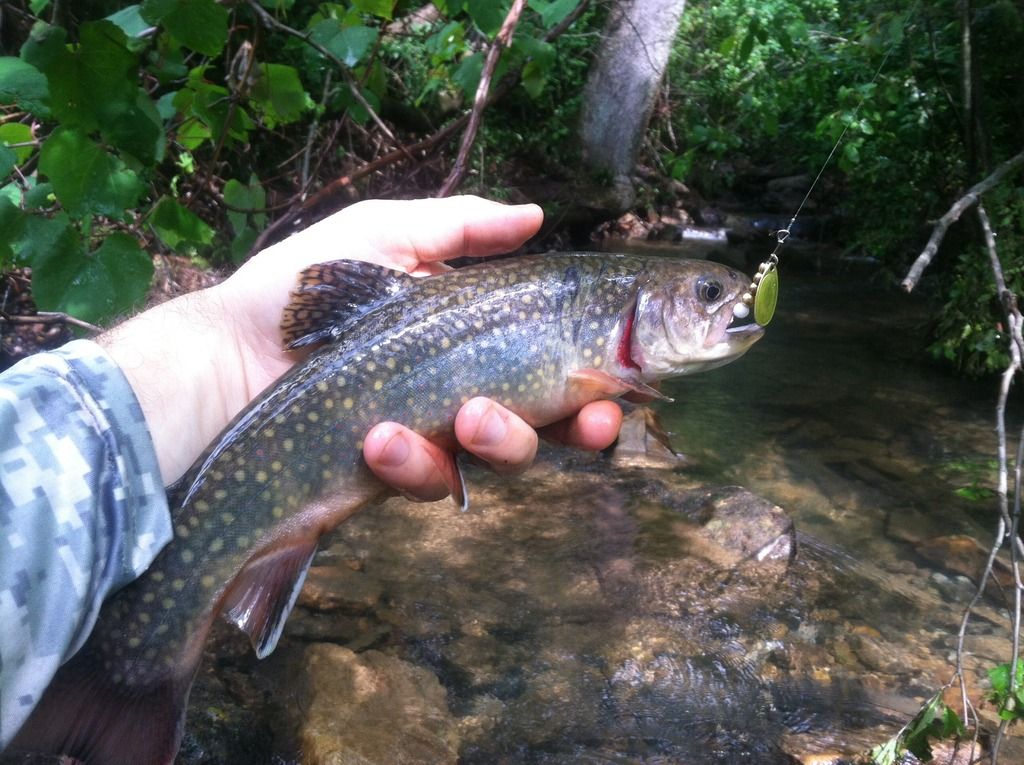 This poor guy spent the last 17 years underground, came out, and finds himself submerged under water clinging for dear life to a rock in a stream teeming with trout.
All of the fish, wild and stocked were bulging from being stuffed with cicadas. I could feel the insects inside them as I released each fish.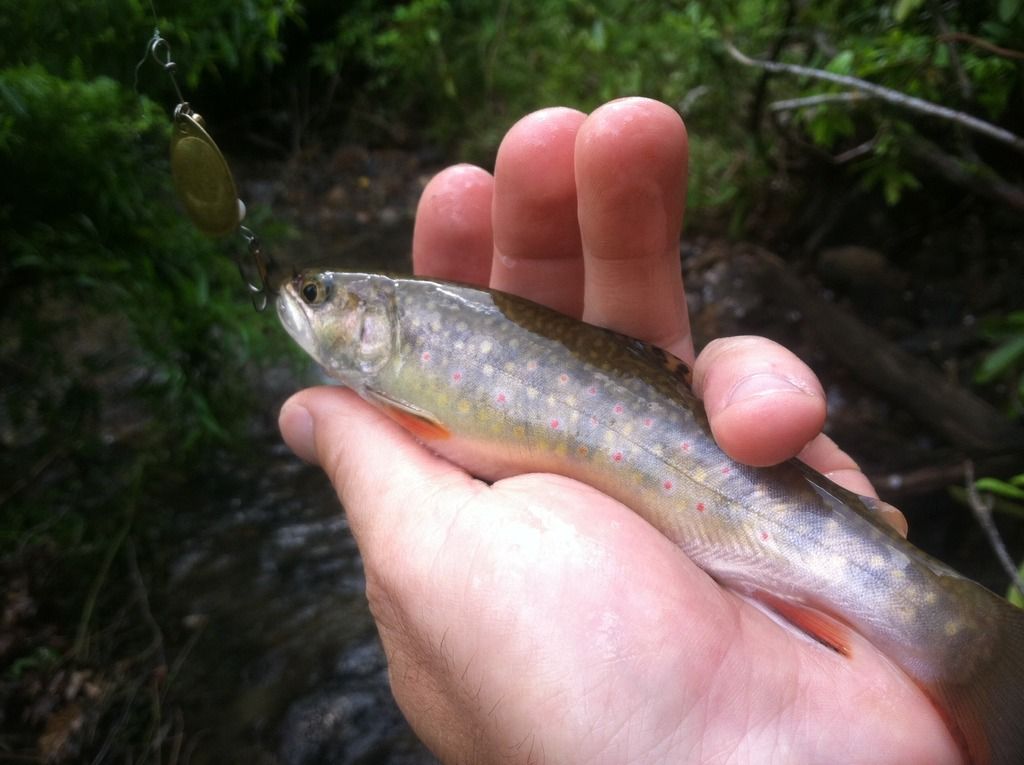 Soon, the stocked trout fizzled out but the native brook trout persisted in numbers. The stream became a jungle to navigate. I was soaked from head to toe from finding creative ways to wade through here.
Some very nice fish came from the jungle.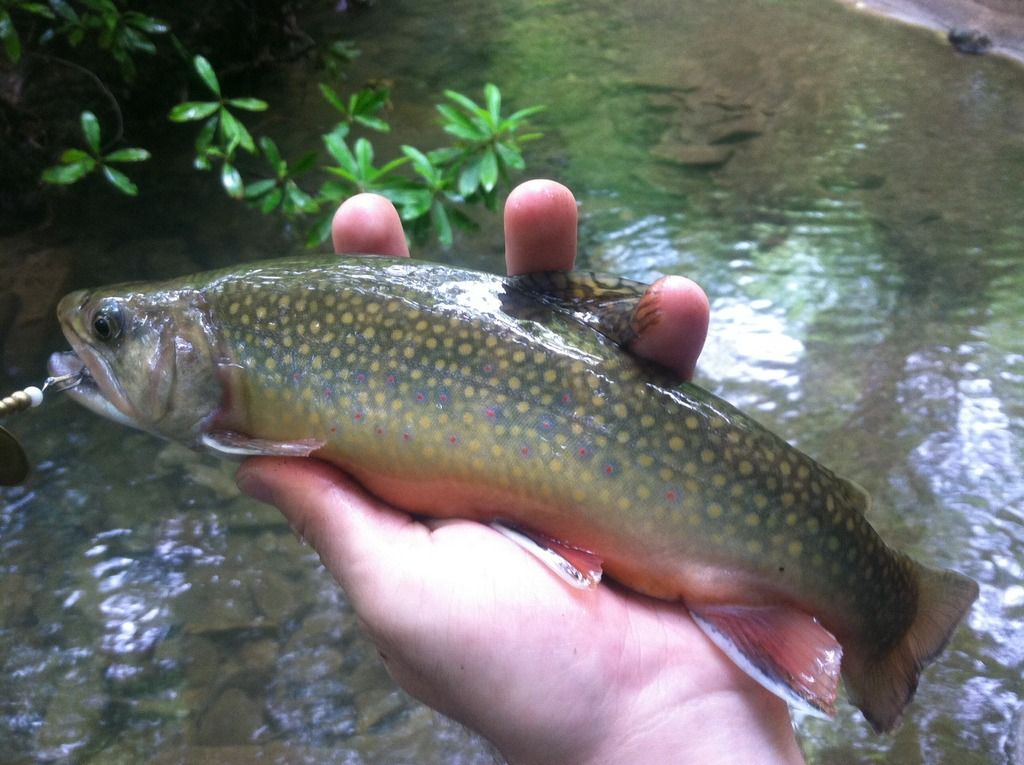 And finally, there was a break in the rhododendron, I could see the sky again, and a massive pool. Of course, there was a log 8" above the water obstructing an ideal casting sequence.
One more stocker and 6 nice natives came from this hole on consecutive casts.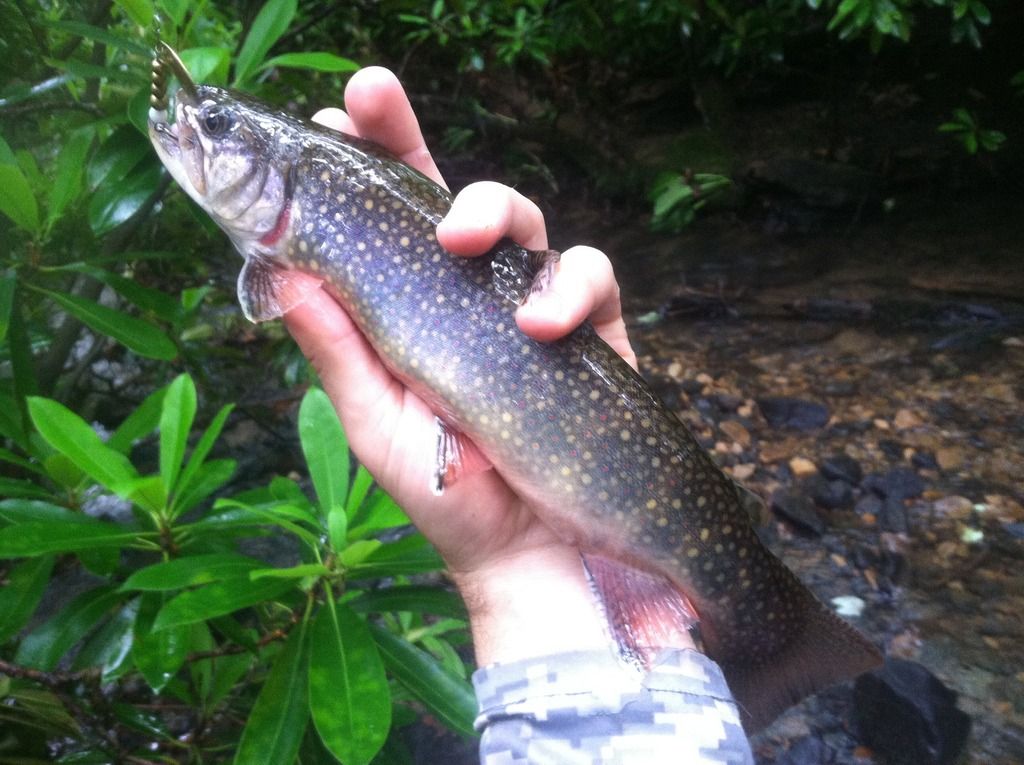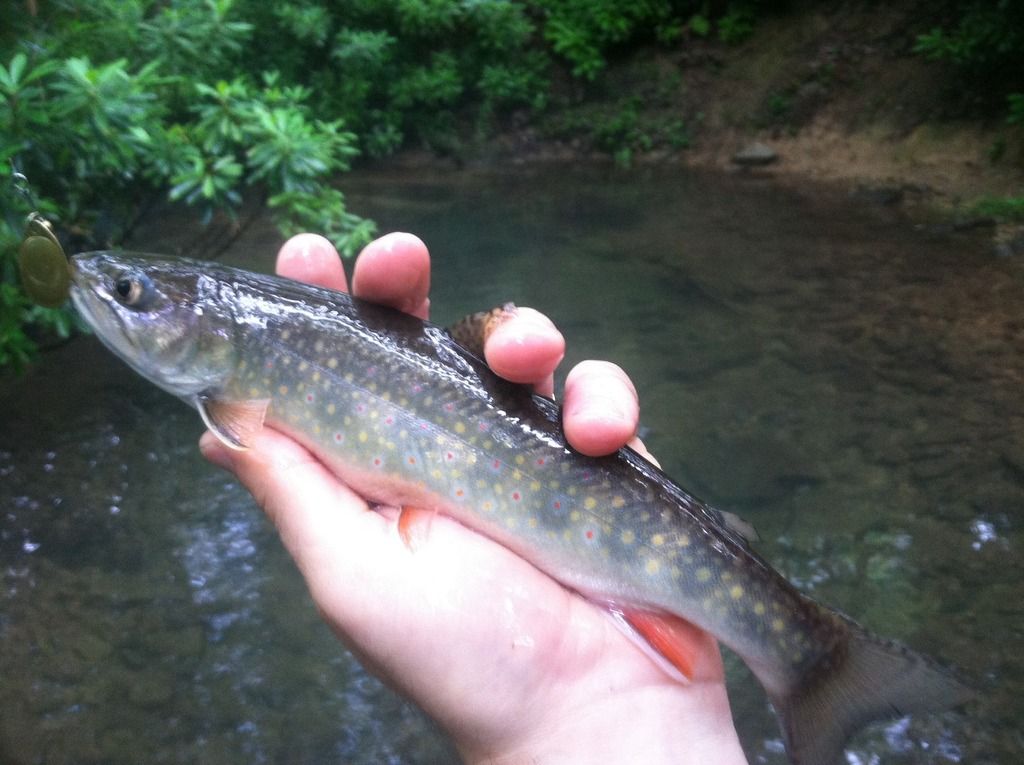 Immediately above that large pool, the stream returned to an impenetrable tangle of rhododendron and it seemed like a fitting exit point with 94 trout in 4.5 hours.
I stopped at a few mink trapping locations on the way home to check for tracks. While crawling under a concrete box culvert, I encountered a "wolf?" spider half the size of my hand. Its compound eye eerily reflected the light from my camera flash.