Discussion Starter
·
#1
·
Since I have gotten into land managing for wildlife , it has turned quickly from hobby to a complete and total obsession. Days to put a good workday into the woods are few and the reality of that sometimes gets control of my head and after a loooong winter and deep snowpack keeping me out of the woods and from making any project progress for way to long this weekend finally allowed me the "perfect" kickoff weekend as the ground was now firm enough to allow ATVing in to the project areas with the saw without destroying my trail. Anyway, Saturday I got back to my furthest project and I spent about 6 hours dropping 12 firewood trees that block the southern horizon of my newest food plot, not running the saw all winter made 6 hours enough and eventhough I had marked trees left, I will not run the saw under fatigue so I quit planning to finish up with a shorter workday on Sunday
Sunday morning comes and I get breakfast made up. My oldest son stayed at a buddy's overnight and was gone til about noon Sunday, the girls had plans for the morning, leaving my youngest Joey kind of tagging along with someone. I think that is when I realized I might be putting the forest work ahead of the seeds I am hoping to plant here and getting a bit blinded by habitat work. Since the weather was finally nice and I knew he could handle that part, I decided instead, to make the morning a him and me time and I can't explain to you guys how happy I am I did. He could not get his camo on fast enough at the word and actually was rushing me to get my carhart bibs on…as always I record all this stuff for the history of the greatest journey I am here to take, and hopefully to remind me of the focus I need to take here. I don't like to have the kids there when the saw is running, just too dangerous, but I think I need to reorganize that thought to say " I don't like having the saw there when I got the kids there"
Anyway lace'em up and come with us, and remember what the woods was like when you were 5.
First stop was camp for snacks and to wait for the sun to get just a tad higher and warmer..BB gun on hand in case of bear attack.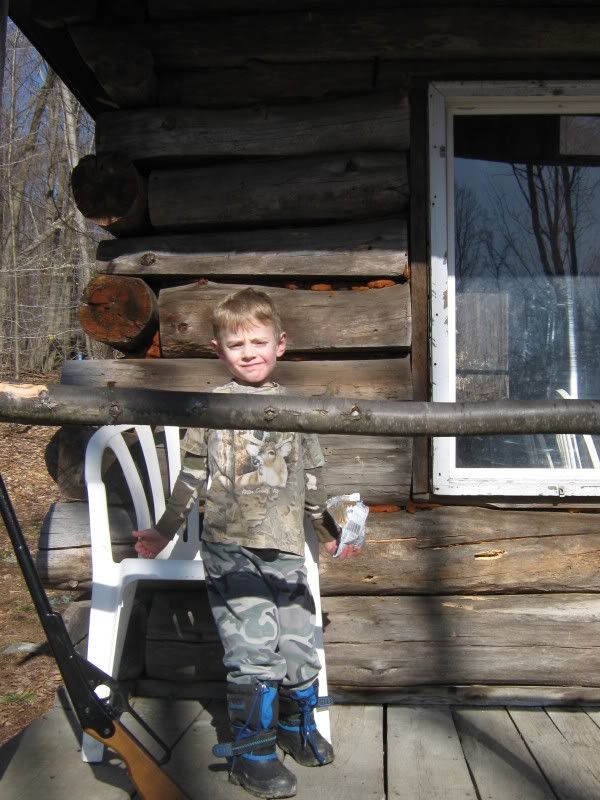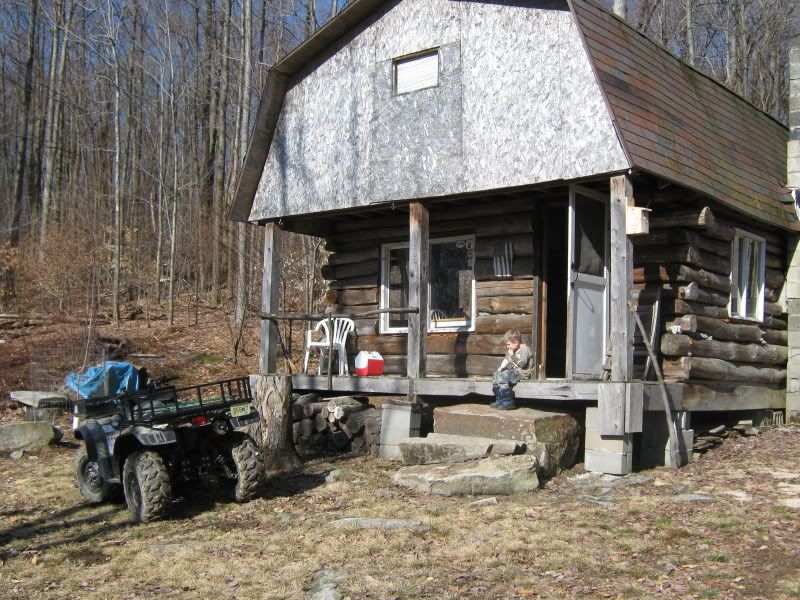 Then is was time to look for sheds . Knowing where a close buckrub was I purposely took the path and told him to keep his eyes open for buck rubs..sure enough..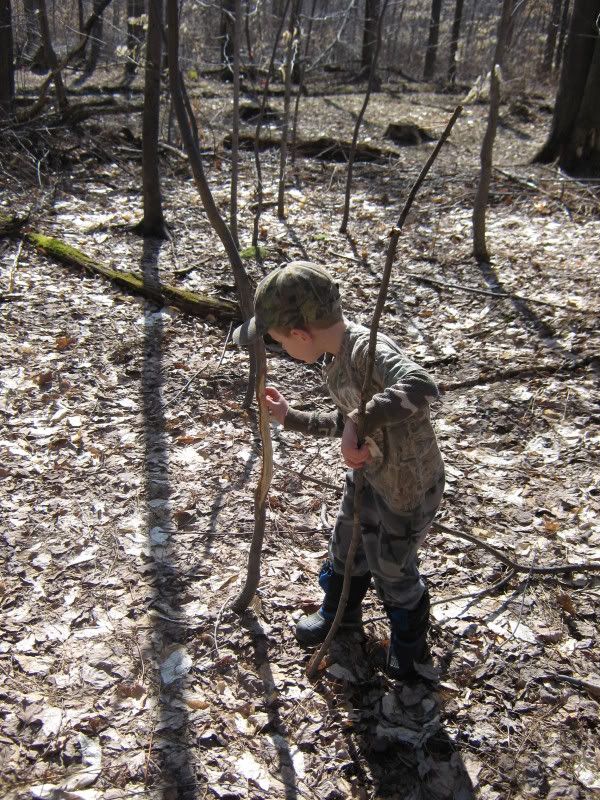 Then it was over to the "boulder woods", a nice ridgetop full of boulders…the first one was moss covered and the perfect place to have a juicebox and enjoy the sun…on top of the rock was a lot of acorns and also a branch a bushytail knocked down…something I may of walked by…but not Joey, he asked I answered.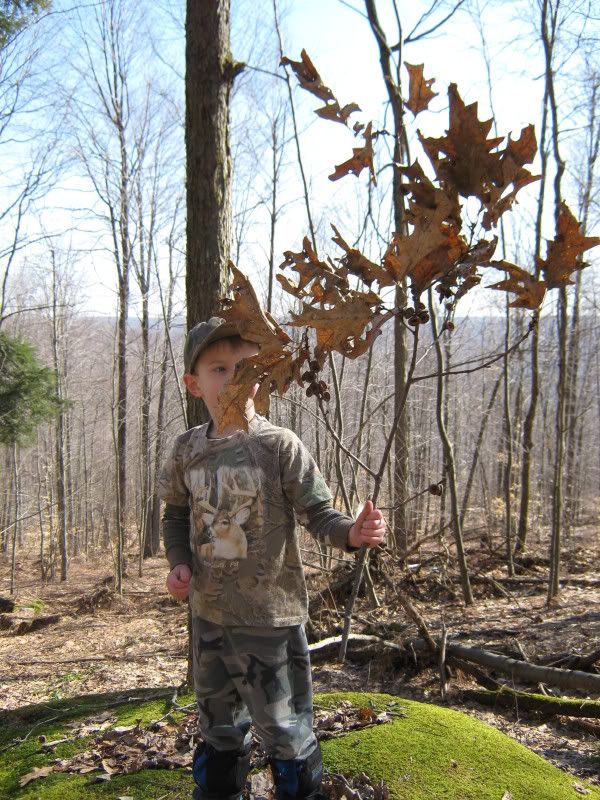 Onto the bigger boulders…with cool places to explore.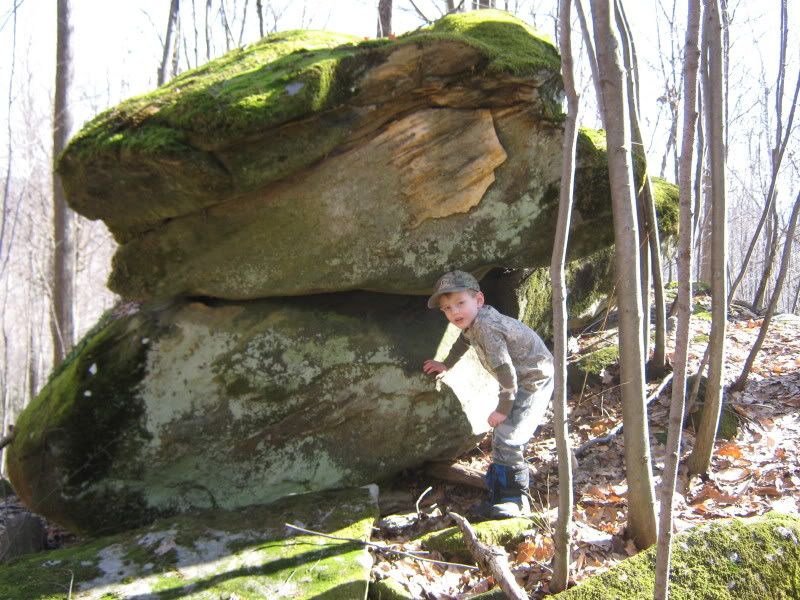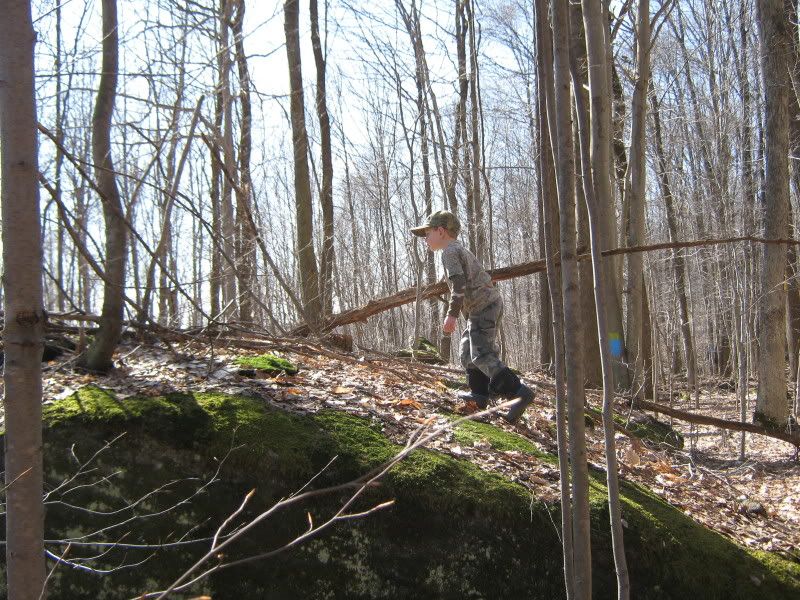 And we found just the right spot to declare Joey "King of the Forest"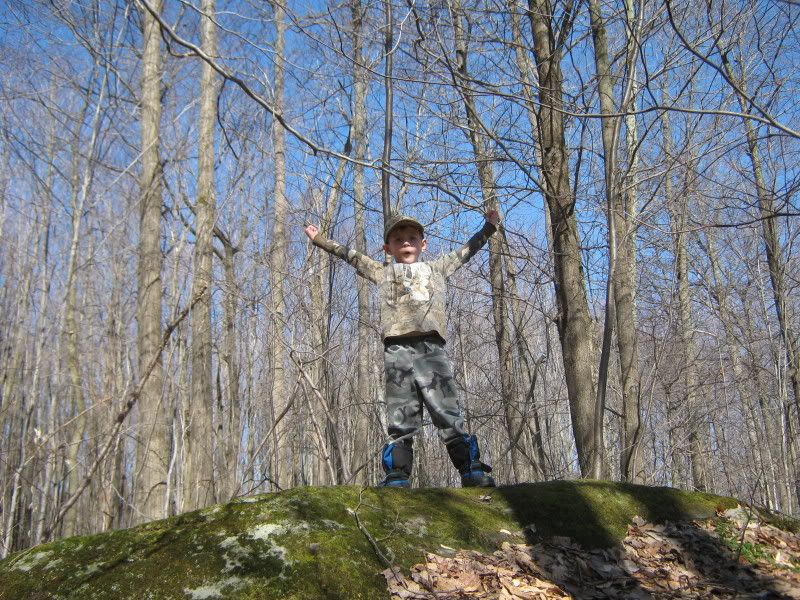 We had a great time and the morning flew by and it was time to met the rest of the family down low for lunch…the whole family back together we had a tailgate lunch then hiked to where Mom got here rifle season doe. I don't think Joey stopped talking the whole time telling them about the mornings adventures and also how he was "king of this forest".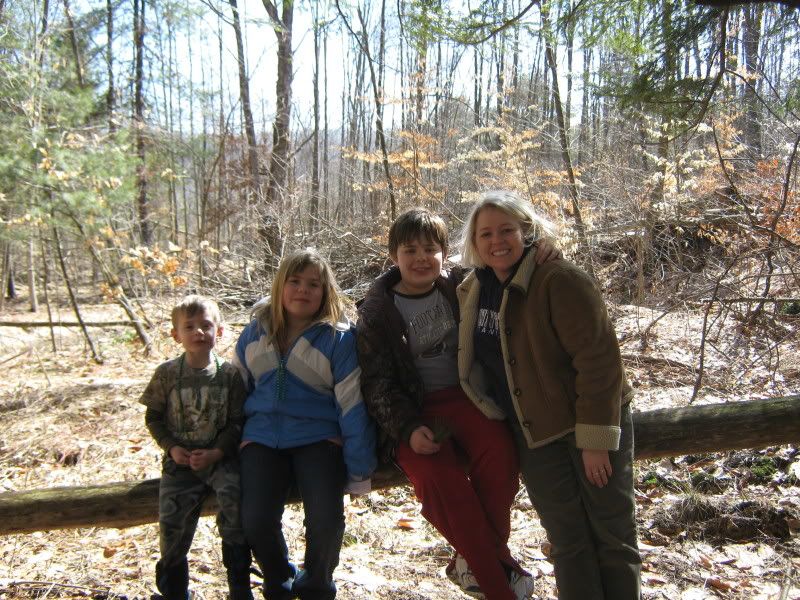 Everyone seemed to be really interested in hearing what I am doing for the animals as I showed them some of what Dad does when he "goes to the hill" so hopefully they will understand , but even more so want to part of that as nothing will make me happier. But despite that I need to remind myself more that all the habitat projects in the world will mean nothing if not shared with these guys…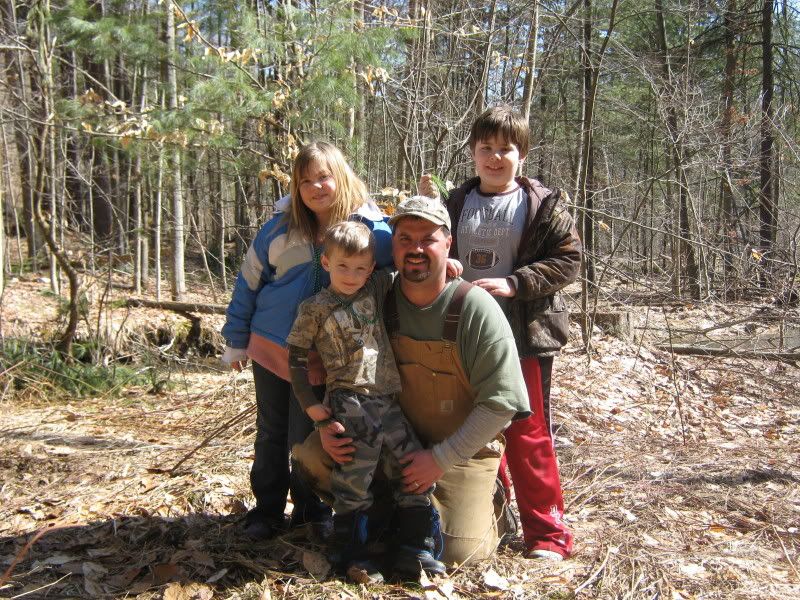 I waited a longtime to be a landowner and steward and live the dream I am currently living, but I waited even longer to be a Dad. Schedules will not always lead us to the woods together as my kids certainly have things of their own to do and those times will be my workdays , but when the time is there I need to make my mark on teaching the most important thing in life, and that is the importance of the woods to spirit, family and soul.