Discussion Starter
·
#1
·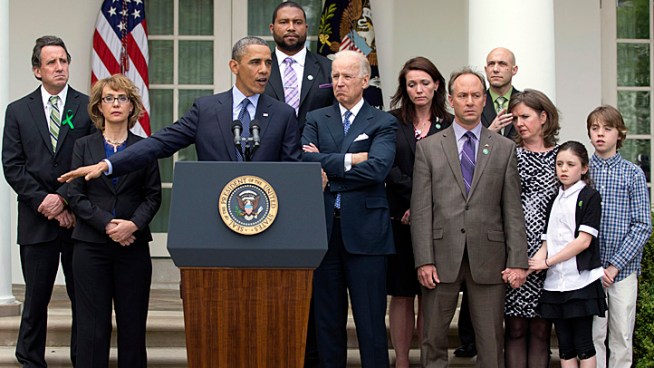 The never ending parade of victims. The President cannot do a speech about gun control without being flanked by victims. He cannot stand on his merits, and his facts.
Why does he not have the victims of the Fort Hood shooting "work place violence" event while speaking about gun control? We know why. That was a Muslim terrorist, and that whole thing was patted down promptly. Not the right kind of victims. US soldiers and all.
Will he have victims of the Boston bombing on his push to wipe out terrorism for good with ball bearing legislation?
Why not have the Benghazi survivors flanking him in a white house event in his push to stomp out radical Islam? What did happen to those folks? They don't even appear on a talk show. Shame.
Why not have the millions of Americans who are suffering under his policies flanking him to express outrage on why life is so hard now, and how the USA has lost untold jobs and economic growth? In reverse, why not have the parade of success stories of folks that are now prospering under his socialist policies?
Let's see...what other victims could he use as props.... hummmm...
Oh yea! How about all of the people that are suffering or are going to suffer under the "affordable health care act", complete with sobbing children and stories about people loosing their jobs and their health care. . . ? How about a bloke like me that is going to be FINED/TAXED starting next near crabbing about how my taxes just went up because I didn't buy the GOV'T approved health care plan as I was mandated to do? I'd be a GREAT victim.
Interesting. The Regime only uses props when it advances it's agenda. There's many MANY more victims out there that The Regime has created, but they don't get their 15 minutes of fame. The Newtown families he uses over and over again, and they are useful idiots.
I'm not trying to advance anything here, just venting. I'm sick of the VICTIM mentality, and VICTIM society that The Regime is using as a pawn. Frankly, it's disgusting.
The Regime has NO shame. And the low information voter actually watches these highlights on the mainstream media and believe it all to be true. Look again at the photo above. It's disgusting. Seriously, look again closely at the photo.