Discussion Starter
·
#1
·
The last two days of fishing were inspired by a friend of mine who is taking trip to Canada to catch "monster" wild brook trout. I could never afford such a trip, so I thought I would try and do my best around home to give him a mark to shoot for before he departs.
Most of my home turf received between 2 and 3 inches of rain on thursday. When big rain events like this happen, I spend the next few days starting with streams high up in the watersheds and following the receding waters down to the bigger streams.
I started on friday with the smallest stream that I fish. Even with 3" of rain, it was barely a trickle. It is also the closest wild trout stream to my house so despite its size, I don't write it off.
Judging strictly by my observations (and I am not a biologist), this may be the healthiest stream anywhere around the area. Last week on a jog, I noticed a strong "yellow sally" hatch here. On friday, a crop of new adult stoneflies were buzzing around.
I am not sure exactly what I interrupted when I stumbled upon this pair. That would be quite an ambitious meal for the salamander.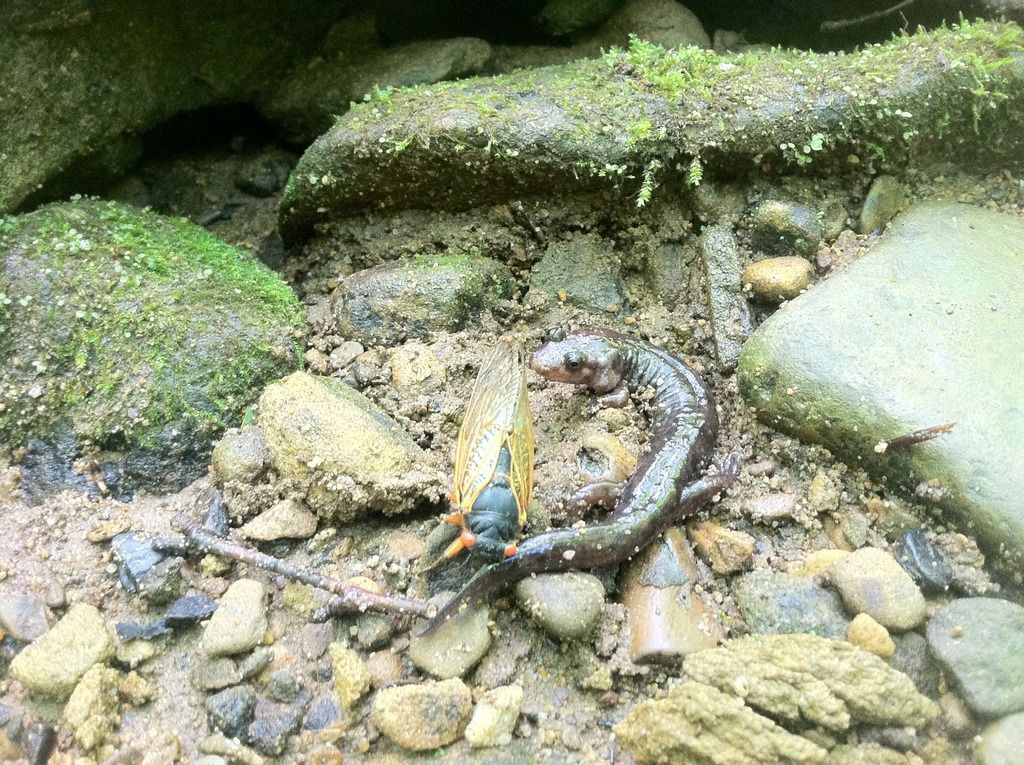 The brook trout here are very dark in color from having to spend most of the year seeking shelter beneath rocks as the water becomes scarce. Most trout here even begin developing black speckles on their white underbelly.
Obstacles like this are nothing for these nimble wild fish.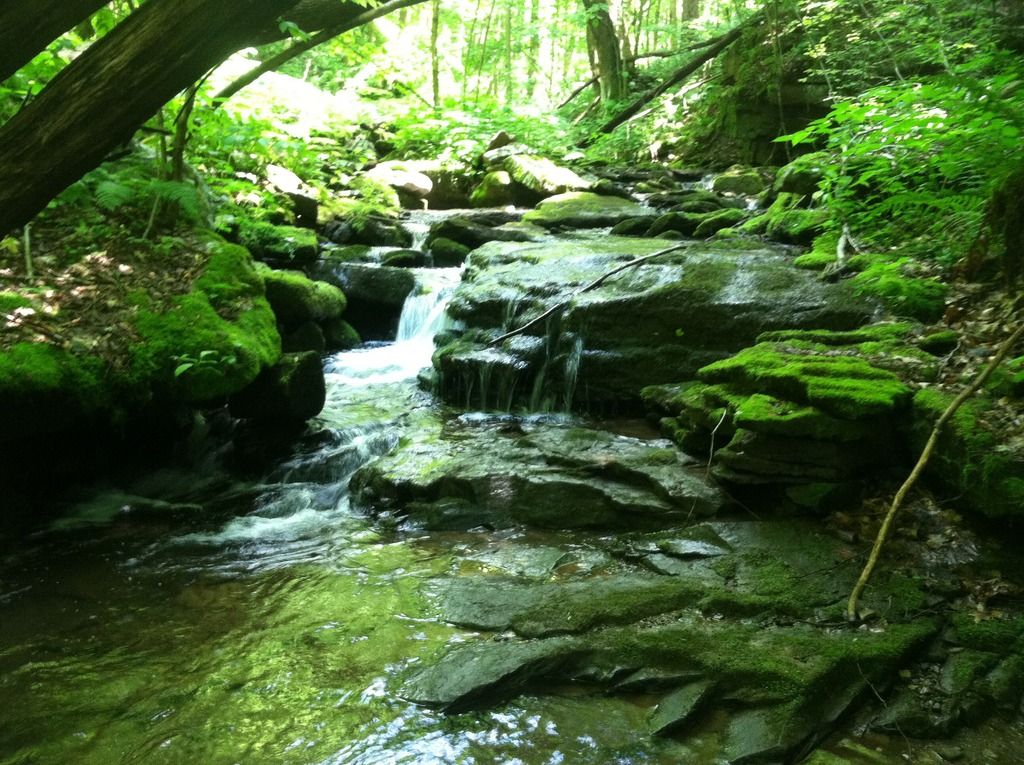 The stream offered just under 2 hours of fishing before it petered out. The largest of 52 trout caught here was an 11 incher from the smallest part of the stream where I quit fishing.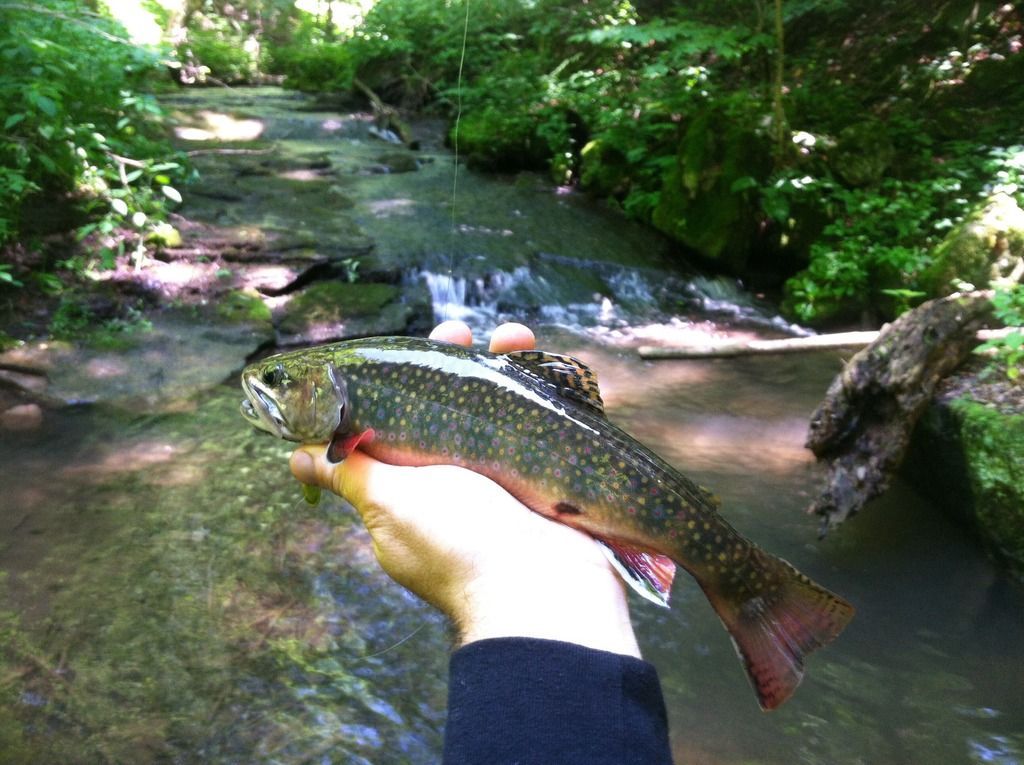 When I started exclusively fishing spinners, this stream kicked my butt. I didn't have enough control over my casts. I was not able to visualize paths to retrieve my spinner through the tiny holes and riffles. I was also using the wrong type of spinners. I looked at my notes and 4 years ago I caught 8 trout here under similar conditions.
Just down the road is another stream. This is an extremely remote water. Cell phone service is a few miles away. PAFBC has never surveyed this stream, and only the most local of yocals have likely visited it.
The water was more full than the first stream.
Robust wild brook trout seemed to be in "schools". I would pass a few great looking holes without a whiff, and then catch 5 out of the next spot.
Some of the largest natives of the year came to hand here.
12.5"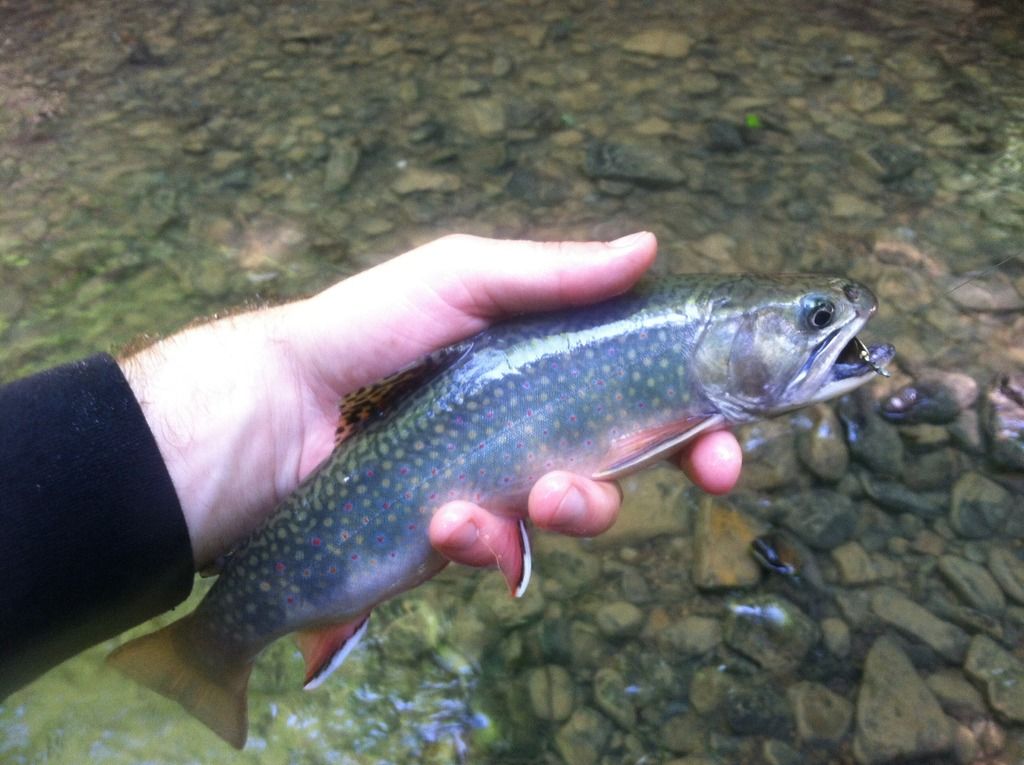 I was a little bit surprised by this wild brown.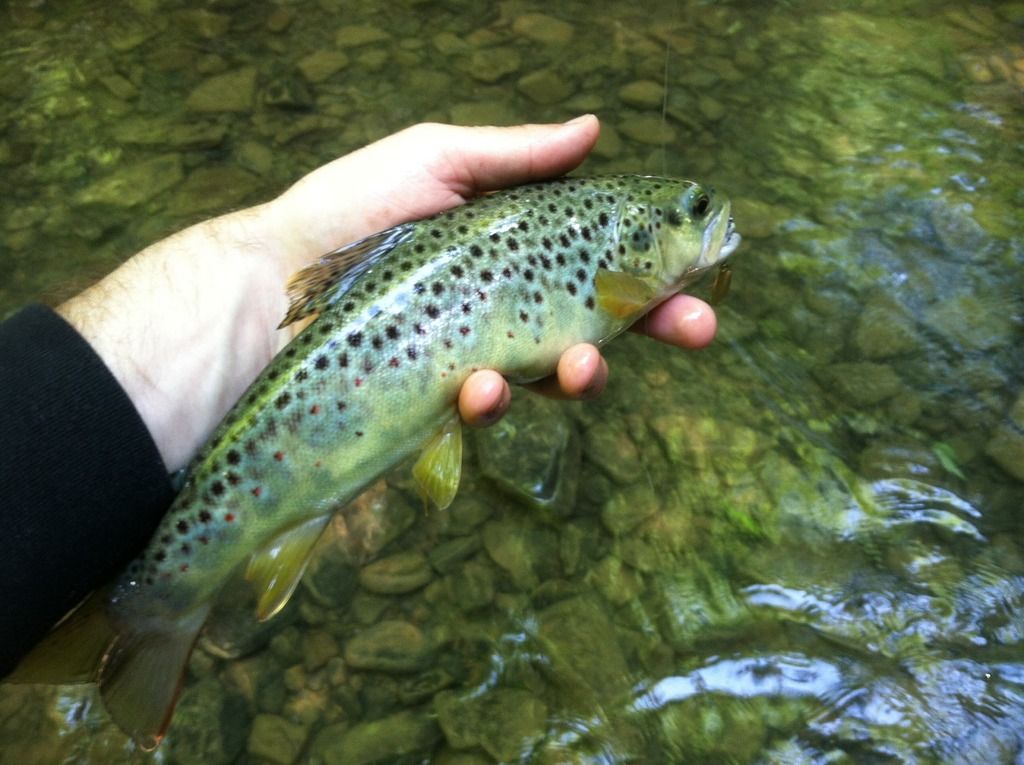 And very surprised by its offspring.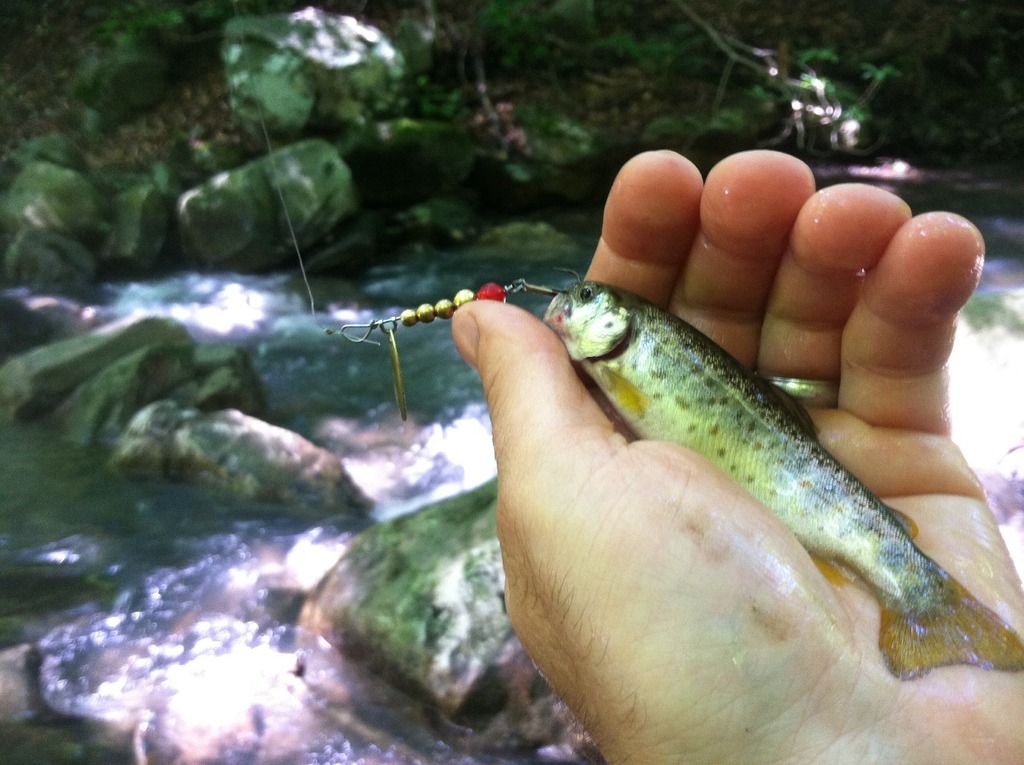 39 trout were caught here in a 2 hour expedition for an "even" 91 on the day.
On the walk out, a noticed that the valley was blanketed with my favorite type of tree, asimina triloba. I will definitely be back in the fall to pick a backpack full of the best fruit that you can't buy.
On Saturday I got an early start because I needed to be home even earlier than normal. As I crested and then descended the highest mountains in our state, I could see all of the valleys bubbling over with fog.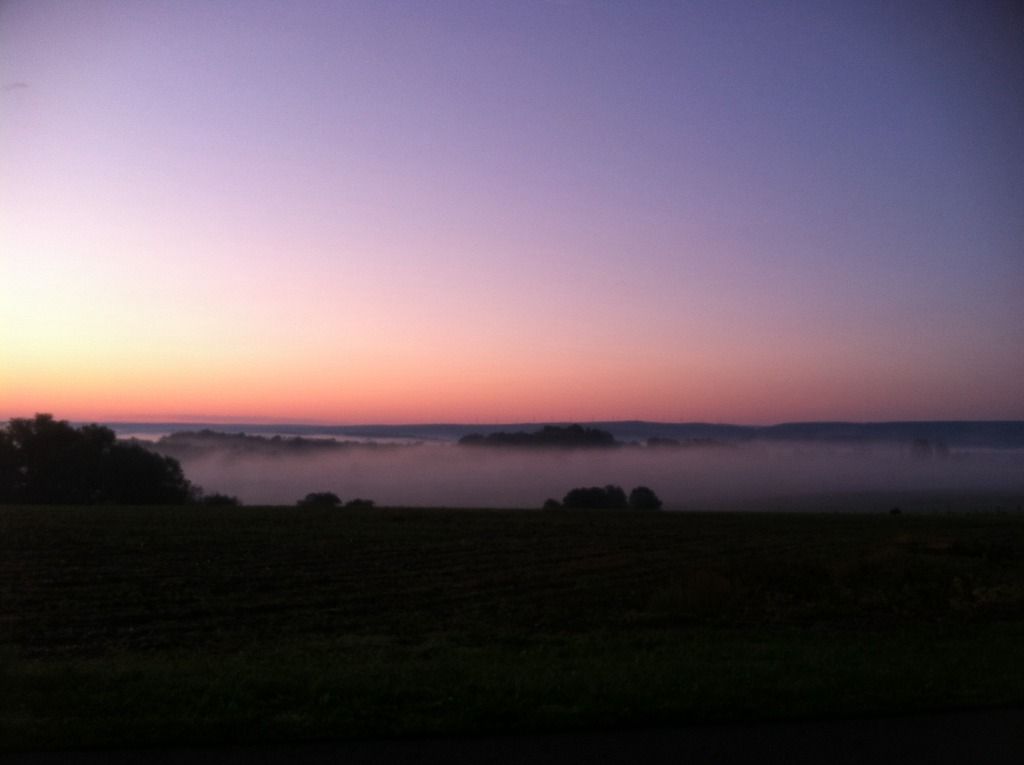 Saturday's stream has always been good to me, no matter the conditions. The fishing started at 5:30am and was extremely slow with just 3 fish in the first half hour. The water temperature was 58 degrees to start.
10"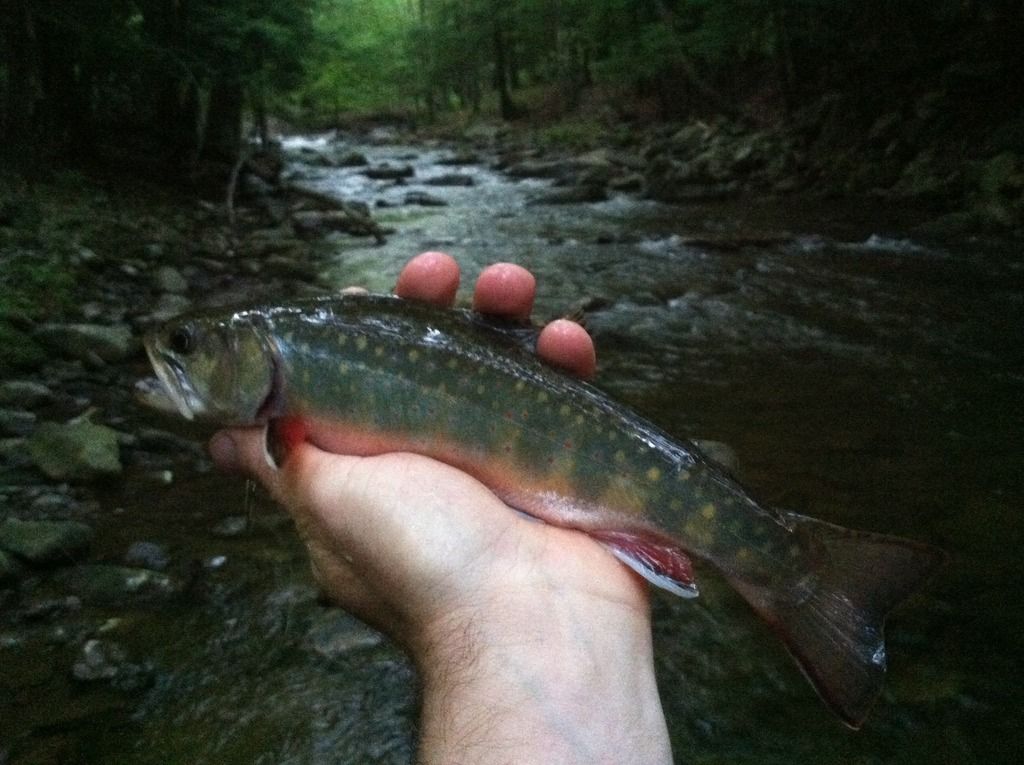 It must have been recently fished as I can think of no other explanation. With a big "time crunch" today, plan B was not an option. I got out of the stream, ran a mile upstream, jumped back in, and resumed fishing. My scheme had worked as it was business as usual. The first hour was salvaged with 18 trout.
The next three hours were a blur of native brook trout coming to hand. I paused to catch my breath only when I photographed a "large" fish or a remarkable feature in the stream.
This leaning tree was broken off just above the water level, which may be why I didn't catch any trout here.
10"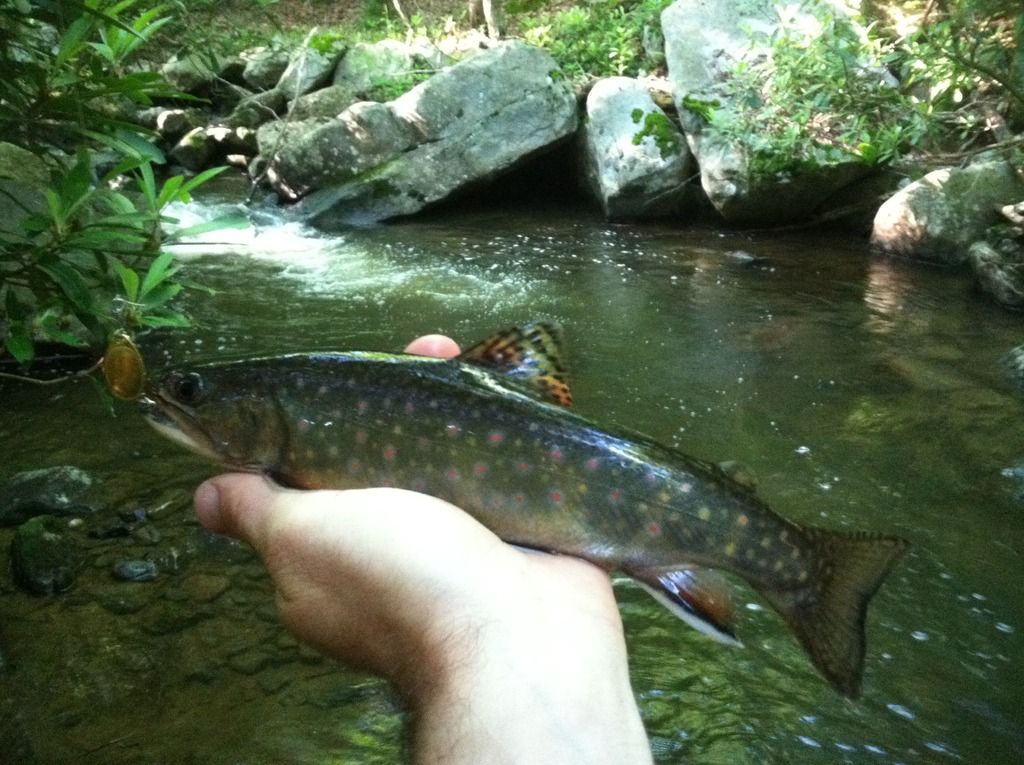 11"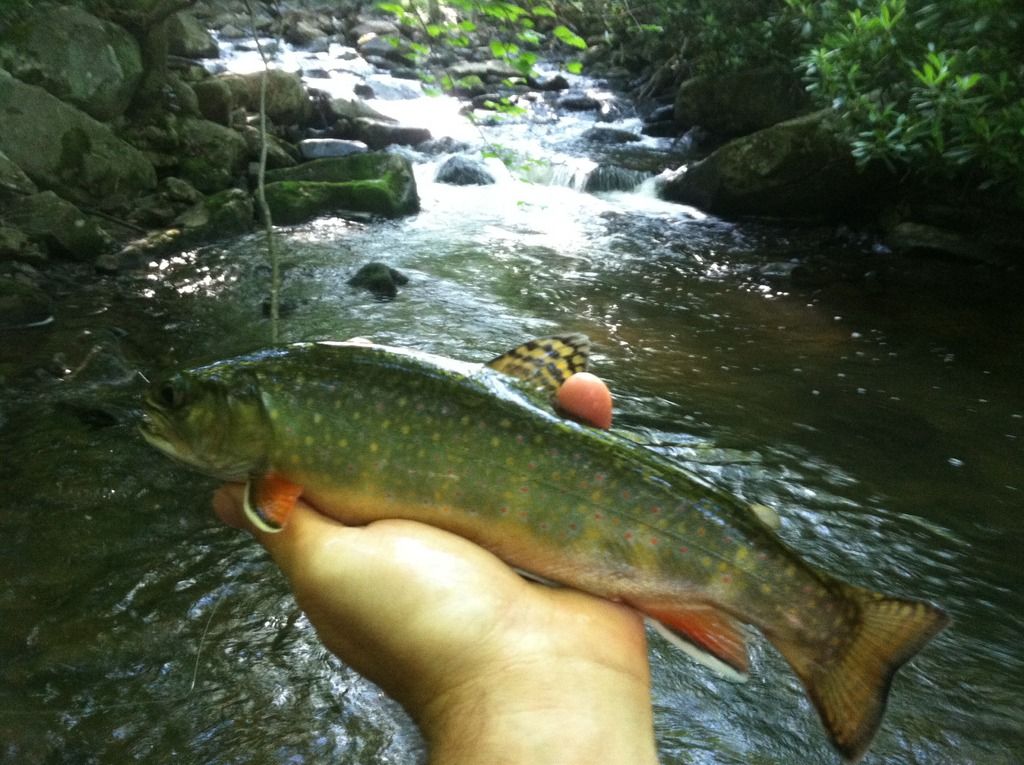 12.5"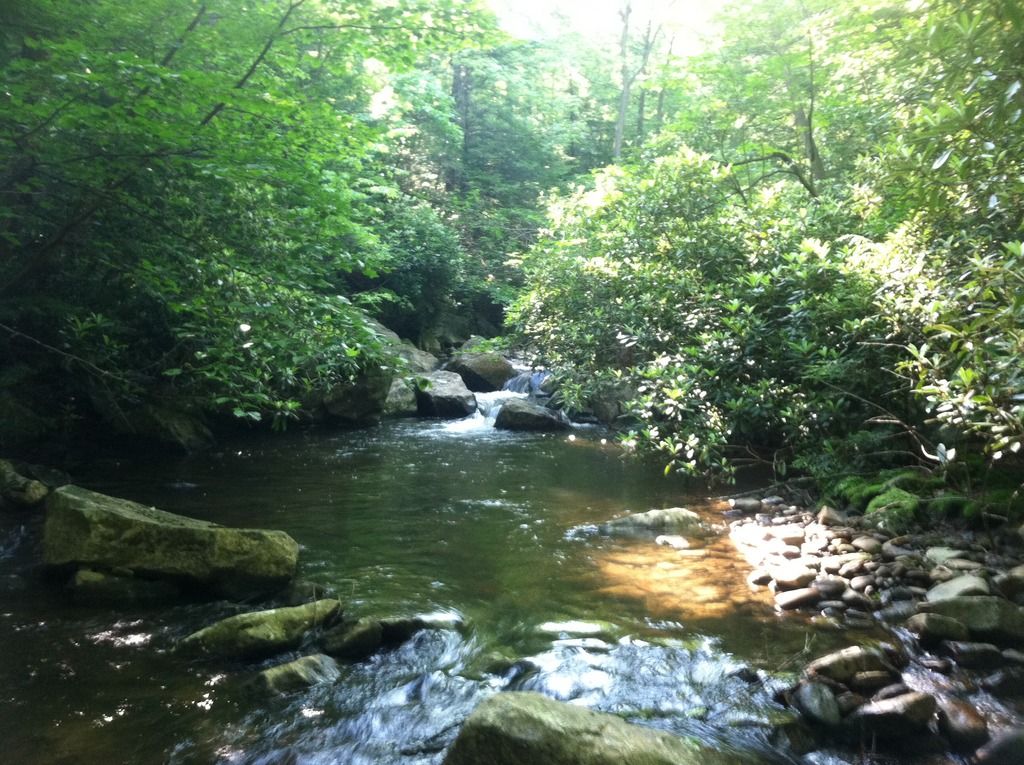 10"
9.5"
112 trout were caught by 9:30am when I headed for home. I hope that I can get at least one full day of fishing in this summer.
HD1969- If you read this, I used both lit and unlit cigarette butts today to catch these fish. I actually had more luck on the unlit variety contrary to your findings.