Discussion Starter
·
#1
·
A bead of sweat dripped off my nose as the black flies danced around my head like an old Indian war party before the attack. It was ungodly hot out for 6am but the draw of the current held me steadfast, focusing completely on my next target. The stream was churning aggressively around a gauntlet of rocks in front me. I pried small brown after small brown from each likely looking spot.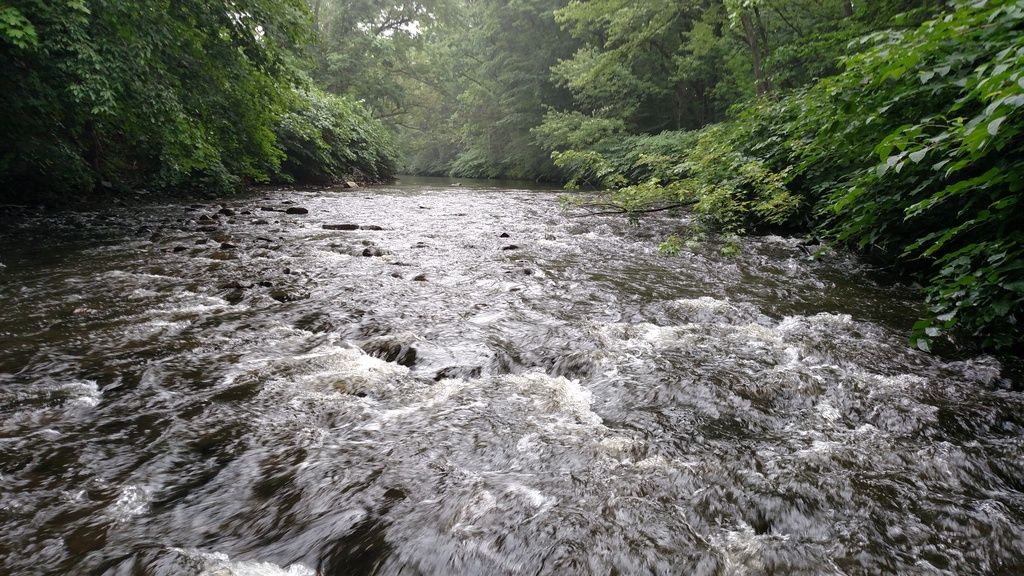 With a small flick of the wrist I sent my presentation on its way. I wasn't happy with the distance or location of the cast so I manipulated it mid-air about a foot forward and a few inches to the left. The spinner crashed down right behind the boulder and I instinctively cranked the bail over on my Shimano Ci4. In an instant the water exploded and for the first time in 24+ years of spinner fishing I thought I was going to lose the grip of my custom building 5'1" rod I fondly refer to as 'The Green Machine'. My pointer finger wrapped around the leg of the reel as the rod itself lost all of its bend and pointed straight at the fish. It was my last ditch effort to save my setup. I quickly regained my grip and the battle was on. I immediately saw that it wasn't the largest fish on earth but the ferocity with which it hit simply took my breath away. When I finally landed the 18.5" wild brown I mumbled a little 'nice job' to it as I shook the hook loose and released it back to the water safe and sound. The single greatest 'hit' I've ever felt in trout fishing won't soon be forgotten!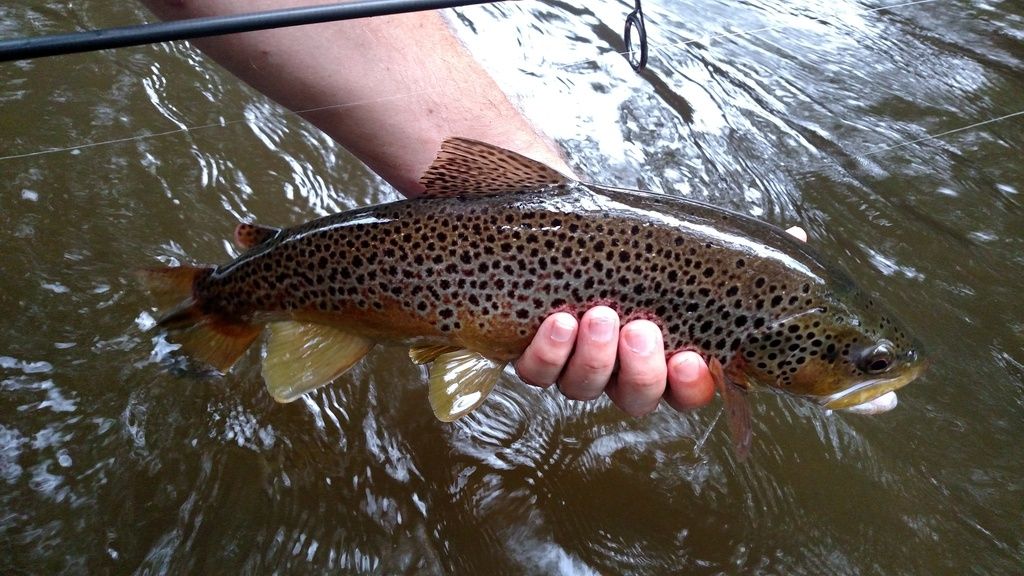 I took another moment to whip my brow again and swat at some black flies. Time wasn't on my side so I needed to keep moving at a brisk pace. I didn't really know it yet but the morning was going to be filled with all sorts of surprised. For the next 30 minutes browns and rainbows occupied my time and the sound of the rushing water filled my ears.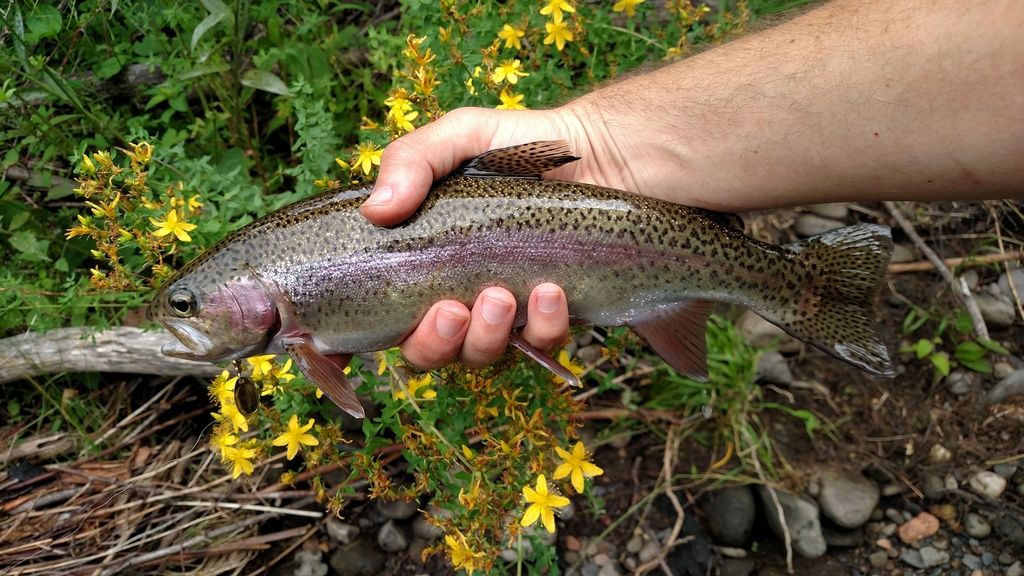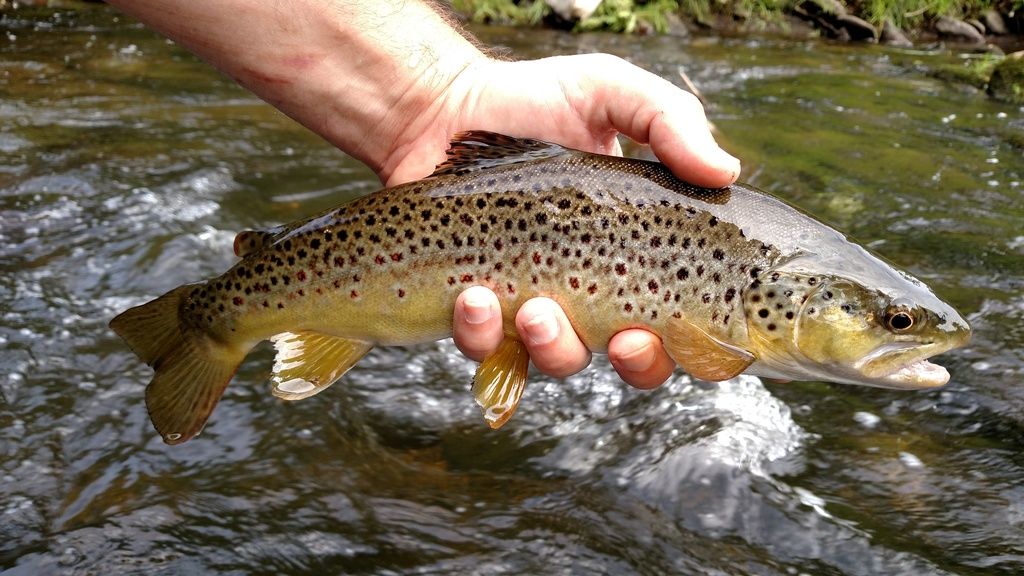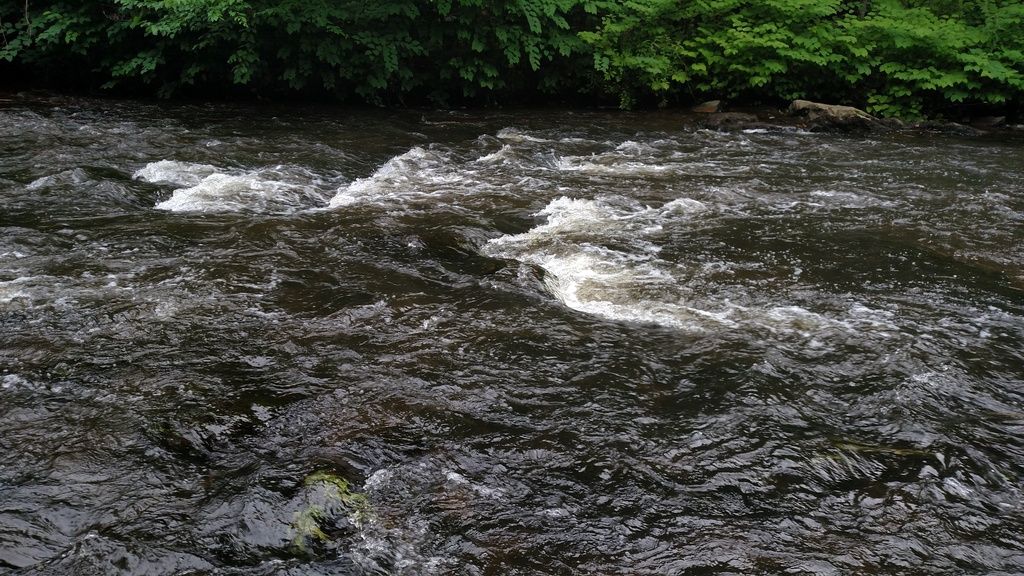 I approach the next large pool and let'er fly. Again, like wild browns often do, the spinner was hammered before I could even turn the bail over. The behemoth brown came to the surface and I couldn't believe my eyes. It was a true giant in the 25-27" class that I had on my line. It was the fish that dreams are made of. The thoughts of personal glory danced through my head. I was on cloud nine……that was, until it opened its mouth and out popped the 7" wild brown that had actually taken my spinner on the drop!! I reeled the small trout in that was no worse for the wear. It didn't even have a mark on it to be honest. I felt bad for the little guy because not only did it just get complete accosted by one of the largest browns I'd ever seen, but it also was probably the most disappointing trout I've ever caught in my life haha.
Yes it was disappointing to not land that fish but there was no time to hang my head. More good water lay ahead.
A few pools later my mind was reset when this angry 17" brown laid into my retrieve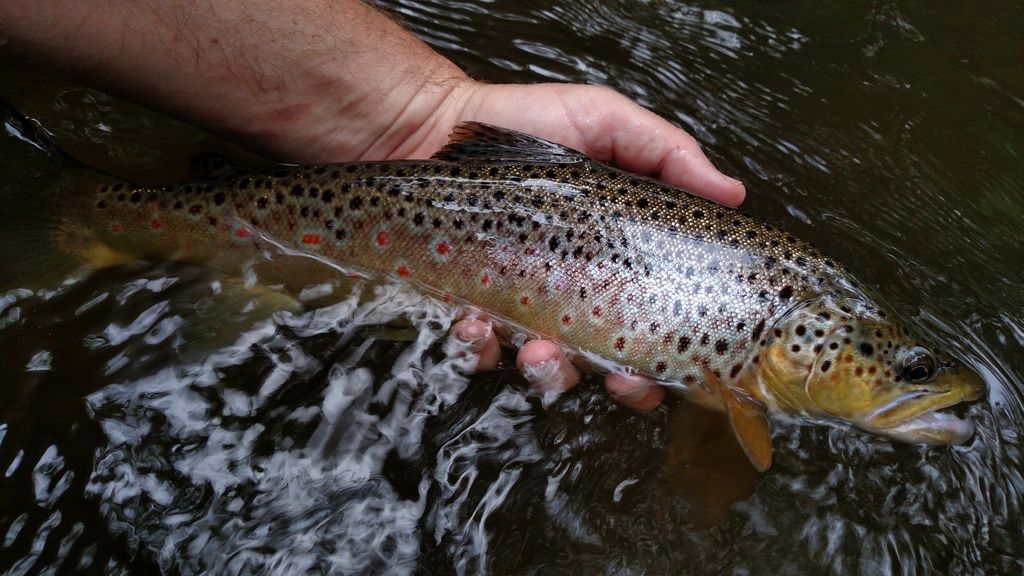 And only a run or two later another slightly larger brown wanted to take my spinner home with it……but I wouldn't allow it!!!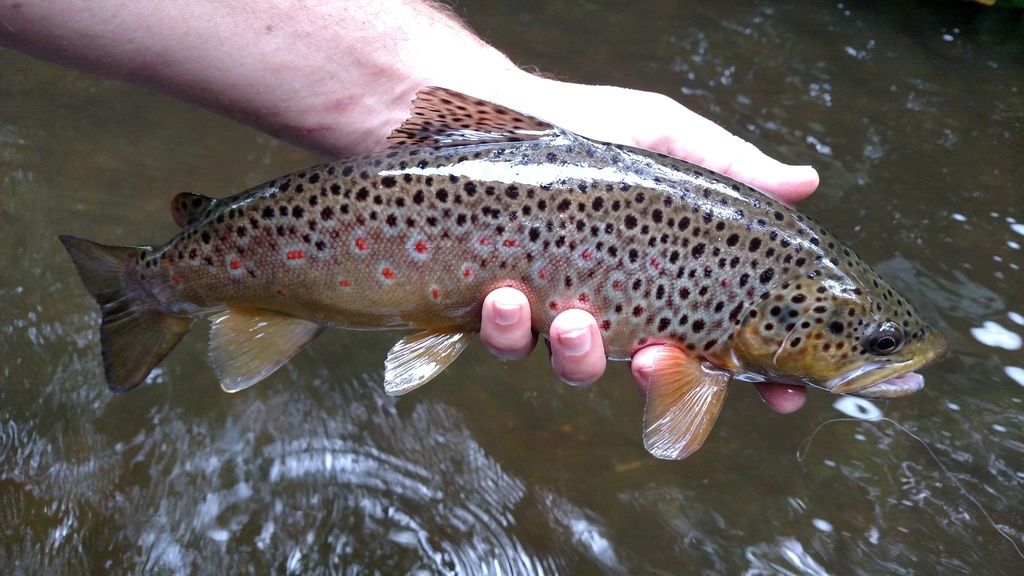 I was nearing the end of the short stretch that I intended to fish before work when the infamous 'I May Never Know' pool came into site. For years I'd fished this lunker of a looking spot and over and over I've came up empty. I always catch trout but nothing to gawk at. In June of 2013 I sent a cast into the narrow shoot to the left of the boulder and was rewarded with a triumphant strike which promptly snapped my line. For years I could only imagine the fish that embarrassed me so badly.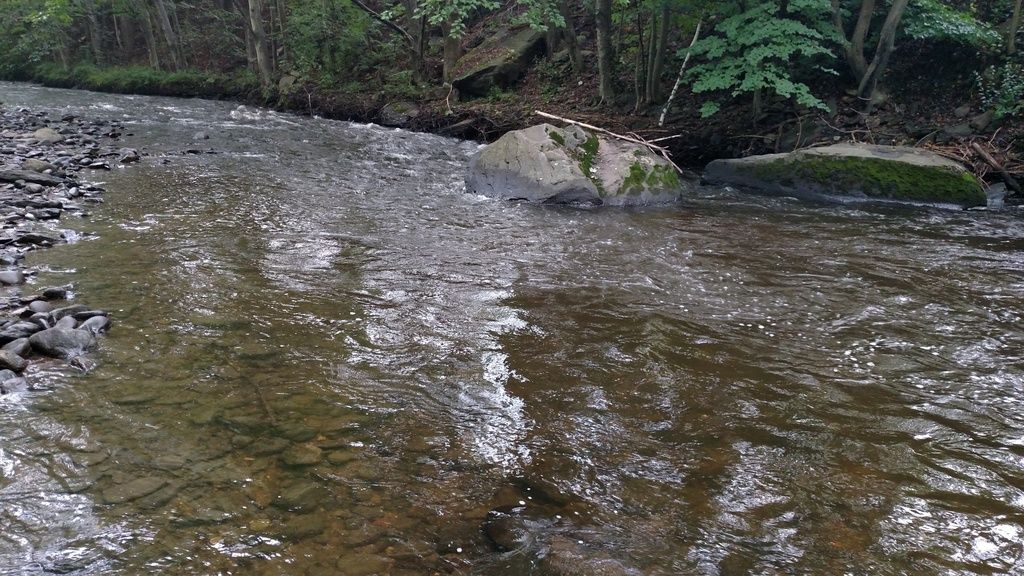 As I approached the correct casting angle I was 'on edge' just like I am every time I fish this spot. I know there's a giant in there but when was I ever going to see it. Well, today was that day….FINALLY! When that spinner hit the water is just stopped dead. I couldn't do a darn thing with the fish except just hang on tight! The monster rolled up and down the pool in a frantic attempt to shake free but the hook set was solid and my intent was on point. 12 years of fishing the spot was coming to a head and I was catching that fish no matter what. After about 45 seconds I slid the king of the hole into my grasp and took the pic I'd been waiting on for a loooong time.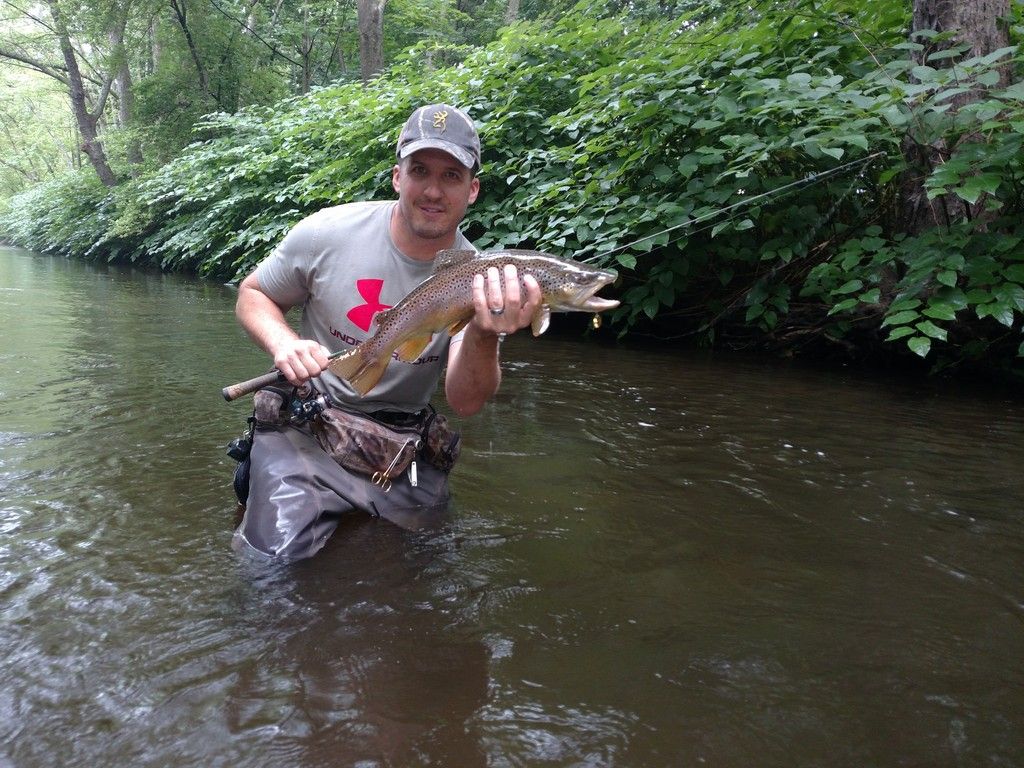 At just over 22" he was a touch smaller than Monday's trout but definitely heavier. The fish wasn't going hungry in there that's for sure! As I slid him back into the murky depth I gave a quick point up into the heavens and a little fist pump. I couldn't choose any better spot to jump out and hit the road then right there!