Discussion Starter
·
#1
·
This post is actually for my best friend and the his drought that he just ended. The turkey hunting around our area has been tough over the past couple years and it seemed that over those past 3 years, anything and everything went wrong and he would end up empty-handed. Well, that streak ended this past Saturday.
We started off at a place that he had been close earlier this year, but after getting soaked and not hearing a bird, we decided to go for a bit of a drive and try another parcel of land that we hunt from time to time. Sure enough, we got there and spotted a longbeard out in the field with a hen below the ridge we hunt. We hurried up and tried to get set up not far off the field and gave it a few calls. Nothing happened, so we decided to move to try to get more in the open directly above him. Again we tried to call him in, and again he just would not leave his hen to come check it out the full way. Again, we moved on him and got to the other end of the field and at one point snuck a decoy out in the field once he was up over a hill. He did crest the hill then and think about coming our way, but from what we found out later, he just couldn't see the decoy because the grass was a little too high. After getting absolutely soaked and a little frustrated from not getting him into range, we decided to walk back to the truck and if we could strike him along the way, we'd give it a shot. Sure enough, we actually ended up walking right up on his hen and spooking her off. We talked it over for a minute or so to try to come up with a plan when we heard the subtle clucks and purrs of a turkey right down off the field below us. We set up, gave him a few yelps, clucks, and purrs, and about 2 minutes later, he strolled right in along the field. The #5 XR's put a hurtin' on this ol' boy that never gobbled once and the drought is finally over for my buddy. 9 1/2" beard, 7/8" spurs, 17#.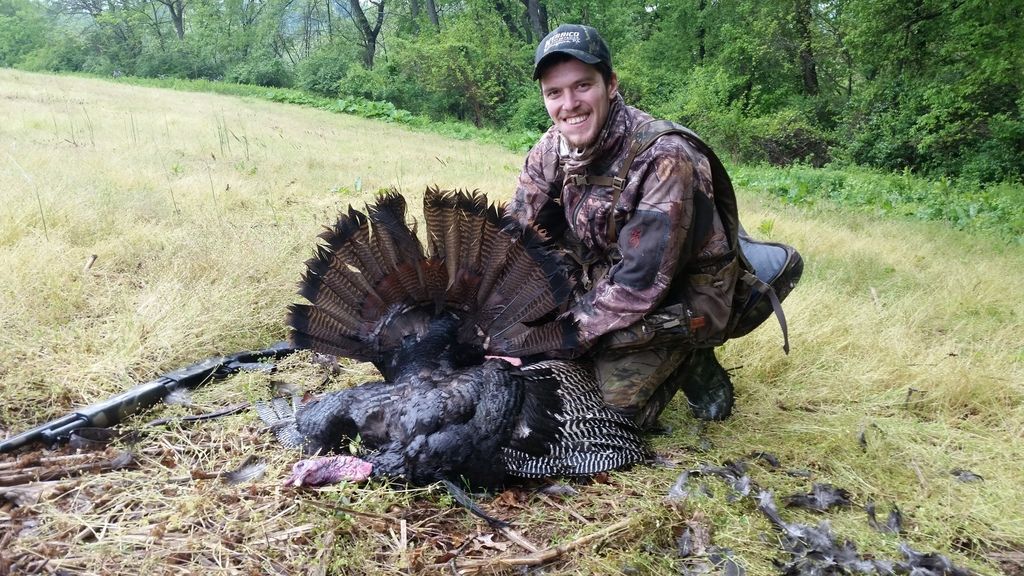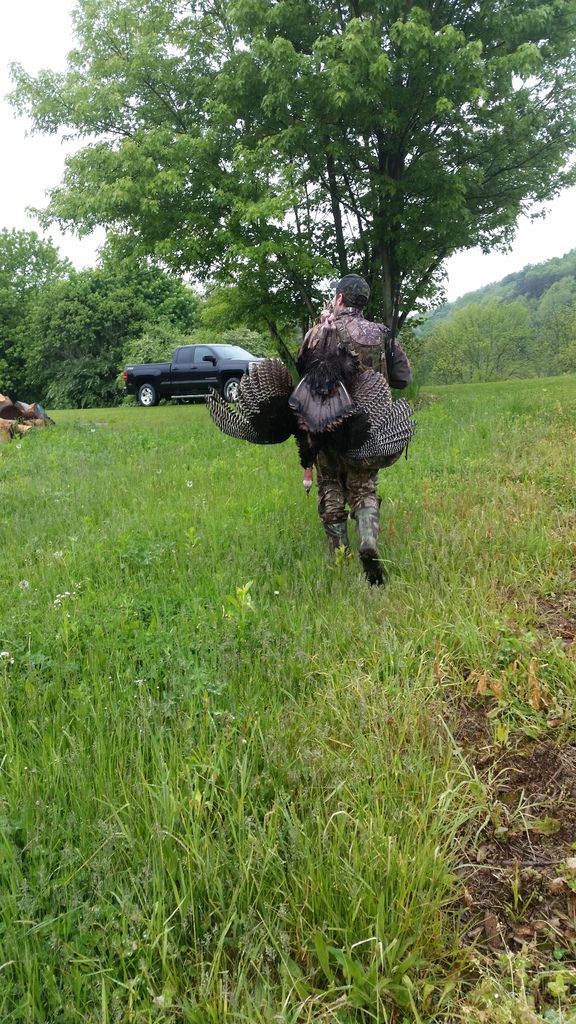 And to make the story just a little sweeter, as we go to walk this bird back to the truck, we found this little one who was just brought into this world recently, laying 5 yards away from the bird.