Discussion Starter
·
#1
·
After a not nearly as long as normal winter hibernation I finally got back onto the water this past weekend. Unlike most years when I hang the rod up mid October to enjoy more effecient outdoor pursuits appropriate for the seasonal temps, this past fall didn't end until the latter part of December with the unseasonably warm temps. It was a nice change from the norm. Early this Spring I was emersed in wood cutting and turkey chasing as usual. Both were very successful as I bagged a gobbler on the opener and scrounged up enough firewood to get me started on my stockpile.
This free'd an unusal amount of time in early may for me to consider fishing but the temps never moderated and I just am not up for scratching and clawing at fish in cold water conditions. There's been other more productive things to occupy my time while I waited for my chance to pounce. Finally this past Saturday over night temps held in the 50s and I knew that was my chance. Water levels in the east have been low for 2 months now and that hasn't changed of late even with all the wet weather. A quick review of my data revealed that one 1 stream on my list was at an acceptable fishing level and even that one was just about to cross over my self imposed 'no-fish' line. It's not a creek that I typically like to fish this time of year but it was as good as I could find so it would have to due.
I hit the road in enough time to arrive right at first cast light. I was a bit dismayed when the outside temp in my truck continued to tick downward on the trip and didn't stop until it settled at 46 degrees. I still expected the fishing to be decent but would have liked at least 50 overnight.
When I arrived a dense heavy fog clung tightly to the stream for about a mile on either side. The day was forecasted to be clear and sunny early on but it was anything but that and I was excited by the bonus 'cloud cover' as i put my wading pants on and string up the rod. I mosied over to the creekside, said hello to the new season, and hopped in.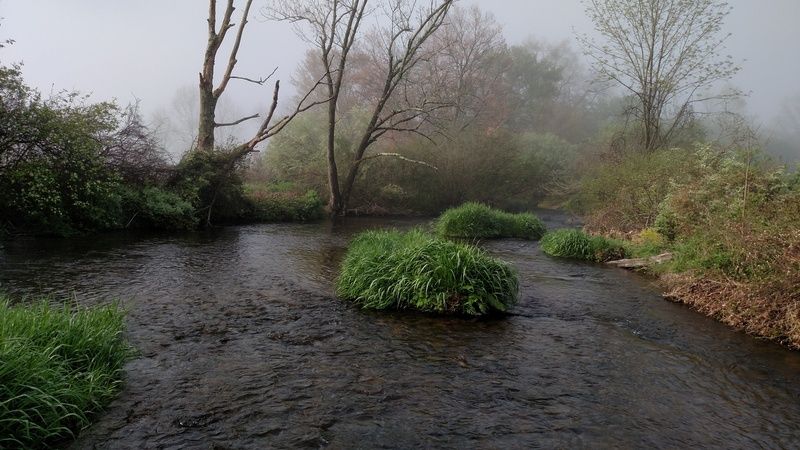 I always say that catching a trout on the first cast of a trip is a bad omen but what about catching one on the first cast of a season!?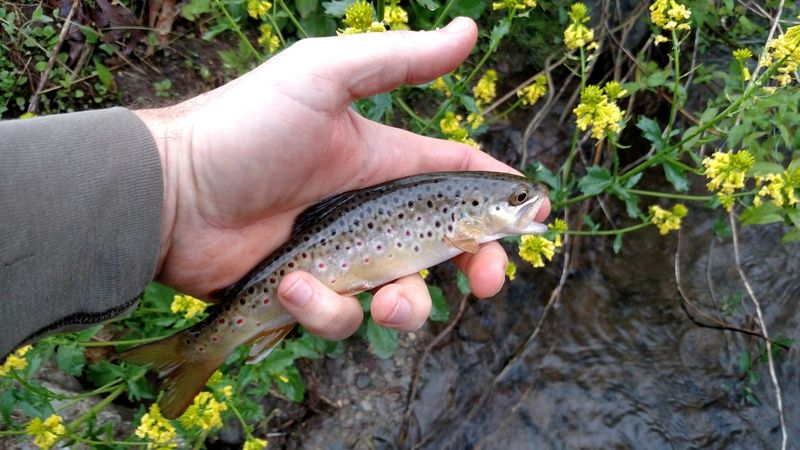 This little wild brown marked trout #1 of the 2016 campaign. 2 more wild browns on the next 3 casts had me off to one heck of a start.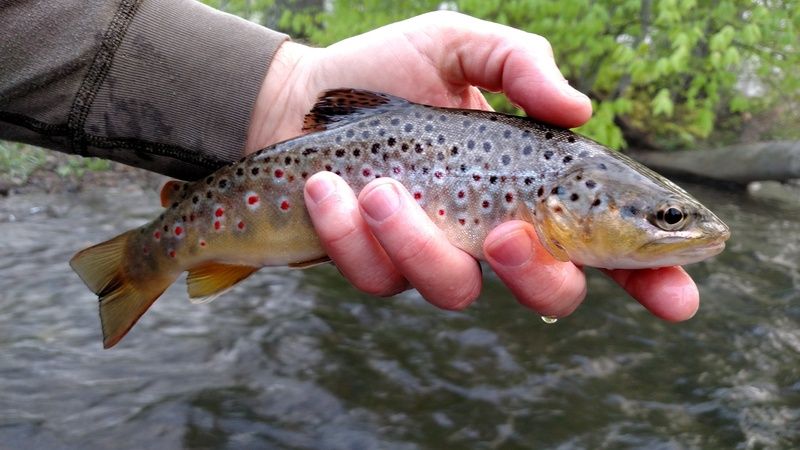 I doubt I've ever started a year with 3 trout in 4 casts before. And with 3 trout caught in the first minute of fishing I was averaging a cool 180 Trout per hour! The fishing cooled off remarkably after that though and I only ;-) managed to handle and release 41 trout in the first hour of fishing. If that ends up being the best hour of fishing (also my first hour of fishing) of the year I will not be in the least surprised. It was breath taking action and that doesn't include the numerous long line released or the boot shakers. The ones gone at my feet really tick me off!! Either way though the creek was truely producing and she was dressed in her finest Spring time apparell! The fog definitely added a certain beauty, not only to the fishing, but also the scenery.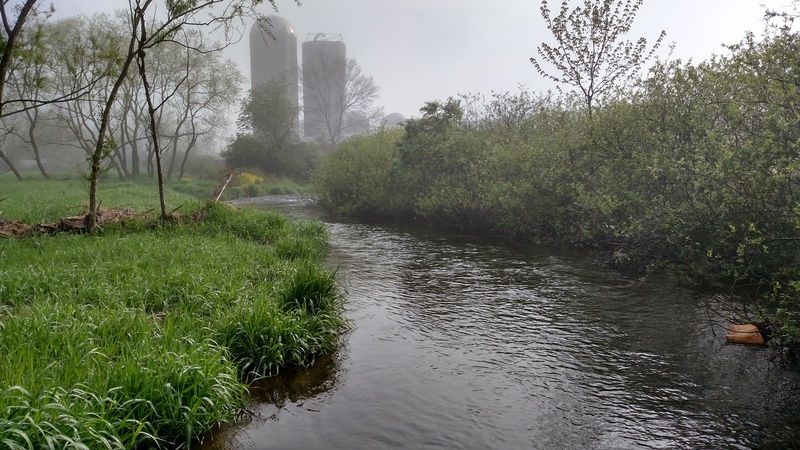 This rainbow liked what it was seeing!
Before long the sun wore through the fog and the scenery really started to shine through.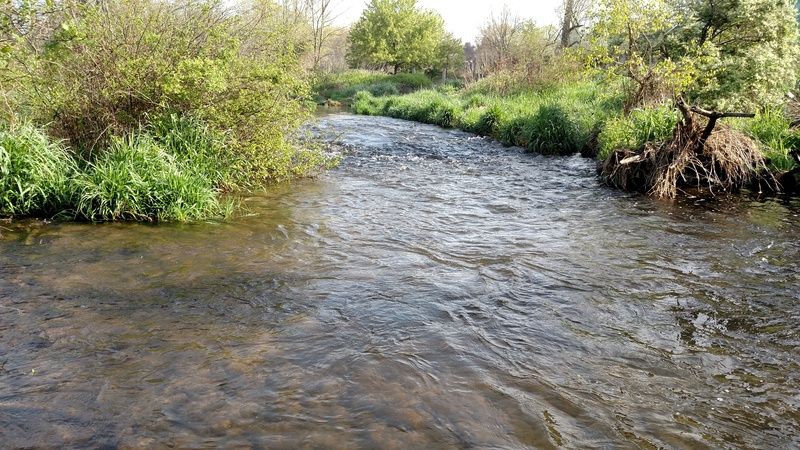 But not coincidentally, when combined with a high amount of on the water duck traffic, the fast and furious fishing ground to a hault immediately. I went from catching 5 trout in few minutes in one pool to having to pry trout out of the water in the very next pool forward. There were ducks all over the place and even a Blue Herron. The cards were immediately stacked against me. I was locked on 81 trout when I came to the end of the stretch and started thinking 'was that first trout the kiss of death?' haha.
On the walk back the truck with the sun beating down on my back I contemplated my next move. It was only a little before 9am so I had time on my side. I opted to head to a stream that I hadn't fished in a few years but knew would be at a similar water level and traditionally fished best when water was on the lower end. When I arrived I was very happy with what I saw.
The water was 'right' but it's a finicky stream and after 10 minutes without so much as seeing a trout I was officially concerned that a day starting with the promise of epicness would turn out less than that.
As I worked my way up stream a hen turkey blew out of the brush stream side. I figured it was a nest so I peaked up over the bank.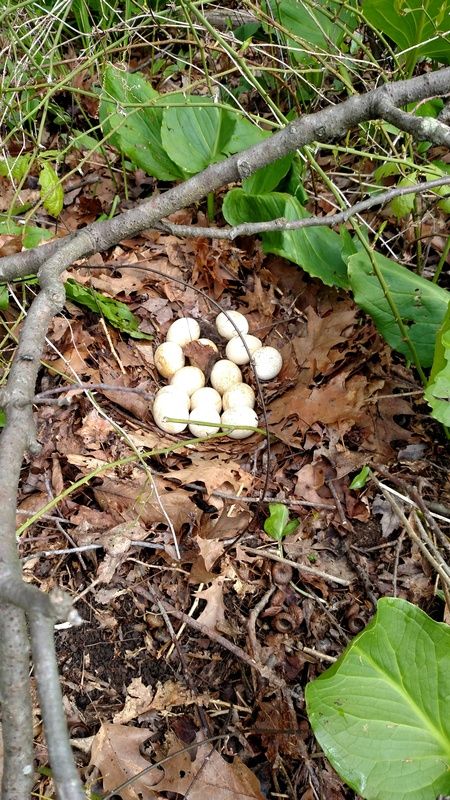 15 eggs in that sucker!! She'll busy keeping all those mouths fed.
And just like that the switched turned back on and it was hammer time again! Trout started to come to hand quickly and I was having a splendid time!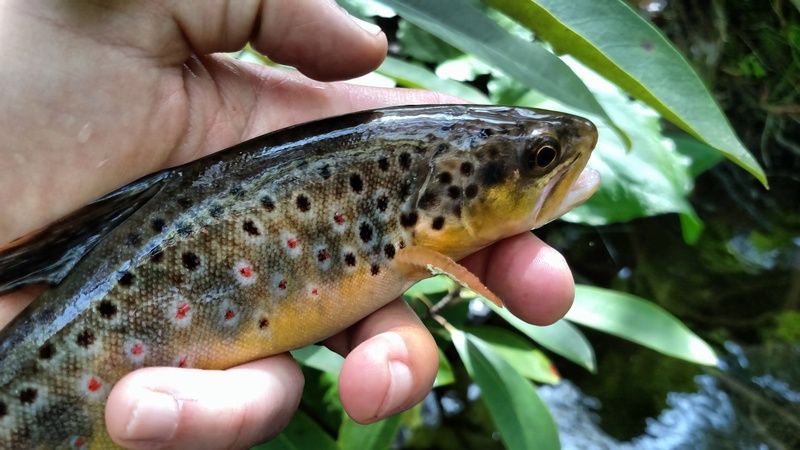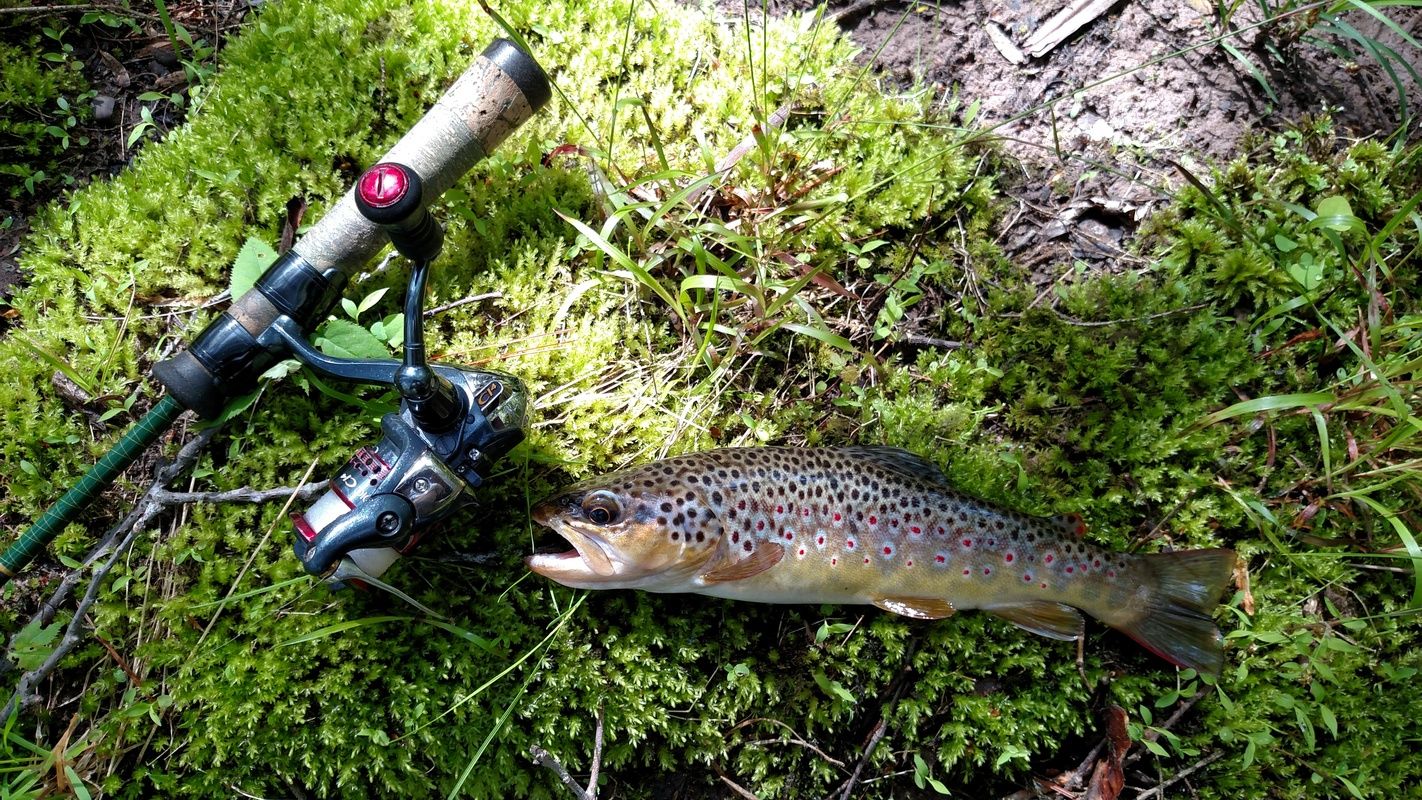 The heavy canopy blocked out the sun creating a perfect decision on my stream 2 choice. I fished for less than two more hours and arrived back at the truck at 10:35 with 121 trout in the books! So the first trout omen was unsuccessful in re-railing my effort on this day and in fact I'll take it as a sign that this will be a phenominal trout season much like the past several have been.
After a few detours I made it home shortly after noon. The fun for the day was over and it was time to get to work. I had a present arrive.....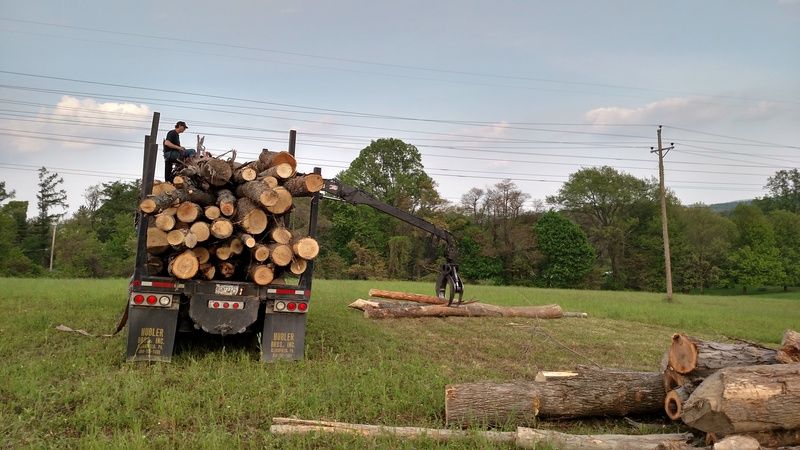 2 logging trucks delievered and I got right to work before the rains arrived later in the day.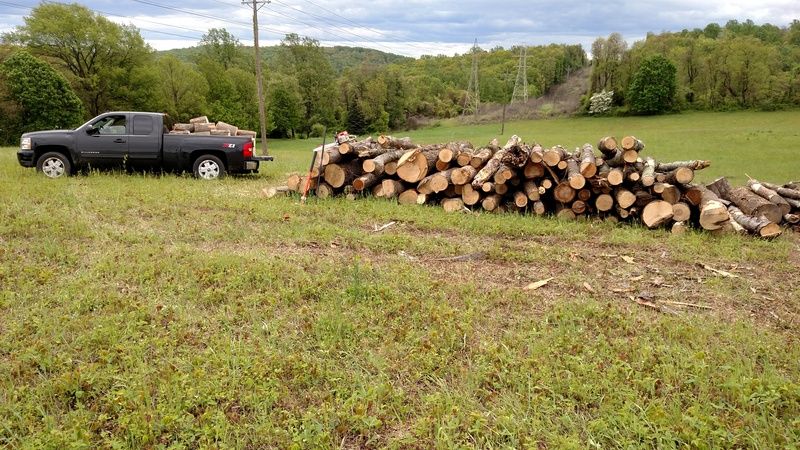 So all in all a great weekend of just dipping my toes in to whats to come. Got a lot'a fishing ahead of me here. Thanks for reading!