Discussion Starter
·
#1
·
Sometimes You Get Lucky
Prior to today, July 5th, 2016, my last fishing outing where I had caught under 100 trout had been on May 11th. That day I rolled the dice and fished a remote wilderness stream and sampled three of its tributaries but caught just 72 trout. Twenty-two triple-figure days have passed since then, but with the low water and resultant lack of good options, I know this streak is in serious jeopardy.
With the onset of the hottest weather of the year set to arrive soon, today I decided to fish a large stream that I believed would still be cool enough to fish due to the recent chilly nights and cooler than normal days. I had no expectations of topping 100 trout, though I knew it was certainly possible. I figured it was time to fish it or wait for cooler weather, perhaps in September.
I arrived at my parking spot at 4:35 a.m. I had a 45-minute hike to reach my destination. Since this is known rattlesnake country, I had put new batteries in my two flashlights rated at 150-lumens to light my way. Luckily, the only event during the walk was hearing the gurgling-peeping sound of a bald eagle after I apparently walked near its roosting tree.
The water temperature was 62-degrees under a cloudy sky. The flow was perfect. The air temperature was 68-degrees. I was already sweating like a hog.
I began casting my spinner at 5:38 a.m. but the action was non-existent despite many heavy, gulping rises nearby. Nearly thirty minutes passed before my first trout was landed.
About the only noteworthy thing that occurred early was seeing a mature bald eagle soaring along the steep mountainside and landing on a dead tree. My binoculars, which I carry in case I come upon some topless sunbathers
, revealed a second mature bald eagle in the leafless tree.
I kept hoping the action would improve as the habitat changed so I kept casting. But the slow action continued and I was just about ready to hang it up when a heavy rainbow nailed my Pink Tread Silver spinner in a riffle at the head of a deep pool. After a long battle with my five-foot ultralight spinning rod I brought the beast to the shore.
It measured 19.5" against the grid of inch-marker thread-wraps that I put on my custom rod.
I briefly admired one of my largest trout of the year.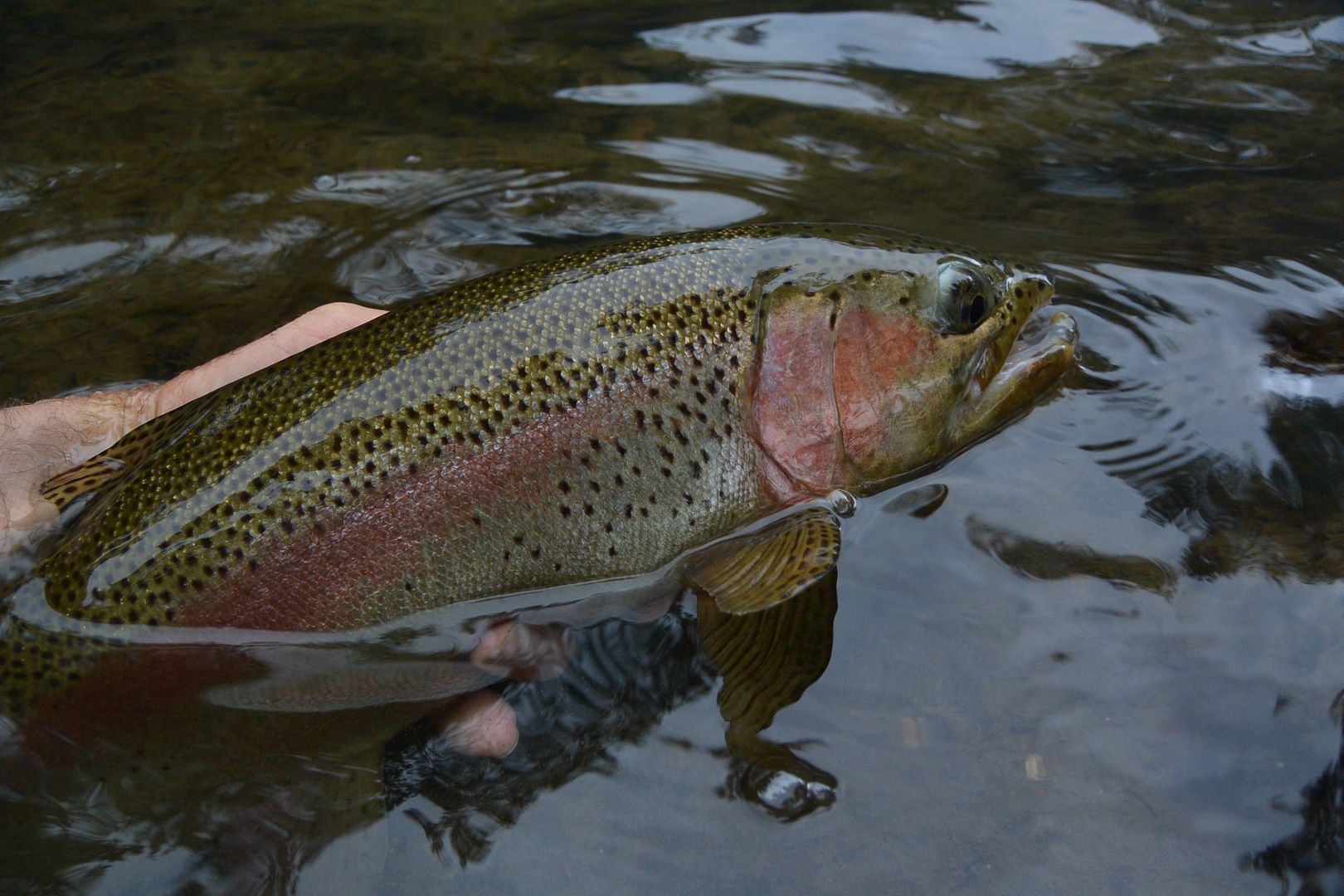 And like other trout that I catch, I released it back into the drink to do battle on another day.
A few more trout were caught before I decided to leave. After 3.50 hours I had reeled-in 25 trout, including a pair of 14.5" wild browns.
Just before leaving I found an Orvis fly box full of probably 200 subsurface flies. I subsequently mailed it to a guy in Massachusetts who had smartly put his name and address on the box.
During the hike out I kicked around some second choices and settled on one where I thought there was at least the potential to still hit 100 trout for the day if the trout cooperated. Rhododendron lined the stream in places.
The stream is stocked but also holds some wild browns.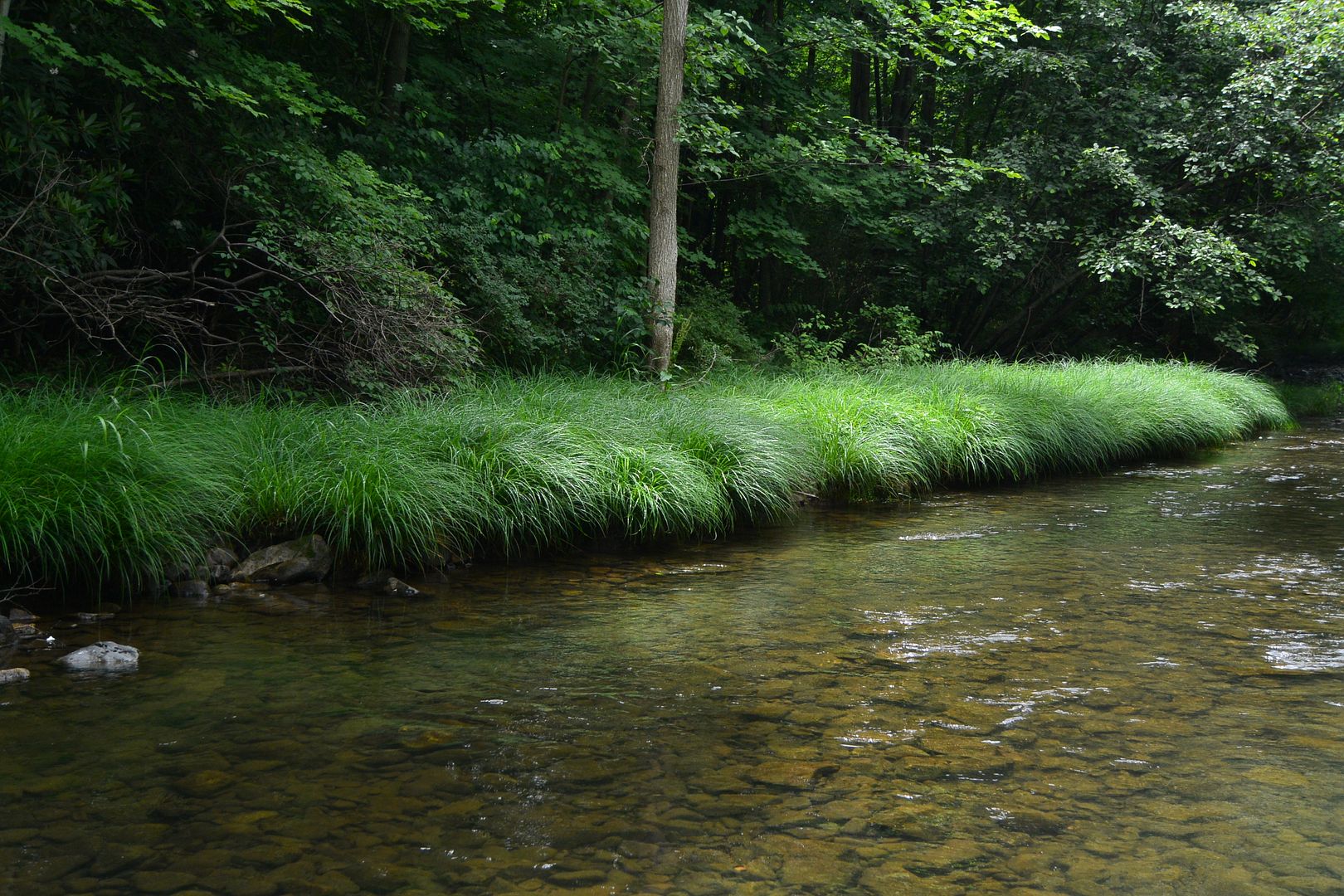 When I began the WT was 64-degrees and the AT was 74-degrees. The sky was cloudy. And much to my delight the trout were killing my White Bead Gold spinner, a sure sign they hadn't seen any metal lately. Ten trout were duped in the first twenty minutes from less than stellar habitat.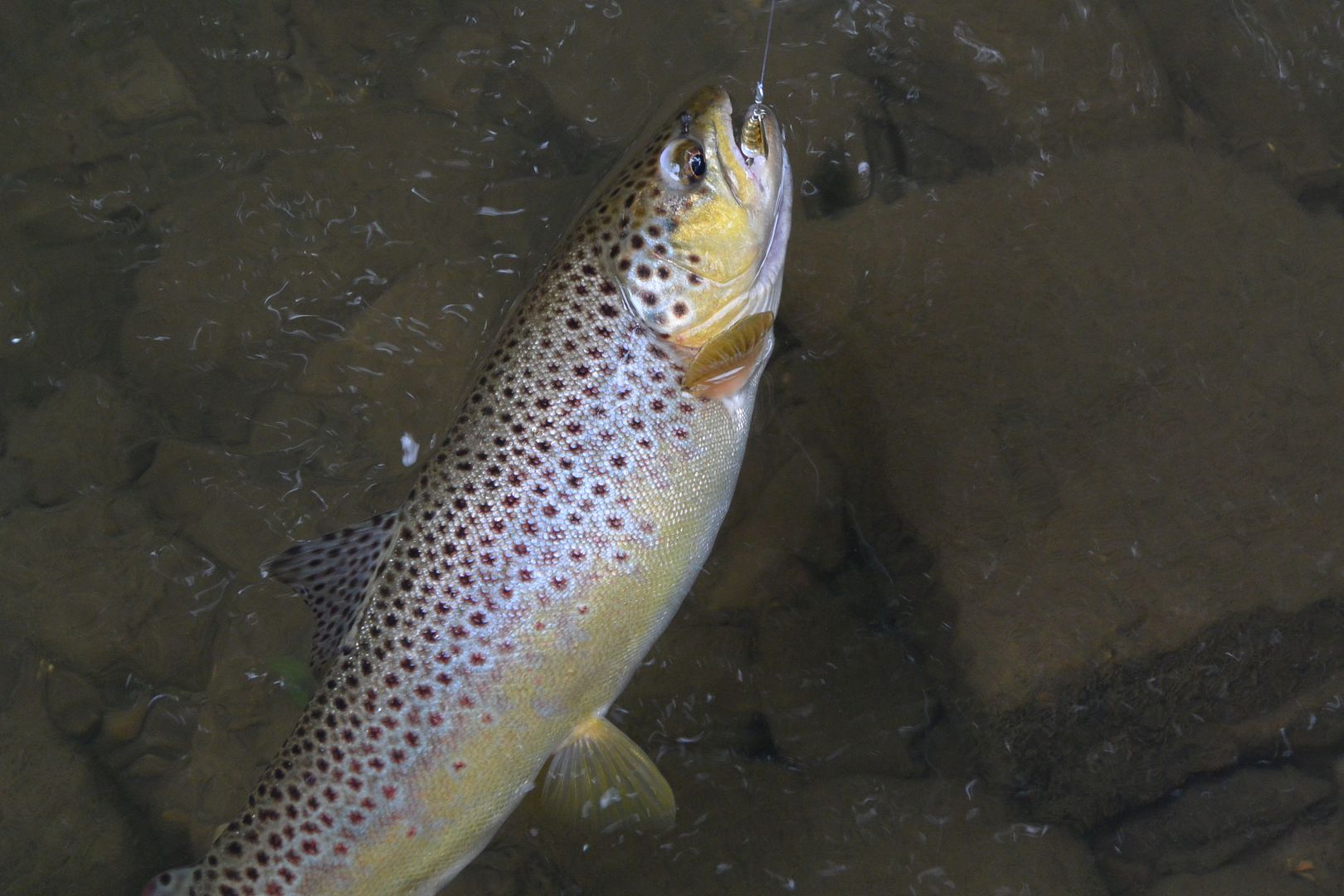 When the habitat was good multiple trout were often landed from a single pool.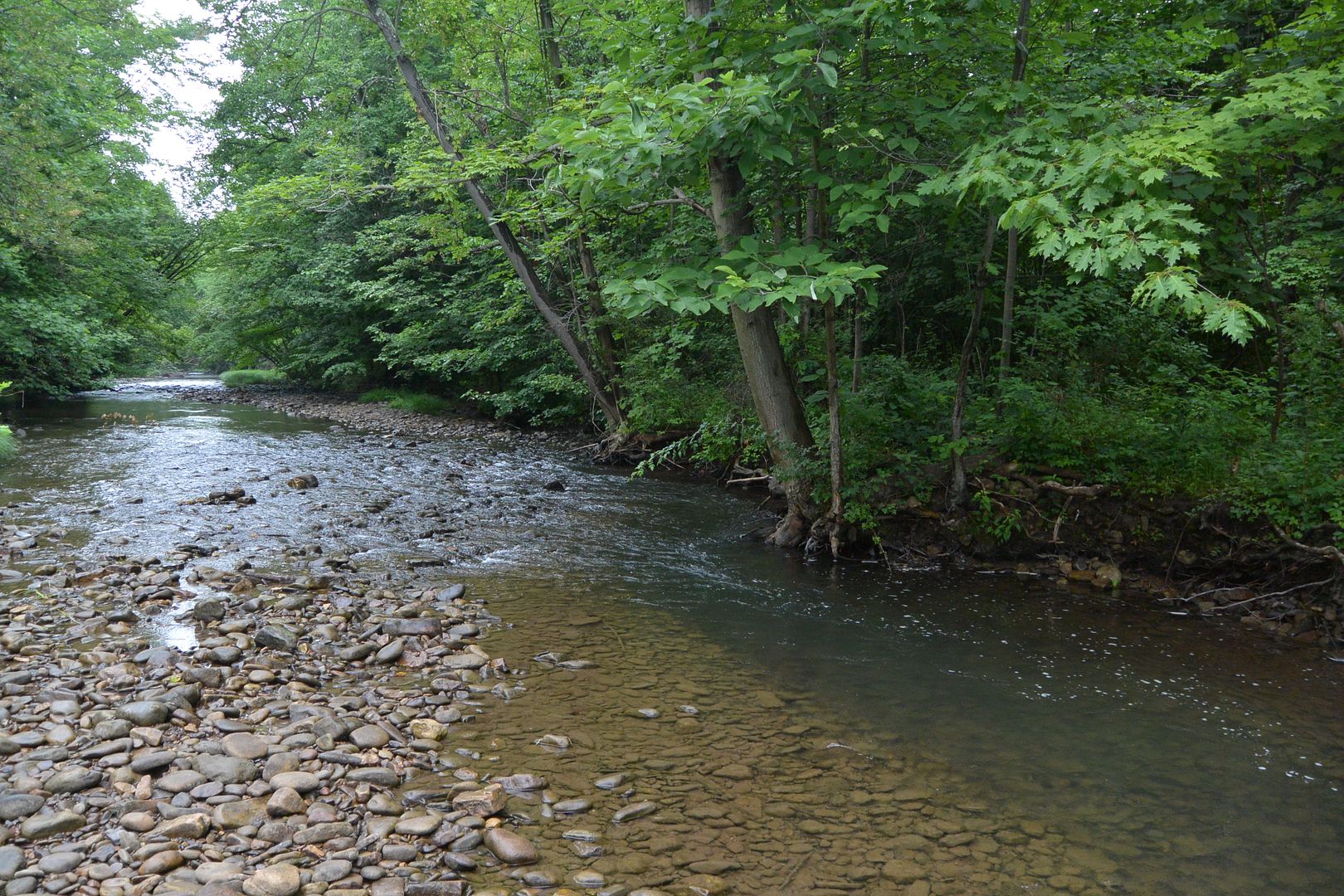 Even one little brookie surprised me, likely a stockie that got mixed in with the hatchery rainbows and browns.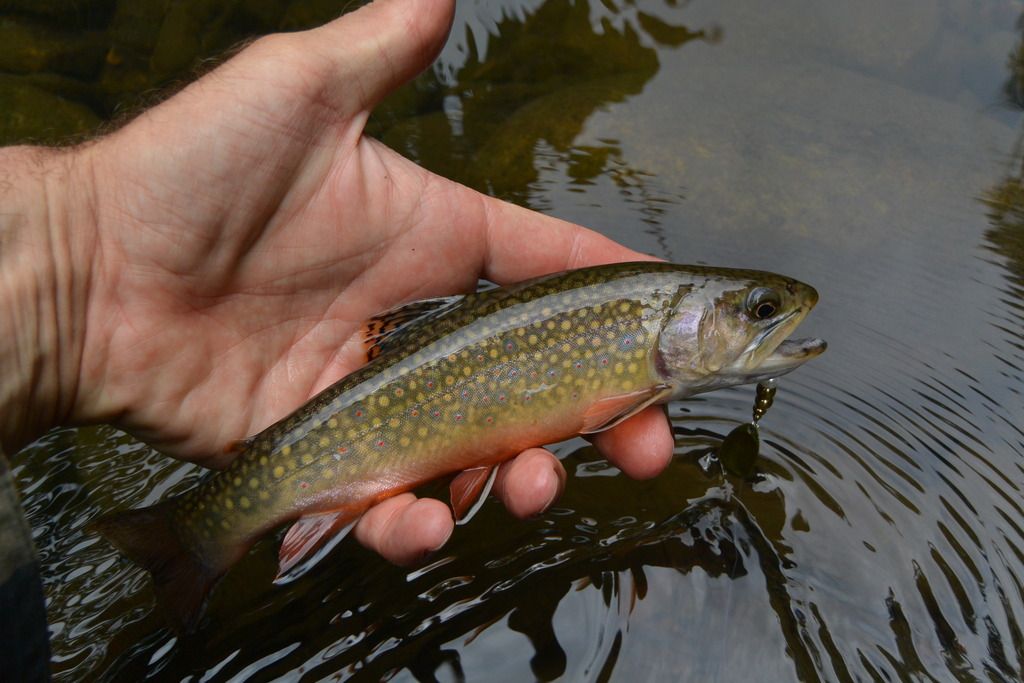 Then a great blue heron got ahead of me. I couldn't shake him. For the next four and a half hours and nearly two miles of stream he moved ahead of me, scaring many of the trout. The sun came out. It was blazing hot.
Finally, near the end of the stretch of stream I was fishing the great blue heron took off and flew downstream. I responded by catching about a dozen trout very quickly to give me 75 trout in 5.25 hours on this stream. At this point the WT was 65-degrees.
My total for the day was 100 trout in 8.75 hours.
There were a couple options for the hike back to my SUV. The AT was 88-degrees and the humidity was stifling. I had only a few ounces of warm water left. I chose the scenic route rather than the urban route, though I knew it would take much longer.
I was glad I did. I'm a big fan of summer wildflowers and I was in for a show.
Viper's bugloss by the hundreds graced the path for about a mile and a half. (The name "viper" likely comes from the fact that the seeds look like the head of a snake.)
Stately common mullein was blooming.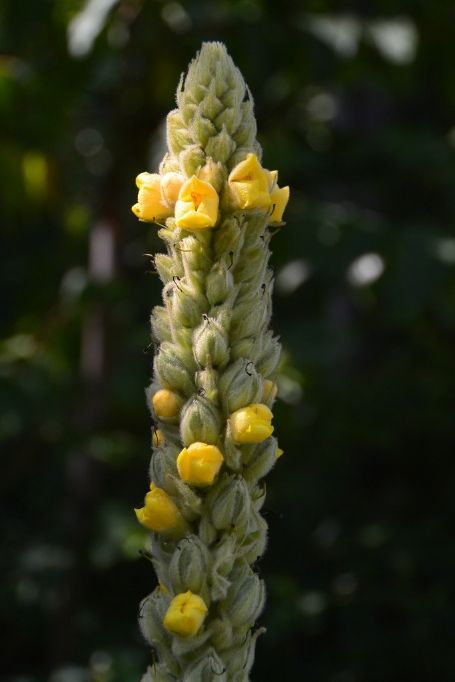 One of my favorites, butterfly-weed, produced an orange glow here and there.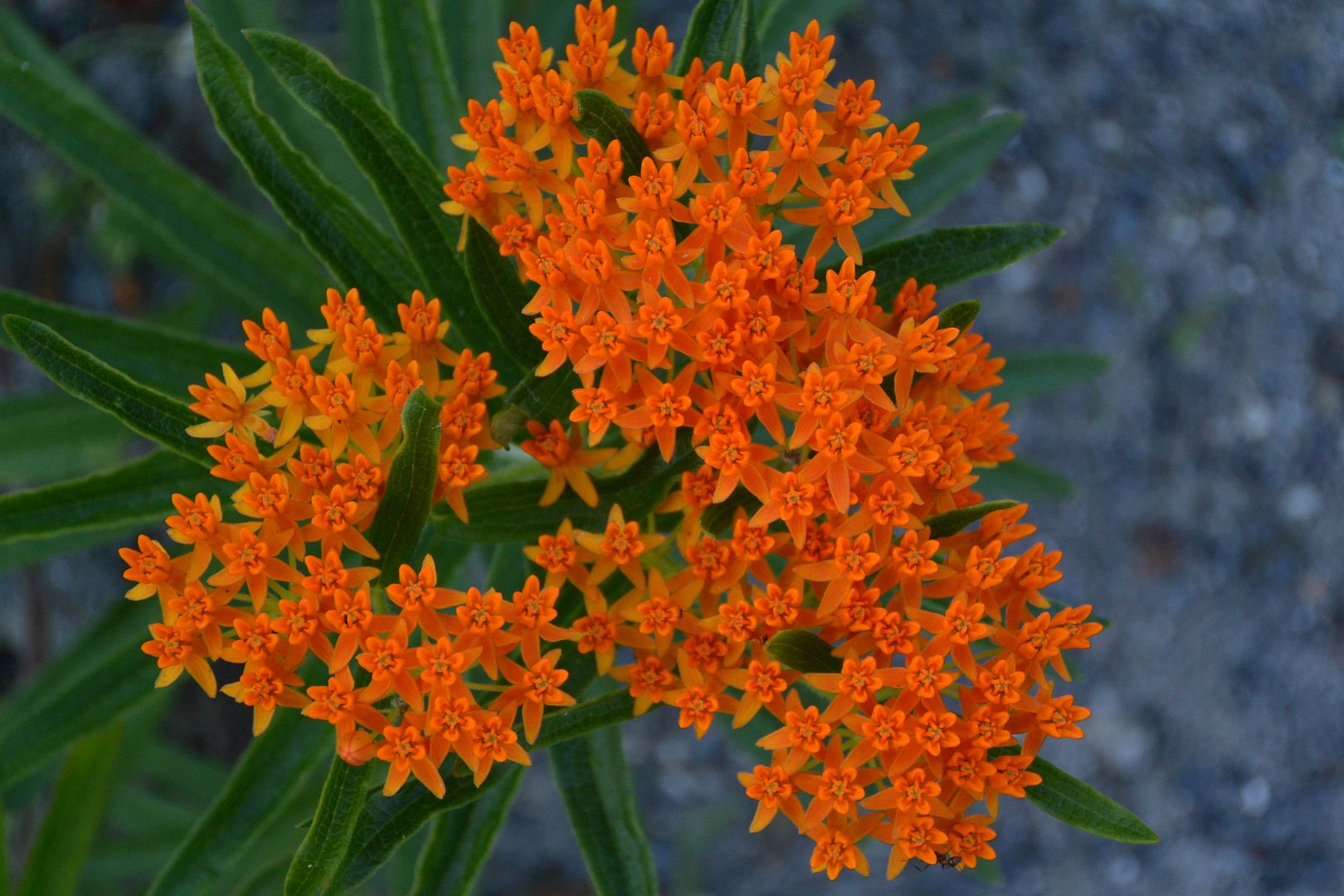 Some of the prettiest black-eyed Susan's that I've seen were blooming.
During the final leg of my hike I walked through a sea of narrow-leaved mountain mint. The smell was great.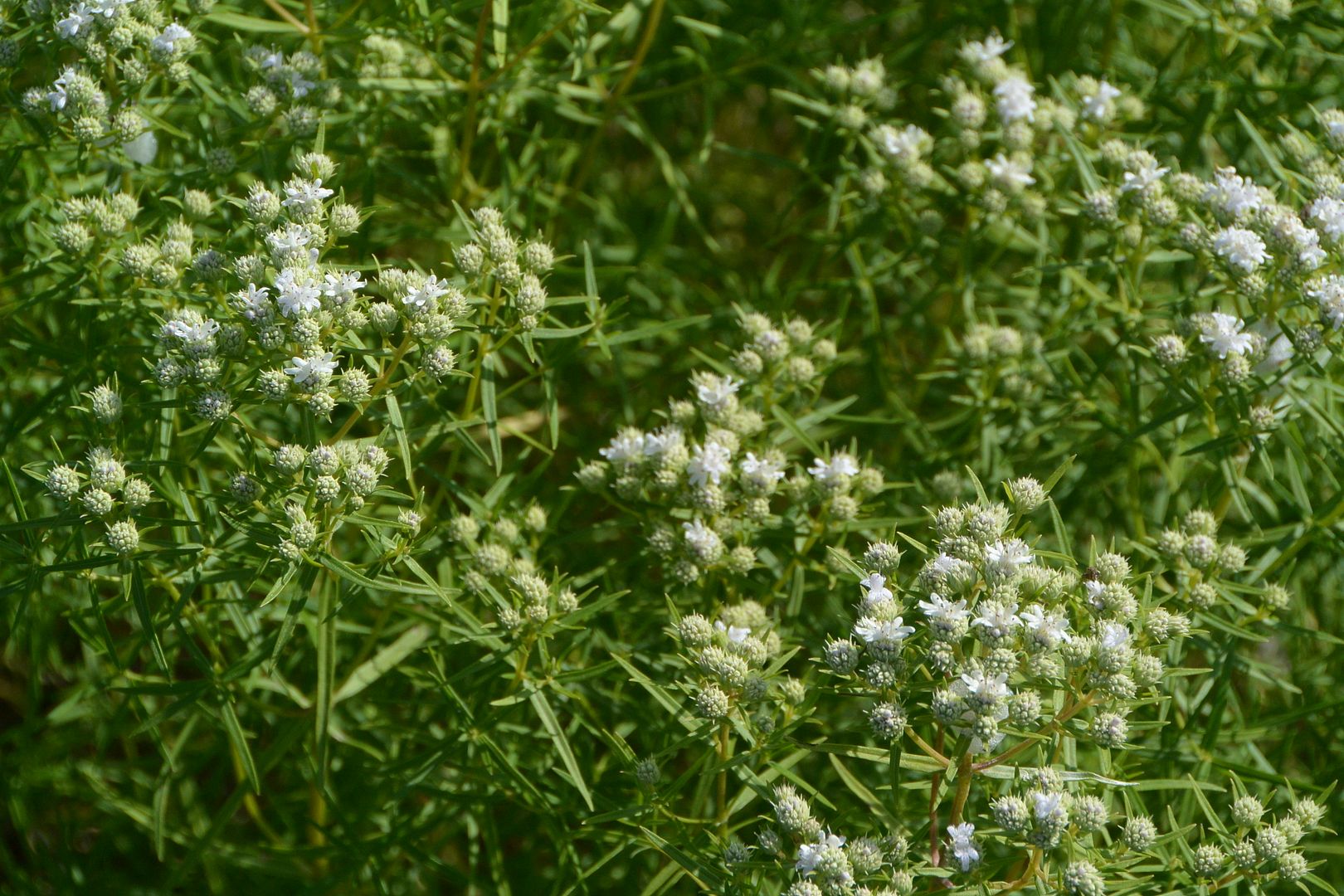 I had to cross the stream one final time before reaching my SUV. The WT was 72-degrees.
Once back at my vehicle I slammed down 24 ounces of ice water and opened another bottle for the drive home. Overall it was a great day and I couldn't help but feel that I got really lucky.
Frank Nale -