Discussion Starter
•
#1
•
The plan today was to get up early and make the 50 mile drive to the farm that I shot last years buck on. Washington County. Last year it was Halloween weekend when I harvested that buck and this year, I had not hunted that stand yet, saving it for today. Halloween weekend. Forecast was calling for light snow in SW Pa with little accumulation. When I got up at 4:30am, it was snowing hard with a good inch of slushy accumulation already. Got my gear together and off I went. The roads were not very good and I almost turned back to hunt one of my local spots, but decided to stick to the plan.
Arrived on site at 5:15 and began the long walk up to this ridgetop stand that I know so well. Cut several sets of tracks walking in a busted some turkeys from thier night time roost. This stand sits in a saddle on a long ridge that usually gets alot of activity during the rut. As I said before, this spot was saved for today. The snow kept coming down as I readied the video gear, still camera, crossbow and myself for the morning vigil. That tree had to look like a spider was camped out in it with all of the gear hanging for its side.
Shooting light came with no action other than light snow and several crashing trees from the heavy snow clinging to thier leaves. I took this cool picture of the scenery. Notice the spot under the maple with less snow. That spot was gonna see some action shortly.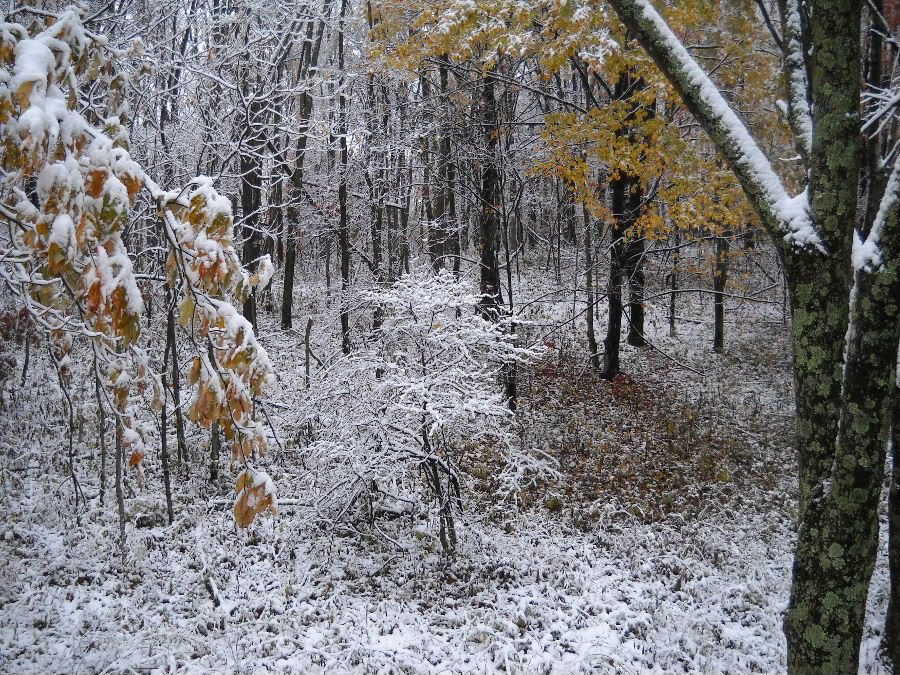 At about 8:30, I made out the form of my first deer of the day. Way down the hill, and barely visible through the snow. Looked big in body but could not get a clear view of its head. Figuring I had nothing to lose, I let out a short, gentle rattling sequence. After 20 minutes with no more deer seen, I again tickled the Pack Rack and settled in. Through the snow, I thought I saw movement and soon it was apparent a deer with antlers was walking my way. At 60 yards and closing, I scrambled to get everything pointed the right way as the deer kept it course. When the buck walked under the maple in the picture above, a quiet grunt stopped him at 20 yards. Video recording, image centered, crosshairs centered, it was decision time. Not a big buck, not a small buck and average for this farm. Slow season for me, scheduled vacation coming up, buck still standing there......
Arrow on its way, followed by that hollow sound that bowhunters know well. At the shot, the buck jumped up and whirled. At 60 yards, I could see him already stumbling as he made it over the top of the ridge. As I recovered from the shot, I watched the video to confirm the hit and to make sure that I had indeed hit record. Finding the arrow was easy with much of the blood already washed off by the wet snow. Took the trail and soon found my 2011 8 point piled up at 80 yards. Was super cool to blood trail a archery season deer in the snow. That is such a rarity in this part of the state.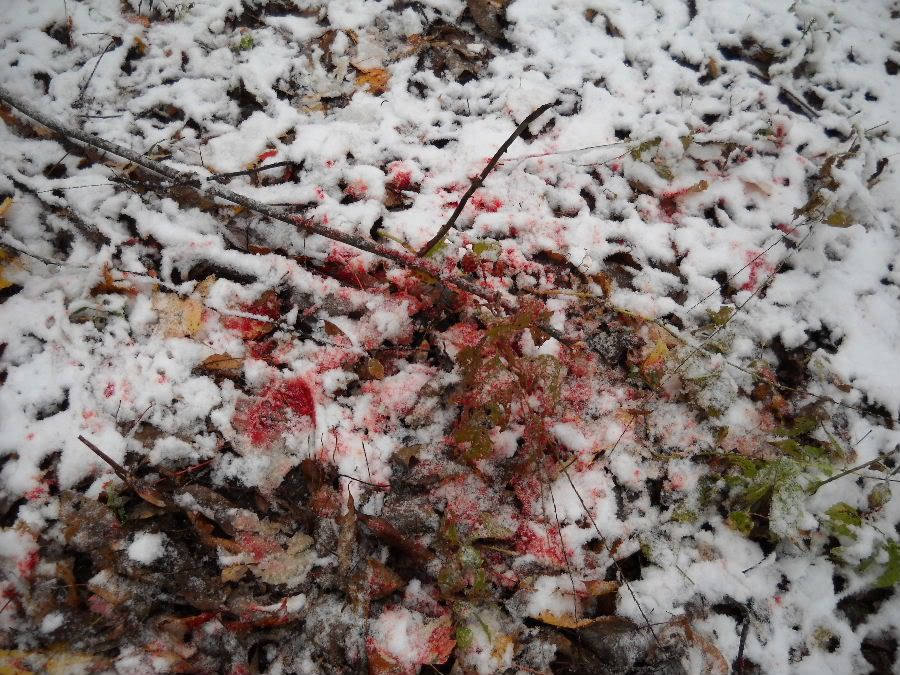 Here he is where I found him with with the gear that did him in. TenPoint Stealth. The ABC Sonic center punched both lungs.
And the hero shot. Not my biggest buck ever, but a good representative for the area. It was my pleasure to put my antlered tag on in. Aged him at 2.5 from his jawbone. Neck was full and he was definetly interested in the horns. When I was dragging him out, I cut his trail and saw three scrapes that he had pawed away the fresh snow.
Now, off to try to find some of the elusive does that have been giving me fits this season.