Discussion Starter
·
#1
·
Slim Pickin's
With the current heat wave and worse yet, the very dry weather, catching a lot of trout has become quite difficult lately. Since I often write about my great days, I guess I should mention some of my not-so-great outings when they occur, too.
One thing I've learned, though, is that slow days can have their high points, as well as hold reminders of past lessons learned.
On Tuesday, July 19th, 2016, I began the day on a large stream I last visited on July 1st. On that day the action was slow for the first couple hundred yards, then got really good for a long section until it ended at the lower end of a nice riffle when a fly angler and I converged. I had caught 73 trout at that point and then moved to another stream.
Even though eighteen days had passed, I found it interesting that the action today was excellent in the first couple hundred yards, then tapered off considerably for a long stretch. I continued fishing only because I wanted to see if the riffle above where I had quit the last time out would be exceptional. My suspicion was that my catch-rate was conversely related to how I had done on the prior visit due to educating the trout in the ways of spinners.
Interestingly, today I caught 30 trout in three hours by the time I reached the spot where I had stopped on the last trip. The majority of those were landed in the first couple hundred yards. The short riffle that I didn't fish the last time was exactly what I had expected, with trout hitting with reckless abandon. I duped 16 more trout in just a half hour to salvage my first stop of the day.
By now the sun was blazing.
I hadn't fished this stream yet this year and wanted to see if the PFBC had planted some fingerling rainbows again this year. Turns out I found a few of them but I quit after an hour when the kayaks started to come through. I was ready to leave anyway.
Probably the most interesting thing that occurred in the long riffle I fished there was seeing a brown trout about 12" long chomp down a 4" fingerling rainbow.
After three stops not worth mentioning I drove to a little mountain stream where I hoped I could pick up a few wild browns and native brookies. I had to walk through some ferns to get to the stream, something I despise doing in rattlesnake country.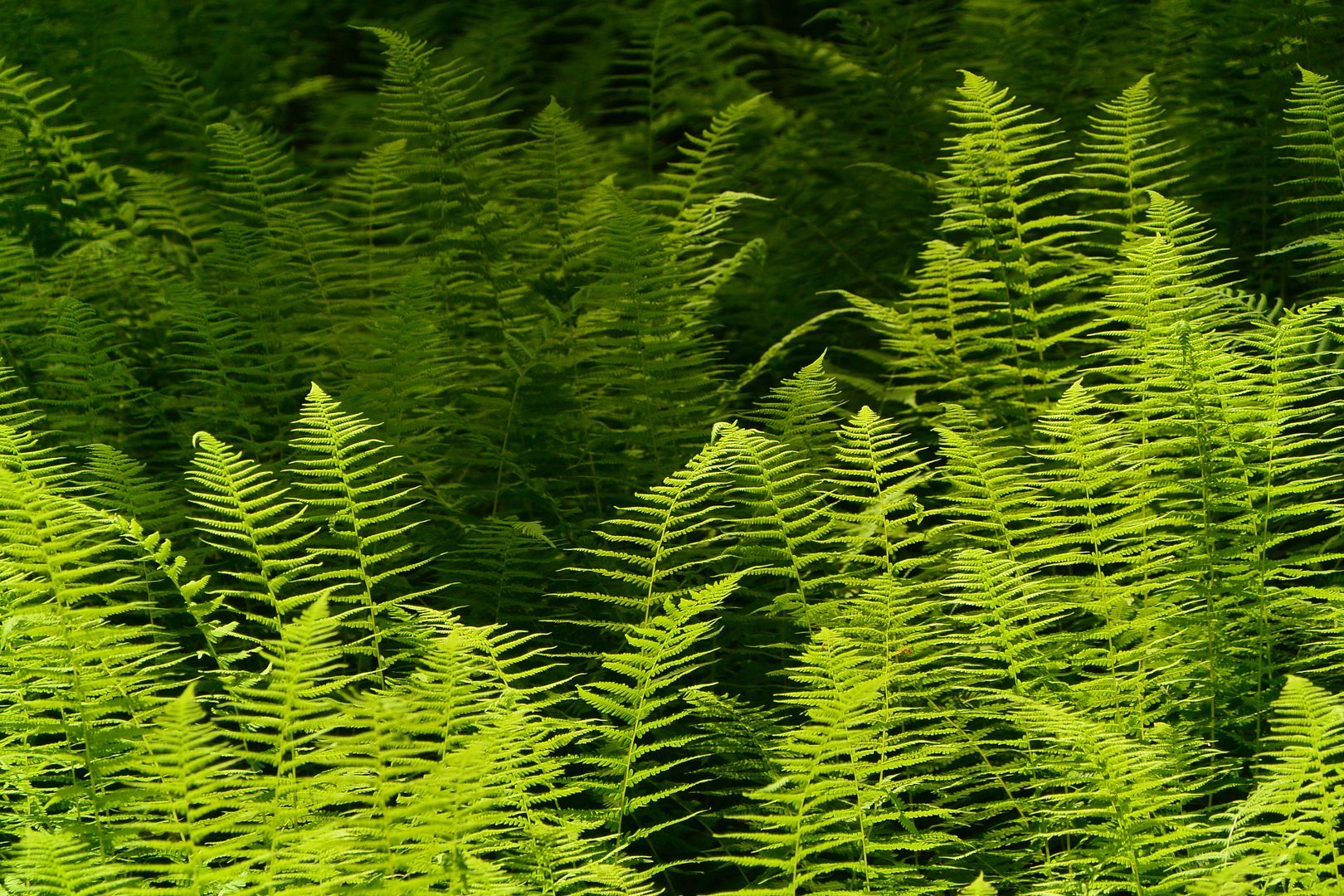 I hadn't fished here in at least ten years and didn't think it drew other people either, but I found old boot tracks in the streamside mud immediately.
The first pool was extremely wide for a tiny stream, with the current running down the center in a deeper channel. To my surprise, several native brookies chased my White Bead Gold spinner, including one that made the 11"er that I caught look like a juvenile.
When I reached down to release the trout the water felt very warm, like bath water. It was 79-degrees. I later measured the stream flow at 63-degrees.
My expectations were high at this point. I made a long cast into the first narrow pool.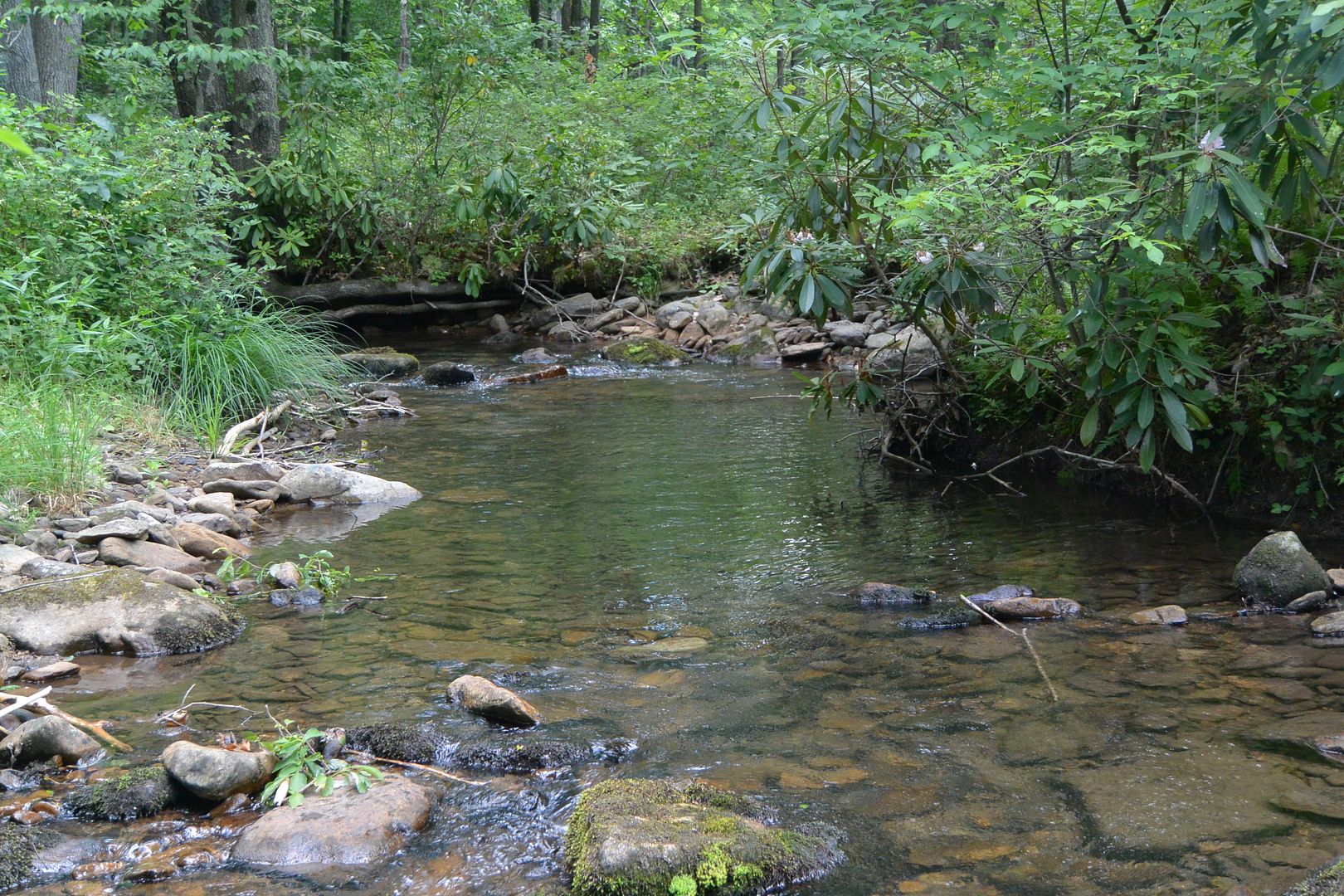 I saw the wake coming toward my spinner and then set the hook hard at the right time. Quickly I brought the large trout, one that I initially hoped would be a brookie, to my feet. It was a 16" wild brown trout.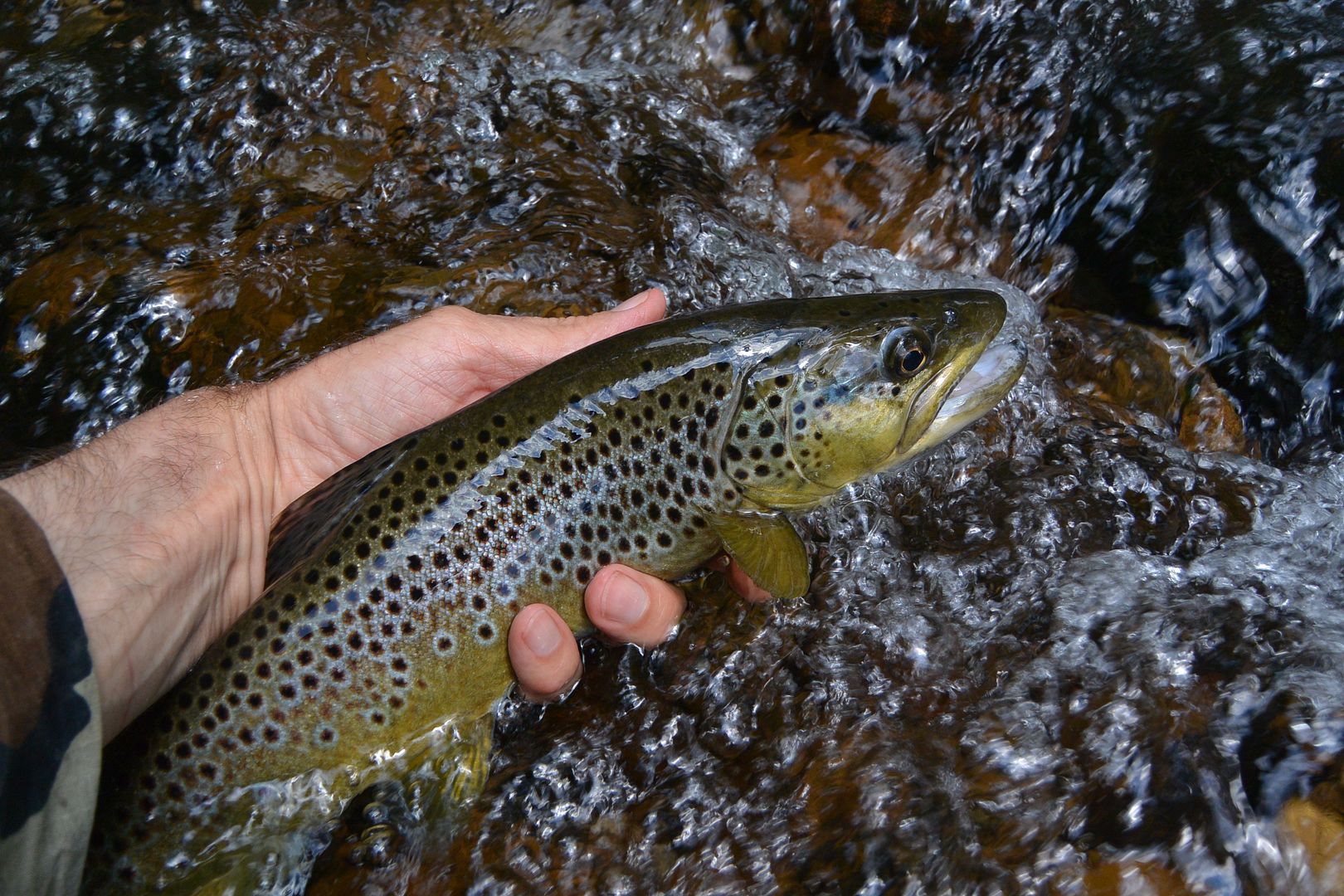 That was the highlight of the day. The lowlight was coming face-to-face with a bald-faced hornet nest in the rhododendron a few pools later. I got stung just twice. It could have been worse. The action overall there was minimal. I also fished a tiny trib to this stream and caught three little brookies.
For the day I tallied 73 trout in 6.50 hours from five streams (seven "stops" as I fished two sections of one stream and passed on another that was 71-degrees). I've found out over the years that I make a lot more stops when the fishing is slow. I prefer to fish one stream all day if possible.
On Wednesday, July 20th, I went to another stream I hadn't fished yet this year. It's not the kind of place one could expect to catch 100 trout, which is the main reason I hadn't been there yet. Poor conditions sometimes opens up my options.
I parked at the final upstream parking spot at 5:00 a.m. and then walked downstream about a half mile before beginning to fish.
In the first 2.50 hours the action was pretty good, yielding 30 trout, a mixture of wild browns and stocked rainbows.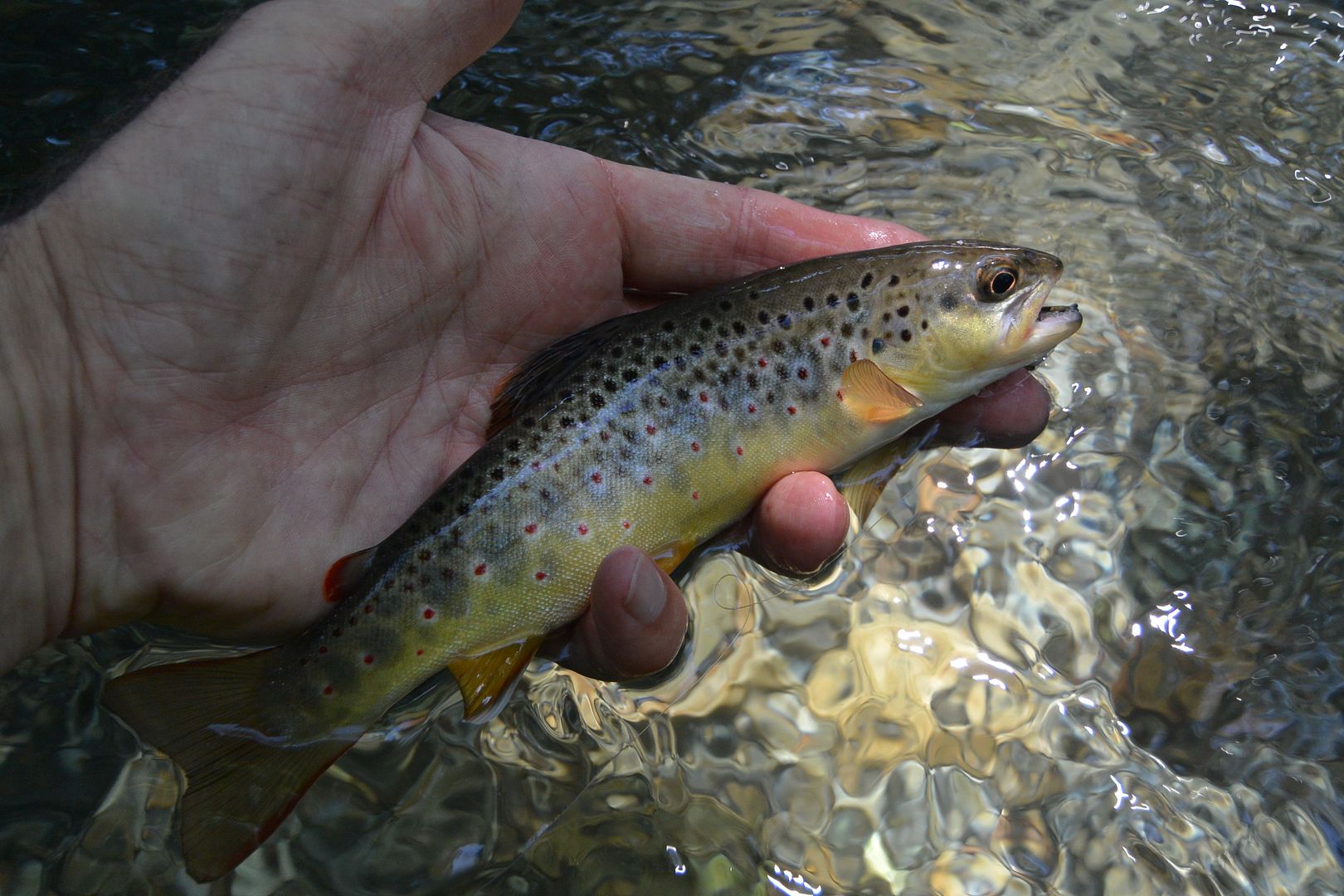 At this point I had reached my SUV and the action had died. However, no other vehicles were parked beside mine.
In my opinion, this was a situation where I was fishing behind a spinner fisherman who had worked the water recently, but not on this day. I saw no fresh angler sign.
I continued fishing hoping I would get above where the trout had been educated, similar to how I had done the prior day. Bad decision, at least in hindsight. I fished an additional 2.25 hours and landed just ten more salmonids.
On the way home, as planned, I stopped at a little freestoner and its tributary and caught 15 trout in 2.25 hours. The total for the day was 55 trout in 7.00 hours. This was my worst outing since I caught just 41 trout on April 15th, the day before the official Opening Day of trout season here in Blair County.
Thursday, July 21st, found me on a favored limestoner at daybreak. The action was slow and after fishing three sections (28 trout, 4.00 hours) I bagged it. My next stop was even worse, yielding just two trout in .75 hours in 66-degree water.
Knowing that just one special trout can salvage the day, I headed to a small headwater freestoner where I had done just that on a similar day last year.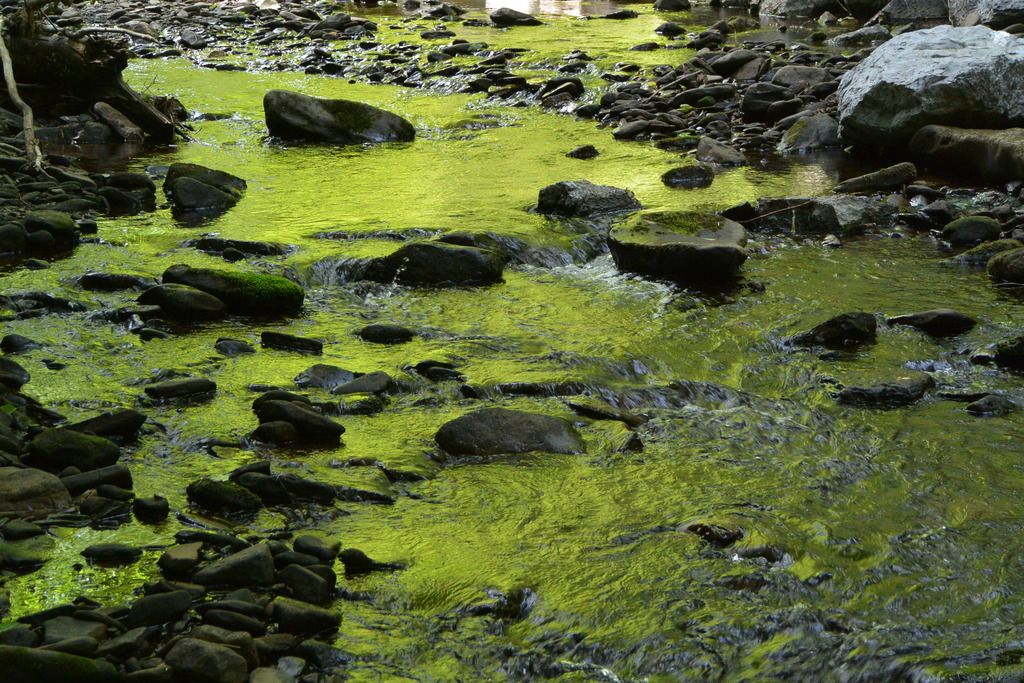 After walking in for about a half hour to my starting point, the first hour of casting spinners yielded just two sub-legal native brookies and two sub-legal wild browns. I persevered, knowing from past adventures here that the fishing usually improved farther upstream.
Then it happened. On a long cast a heavy trout nailed my White Bead Gold spinner. At first I thought it was a wild brown based on its size, but I quickly saw the light spots on a dark background and knew it was hefty native brook trout.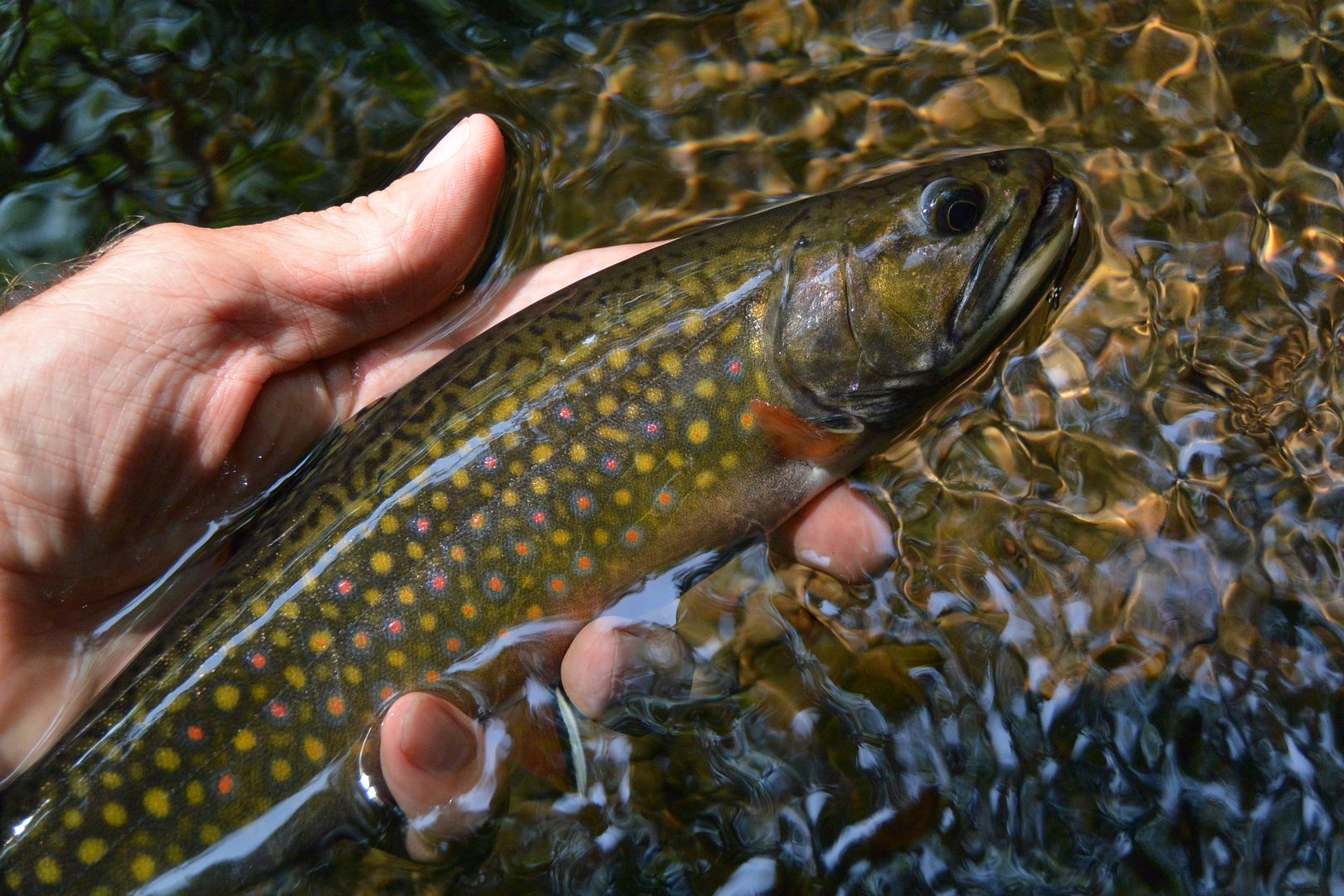 It measured 11" against the grid of inch-markers I put on my custom-made spinning rod.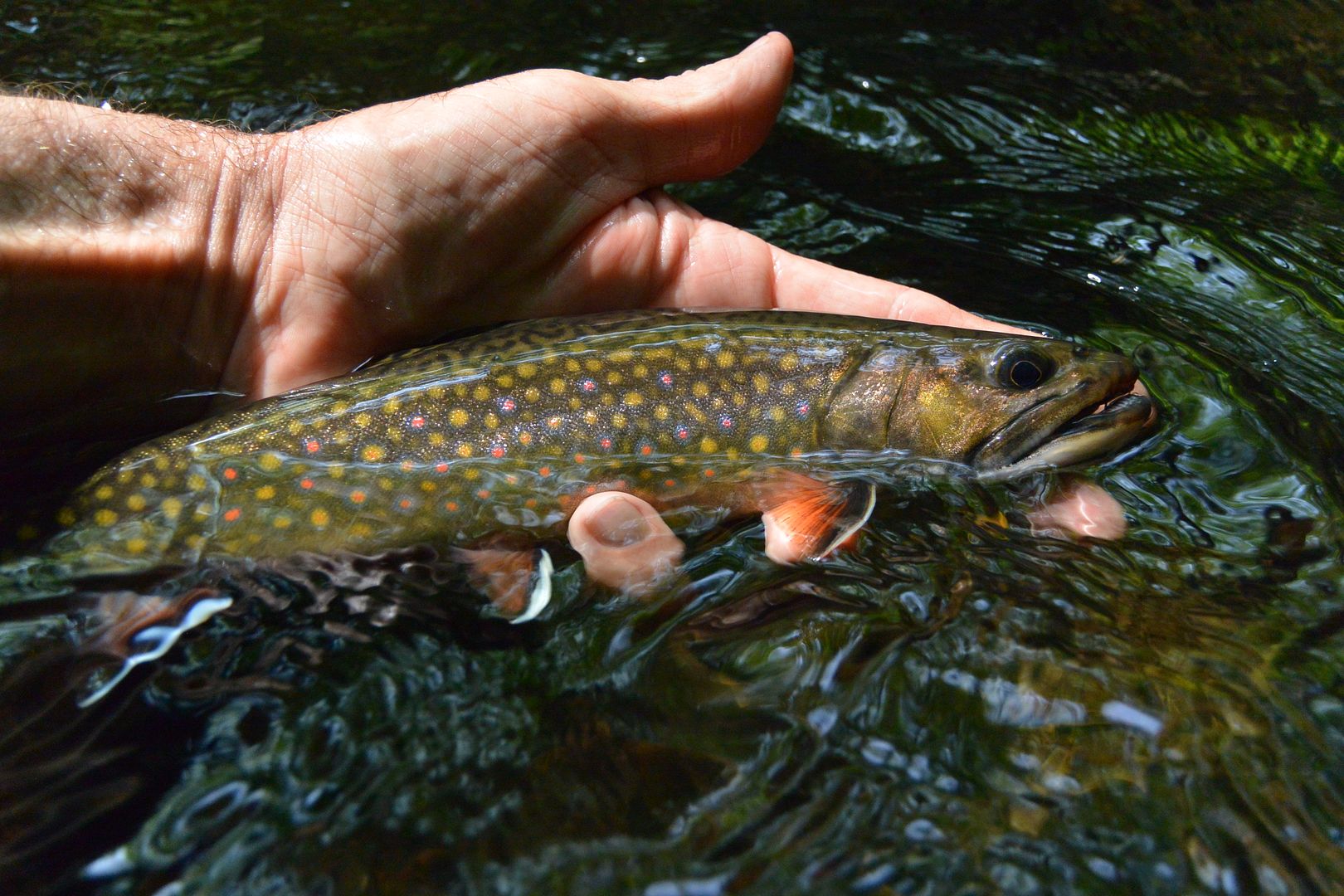 A little later this 10" consolation prize surprised me in a rather small pool in a long riffle.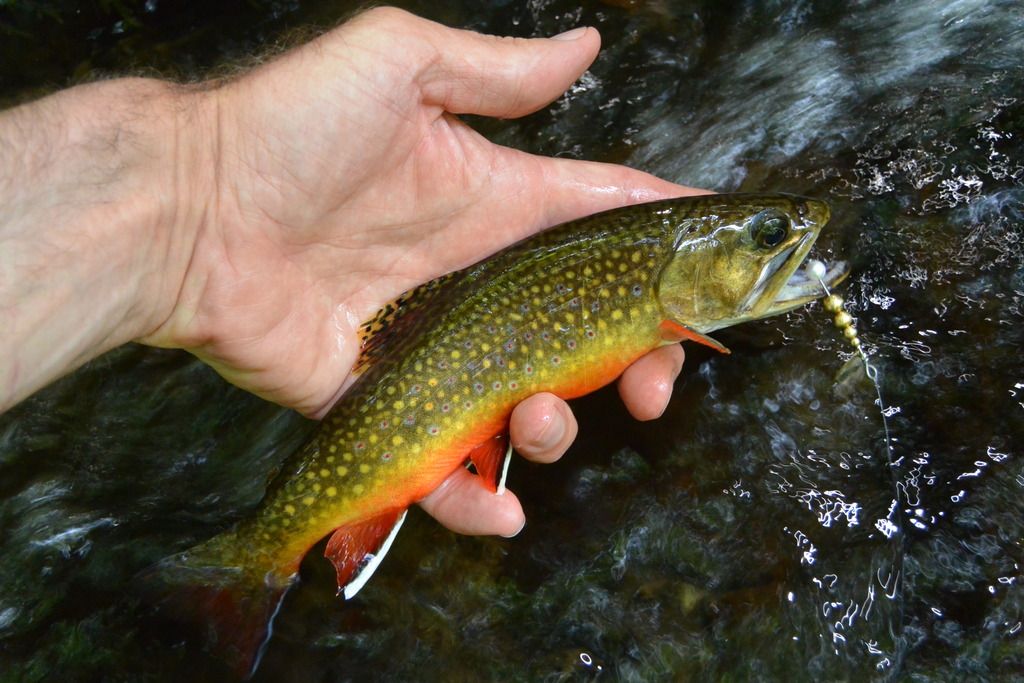 I ended up catching 32 trout in 3.25 hours to give me 62 trout in 8.00 hours for the day.
Now that I have a little more free time on my hands, on Saturday, July 23rd, I decided to give the trout a breather and take a bike ride, including doing some exploring on State Game Land 158, which is 17,190 acres, or about 27 square miles. It's a good way to stay in shape for fishing.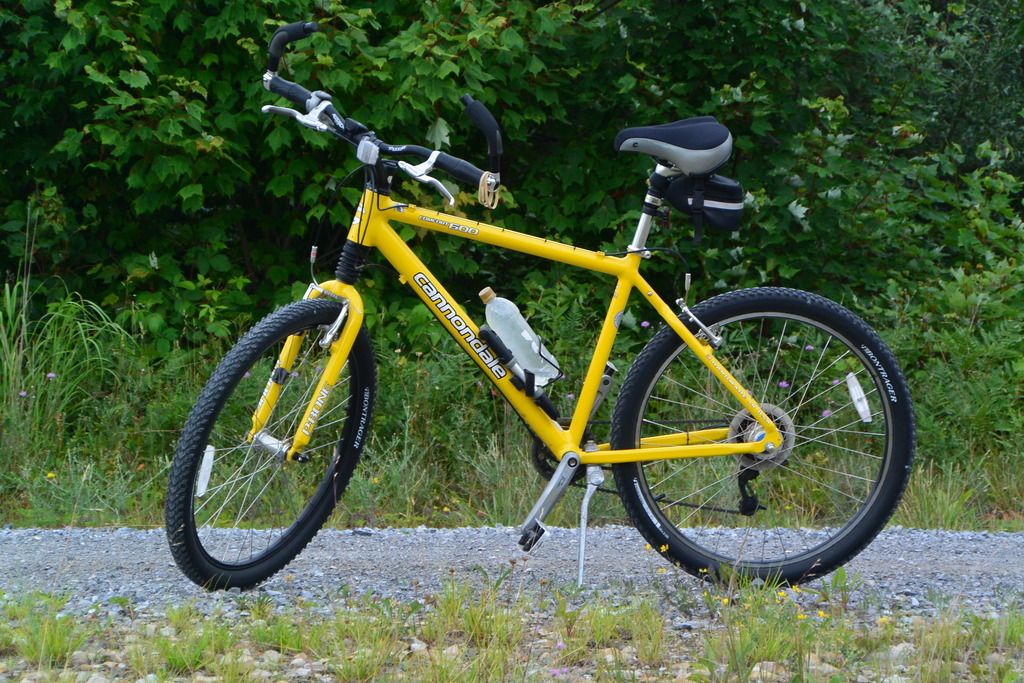 From my residence in Tipton, starting at 6:15 a.m. in 70-degree-plus air, I rode eight miles, all uphill, to the top of the mountain which is the edge of the Allegheny Front. From there I got on a grassy road through SGL 158 for the beginning of my descent down the mountain.
Interestingly, there were no electrical lines along the last four miles up the mountain, which is a fairly rare thing around here. The SGL road had a powerline leading to an old fire tower and separate communications tower.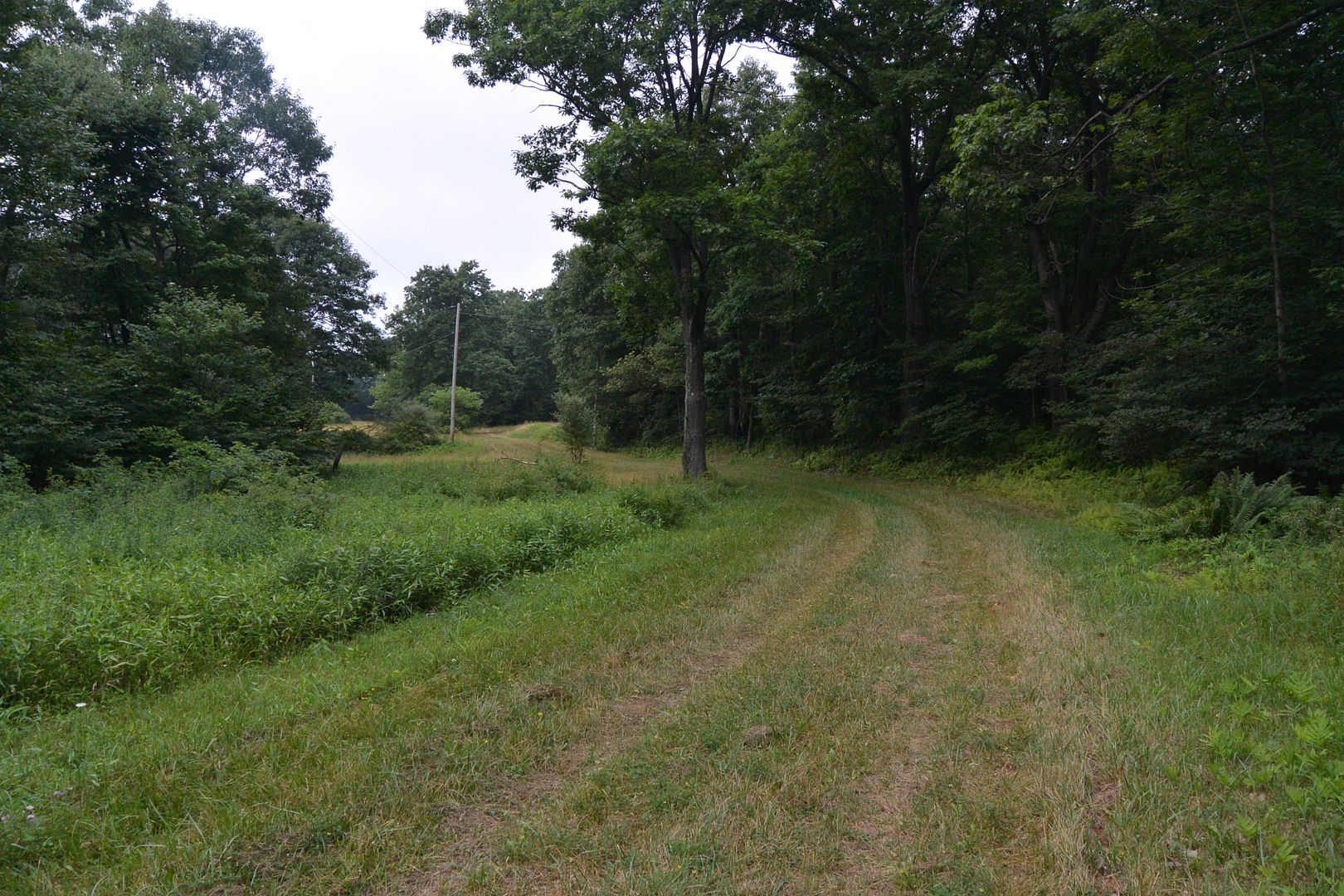 After a few miles the road changed to gravel.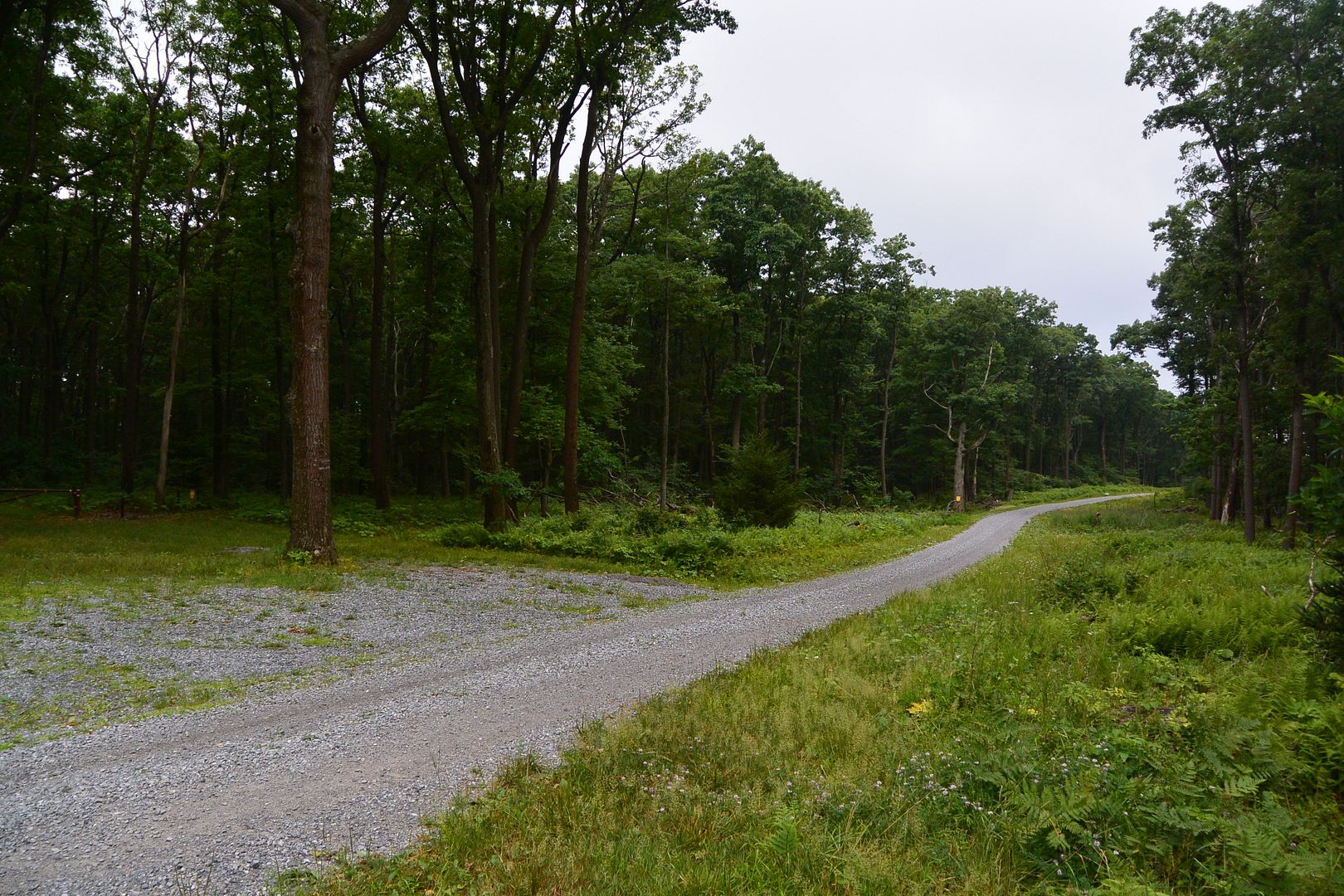 I plugged along slowly and stopped many times to explore the area, including some old strip mines.
This mono-culture of mountain mint, likely Virginia mountain mint, caught my eye.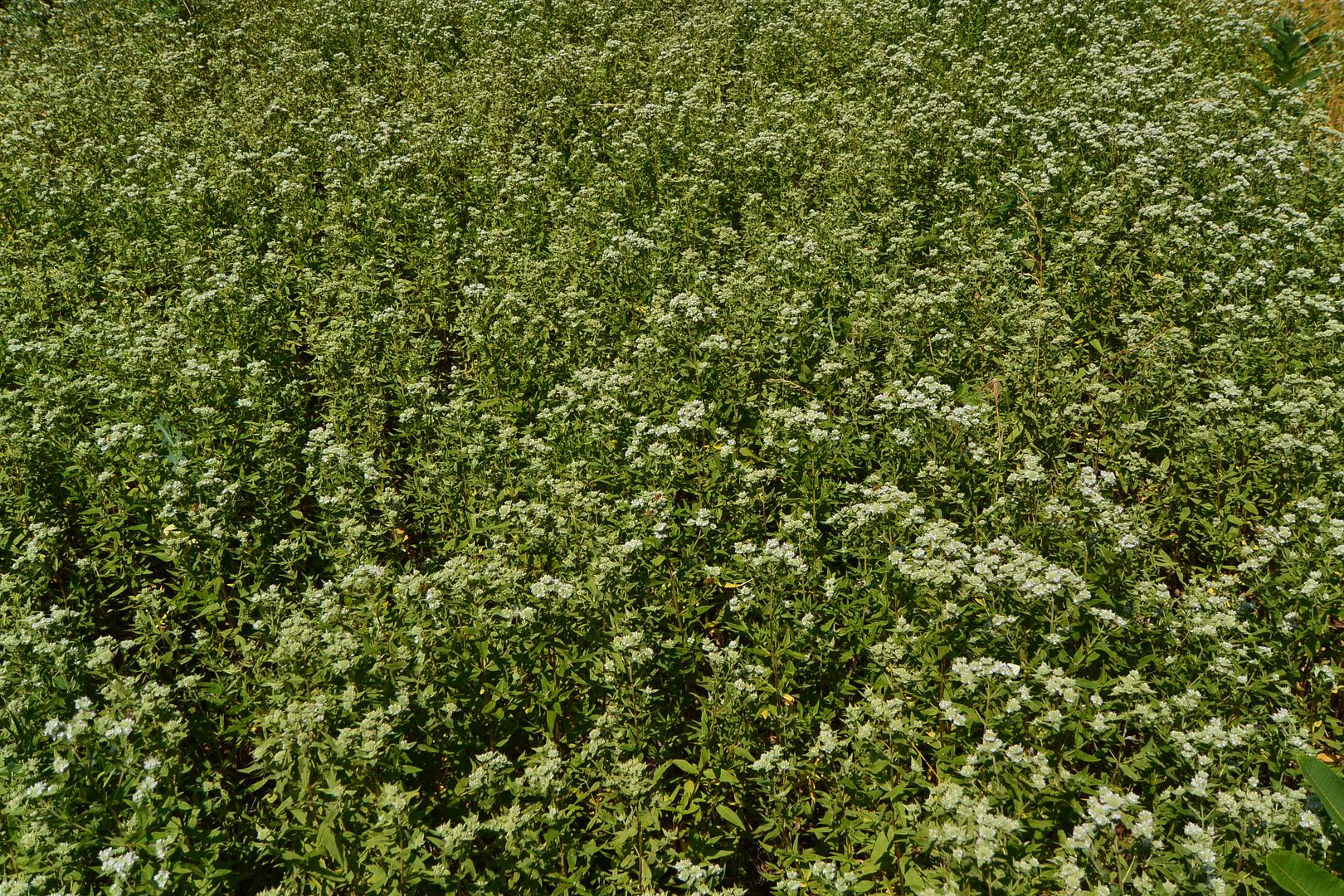 There were honey bees all over the mint. The air smelled like mint. I wondered what the honey would taste like.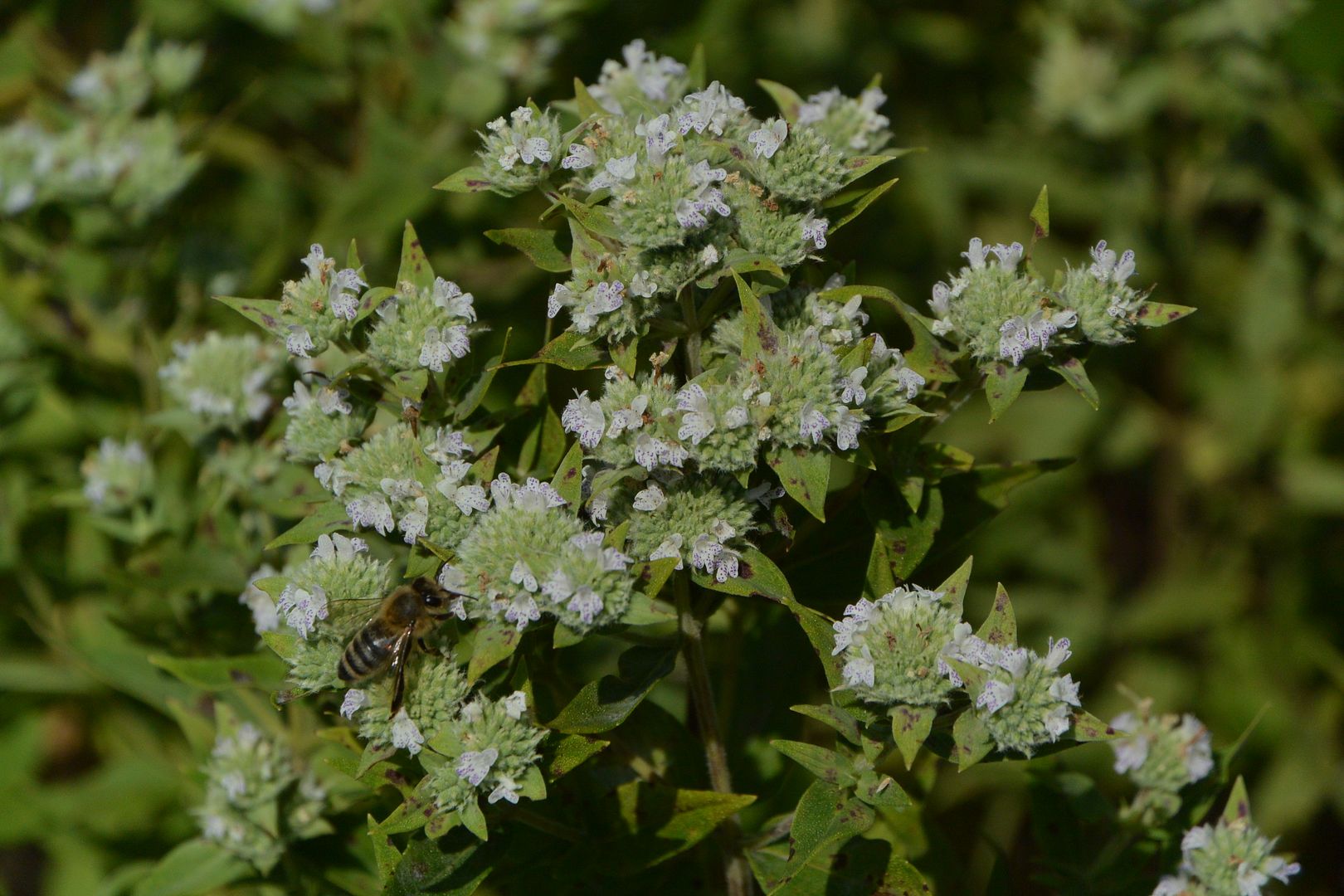 In total I rode 27.5 miles in 6.25 hours on a hot humid day. It was a good diversion from trout fishing, particularly when the fishing isn't top notch.
Yep, I keep track of things even when I'm not fishing.
If this weather continues, and I fear it will, my next story on here may be entitled, "Even Slimmer Pickin's".
- Frank Nale -