Discussion Starter
·
#1
·
I started this thread because of several people not caring for the new $2.70 permit fee that mentored youth hunters will have to pay for the 2009-2010 season. The permit can open the door to new opportunity for the youth, allow the PGC to track recruitment and retention rates, survey the youth, send notification of HTE classes in their area, and a variety of other things.
Some are claiming this $2.70 will be a financial hardship to them.
So, I thought about all of the struggles I've had over the last 17 years and thought I'd post my thoughts and ask you about your own experiences with similar times, and ask what you would change.
I'm a single Mom. My X and I split up when my daughter was just 10 months old. I couldn't afford our house on my salary, so I sold it- thankfully before it went into foreclosure, and moved into a tiny apartment. As tiny as it was, a crib mattress and frame fit into the rather large closet, so that became my daughter's bedroom.
Two years later, I drove back home from Arizona in an old beat up two seat Pontiac Fiero. Things were so tight financially; I had to move in with my parents. I paid them monthly rent for one bedroom, and got a job in Pittsburgh. I thank heavens I had parents who could "take me in" so to speak.
I had a ton of bills from the divorce that he wasn't paying for, and I didn't believe in bankruptcy, so I was paying all of them. I couldn't afford a whole lot, and did little if anything for me, but the two things I did do was buy a fishing and hunting license.
I took my daughter with me to the same lake my grandfather took me when I was a kid. She caught her first fish in the same location I caught mine. We went to the river and to streams and I helped her fish. I got a lot of entertainment value for that money.
My days spent hunting was the only time I had away from work or my daughter. That was 'me" time. I did take her scouting with me, and while we were out there, we'd flip rocks and look for snakes and salamanders.
I remember one spring she and I were in a spring seep and two fawns were standing there looking at us as if to ask who we were. She thought it was hysterical, and giggled about it for weeks.
When the bills were finally paid, I saved and bought a house. Nothing special, just a tiny little place in the neighborhood I grew up in. It was a block from my parents in a safe neighborhood, and I knew someone would be home if I couldn't make it back here in time to get her off the bus, or needed a sitter quick.
For $5. a week, I had my daughter in a youth trap league. She didn't like it at first and wanted to quit. My rule- once you start something, you see it through till the end. She's a pretty good shot and just last week asked me if she could use the shotgun to shoot some trap with her friends! Value in learning to not give up and gaining new experience? Priceless.
When she turned 12, she asked me if she could get her hunting license. Of course, I quickly said yes, and took her for her HTE class. I took the class with her and got her the license to hunt that year. I also bought her a doe tag.
Off to the woods we went. Her first year, we went to my buddy George's house and I sat her on a natural bench where there was a thick deer trail just below. It's out near Mingo park, and there are plenty of deer there. She had several deer come in and she kept telling me she couldn't see them through the scope.
She didn't shoot a deer that year, and that was OK. Later she told me she didn't have the heart to shoot one.
The next year, she asked me to go again. We had a discussion about the price of things. $6. doesn't seem like a lot of money to some people, but it was to me. I'd buy her a regular hunting license, but I wasn't buying her a doe tag unless she would harvest one, and I needed that commitment from her. She promised me she would harvest either a doe or a buck.
It was teaching her the value of the dollar more than anything else. Neither of us had our own hunting clothes. They were borrowed or hand me downs. I couldn't afford new, not with a mortgage and car payment, and everything else. Neither of us cared. It was more about spending time together and learning about the natural world.
This time, we went to my buddy Harry's house. I put her in the stand I call the Hilton. It was the Hilton in its day too! Cedar shake siding, a shingled roof, lots of space and seating. A heater and a grill were inside.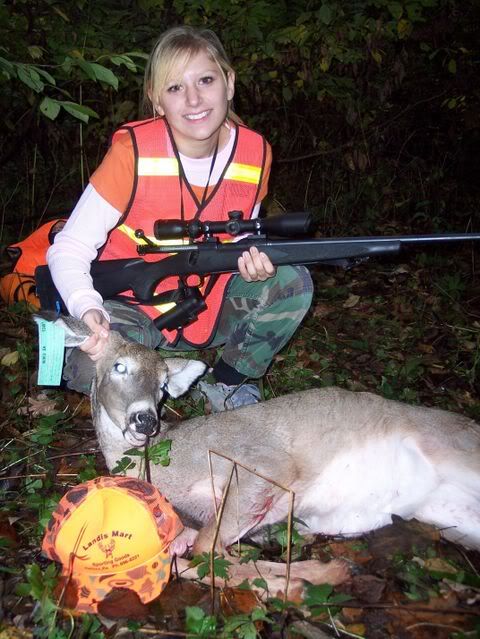 The cost of a hunting license for a kid? Priceless.
It wasn't just my daughter who benefited from my licenses back in the day. I took my nieces fishing with me too.
Cost of a fishing license? Just as priceless.
Times have changed. I have 4 house payments left. 2 seasons ago, I splurged and bought hunting clothes and boots for myself that fit. I also bought a 243 youth rifle that I loan to mentored youth. Two youth have harvested deer with it.
The value of that? Also priceless.
I still make sacrifices and sometimes struggle to make ends meet. Don't we all? Unexpected things happen. We need a new roof, or whatever. But you can't put a price tag on getting a kid involved in the outdoors in one way shape or form. If more people put time into their kids instead of allowing the video game to baby sit, perhaps we wouldn't have the trouble we have today.
To me at least, it's priceless.
If there is any member on this board or if you know someone that can't swing the $2.70 to get a youth involved in hunting, please send me a PM. I'll take care of their permit fees for them. I'll even go so far as to buy the adult their general license- but they better not light up a cigarette or have beer cans in their car.
We all make sacrifices for things- our kids should be our first priority.