Discussion Starter
·
#1
·
I've been having some close encounters so far this late season but have not been able to close the deal yet and fill my last tag of the season. I am going back to school on Monday and although I am a commuter and still at home until next year, my schedule would only allow me to get out Friday and Saturday.
My dad offered to put a one man drive on for me today. It just so happens that i pushed a doe to him in rifle on this same drive so he was getting a chance to return the favor. I got up in the stand and he started in. The piece he was pushing out is not very big at all but is incredibly thick, so much so that you have to crawl to get through hence why we call it the "crawl walk". About 10 minutes in I could already here my dad coming through. I was starting to feel like I wasn't going to see anything which is rare because we always push deer out of this particular walk.
A little after 4, I heard a stick break and caught a flash of brown. I turned on my camera and cocked the gun and got ready. I stopped the lead doe as she stepped into the opening and took aim. At the shot, I saw hair fly out the back of her and she took off. You can't see it in the video because the camera is on the right side of my head and got blocked by the smoke.
I also made a recovery video but because of the length, Photobucket was taking a long time and I didn't feel like waiting.
I am really happy with my camera investment and can't wait to use it come turkey season. It is awesome to be able to capture these memories and be able to relive them for years to come.
Enjoy!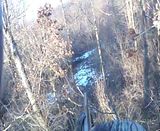 Shot with my T/C PA hunter carbine .50 cal given to me by my grandfather