Discussion Starter
•
#1
•
With the forecasted rain, I knew my field crew would be off yesterday, so I took the day off to do some scouting at camp in Clinton County. It's a new location for me this year. I hunted spring gobbler there, and have been running trail cameras since spring, but this is my first fall in the area, so I thought a sneaky hike on a rainy day might be just the ticket for figuring out mast crop, buck travel routes, etc.
I covered some ground, but managed to see a button buck around 8 am, a bear at very close range just before 10, a black squirrel, and an unidentified deer, before stopping by the camp to eat my lunch under a roof around 11 am. I then moved on to another corner of the property, and started finding a few rubs, but it really looked like things haven't "picked up" there yet. I decided to check an area on the ridge that I'd been avoiding, as I felt it was likely the bedding area for some bucks I have on camera. Around 12:30, I was along the top edge of the mountain, where the terrain breaks sharply to the steep side, when I popped a twig and stopped. Just as had been the case about all day, I saw nothing. I took two more slow steps, and stopped again.
Then I spotted a broadside deer at 75 yards, and even though his head was somewhat screened by branches, I knew he was looking at me. I slowly brought up the binoculars, and saw one of the eight points I've been hoping to see this fall. He's a big mature buck with good tine length, and this was the first I'd seen him in hard antler. We stood staring at each other for long minutes. There was nothing I could do, so I just waited for him to leave. Then I caught movement between us, and picked up an antler in the brush. The second buck started to make a rub, and I promptly identified the other good buck I had on trail camera.
I rooted out my range finder, and ranged the brush he was in at 35 yards. Too far for me, under these conditions, even if the shot was open. For the next ten minutes, this buck finished his rub, fed casually, and just kind of loitered about, never offering a clear shot, but generally easing my way. Twice when I had a good clear line of sight to his head he froze, never locking on to me, but seeming to sense something wasn't right. More than 5 minutes into this, I finally saw the other eight relax, and shake rainwater from his coat, but he just stayed where he was.
Finally, the near buck turned downhill, and his head and neck entered a narrow opening at 25-26 yards. I didn't have a shot, but felt the wind on my neck, and knew this was almost over.
Just then, he took a small step, showing me just enough . . . . and the arrow was away. He did a spectacular mule kick and tore off down the mountain, having obvious difficulty with the front axle. He made it about 100 yards, mostly because it was so steep he didn't need front legs to get that far.
Time of the shot was 12:44 pm. My scouting trip didn't turn out quite like I had planned, but I'm a happy guy!!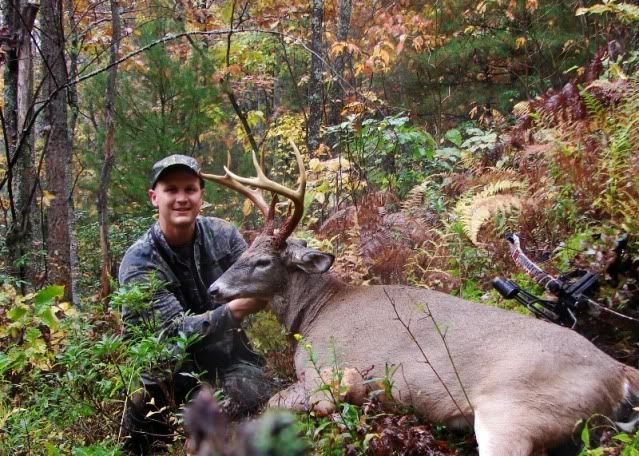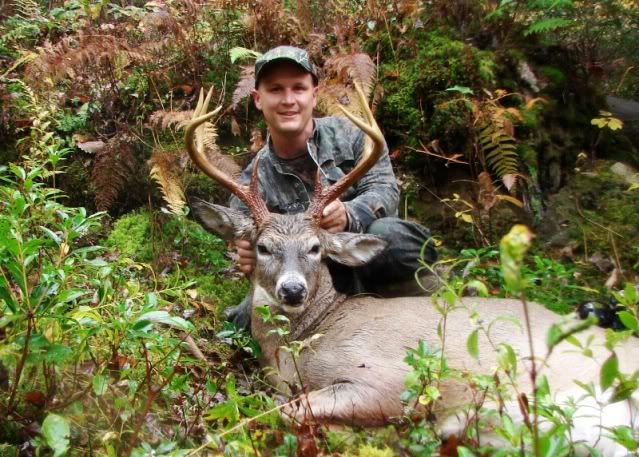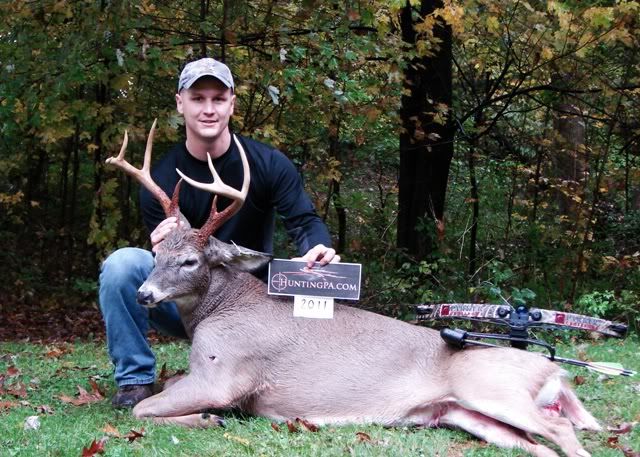 I had hundreds and hundreds of pics of this guy, beginning in May.