Discussion Starter
·
#1
·
My HPA friends, as spring approaches and my life gets busier on all fronts I have found that my time here at HPA will continue to be greatly reduced, something that will not be easy on me after a long winter of "getting outside" here with you all, but I believe I developed a way to cope with it a bit and hope you guys will enjoy my new approach to continuing to add my .02 here . Since this limited time will likely keep me from spending my .02s worth throughout this board as the day's conversations move along, it is my hope that about once a week or so I can enter a post and drop about a $1's worth here in the Spirit forum for anyone that may need a dose of that type of posting. Sort of an above the issues and debates post to act as a reststop from such things, and remind us not only of the common ground we all share, but how each of us is just one small part of the Outdoor world. I hope to share in words my appreciations for things wild. Not only as a reminder to myself to stop and take in all the little details of nature iin my daily life, but if for nothing else to try capture something in my wanderings that I can share here. Also a way to hopefully keep my writer's mind from getting rusty and to the point it no longer can bring what I see and experience to others thru written words. I have great desire to protect that as I plan to leave my thoughts to my kids and even their kids to ponder in its written form.
Truthfully, I thought about creating a blogspot website for my thoughts but the last thing I need is another website to look after, nut my thought was kind of like a mountain journal blog or something, but the years here at HPA have taught me well that you will not find a better audience or receive better feedback then via the great folks here at HPA. These posts will likely be very long winded and involve some pictures now and then as I will be trying to wrap about a whole week of thoughts into one post more than likely, so without further ramblings ..
I give you the first volume of this hopefully long HPA series of " Rooster's Wanderings"… Volume 1..a story from a day in the backyard..4/8/2009
"The Visiting Loon"
Eleven years ago with one child born, and the understanding that by the grace of God more will eventually be on the way, my wife and I started to look for a larger house than the one we lived in on the Southside of the City of Warren. Since this is largely a rural county the variety of housing options are vast, from a house in town or development, to a small farm, or a house way off the beaten path, to a house that overlooks the shining jewel that splits this county down the middle the Allegheny River. After an extensive search, we settled on the house whose backyard was indeed the Allegheny River. With a huge SGL out the front door and the river and ANF out the back I knew that our lifestyle woukd be well served here as we further grow our family.
During the past decade I have come to enjoy many things about this river and see firsthand how much it can enhance one's life. I also have seen its ugly side from time to time, well ugly to us who wish to build and live somewhat foolishly along its banks. At those times I have come to realize the river is only doing what it was meant to do in the grand scheme of things, to empties the mountains of their snows and then deliver the water down thru the flattening land to finally return it to the ocean so it can once again began its journey thru the water cycle. The Kinzua Dam has greatly increased our ability to enjoy the river close up on a daily basis in this area, but that also leaves me too wonder if man should of ever got involved that cycle to begin with.
Almost like an addict needs his fix, I have come to need the sight of the river at the end of a long day indoors. At times i takes this for granted. As anyone that spends a lot of time on the water knows, there is just something extremely therapeutic about watching a lazy river flow thru an otherwise hectic world. It naturally slows the mind down to the speed of its flow. It can also set the mind into high gear with a roar of a rapid , or gurgle of a slow riffle talking to a trout angler looking to find that pocket that holds the trophy. During my daily doses of river I have come to see so many great sites right behind my house. The many eagles, beavers, muskrats, but most of all the large variety of waterfowl. Most of the year it is fairly standard viewing of mallards. mergansers and geese, but the late winter and spring certainly brings a huge variety to town as migrations to and fro come right up thru our valley heading to places unknown. I am sure in my 10 years of river viewing that I have seen some incredible sightings of species for this region that some knowledgable bird watcher would love to have seen, but unfortunately the once lined up hobby of IDing all these travelers never took true shape so I continue to say things like "there are those little diver ducks" as I watch them dive for food amongst the ice flows of winter. One of my all time favorite visitors and one that I have only seen a small handful of times (but now have seen in two consecutive springs) is the Loon. A bird whose claim to fame is the role it played in the movie "On Golden Pond" or as the bird is often seen while hunting and fishing the wild bush country of Canada they call home.
So aanother work day comes to an end, I head home ready for my dose of river on a sunny but chilly Spring evening. As I get changed out of my work clothes and get ready for an evening of working in the yard, I spy a bird about half way across the river just coming up from a dive. A merganser perhaps? No. the color scheme is not correct…wanting to get a closer look I grab our digital camera with a 14X zoom and step out onto the balcony and bring the bird in closer, while capturing that view for further observation a little later.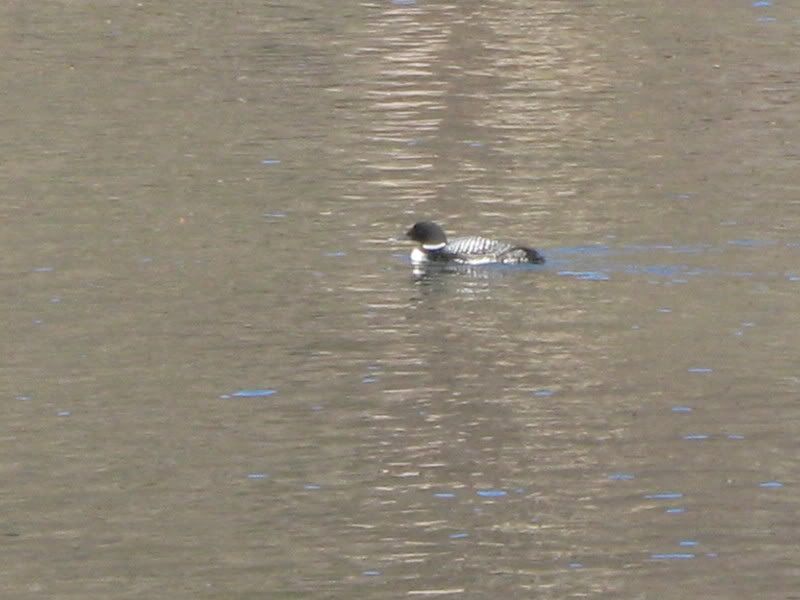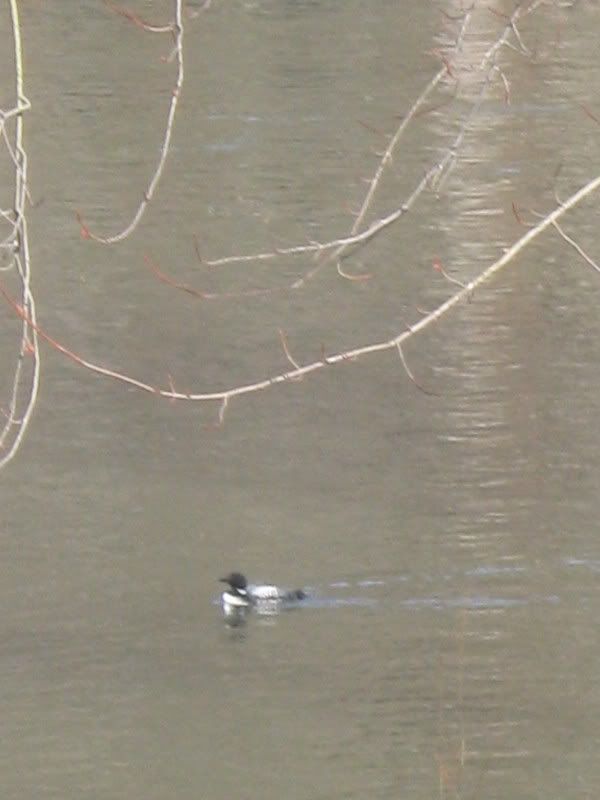 Anxious to get busy with my chores before the sun sets too far behind the hill, I set down the camera and head outside. On tap for the night is to clean up the lower part of the yard of debris left by the strong runoffs of winter. This portion yard we have come to understand we just borrow from the river, despite its inclusion on our property deed. A wonderful place to spend a summer's evening near a campfire that shimmers out across the water, as a chorus of bullfrogs sing, and you here the violent splash of a pike as it makes something a meal at the edge of the weedbed.
I head down to rake all the debris and happen to look up and down river to notice that short of the summer cottages yet to check in for the season, I am one of the last residnets to get to this annual chore. I rake the debris into a pile for burning and save a piece or two of weathered driftwood to add to my duck decoy display I have slowly developed over the years here. I am in the process of changing our multi-purpose sunroom into the "duck room", but my guess is that may not every come together as well as it has in my mind. I am not much of a waterfowl hunter anymore although I own the camo, guns, and dogs to be such from a short dappling in it, and I certainly live where docking a duck boat for daily use would be as easy as parking the truck in the driveway, but I never cared for the meat of waterfowl and found myself pitching it from the freezer after a long stay in there, so knocking one from the sky lost its flavor to me, only to clean a meal I would not eat, eventhough watching one of my labs smile during a water retrieve is still one of my favorite things in life.
As I continue my chores I notice the bird has moved off now out of sight and I think about posting the picture I just got of him on HPA to let the waterfowlers here set me straight on if it is indeed the loon I now believe it to be, as this thought enters my mind I hear the whirling call of the loon coming from downriver. Unmistakable to all that hear it, my question has been answered by the visitor himself. I decide to sit for a spell on the picnic table that is still tied off to the big river maple to keep it from floating away this winter. The loon serenades once more during my rest before I decide I do need to finish up and get back to the chore at hand.
My thoughts change now as I work to how man finds a beautiful wild place such as this riverbank and immediately finds the need to tame it and make it his own, or at least make it appealing to his needs without much worry for those others that use it. Mowing and raking in others habitat just to please his own. How the mowed lawns to the river's edge are the commonplace here in this small riverfront community, and not the exception. My yard was once the exception as I vowed to keep a vegetation buffer zone to the waterfront and just let things grow as they would without us here..But 50' of that amongst over a mile of manicured yards appears so out of place and likely would not serve much purpose to critters anyway that I changed my tune. And the year our need for a kayak landing got greater, I too cut everything closer to the edge to fall into place with the others, the uniformity of the habitat of man a destructive force, guilty by association I figure.
We have now approached outgrowning yet another house, and we look forward to our eventual move to a new rural surrounding and chapter in our lives where our backyard becomes a logged hillside where grouse drum and gobblers thunder and our front yard view will overlook a small creek bottom with a beaver dam to keep an eye on and the peeping of woodducks to listen too as they set to land in there. Since this area is much more remote than this river community we now live, I will move onto there with the knowledge of what I have learned here on the river. And I will take that knowledge and look forward to living amongst the habitat of others, and not find so much need to make that habitat entirely my own.
When I woke this morning I opened the balcony door as I got ready for work despite the chill of a spring morning nipping at me and almost immediately got the call I was hoping to get, going to the door I noticed him in the same spot as yesterday. I am not sure if he will be there upon my return home tonight or decide it is time to move on. I know the loon has only stopped here on his way home, but I enjoyed his visit and all the realization it brought to me that I shared here, and am left wondering though if he does not notice man's intrusion on this waterway in a negative way and wish I had a chance to explain it to him. Perhaps someday I can be a guest in his backyard, but just like him visiting here today, I will not be there to make it my own but to leave it as I found it, however unfit to me that may be.