Discussion Starter
·
#1
·
As is the theme in all parts of our state (except those bubbling little spring streams, a few of which I am zeroing in on...) trout fishing has slowed down. I've been pounding away at the 30 miles of tailwater that runs through my town. Most sections of this river I have fished in the past, but I have also been working on filling in the gaps. There aren't too many gaps left now.
I have spent more time on the river this year than any other year, and I am learning to adapt. I use a bigger rod (6ft) with a larger reel and heavier line (10lb magnathin). The 10lb line has saved me countless times from fish fighting predicaments where I have to stop a downstream run because of an obstacle or from losing a spinner stuck on the bottom. I also make bigger, heavier spinners (1/4 to 1/2oz) to deal with the current and the depth and to reach out across the river.
Although the numbers of trout are much lower here than in small stream fishing there are many other things to keep me engaged.
This 17" rainbow came from a deep, slow pool.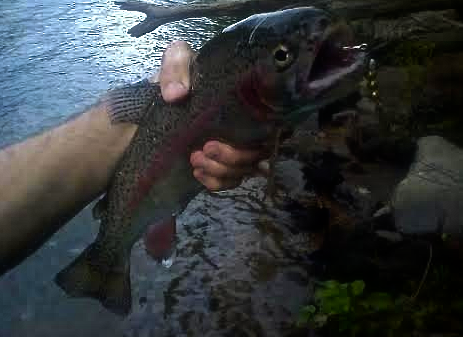 Any time I see an opportunity to get a high vantage/casting point, I take it. The added height takes my casts a few yards farther out into the water, and allows me to better assess the possible lies. This particular vantage point had an easy access, right up the log.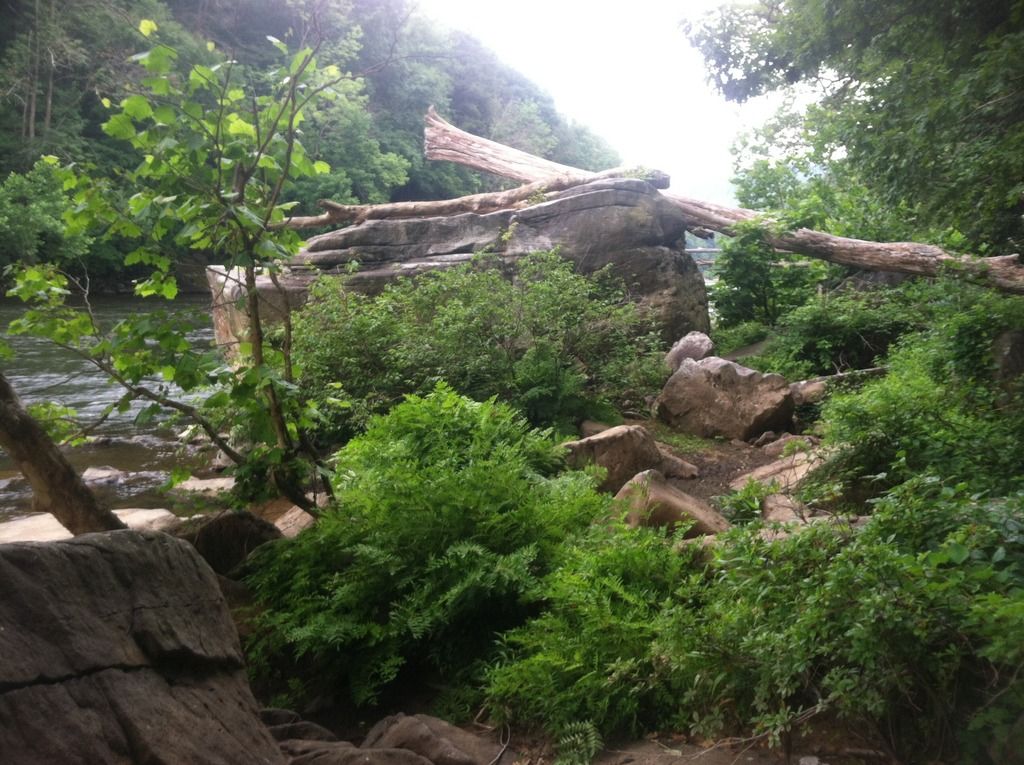 From my lookout, I easily detected a GRT suspended in the swift current near the boulder I was on.
I started executing my attack plan. Two passes with the spinner and not much more than a slight turn. I switched to my old trick, and tied on a trout magnet. I drifted it down past the GRT a few times. Perhaps I was having trouble matching the depth. The fish seemed to be about 3ft below the surface and 1ft off the bottom. Next, I tied on a wooly bugger, drifted it past, an no take there either. In the back of my mind, I was wondering what I would do if I caught this thing, being 8ft up in the air on the boulder. I tied a spinner back on, and casted to all the surrounding areas, giving the GRT a break. I gave the target one more pass with the spinner, and surprisingly, he struck after a delayed response. After the hookset, the fish leaped high into the air and then headed downriver. I knew I needed to get off of the boulder quickly or lose this fish. I loosened my drag,sat on the edge of the bounder to get closer to the ground, and jumped into the 2ft deep water below. This is when I heard a sizable crowd cheering for me. I looked up to see 30-50 people in rafts watching me. I brought the fish in, held it up, and they cheered loudly. Not something that happens every day in trout fishing.
I had been so intently focused on that fish for at least 15 minutes that I never really looked upstream to see them coming.
The GRT measured at 19.25" I really wanted it to be 20", but after measuring it 3 times, I accepted what my tape measure said. I had only 9 fish that day after 2.5 hours of fishing, so I chose to end the day on that note. That makes 5 GRTs this year after a three year dry spell.
The mornings here are always a spectacle with the fog hanging in the valley until around 9.
No matter how slow the fishing is here, I am never bored because there are an infinite number of likely spots to cast to.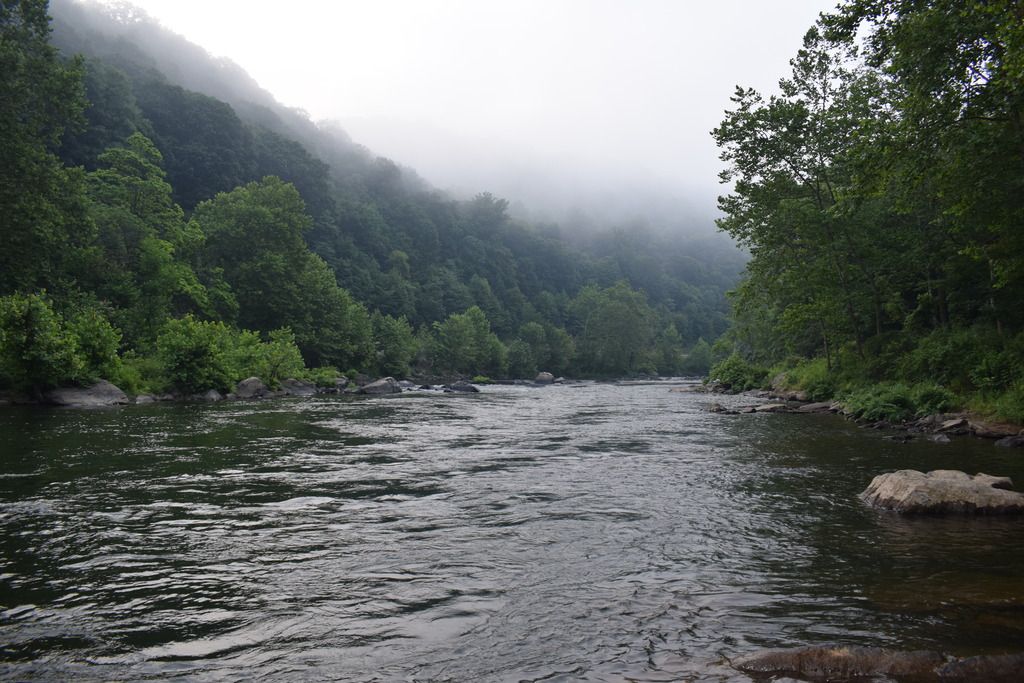 Many of the fish are average sized.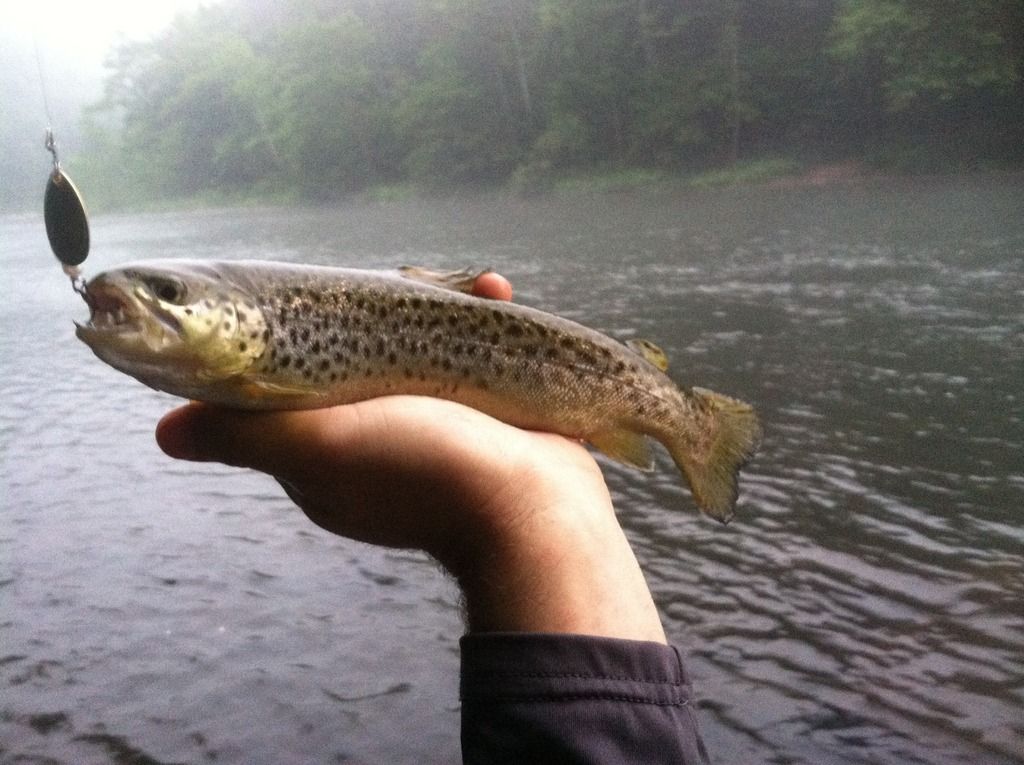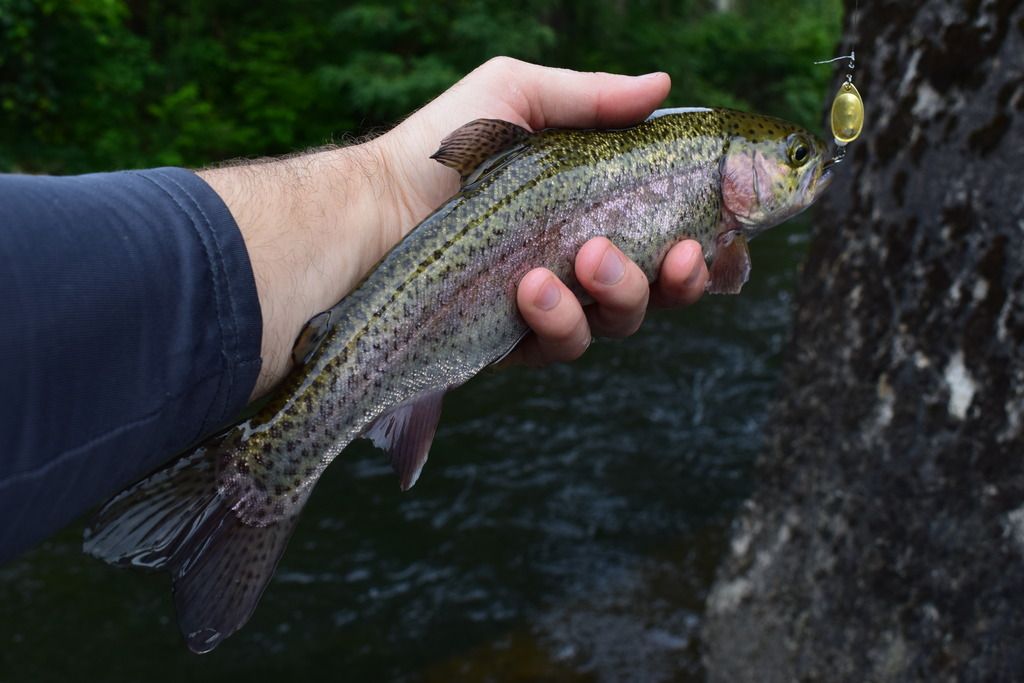 Some are exceptional.(this was an old spinner, with too much wire between the top bead and the eye, and with a different type of hook)
Some tiger trout are left over from who knows where. I was wearing hip boots to protect an open wound from falling in the river the day before.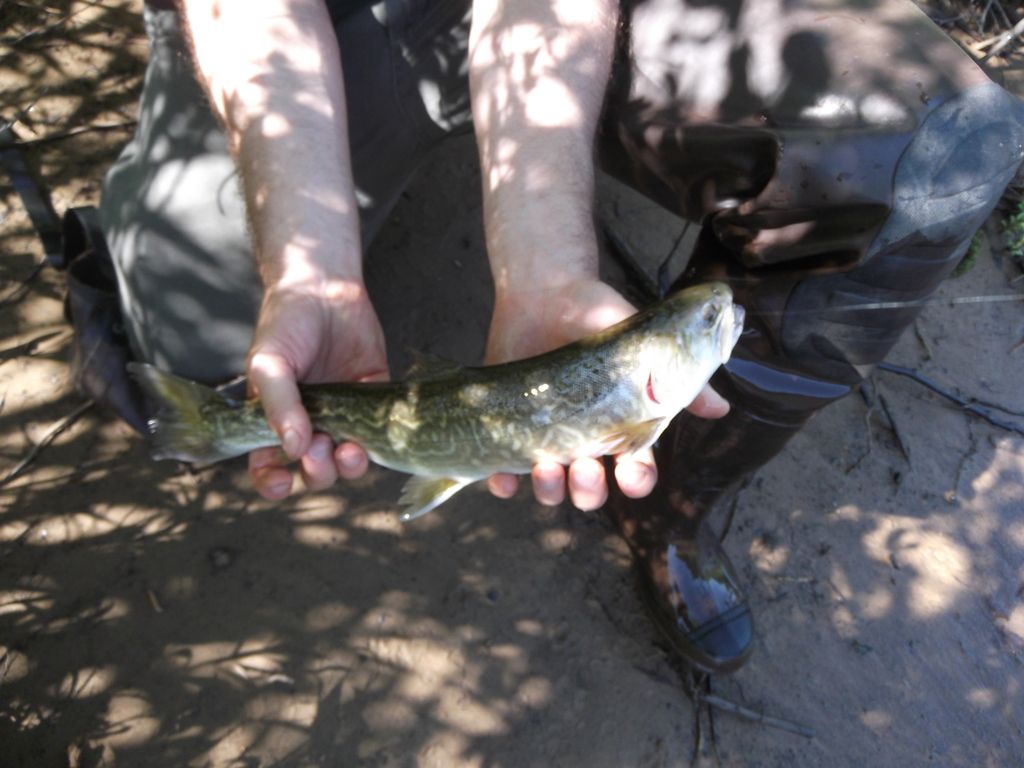 Most trout in this river only let you get this close to them before doing a death roll and shaking loose. A net would be handy here.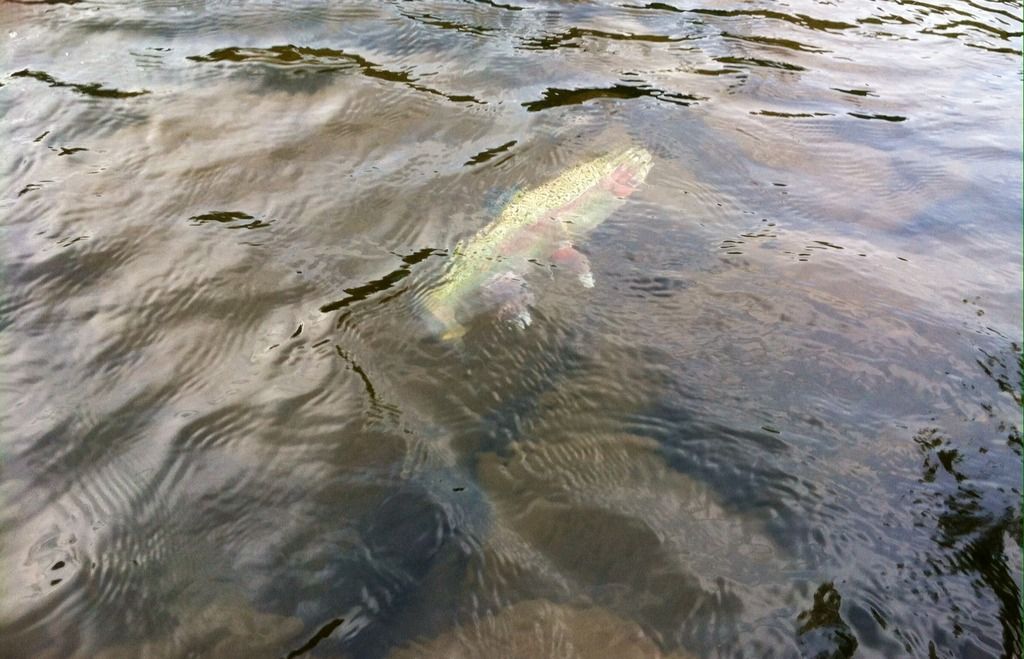 As todays trip came to a close, I spotted another big GRT, about 14 miles upriver from the one I caught a few days prior. I ran through the same approach to try and catch it but to no avail. By the time I came across this fish, it had been floated over by dozens of boats and was not in the mood to pursue a shiny metal object. I was nearly half way out into the river in waist deep water, standing atop a rock that almost broke the surface before I spotted this fish. It was impossible to see without looking from above because of the depth of the water.
Since most of these trips were around 3 hours in length, I have had time to pursue other species of fish, intentionally.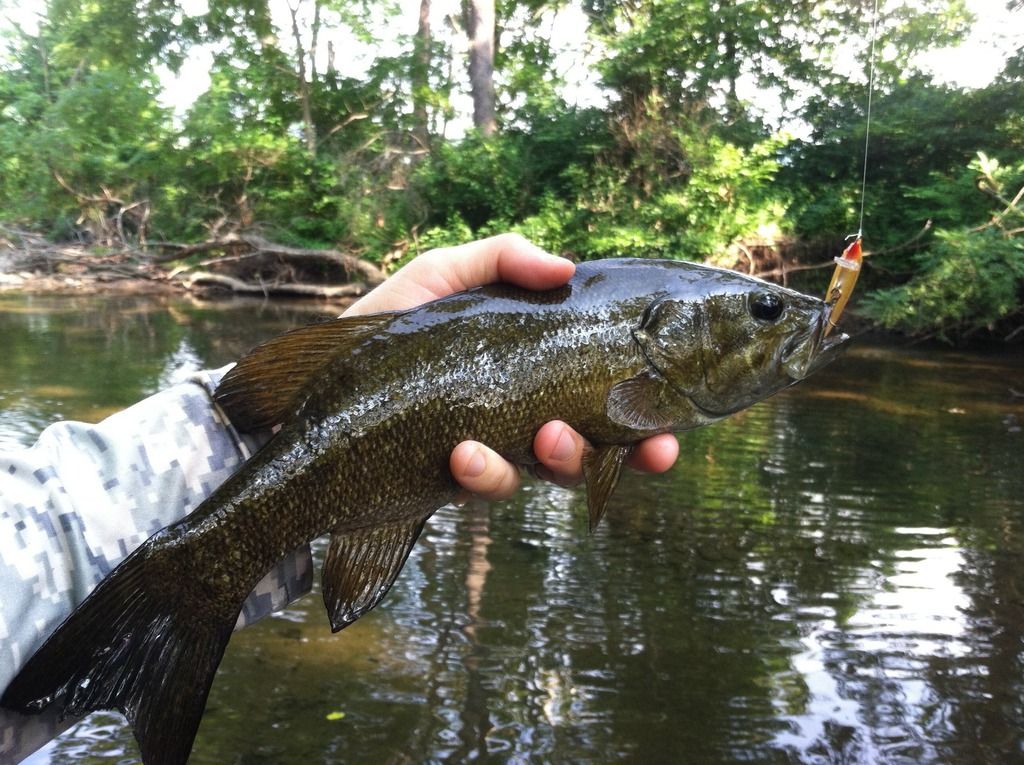 I caught this trout while smallmouth fishing in a river that has been getting up to 86 degrees each day for over a week. It was the most miserable looking trout I have seen.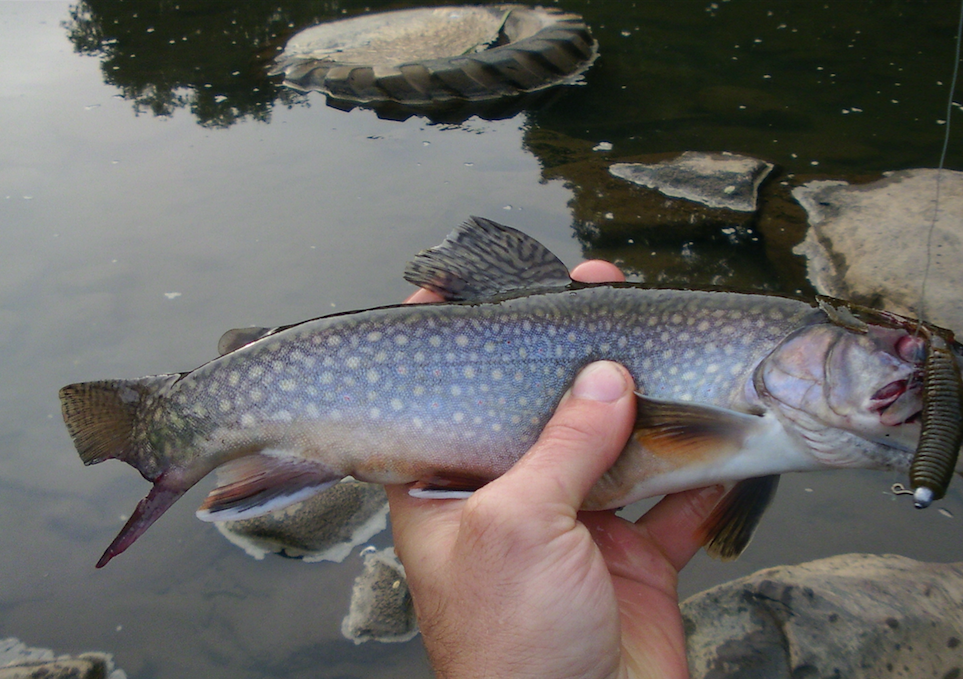 I did catch a healthy looking trout from the same river at the mouth of a cool tributary. Again, smallmouth were the target as you can see from my rubber grub.
Meager times like this really make one appreciate may and june. It has been tough getting used to fishing a place that experiences so much pressure. I regularly see between 20-30 other anglers while I'm out there fishing including guided fishing trips. My shins really want me to take a break from fishing this river, so I may give it a rest for a while. Or I might find some used shin guards and elbow pads and keep at it.