Discussion Starter
•
#1
•
Guys, here are a few pictures of the reloading bench that I just finished building.......it is made out of solid Oak, the top is 2 3/4" Oak butcher block........I have a small area in the corner of the living room of my new place, so it had to be small, and look nice, and maximize the space that I had available....I also had to make one end able to fold, so that I can access a small closet that I built for all of my hunting gear........
Here is the bench with the folding end up......the brackets are rated at 750 pounds per pair, so I dont really have any apprehension using them....although I wont be using a press over there.....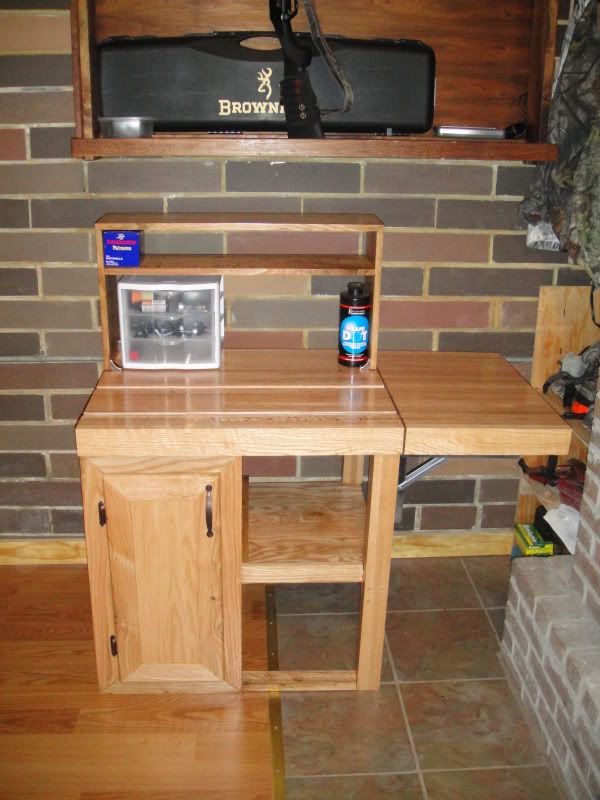 This is the bench with the folding part of the top folded down allowing access to the closet.....
Here is a picture of the top of the bench, I installed
1/4 x 20 compatible T-track in dado cuts......this will be used to mount all of my presses, powder measures, case trimmers etc.......and allow them to be added, and removed easily.....I got the idea while looking at pictures on the internet, and it fits my application perfectly....
Another picture of the top, showing the T-track....
A picture with one of my presses, and powder measures mounted on the bench using the T-track.......the presses and accessories are mounted on 1/2" thick HDPE sheets......
Here is another picture of the bench, this time with a MEC shotgun press mounted using the T-track......
While, the area that I have to use at this point is not as big as I would like, I think this will work well for me for a few years, until we get around to putting an addition on the house......
Let me know what you guys think.....