Discussion Starter
•
#1
•
Every year we usally see some gnarly pictures of someone that lost a part of a finger after getting a digit in the way of the string when the energy in the limbs is released. With crossbows, this is gonna be very bad for the user.
We had a member here that received a very bad injury when the bow discharged while he was loading a arrow onto the rail. We must at all times respect the power in those limbs while loading, carry and shooting our crossbows.
Being involved in the crossbow business I see many different folks shooting crossbows. What I see all too often is a arrow loaded onto the rail in a manner that is potentially dangerous.
<span style="color: #FF0000">This is what I see most often which is the wrong way to load a arrow.</span> The fingers are between the receiver and the riser and directly in the path of the string, should it discharge.
This is the correct way to load a crossbow arrow. Grab the arrow just behind the insert and push it slowly back into the receiver and trigger latch. Your fingers should never cross the end of the barrel. It is also important to keep the point of the arrow below your hand. Your fingers should be fully extended and your palm, well above the point of the arrow.
Now, during a hunt, we are often checking to make sure that our arrow remains seated firmly against the string. This can be accomplished by again grabbing the arrow just behind the insert, keeping the point well below your palm, and seating the arrow.
Some also prefer to flat palm the arrow such as the picture below. The fingers are extended and the palm of the hand is used to seat the arrow back into the string. This method is acceptable but inherently more dangerous as the hand is just above the string should the bow discharge. I always teach the previous method of loading and seating the arrow.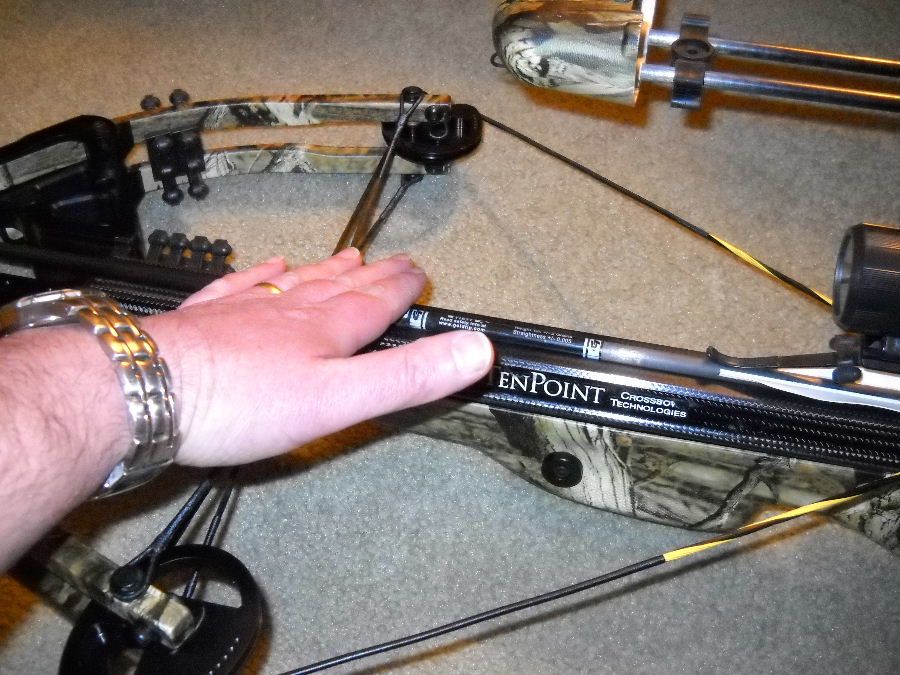 These are just some simple tips to use during our offseason shooting sessions. As simple as they are, I see many taking chances that are not necessary.
I hope that some have found this helpful. Happy shooting!