Discussion Starter
·
#1
·
This is my third attempt to write this post. HPA is a real pain lately. It's wearing out my patience.
All last week I was watching a specific stream. I store a lot of data, probably more then I could ever need, What is does is tell me exactly when to fish certain streams and what my expectations should be. The system doesn't always work but 22 years of info gathering can't hurt.
I started to get excited on Wed, even commentting to my wife that I couldn't wait for Saturday. Everything was coming together so nicely and there was no weather upcoming that was going to change it. My expectations were high. Saturday AM came and I was up and out the door in a blink. I was anxious to say the least and wanted to get there before it was time to fish to leave nothing to chance with other fisherman. As I drove over the first bridge I put'er in park and hopped out to look.....PEEEEEEERFECT!
Since it was still pretty dark I chose a meadow stretch to start in. This would allow me to start fishing a good 15 minutes earlier then being in the timber. On my first cast I had 2-3 wild browns give serious chase. That was a good start. On my next cast trout #1 came to hand.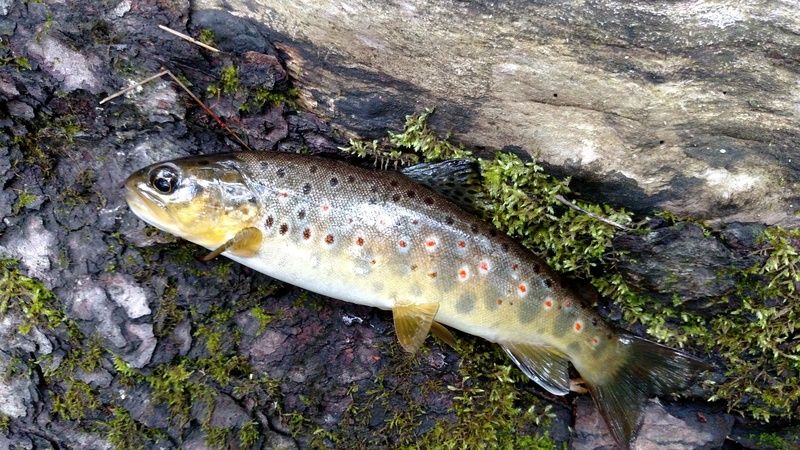 Over the next 10 minutes in the meadow 7 more trout came to hand which comfirmed my suspicions. It was going to be a 'hold on to your hat' sorta morning.
I quickly left the meadow and entered a dense hemlock stand. It was pretty dark and the fishing was rough for the next 15 minutes. I was starting to be concerned but just stayed patient and pressed onward. As I left the hemlock stand and the water entered a more diverse forested area the stream caught fire immediately and the trout started coming to hand as quickly as I could release the last one.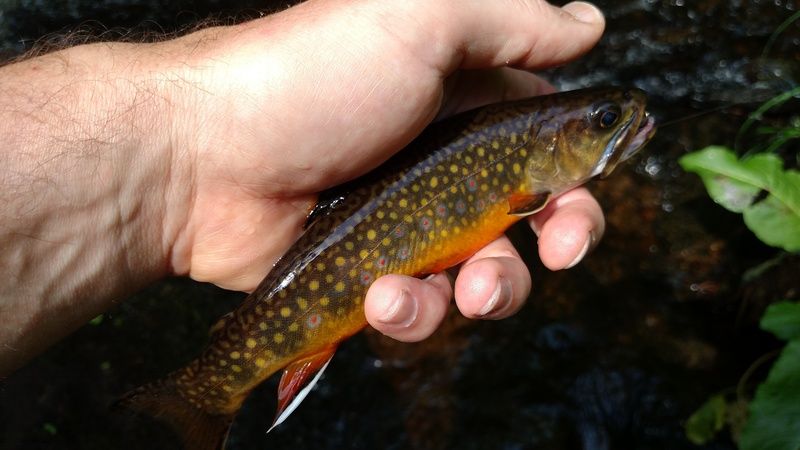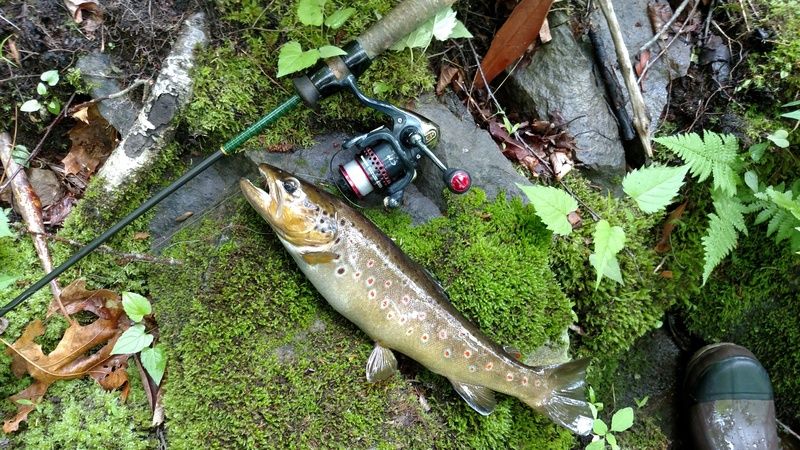 The fishing was great but I tried to take some time to enjoy my surroundings as well.
This little guy appears to have found its 'niche' in the world...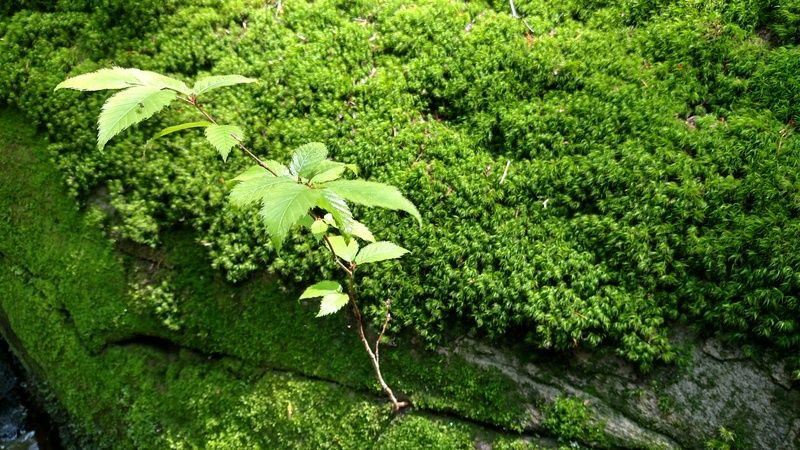 And every time I came upon a spot like this
I was catching 3-5 of these from each one.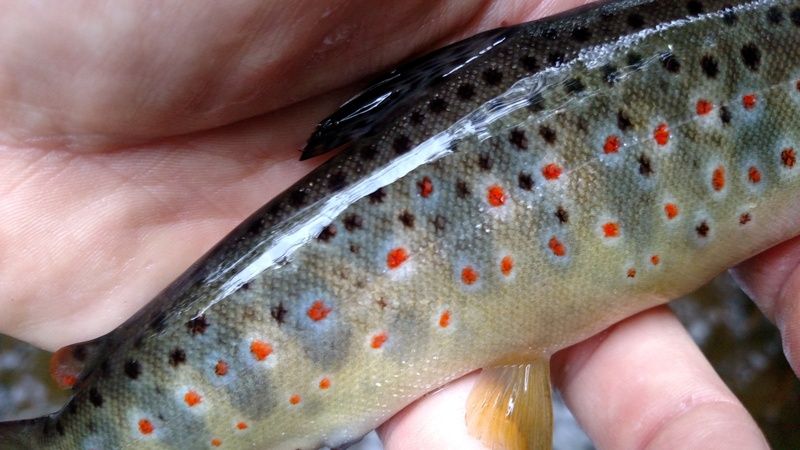 By 8:30 I released #100. By 10:30 #200 was set free. The handling of fish was happening often but the number of fish that I was hooking and losing blew it away. I probably lost 3-4 trout for every one I actually landed. I'm very strict with what I consider a trout caught as. If I dont lay my hands on the fish it wasn't caught. I probably lost 40-50 trout as I lifted them out of the water to release. I lost many many more during the retrieve and at my boots. I didn't keep count but I'd be willing to bet that I hooked 600+- trout today. The stream was very difficult to get a good solid no slack retrieve on so that was really hurting my strike/catch ratio. I was certainly making due though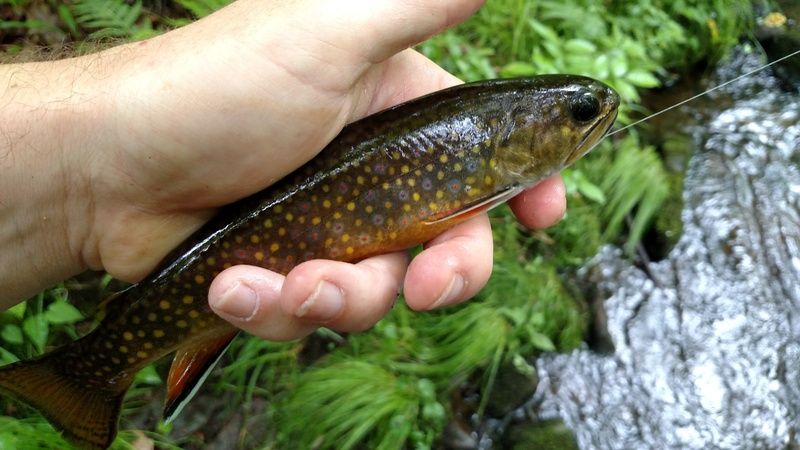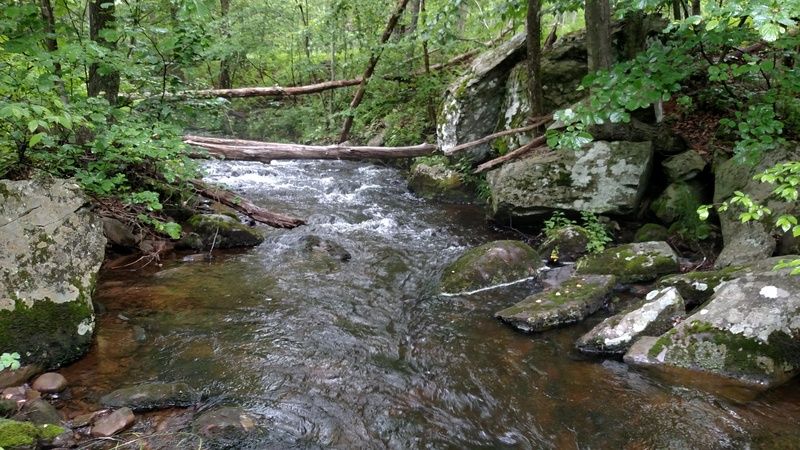 The last hour of fishing was the toughest with many obsticles preventing a good tight lined retrieve I lost a very high % of the trout that I hooked. Over the final 2 hours I caught 66 more and by the time I reach my bike at 12:30 I handled and release 266 wild browns and native brookies. It was one of those outings where the pace of the fishing actually exceeded my already high expectations.
The great fishing for my season seems like it's on the clock right now. Stream are getting very low as they have been for a while and there is no end in sight. Hopefully I can keep finding decent places to fish but there is no promise of that so I just keep trying to enjoy each good outing. We'll see what this week hold....