Discussion Starter
·
#1
·
We had a defined rain boundary for the storms that occurred over memorial day weekend. The streams draining one side of an extended, mountain ridge got pounded with 2" over 2 days while the other side got away with 0.5" over 2 days. I drive along the "rainy" side to get to the "dry" side. I thought I just might be able to sneak into a headwater stream on the "rainy" side of the ridge since it drains quickly.
I fished this stream last friday and had to leave for work right when the action got hot. I picked it up right there where I exited the stream and landed a first cast stocked brown.
The first 15 minutes were incredible. I landed 9 including this nice wild brown.
I was able to identify this small patch of false hellebore from reading one of Frank's posts the other day.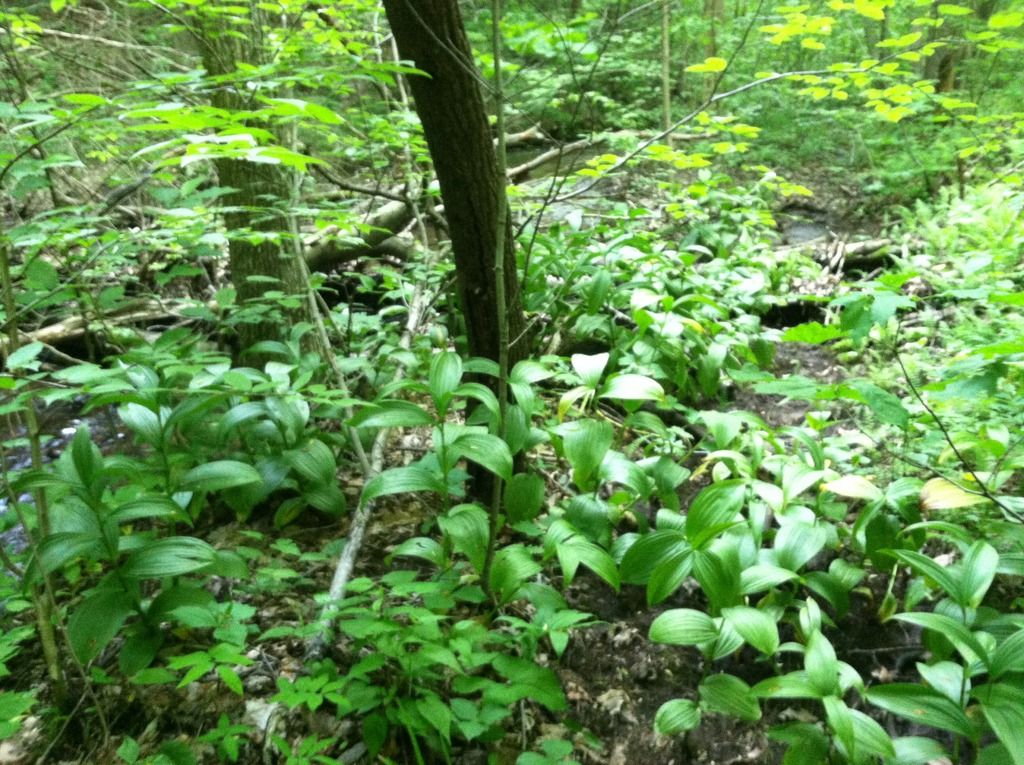 From then, I moved through a stretch of water with very limited trout holding habitat, and when I finally got into better water, there were boot prints everywhere. I spent 1.5 hours here and ended with 16.
I drove to the other side of the mountain to a stream where I thought I just might be the first person to fish it this year. I know it got spinner fished at least 3 times last year, which is a lot for a smaller brookie stream. The pace was slow for the first hour, and I decided that 40 from this stream was my goal.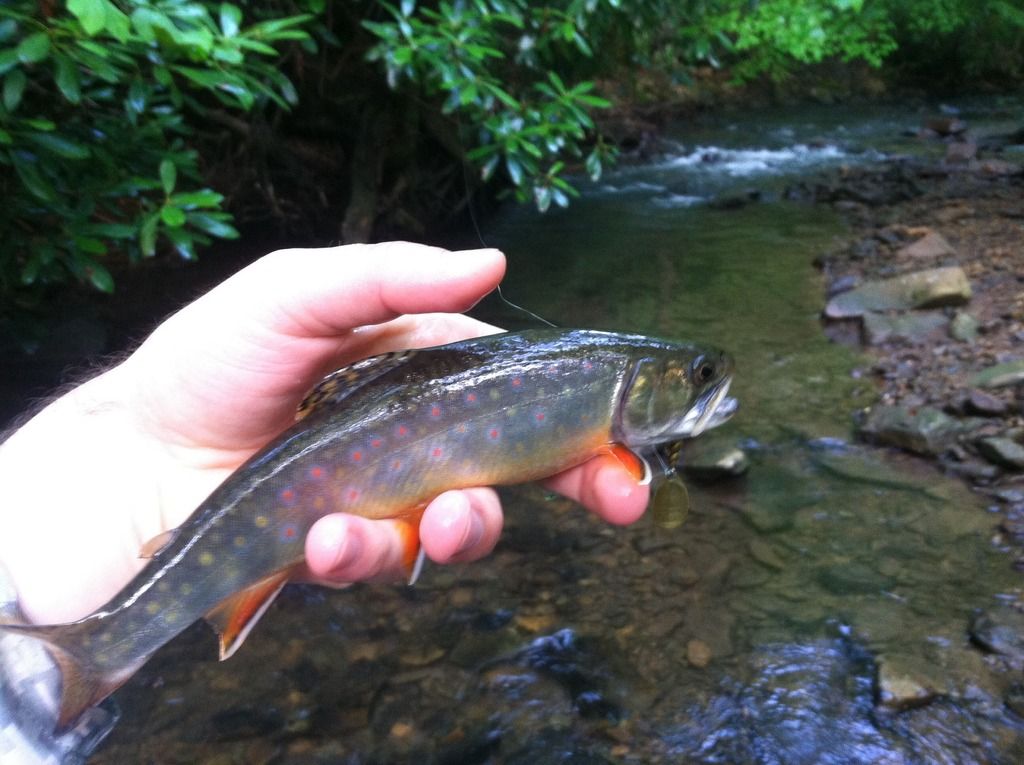 I had to work pretty far up the stream to get to 40 and it took almost 3 hours. Most fish were around 7" with 3 of them just over 9". I doubt I was the first person to fish it this year.
I headed for home at this point with 56 trout. As I got closer to home I was beginning to think stopping and working a small section of a stream that is only 5 minutes from my house. I haven't visited it since april.
The first cast here brought in a brookie that had been released with a few inches of line hanging out of its mouth. When I used to bait fish, I would always cut the line as close to the mouth as possible on a deeply hooked fish.
Trout had obviously spread out from stocking points, and almost all pocket water held fish. I really enjoy fishing when pocket water is productive. It prods me to think of every possible holding spot.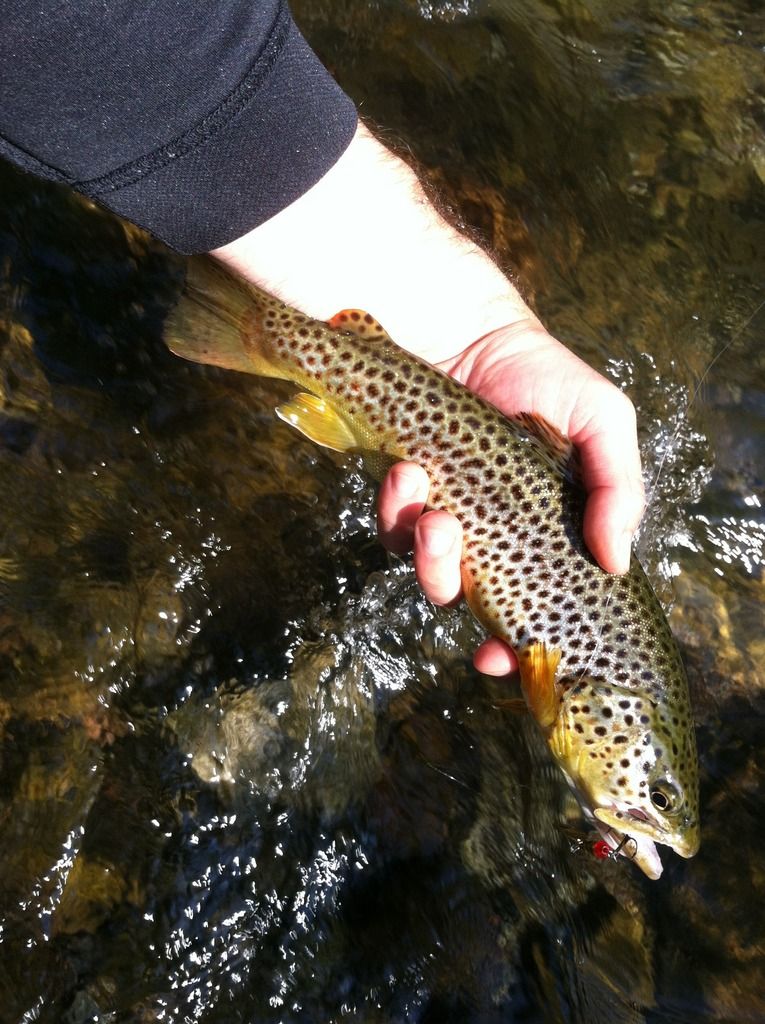 This extremely dark colored brookie shot out from under a rock in just a few inches of water.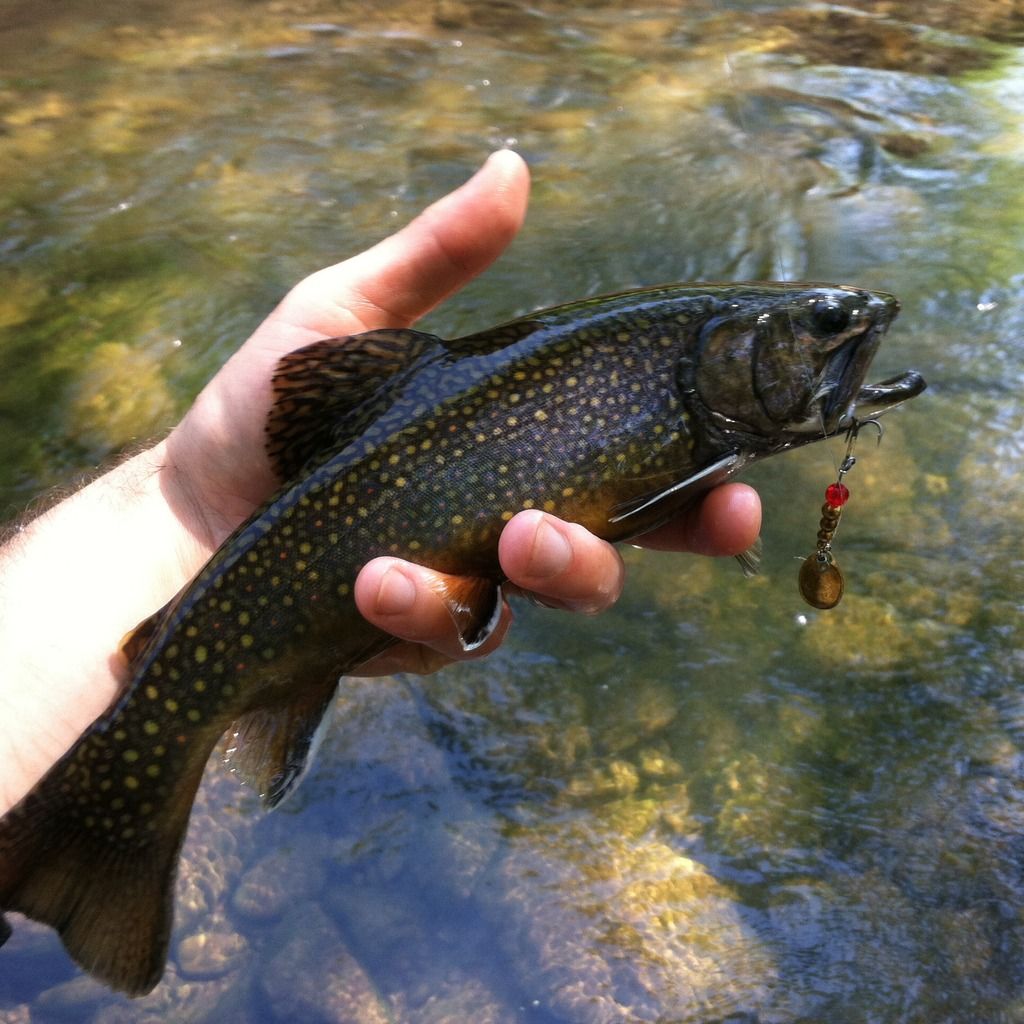 At this point, I lost my last red bead spinner and tied on a WBG to finish out the day.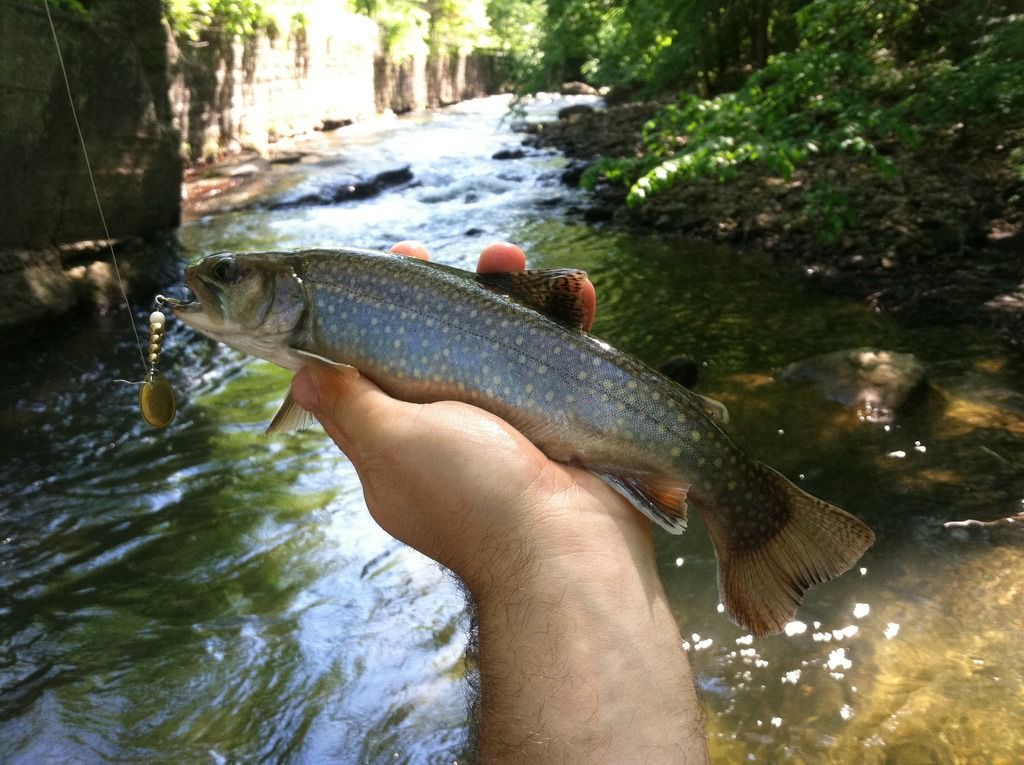 The bright sun created shadows that made fish spotting difficult. The quick current on this stream doesnt help either. As I approached the next small slack water area below a riffle, I saw what looked like a piece of plastic or fabric swaying in the current. I crept into a better vantage point on the bank and confirmed what I was trying not to get excited about- big trout!
I landed the first cast 10ft upstream of him and he just moved to avoid the spinner as it passed. This left me with a tough decision... let him see the metal again when he obviously seemed uninterested, or tie on a trout magnet(which I carry for situations such as this) and bounce it right in front of him. I opted to stick with the spinner. I brought it in at a slightly different angle, he moved out of the way again, but this time as soon as the spinner passed him, he turned and slammed it.
I adjusted the drag and ended up wading waist deep to guide him around a boulder.
After about a minute and a half, I landed HER. I wanted to do the picture thing quickly because of the extended battle.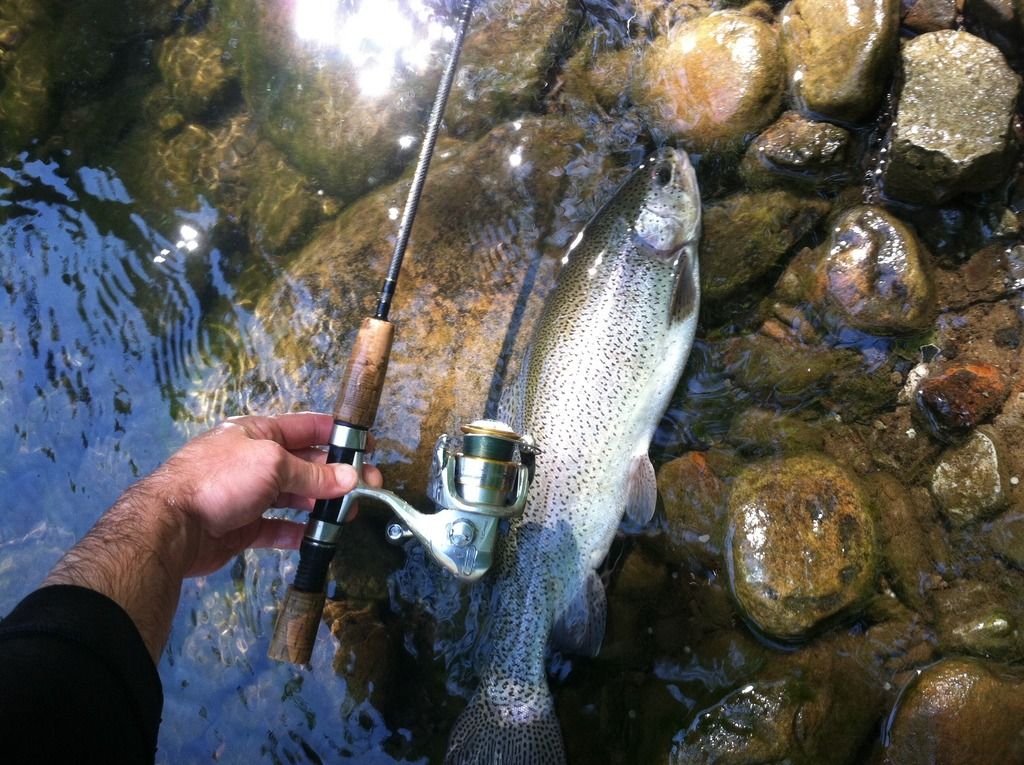 I took 3 pictures and this was the best. I measured her against my rod and it was right at my 22" thread. This very well may be the largest trout I catch this year.
I continued up catching quite a few more.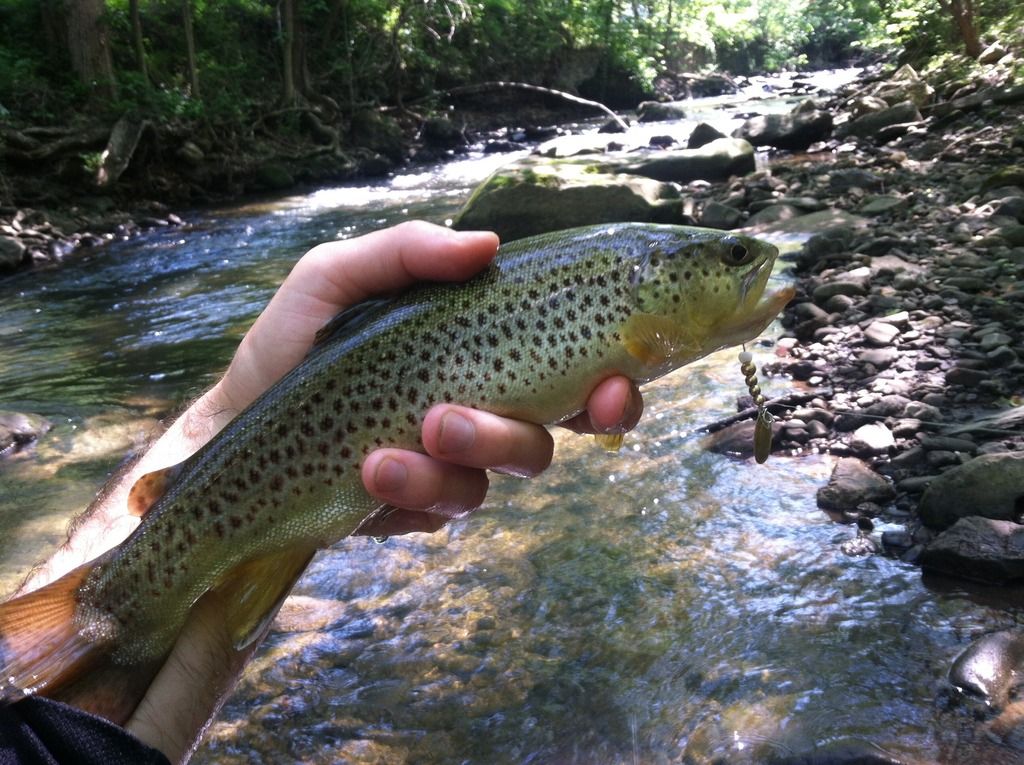 Since I bought a clicker counter, It allows me to relax more while fishing instead of floating numbers around in my head the entire time. I stopped even looking at the number until I exited the stream for home and was really surprised to see that I added 47 more from this stream in a little over 2 hours.
This was my first 100 trout day this year, ending with 103 taken from 3 different streams.