Discussion Starter
•
#1
•
What an outstanding day I had hunting with my son. I don't think the script could have been written any better then what unfolded today for his first whitetail(s). The day began with us on stand at 6:30am, once it got light, at about 7:10am six deer were working in behind us, but something "spooked" them and they took off like gangbusters. My son and I looked at each other, hoping this wasn't the last deer we would see today. About 10 minutes later, I heard a twig snap behind me, 3 buck were working the same area as the earlier deer. The "big 6" passed through the only opening Jacob had to shoot, once the 4 point was in the lane, I bleated, he stopped, Jacob shot. After a short trailing lesson, Jacob had his first whitetail PA buck. After taking care of the buck at home, a bite to eat and a quick nap. We headed out for an evening sit to see if he could fill his doe tag today also.
Once on stand, and re-living the events that took place a couple of hours earlier, Jacob says "deer working in from the bottom", 4 deer were closing in, he took out the lead doe at 40 yards.
What a great day for a young hunter to have all of his hard work pay off with a day he will remember for the rest of his life, I know I will. He hunted sun up to sun down on Monday and Tuesday earlier this week. And the 3 days of youth rifle, but nothing worked out for him, that all changed today. It's actually been a great week for him, last Saturday he took his first red fox, which he is getting a full mount done on it.
Here are some photos from today's events.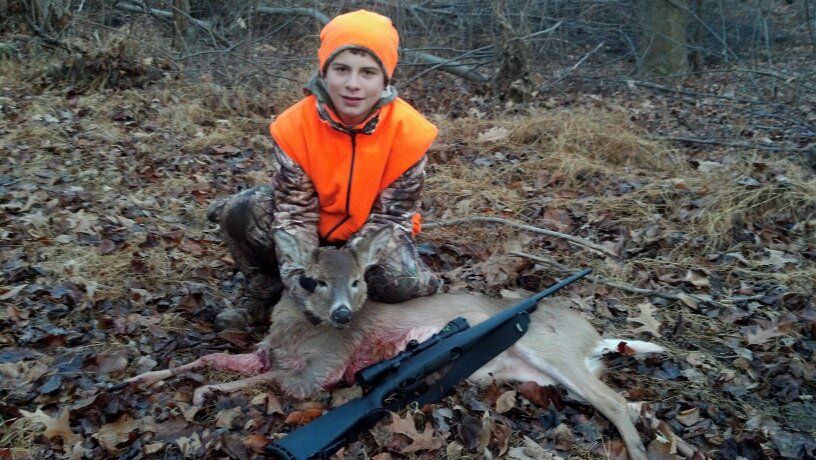 Jack Moose Jr.