Discussion Starter
·
#1
·
Well the family was wondering who I was talking to for so long out on the deck last night, but they were VERY happy to find out when I came in that a second Parker crossbow is joining the family aresnal this week.
Had a great discussion with arrowhead last night on all sorts of topics about hunting, at the end of which was a box being filled with all sorts of goodies:
Parker Enforcer 160 with the Hawke multi-rectical optic,
18 victory bolts,and the string surppressor set for our one year old Tornado which we are nuts about and looking to make even a little better(with the surpressors and victory shafts)
Going to get some more broadheads and lit nocks this summer as we switch over to hunting practice mode so we can find those pass thrus a little easier than last year buried in the leaf clutter and maybe even follow that shot with the naked eye.
Last year I found myself with more willing/practiced hunters than crossbows on a couple Fall Saturdays, although a good problem to have I vowed not to be in that situation this year, especially with a rookie hunter in my daughter, so a top priority was to find another treestand friendly crossbow that had great accuracy, lighter weight, and easier cocking than the Tornado. The plan now is I hope my wife and 12 year old daughter could have a crossbow in one stand , while the son and I could have one in another (or vice versa), and this scaled down Tonrado version fit the bill almost as if Parker knew what my family needed this year.
In addition to the bow season prep, I got a nice Gamo Big Cat 1200 air rifle yesterday from Cabela's ,I need to sight in yet, and I hope it gets thousands of rounds thru it this summer from my youngest child (7) to me...ALL OF US can improve our rifle skills with this gun. Then for the daughter it will be onto the Rem .22 bolt in summer, then onto the H&R single shot .243 by rifle season. Joey will have to settle for graduation to the Henry .22 mini bolt in 2010 and paper and aluminum targets, at least one more year for him as spectator in the stand.
Good times ahead...along with a report on the Enforcer and how it compares to the Tornado. Looking forward to a summer of shooting, and what I hope is a Fall full of gripping and grinning for the troops.
i would of went with another Tornado, but after arrowheads reports, and the fact that I need to still get an in-line ML and another deer rifle this year
I need to save a little where I can.
GO TEAM!!! 2010 a year of the backstraps and boneheads (meaning bucks not my family
) !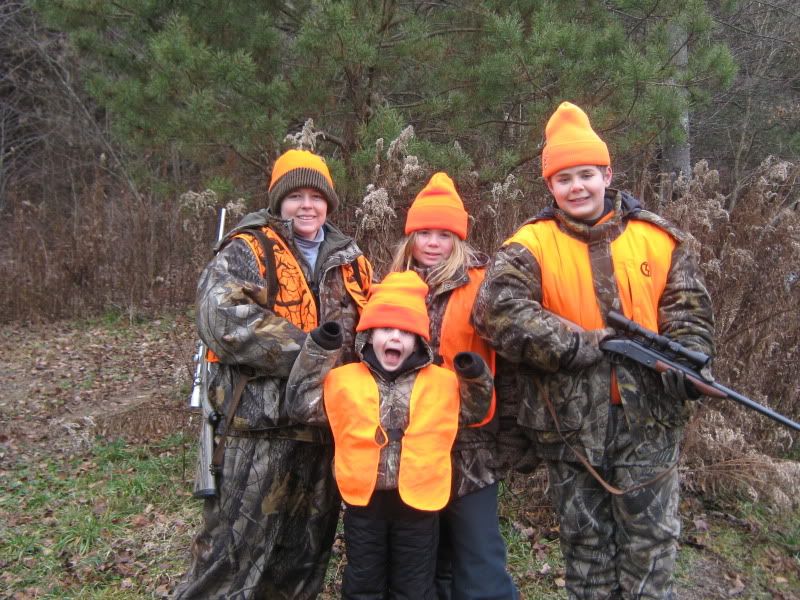 I hope to report in on all the practice rounds and hunting excursions, like always, the uncontrolable world around us may want 2010 to be another bad year in American's lives, but I want it to be another good one in ours. Hunting means more than it ever has to the average joe Amercian family, so see ya out there and please get your kids outdoors.