Discussion Starter
·
#1
·
As most opening days over the years it has become time to spend with family in the woods. This year would be no different. Some things have changed and some people have given it up. This year we set out in a area that held one of the largest bucks I may have ever seen but thats a story for another time. We scouted Saturday picked out spots for the 5 of us to sit Monday morning.
As the arrival of Monday came we just like most years the first group in the parking lot to make the few mile walk in to our spots. We still had a light dusting of snow on the ground. As my Dad and I parted we wished each other luck. My aunt, uncle(JBMJR), and cousin (Wadman) were making their way to their spots. I had a good feeling that we would get a shot at a good deer.
As I was making the last few yards to my stand I jumped deer. I climbed up in the stand and could hear deer walking all around me. At first light I had a 6 point under me and then a 7 point come walking out. I had no intentions of shooting either deer. I was watching and noticing the 6 point not acting right. He kept stomping his foot and looking from the direction he came from. After about 5 minutes I look back to see a good buck coming out of the thicket. I had to turn and make a quick decision to shoot or not. I saw he was legal as he stepped behind a pine tree. I made the decision that when he hit the next opening that I would shoot. He stepped in and I let the 25-06 bark. The buck mule kicked and ran about 20 yards and I thought I saw him pile up. I look at my watch it was 7:04. I called my dad and uncle to let them know that I had a buck down.
I climbed down to put my hands on him. As I knelt down beside it, I looked to the sky thanked my good buddy for the hunt and wished he was their to share it in person. I know he is right beside me on every hunt. The deer ended up having 6 (well almost 6) on the left and 4 on the right. The thing that baffled me the most was the size of this deer. This deer looks to only be a year and half old. His body size is small, his teeth have no wear.
Here is my buck.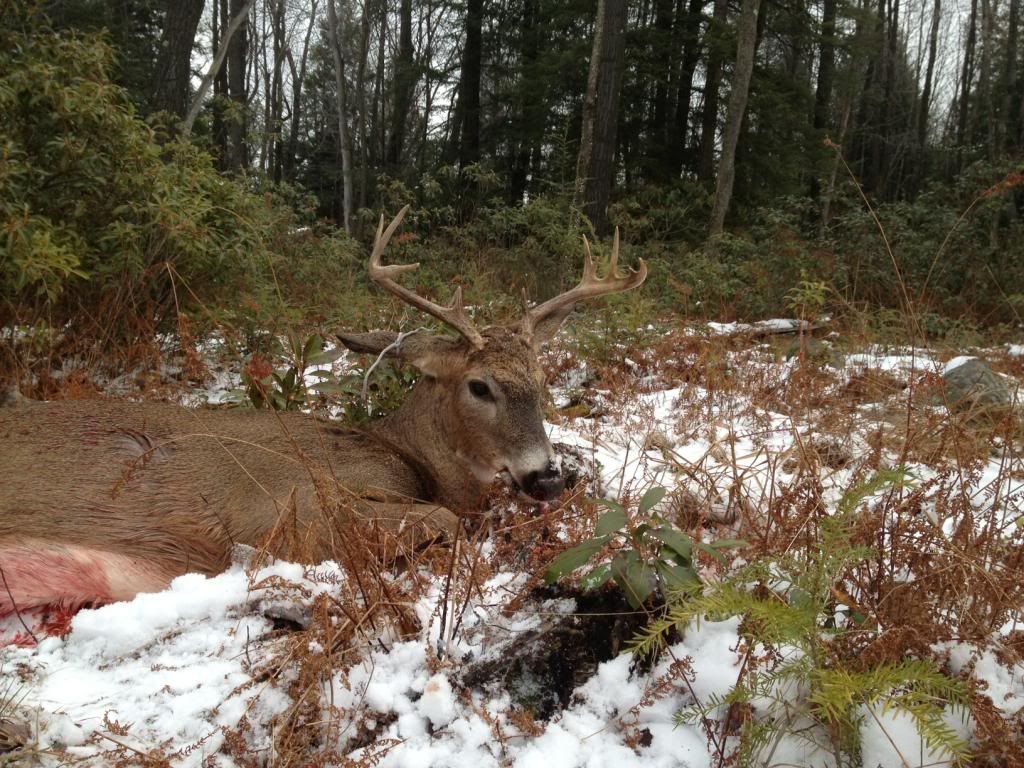 I then made the walk back to the truck to get the deer cart and back out to load it up. I made plans to walk around for the other guys in the group. As I was waiting for my dad to make his way out to place him in a spot a shot rings out from the direction of the rest of the group. I waited a bit and talk to my uncle he got a shot at one but wasn's sure. My cousin was coming to help . I was putting my dad and place and making my way twoard my uncle I got the news that he had one on the ground. This was the buck to end the dry spell. He had not taken one in a few years. I walked up to him and was pretty impressed with the buck he took. A high rack 6 with 4 on one side and 2 on the other. The most impressive was the body size of this deer.
Here is JBMJR deer.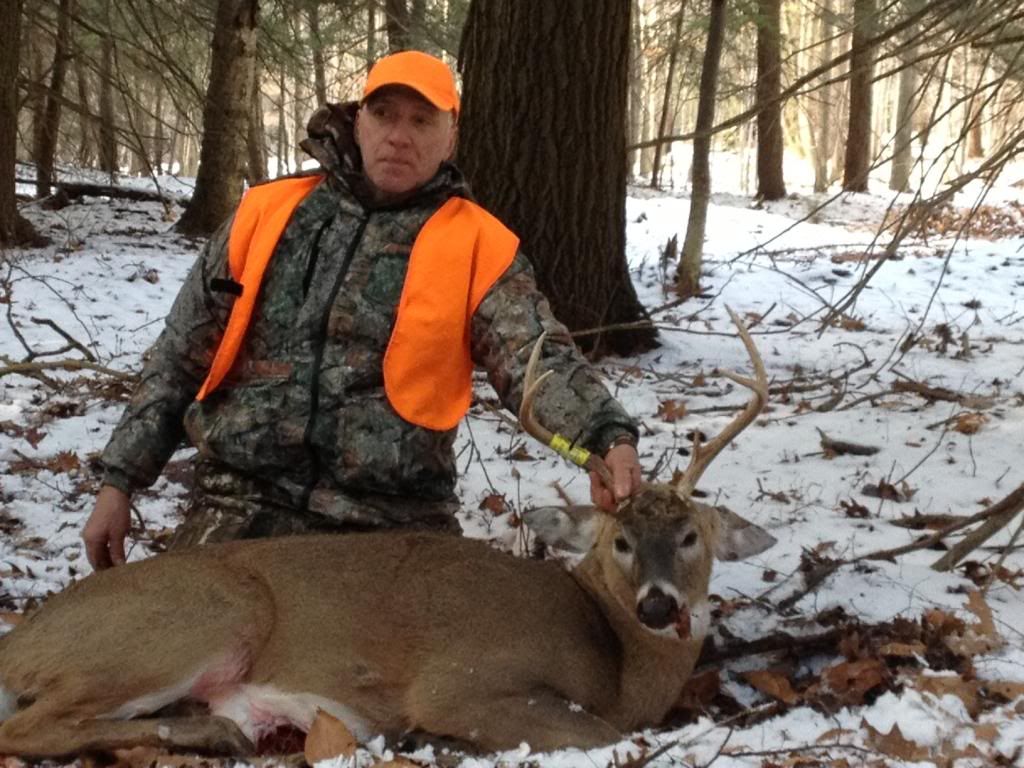 We planned to make a drive for the other 3 in our group. As we were making the drive deer were moving and so were the bears that I did not see for 3 days during bear season. We ended up pushing 4 bears out, one ran by my dad at 20 yards and 3 in other directions. No deer for the rest of the group but a day in the woods with family is better than anything.