Discussion Starter
·
#1
·
How does a tree stand or hunting spot get a name, and why would it have a name? Well, I think a stand or spot gets a name from a series of events that happened there, and why would it get a name, simply because it's easier to tell your hunting buddies that your going to a named stand or spot rather than going up the hill across the draw to the third hemlock tree next to the clear cut.
I have been very fortunate to hunt some great places in my time, and it seems every place that I hunt, the stand has a name. In Africa I was able to hunt the House Blind, the Bottom Blind, and the Hippo Blind among others. In Canada there was K-Mart, The Meeting Place, and Old Man, and in Illinois there was The Play Pen, The Back Forty, and The Woodlot stand.
The stand that I call Old Reliable is one of my favorite hunting spots that I ever got into. This stand is on a piece of property in York County, and I actually grew up beside this property, but there was absolutely no hunting allowed for more than three decades. I finally obtained permission in 2002, thanks to my dad. Dad got to be pretty good friends with one of the family members that owned this property, and with some persistence I finally got my golden ticket to hunt there.
My first scouting session was about 3 days prior to the opening day of the 2002 archery season, that was the day that my dad told me that I had permission. I only got to see a few areas of the property as my time was limited, and I found a spot that just called my name. The next day I hung a stand in a maple tree that had a main trunk and split off into 3 sections, and plenty of branches for cover. The maple was in a little finger of woods with old ATV trails on both sides, a green field behind me, and beyond that the thickest cover one could imagine.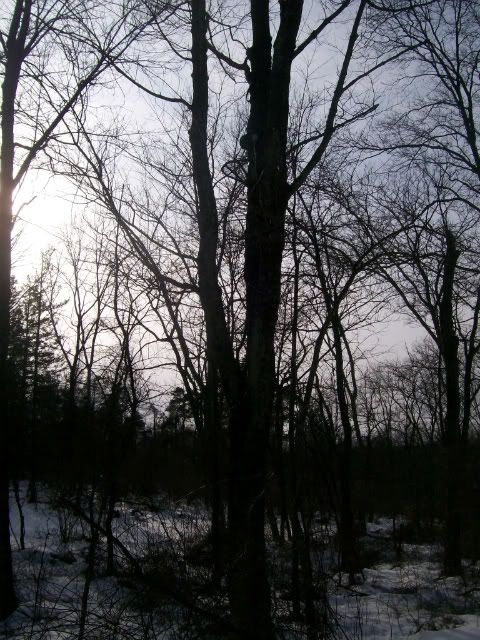 I made a bee line to my stand after work on the first Monday of archery season, and within 15 minutes deer were on me. I finally got an opportunity at a nice doe, and made the shot. The rest of the 2002 season went by, and I ended up taking 2 more doe, and a nice 8 point the last Wednesday of the season.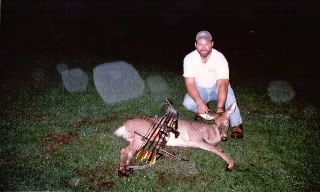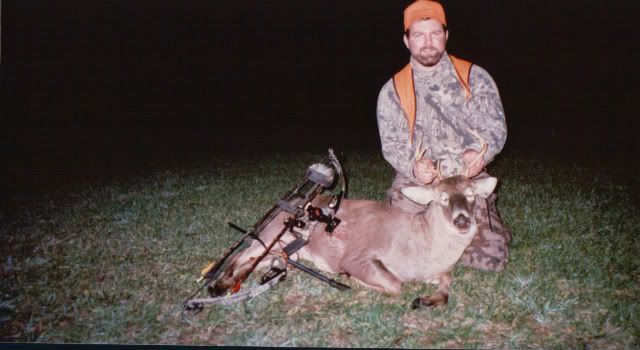 Old Reliable didn't get it's name until the second year that I hunted there. During my first season, I think I saw more deer from this stand than I saw during the last 5 hunting seasons. The following year in 2003, there was no question that I would again have a stand in this area, but now I had some more time to scout and was able to get a few more stands hung.
Things happened pretty quick in 2003, as I ended up taking a bigger buck this year on the third Saturday of the season. That morning after the shot and recovery, I contacted two other hunters that have permission to hunt this land to see if they would help me dig him out of the thick stuff. Once we got the buck out, one of the guys said, "that's a pretty reliable stand that you got there", and that's when it became official…this is my Old Reliable.
In 2004 Old Reliable proved to be the hot spot again, with 3 more doe, and a nice 8 point This buck popped out onto one of the ATV trails about 100 yards above me, made a scrape and walked back into the thick stuff. I grabbed a grunt tube and started wailing away, and he came back out and started heading towards me. At 30 yards he made another scrape, and made his way into a shooting lane and the rest is history.
2005 was a rough season emotionally. My father passed away during the summer, and I couldn't wait to get to woods for some much needed therapy. Old Reliable became much more than just a good hunting spot, it became a place where I got a lot of things sorted out in my head. On top of that, it was another stellar season, again I took 3 doe and a nice 6 point.
By the time 2006 rolled around I had more than enough stands placed where I thought I would not over hunt any one area. I harvested a doe early in the season from Old Reliable, and two more from different stands. I almost sealed the deal on a nice buck the last Friday of archery season, but things didn't work out this year for a buck form Old Reliable, but, I did manage to harvest a fine 8 point from one of my other stands.
I got back on track in 2007 taking my nicest buck the Friday before the early muzzle-loader season. Two more guys ended up with permission to hunt this property and they do not archery hunt, just in-lines and muzzys. They put a permanent ladder stand about 40 yards from Old Reliable…it bothered me a little at first, but then not so much as they are only hunting a few days out of the entire season, and I hunt pretty much the entire season. We have quite a coordinated effort letting one another know where we will be hunting so we don't goof each other up. The one fellow wanted to hunt the ladder stand, and I was busy butchering the buck that I shot the night before, so there wasn't any issues of who was gonna hunt there. He ended up shooting a big fat doe the first Saturday of early ML season. I was able to hunt that evening and decided to go back to the well for the third hunt in a row form Old Reliable and ended up harvesting a doe. Three hunts and three deer down…that's some good luck.
In 2008 and 2009 I got many hunts from Old Reliable and harvested several doe and saw plenty of bucks, but could not get a good shot opportunity at a buck from my treasured stand. Other areas of the property proved to be good, and I ended up taking nice bucks from these spots.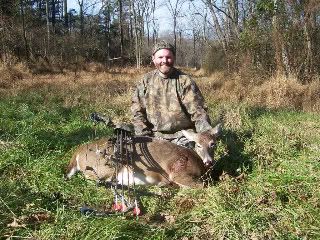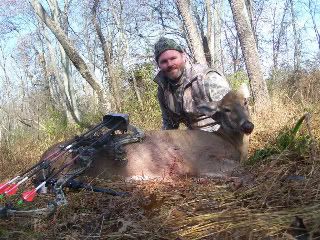 My Old Reliable not only became a great hunting spot, but a place where I could just get away from it all. A place where I got a whole bunch of my own problems solved, to solving the worlds problems. I know I wont have this spot forever, but I'm gonna make the best of it while it's there. So once October hits and a south west wind is blowing, you could probably find me in Old Reliable.
Thanks for looking….