Discussion Starter
·
#1
·
The title to this post is a double entendre.
1. I got to fish yesterday with a friend (Matt) that I have known for 25 years. He and I have always pushed each other in everything we did. Competition in fishing has always been fierce. Out of the hundreds of times we fished together growing up, there was never a time when we didn't finish a day within 5 trout of each other. Before the internet and the availability of information, we became very proficient at bait fishing for trout. After college, he moved to DC and only gets after trout once or twice a year now. He has completely missed my evolution into a spinner fisherman. This was the first time he came with me and exclusively fished spinners.
2. Thanks to the ample rainfall, I had my pick of any stream that I would ever fish. I chose a stream that I have been fishing, since I have been fishing. In the last few years, I have had some great days on certain reaches of this stream. There are also some long stretches of water where I have had poor results for the better part of 2 decades. There were some loooong stretches of this stream that I have never fished because of its proximity to the unproductive parts. Today we hit one of those sections.
Wanting to get some fish on the board right away and look like a successful guide, I started us with two tributaries to the main stream. Matt had the casting accuracy down as well as any veteran spin fisherman (he does a lot of perch fishing nowadays with trout fishing gear). We covered water with lightning speed with 2 people casting. We finished both tributary streams covering a total of 2miles in 4 hours. Some very nice wild fish came to hand from these small streams.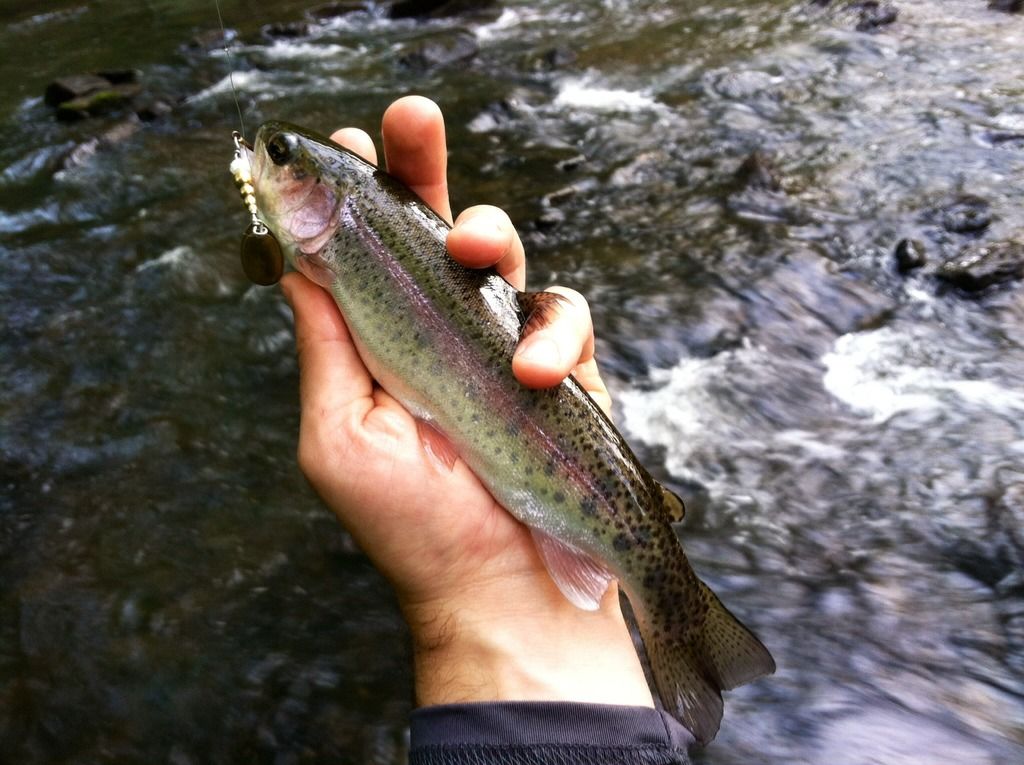 Around 10am, we ate lunch and moved vehicles into position to fish a 2 mile section of the main stream.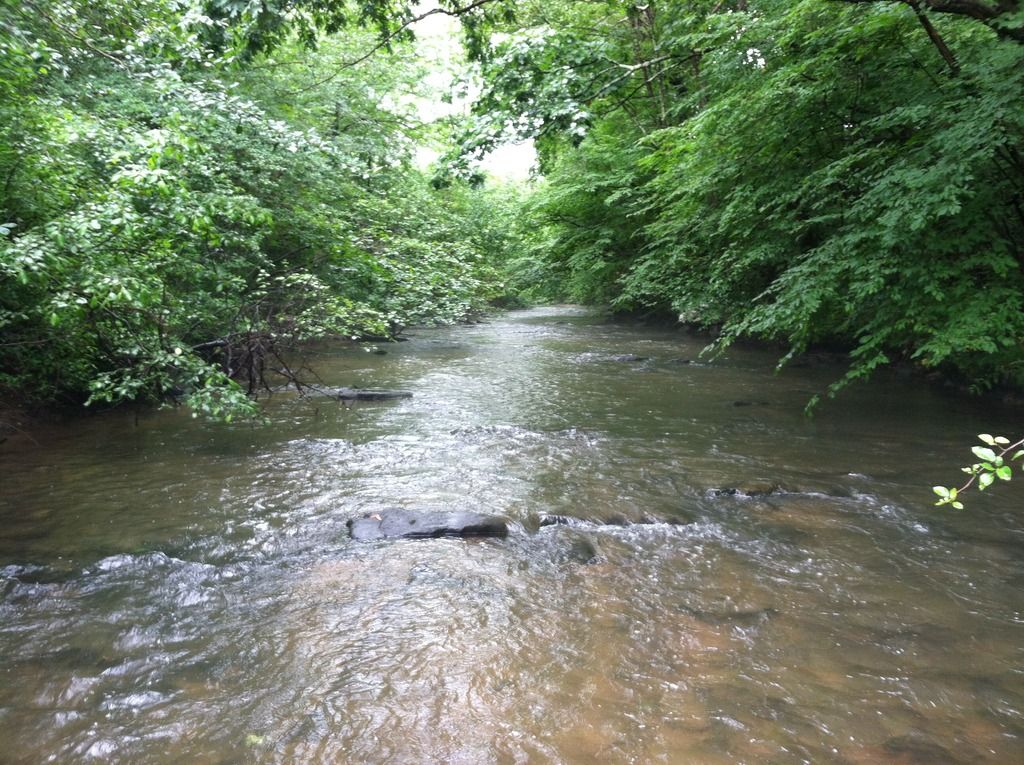 The water was up nicely and in the slower sections, it was stained to a point that it looked muddy. You can see the perfect coloration below.
This stream section was much better than anticipated. Most fish that came to hand for both of us were wild browns which came in all age classes.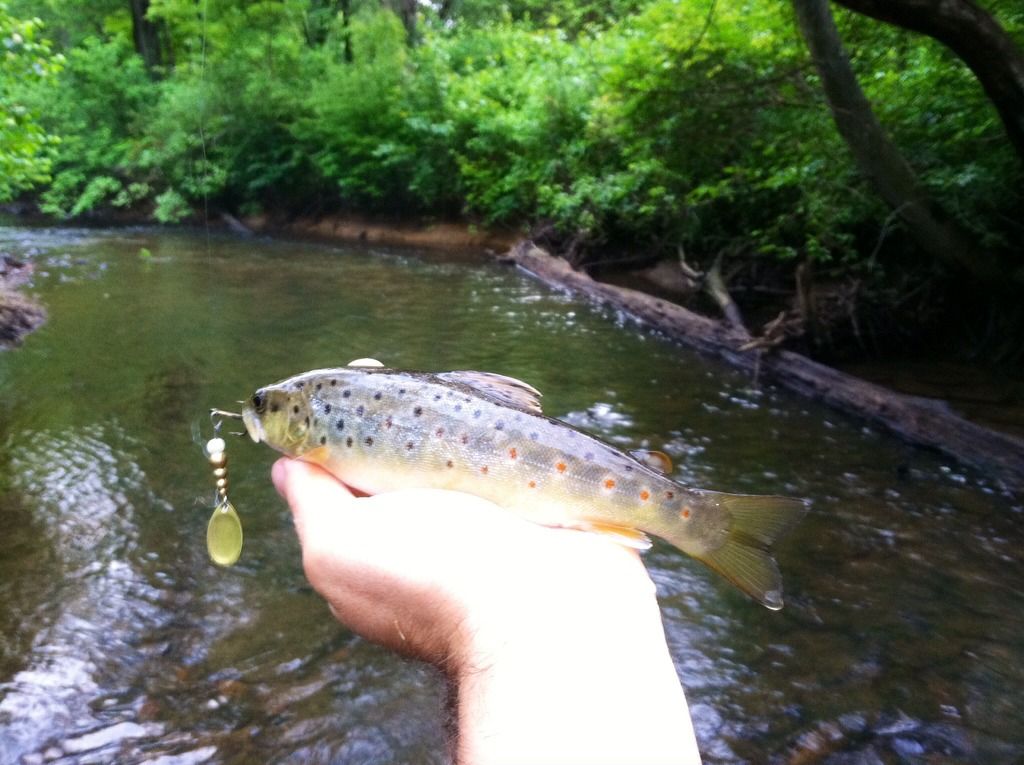 Starting here, at the first beaver dam we encountered, the fishing became awesome, but the wading became awful.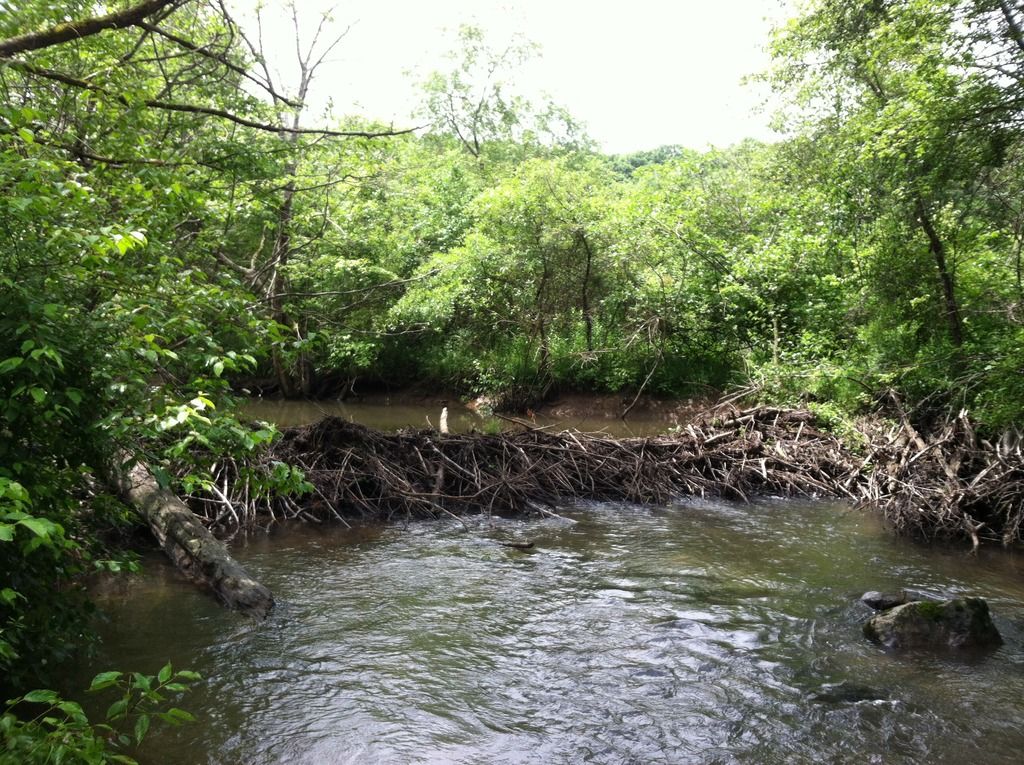 For the next 1 mile, a series of dams kept the stream bottom very muddy and the water very deep. Unfortunately, the streamside vegetation consisted of nothing by thick alders, so we had to stay in the water. Sometimes, we were in water just shy of armpit height. The trout were plentiful so it was do-able.
Just above the dam shown above, I had a big hit on my first cast. The 2nd unsuccessful cast brought the beast of a fish out of the depths to let me see that it was a big rainbow. We fished upstream and not a minute after my encounter with the big bow, he was "sipping" insects off the surface. I walked back down, waited til it sipped again, watched it sink back down into the murkey depths, and made a cast. I let the spinner sink a few feet down before cranking it, and as soon as the blade started churning, the big bow slammed it. Matt slid off the muddy bank to help land the 20.5" rainbow.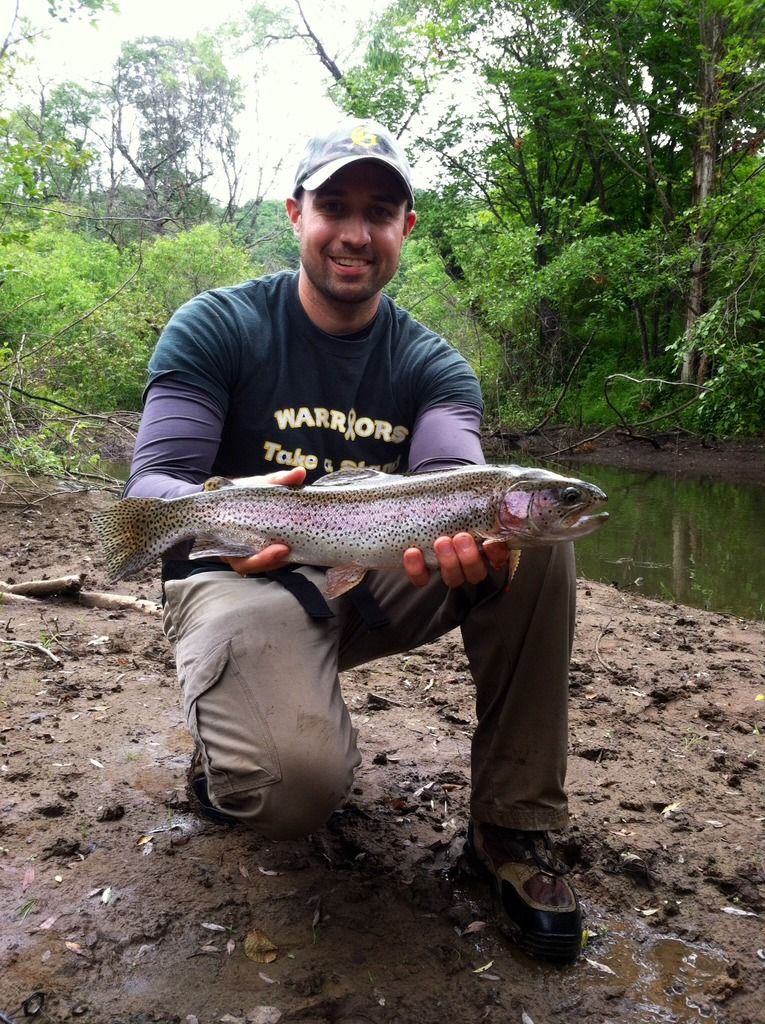 There were no other pictures taken in the productive beaver dam section because we were really struggling just to wade.
Finally we got back onto solid ground.
Coincidently, the soles on both of Matt's tennis shoes fell off here. He must have a very even walking pattern. At this point he was basically walking in slippers. I should have taken a picture.
The trout were slightly less abundant here, but still kept us busy. I liked the big bold spots on this brown.
And just because I can, I caught ANOTHER golden rainbow. This fish whiffed on the first pass of Matt's spinner. Then it hid from my spinner. Since I am not too proud to go to any length to catch an interesting fish, I tied on a trout magnet that I keep with me for occasions like this. I drifted it right to the GR and he chomped down on the first cast.
The last trout of the day was a Cyclops.
It looks as if there may have never even been an eye on this side, or it was a very old injury. (After proofreading my post, I noticed that you CAN see Matt's shoe slippers in this picture. They look odd without bottoms, kind of like rock climbing shoes.)
While waiting for Matt to catch up (he was having a hard time in his slippers), I caught a strong odor of gingerbread along the stream coming from blooms on this small tree.
I have smelled this a few times in the last couple outings but haven't stopped to investigate its source til now. Maybe somebody knows what type of tree this is???
In all, we had a great day ending with just shy of 200 trout between us over 8.5 hours. Matt finally bought into spinner fishing and just needs to work on his hookset.