Discussion Starter
·
#1
·
We are all out of water in my neck of the woods. There are no streams within my fishing radius that I would even consider fishing now or in the immediate future. However, I have one last "nuclear" option that can keep me occupied from now until higher water returns in the fall. I am lucky to be able to access parts of it without my car leaving the driveway.
This is the most difficult water that I fish, by far. Wading any distance at all is physically exhausting and most of the time impossible. The depths and currents here are not rivaled by anywhere else that I fish for trout. Most of the time, I work my butt off here struggling to maintain a 10 TPH average.
I keep coming back here though. The scenery and wildlife sightings here are incredible. More than half of my top 10 biggest trout have come from this place. I have seen pictures and heard tales of trout nearing the 30" mark, so that is constantly on my mind.
Today's fishing started early with a fog hanging over the valley.
As soon as I took my first step into the water, I noticed a bald eagle sitting in a dead ash tree on the opposite bank.
He scoffed at the first fish I brought to hand.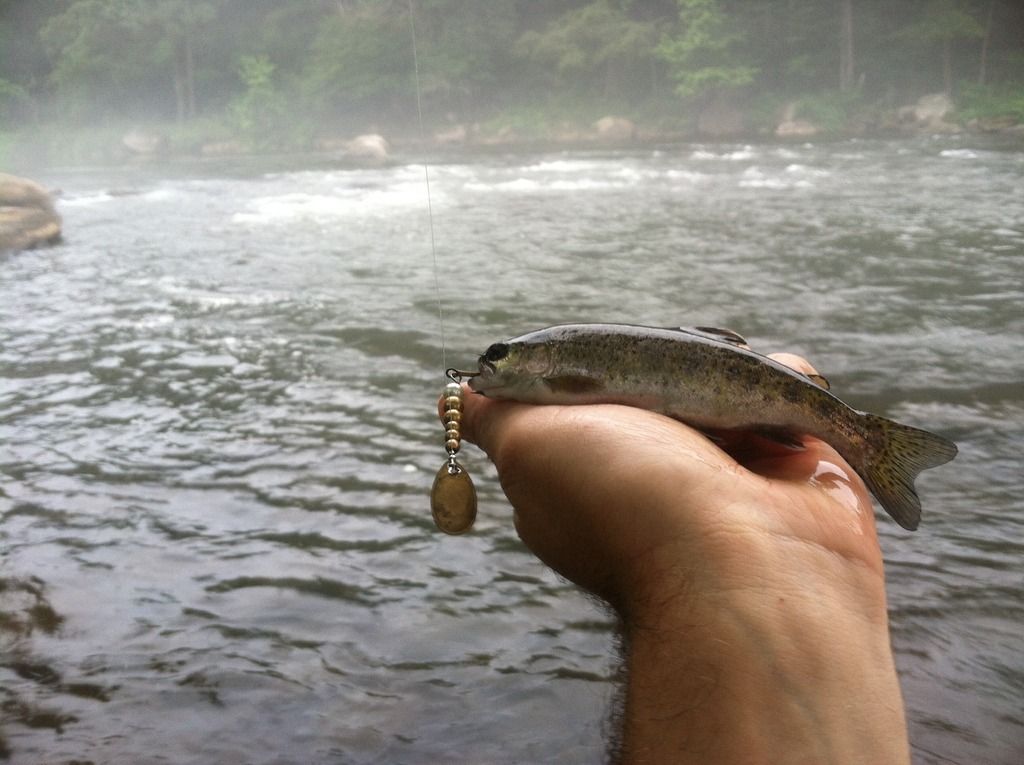 I methodically worked every seam, riffle, current break, and slack water pocket that I could find. This really makes for slow going.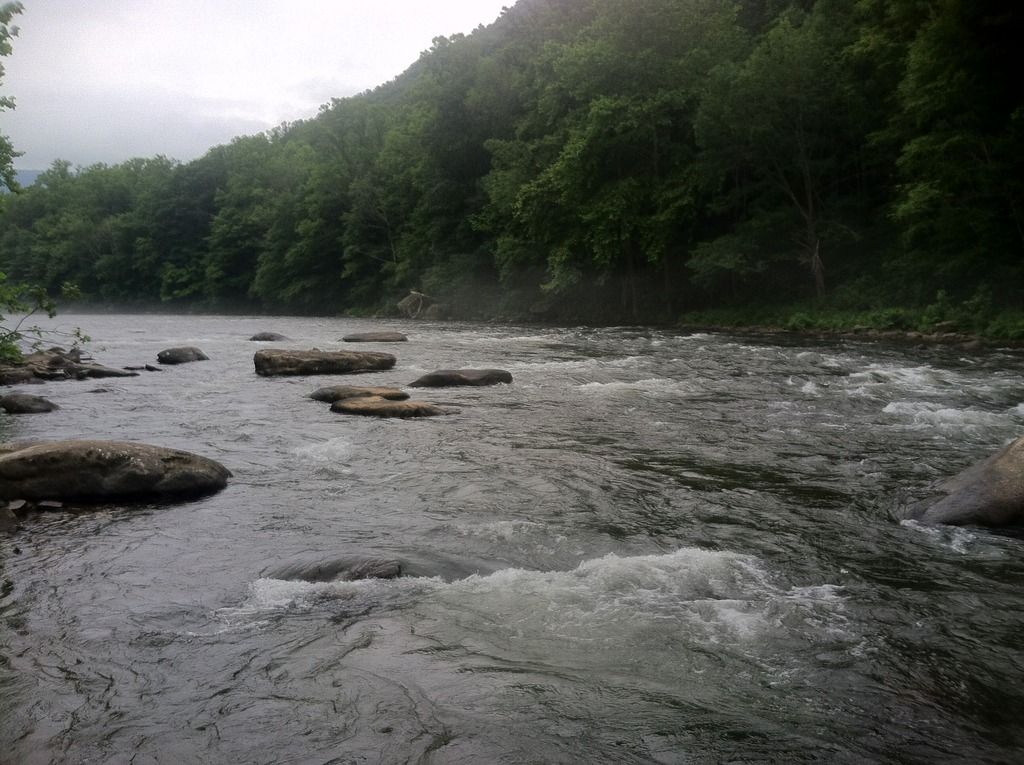 Trout were cooperative though. Sometimes, I would hook up on what was going to be my last cast to an area that I thought I had sufficiently worked already.
Even these average sized trout are quite a thrill to hook and retrieve through the strong current.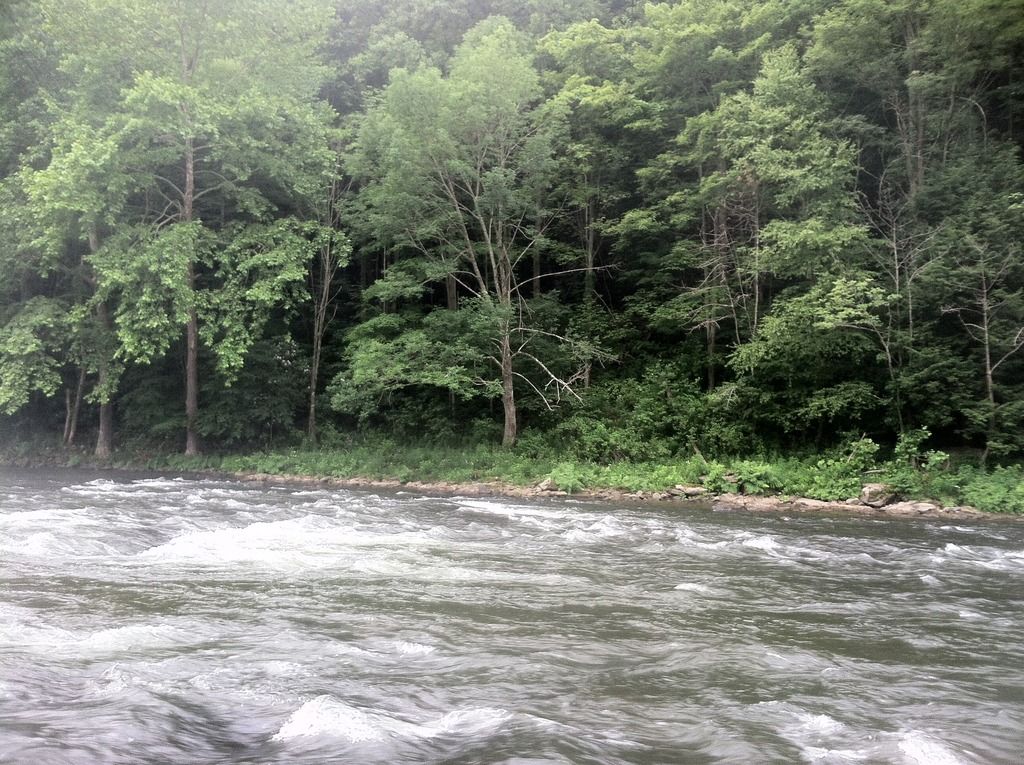 Working up to the end of my 4 hour trip, I came across an otter den. This hole on the bank connects to an abandoned beaver lodge that was built up under the bank. Otter scat was present on all sides of this protruding little point.
The last bit of water that I fished held some surprises.
First was a 16" rainbow that had a habit of jumping a few feet out of the water and landing on its side to create large splashes. The last time I saw something do this so often was at Sea World.
I was extremely proud of my next cast, which soared over the hard current in the middle of the river to some soft water near a bolder on the opposite bank. The tip of my line took a nose dive down to a depth of 10feet or more. I thought that this may be one of the monsters that lurk in the depths. After fighting it for a few seconds, I could tell that this was no trout.
The 16" smallmouth gave an illusion of something much larger.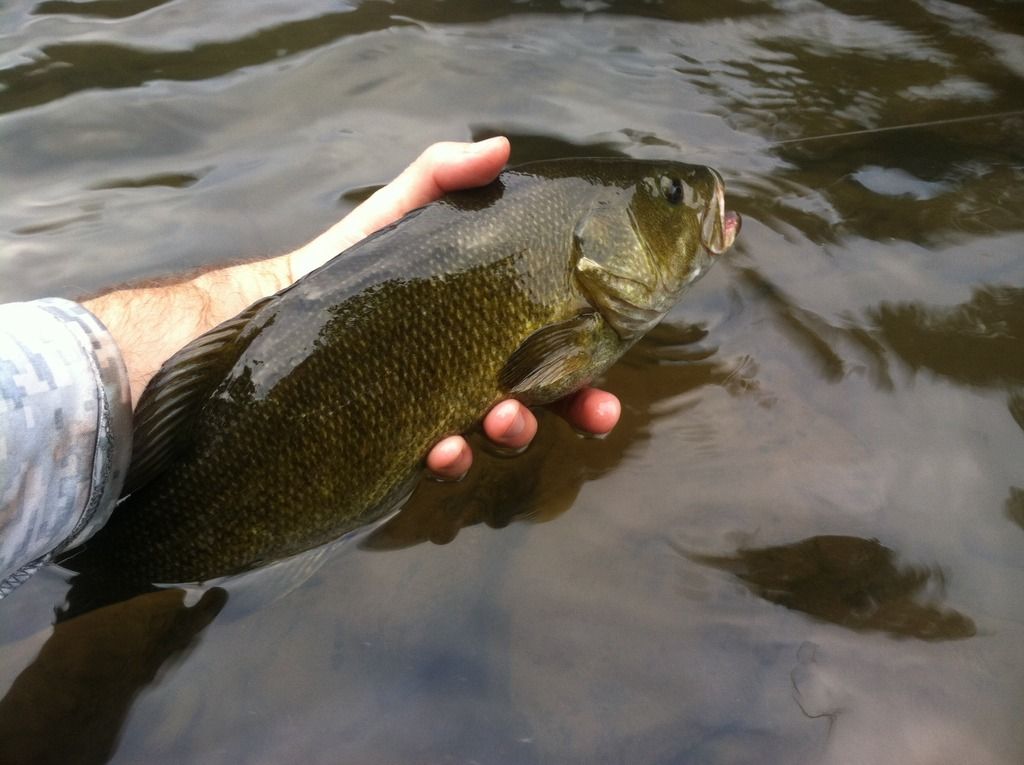 If you noticed the boulder behind the 16" rainbow's mouth in that picture, then you saw where my last fish of the day was hiding. When hooked, it came screaming downriver directly past me, causing me to reel like crazy, and then crank down the drag so the line wouldn't snap. After a few leaps of its own, this 22" rainbow became tied for my 4th largest trout this year.
I took a measurement and a quick picture before trying to set up the camera for the "hero" shot. I am glad that I did this because the spinner and the fish parted ways when I had my rod braced between my knees while preparing the camera. I fell short of my 10TPH goal, landing 38 trout in 4 hours. On this river, I am still very happy with catching that many.
I saw at least a dozen other anglers on the way out. I am sure many more will work over the same section today.
I found an abundance of bloodroot growing on the bank where I finally exited. I enjoy finding the plants that "root diggers" seek, although I have never dug any of it myself.