Discussion Starter
·
#1
·
Rolled up to my second stop this morning and was surprised to see a fox in one trap, a beagle in another trap and a second, larger dog circling both of them.
The beagle was oblivious to both me and the trap on his rear foot as he stood there baying at the fox in the trap next to him. The larger, wiry haired dog immediately began acting aggressive, growling and showing his teeth as I approached in my truck.
I grabbed my kill stick (for protection), got out and charged the loose dog, brandishing my stick and yelling. He ran off and rounded a wooded corner about 25 yards away. I turned around and started walking back to the sets when I heard growling behind me. He had come back! I charged him again and this time chased him a least 50 yards. I watched as he continued across a field and out of sight into a woods a couple hundred yards away.
I walked back to the sets and dispatched the fox. The beagle stopped baying at the fox after I killed it. It was just standing there looking at me and the fox. I tried to release it but it growled at me when I reached for the trap so I got the catch pole and turned it loose. It ran down the tractor lane and disappeared behind my truck.
I remade both sets, threw my gear in the back of the truck and went to hop in the driver's seat. Guess who was sitting in the passenger seat waiting for a ride home?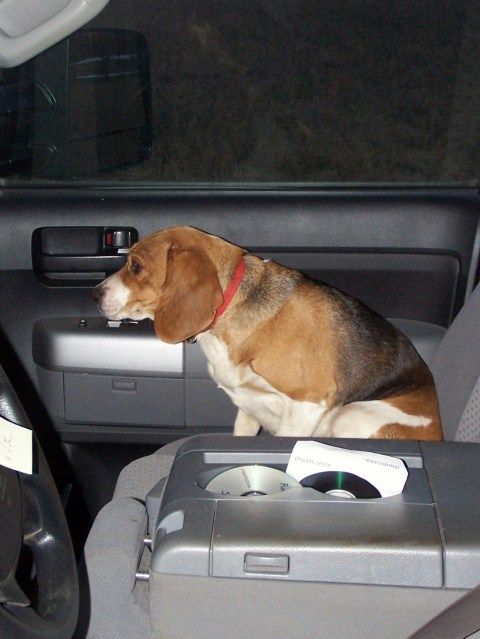 I drove her over to the landowner's house to see if he knew who owned her but he and his wife weren't home. She had a collar but no license or name tag. So I drove her back the farm lane and coaxed her out of my truck. She followed a fence line about 300 yards before cutting up through a trail in the woods towards some houses.
Her foot appeared to be completely undamaged. This was only the fourth dog I've caught in the last nine years.
She was in the first set to the right of the fox. I'm surprised the second dog didn't get into one of the other traps. There are four at this location.
The good news it that it was another four-dog-day (the 4th in 8 days), a quintuple-dog-day if I count the beagle lol.
One of the four was a cool looking dark belly. Used to catch a lot of these in this area but don't see them much anymore.