Discussion Starter
•
#1
•
My rest on my compound snapped yesterday morning. Not sure how it happened but it did. I called my dad and he let me borrow his crossbow. I had shot it before a few times, and felt confident I could shoot it well.
I flew down the tree and ran out to my car. I got back in the woods, climbed back up the tree and set up my strap with hooks that I use to hold my bow. I pulled up the crossbow and this is where I learned that it is not that easy.
It was awkward for me to figure out how to maneuver with the xbow in my climber. I hung it on one of the hooks, and got turned around. I grabbed the crossbow, but now it took up both of my hands. I like to hang on the the rails of my seat section when I sit down.
Once I sat down I had to figure out how to sit with it. So I sort of just rested it on the rail and had the but section tucked under my arm. I snapped a picture of it.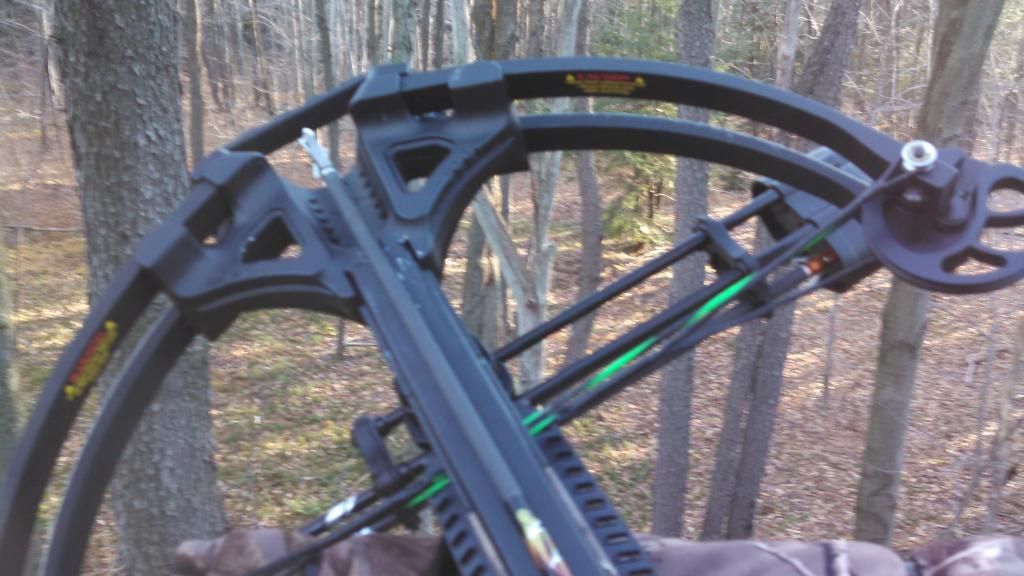 As I was sitting there I was thinking of how I was going to get a shot off with it. I would say that my range of motion was severely limited with the crossbow. I did not want to have to stand up but I only had about 90 degrees in front and a bit to the left that I could manage to shoot from. Now if my stand did not have front rail this may have helped but not much.
I never had anything against the crossbow hunters or anything like that but did feel that the ability to not have to draw was an advantage. After sitting down and actually hunting with one out of my climber, I feel that a standard bow offers a lot more maneuverability in a climbing treestand. I think I would have to set up exactly where the shot would take place in order to give the xbow the advantage.
With the limbs of the bow sticking out as well, a rear ward shot would not work very well as the string and limbs would contact the tree.
Now maybe it was just the new element that through me off so bad, but in my mind I have more of an advantage with my compound in a climber. A ground blind might be a better set up with the crossbow.
Do you guys use climbers with the front bar when hunting with a crossbow? Where do you store your xbow while seated in the climber?