Discussion Starter
·
#1
·
Spent the week of May 16th 2016 hunting black bears out of Bob Parkers Stony Brook Outfitters, Sunset View Lodge, near McAdam New Brunswick. This would be my forth hunt with Bob Parker; the past two falls I've hunted out of his home camp in Maine where I took a bear on each hunt with my shotgun, and once in the spring of 2013 at the New Brunswick operation, taking a bear with a crossbow.
Sunset View Lodge consists of a main lodge and four cabins on the shores of Palfrey Lake, which is located just about 10 miles across the border from Vanceboro Maine. The facilities are rustic, on a par with a traditional Pennsylvania deer camp, but very clean and comfortable. Electric service is provided by a propane generator from wake-up till lights-out with gas lighting available 24-7. There are plenty of bath facilities with hot water and flush toilets throughout the facilities. Bob's policy is not to mix groups, so as on my previous visit, I had a large bunk room in the main lodge all to myself. Couples can be accommodated in Bob's personal cabin which has extra bedrooms or one of the small cabins. The food was home-style, very good and plenty.
Lodge and lake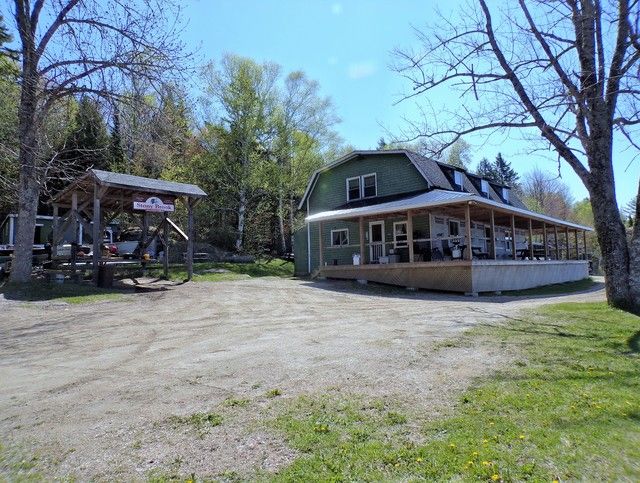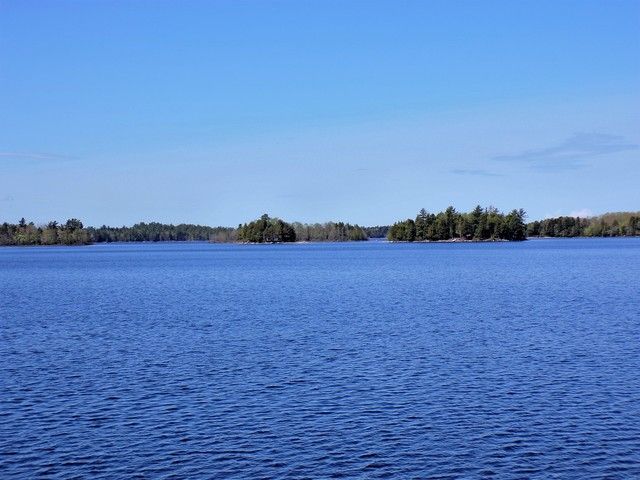 I arrived at the lodge late in the morning of Sunday May 16th. Hunters drifted in throughout the day; it would be a light crew with only six hunters for the week. As usual, Bob had a large bonfire going, over which we cooked our own steaks for the first evening's meal. The daily routine consists of a big breakfast at 8am, full diner at 1pm, loading up to go hunting at 3pm, and a lite lunch back at the lodge after the evenings hunt.
After diner orientation was held and hunters were assigned to guides. Joe and Shelly from New Castle Pa. would hunt with Rob, Jeff from western Pa and Steve from Illinois would hunt with Tony, and Pete from Maine and I would hunt with Mitchel. I had hunted with Jeff and Pete on the 2013 hunt, both of whom hunt bears most every year in both spring and fall, having done so for many years. Joe, Shelly and Steve would be bow hunting with compounds; Pete, Jeff and I with firearms.
Provincial law places a limit of three hunters to one guide, and these fellows are all locals who have hunted and trapped the surrounding woods all of their lives. Unlike Maine, where Bob leases his bait sites from various land holders and each bait must be registered with the State, New Brunswick is wide open with each guide choosing his own territory on public land and running his own baits. I asked Mitchel what keeps others from hunting his baits and the answer was twofold. First, there is plenty of room in that sparsely populated country; in fact, while riding with Mitchel doing baits Wednesday, Thursday, and Friday, we may have come across three other vehicles in the back country where we were hunting, and those people were fishing in the brooks. Secondly, peer pressure keeps people honest as everyone knows one another.
THE HUNT
Monday May 17th.
It was about an hour's ride on dirt roads and two tracks back in the bush to our hunting area. We had good shooting light until about 9:15pm with legal quitting time near 9:30pm. Sunday had been cold and windy, but Monday it was blowing a gale, with rain and spiting snow and very cold, though things did seem to settle down in the woods that evening. I was in a ground blind in a cedar thicket, with just a narrow lane to view the bait thirty eight yards from the blind. I had a quite evening with only Red Squirrels and four Snowshoe Hares hanging around the bait.
Monday Night Stand
Pete passed up two bears that evening, a yearling while walking in to his stand, and a nice bear he judged to be about a two hundred pounder that came in to his bait during the sit... he was waiting on a giant. Mitchel saw two bears while running baits. Jeff passed on a yearling that evening, and Shelly and Joe had some action as well… Shelly had wanted Joe to sit with her the first evening to help her judge a shooter; on their hunt last spring she had seen bears all but one night but was afraid she'd shoot a sow with cubs and never shot; she didn't feel like she could differentiate young cubs from yearlings. Well, sure enough, a good sized sow with several yearlings came in and Joe gave her the OK to shoot. He had a good view of the arrow hit on a nearly broadside shot and felt good about it, but as the bear got into some really thick and nasty stuff, and the blood trail was sparse, Rob made the call to go back in the morning to find the bear. Unfortunately, after hours searching Tuesday morning, they never found the bear. The use of tracking dogs is not legal in New Brunswick.
Tuesday May 18th.
The day was slightly warmer but still cool; it was overcast with a light breeze. Driving in to the bush we saw a moose, a bull just beginning to sprout a new rack. Mitchel put both Pete and I in tree stands on new baits; I believe he had intended to hunt those stands on Monday but opted for ground blinds in the windy conditions. Mitchel had seen a small bear and a big one while baiting my stand the previous night. The stand was a ladder stand back in a hemlock thicket, surrounded by relatively open woods on all sides. The bait was to my left, I could see a cutover to my right, a hardwood stand to my front, and a young fir thicket running slightly downhill over my left shoulder.
Tuesday Night Stand
Snowshoe Hare
As on the previous night, I had three Snowshoes on the bait, along with a couple of Blue Jays and the requisite Red Squirrels, when about 7:20pm, I heard something crashing directly behind me. It sounded much like when you jump a whitetail and it really doesn't spook, just takes a few jumps. Within a minute the sound repeated, and then there was a sound I'd heard in videos when one bear worries another, almost like a chuckle. There was no way to turn around for a look without possibly spooking whatever was back there, then things immediately settled down and all was quite again.
Later… the last time I'd looked at my watch it was 8:40pm. I happened to glance back over my left shoulder and, Holy Cow, there was an enormous bear standing there in the young firs thirty yards below the bait. As he cautiously worked his way toward the bait, one step at time, I had plenty of time and cover to swing around and get the Savage 220 set up for the shot. I couldn't believe how cautious he was… he'd take one step, stop and wait, then one more step. At one point, he was about ten yards from stepping into my shooting lane when he stopped in a thinner place, and I considered trying to poke one through, but elected to wait as he seemed to be committed to coming in. Finally, he took one last step into the lane and cleared his shoulder. At the shot he flinched hard, swapping ends and crashing back down the hill about fifty yards where he disappeared. I immediately heard a lot of crashing and his death moan… in hindsight, I think I had seen him fall. I looked at my watch; it was 9pm on the nose. I waited about ten minutes, got down, packed my gear and walked over to the spot; I had good blood on the ground and waist high in the brush so I backed out of there and walked down the road where I was to meet Mitchel.
After picking up Pete we went back to track my bear. I remember telling them he'd looked like a black boxcar, all body and no legs, and that his neck was as thick as his head. Mitchel let me take the trail, which was no problem as I had heavy blood all the way down the hill. I came over a little drop-off and there he was… all I could say was "Oh my goodness". Mitchel and Pete said you've got yourself a monster. After taking two yearlings and a small adult on previous trips, I was obviously ecstatic with such a great boar. It was quite a task getting him back to the truck; thank goodness Pete was there to help because with my emphysema I'm afraid I'm not of much use. Weighed in at the lodge, he would go 340lbs with a 19 ½ inch skull. Mitchel had seen two whitetails while running his baits and we saw another moose crossing the road while driving out.
Loridrs Bear
So… driving back to the lodge we were figuring we'd be kings of the hill, but when we arrived back at the lodge we found Joe had an even bigger one! Taken with his Matthews bow and Rage broadhead, his bear went 385lbs with a 20 ½ inch skull, and will easily make Pope & Young. Shelly had seen several bears as well, taking a shot that was a clean miss.
Joe's Bear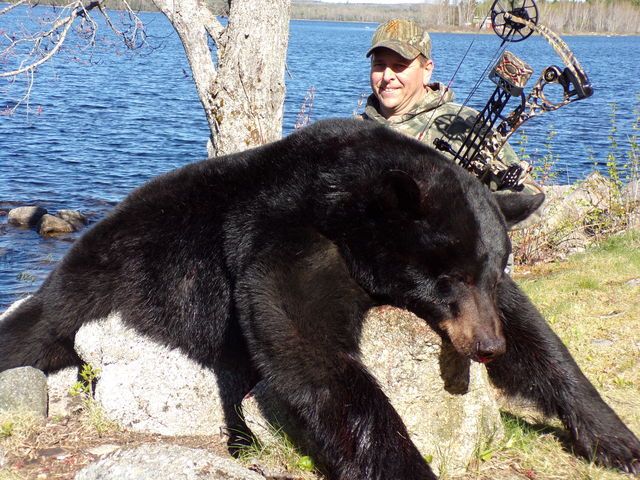 Joe and Shelly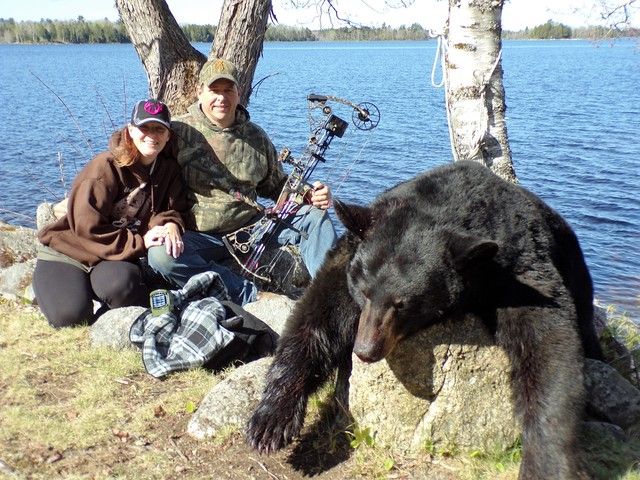 Wednesday May 19th.
The day was slightly cloudy, in the mid 60's, with a slight breeze. Mitchel and I had just re-baited the site I'd killed my bear on when we saw a good bear cross the road that we'd evidently jumped off of the bait. Five minutes later we saw another smaller one just down the road. Later, we saw another moose. Jeff was the only hunter to see bears that evening, a large sow with new cubs, which, of course, he passed up.
Thursday May 20th.
I again rode with Mitchel running baits, and this day we were in fantastic country. Where the previous days we had been in relatively flat terrain, this day we were in rolling mountains with many new cutovers, pretty brooks and beaver bogs... incredibly beautiful country. Some of the setups on this route were really nice; one in particular, a ground blind on a small bog with the bait fifty yards across the bog… a beauty spot for sure and I told Mitchel I want to sit that one next time!
Beautiful Country
Trout Brook
Cutover
Bog Stand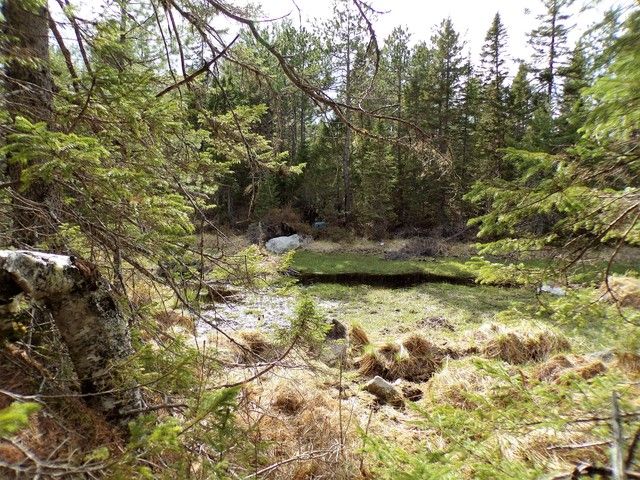 Beaver Swamp
Beaver Lodge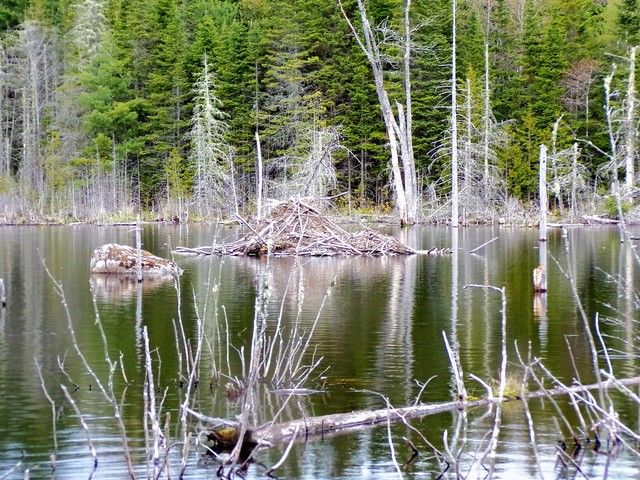 White Cedar Bog
Later in the afternoon, we pulled up to a bait site that Mitchel said was nondescript, so I said I'd just wait at the truck. He hadn't walked 50 yards down a skid trail when he turned around and signaled that I should ease on down there. When I came up on him he whispered to peek around the corner… about a hundred fifty yards down the road at the bait was a huge bear, laying on his side, sound asleep in the road. I took several pics and we left him undisturbed.
Sleeping Bear (at 42X)
About 8pm, as we approached the spot where we were going to wait before picking up Pete at dark, we could see he was already there. He said he'd shot a huge bear at 5pm but wasn't certain what had happened. The bear had been standing up feeding out of the bucket with its back to Pete, and he'd aimed between its shoulder blades and shot. At the shot the bear fell, apparently dead to the world, and for as long as thirty seconds never moved a muscle, when all of a sudden it was up and off like nothing had happened! Pete threw a quick shot through the brush but was certain he'd missed. Back at the site there was one small spot of blood the size of a quarter where the bear had laid, but other than a few tracks we could follow for twenty or thirty yards, nothing else. We had over an hour of good light and scoured a large area in relatively open woods but found nothing. We figured he'd shot slightly high and just temporarily stunned the bear with a near spine shot. Pete was sick about it, but I'm certain that that bear will recover quickly and be just fine, if not a little wiser. No one else saw a bear that night.
Friday May 21st.
Mitchel decided to hunt Pete on the bait where the sleeping bear had been the previous evening; we knew it was a big one, a "belly dragger", like Pete was looking for. We pulled up to the spot and it was Deja Vu all over again! Pete's getting his gear together at the truck when Mitchel signals him to sneak down the skid trail. I'm watching from the truck as Pete gets to the spot and leans his gun up against a tree to scope the bear. He lowered the gun, sneaked down the road a bit more, raised the gun again, and repeated this one more time. He never shot; turned out it was a smaller bear this time, Michel judging it to be about 150lbs, and Pete passed it up. Riding with Mitchel that evening I saw a Red Fox, a Spruce Grouse and a cow Moose with her calf. Michel walked in on another bear at one of the baits, but none of the hunters saw bears from their stands that evening, the last day of the hunt.
Pete Aiming at Bear from My Perspective
Pete Stalking Bear from Mitchel's Perspective
Cow and Calf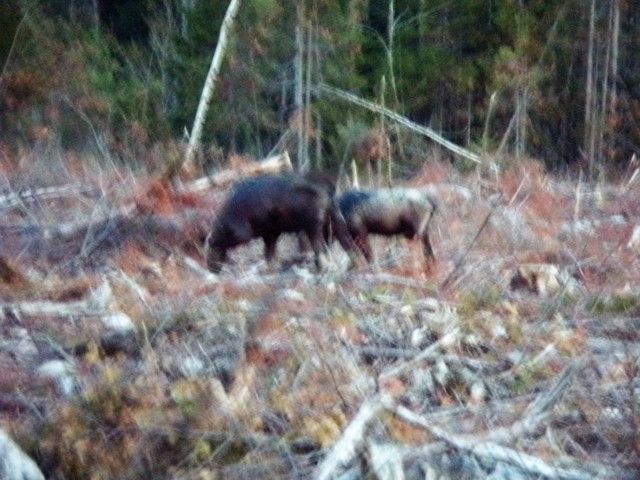 It had been a good week. I really enjoyed the company of the hunters and guides. Even though we only killed two bears, we had nine shot opportunities for six hunters; two bears were hit and lost, 4 bears were passed up, and only one hunter failed to see a bear, Steve from Illinois. We killed two spring monsters; I saw a ton of game, learned a lot from the old bushman Mitchel, and saw some fantastic country. Can't wait to get back; it's just hard to decide between the fall hunt in Maine and the spring hunt in New Brunswick, either way you can't go wrong hunting with Bob Parker's Stony Brook Outfitters.
Loridr