Discussion Starter
•
#1
•
I wanted to tell you guys a little about my season and how it went down. I was unable to get out to the stand until Saturday November 3rd. As i got married on October 20th and had lots of things to do before hand. After our wedding we went to gatlinburg, tn on our honeymoon(which i would highly reccomend), so we didn't return until Sunday October 28th. Then we had a run in with Hurrican Sandy that had it pouring down raining until November 3.
<span style="font-weight: bold">November 3rd.</span> My wife and went to on of our stand sights saturday for an all day sit. I wish i could say more about this day, but all we seen were a few flocks of turkey and some squirells.
<span style="font-weight: bold">November 5th</span> I went solo this day. I got settled into my stand. Then about an hour into my day i turned and looked over my left shoulder and a nice mature buck was already in bow range. So i slowly stood up and grabbed my bow. I got to full draw and grunted to stop him. Well he didnt stop so i had let my bow down and turned to the other side of the tree. I got to full draw again and grunted with my voice to get him stop again. I settled my 30 yard pin on him and let the arrow fly. I felt good about the shot. But after my discovery of the arrow i noticed that i had missed him completely by like 5 yards. I got back in my stand i kept reliving the shot in my head trying to figur out how i missed so badly. This is the conclusion that i came to. I had a bow hanger on that side of the tree so when i was at full draw the bow hanger was inbetween my bow and the string So when i released the arrow the string hit the bow hanger. I ended up seeing 6 bucks that day. one of which was a five point that bedded down for three hours within 10 yards of my tree. lol Pretty neat to see how he responded to every sound.
<span style="font-weight: bold">November 6th</span> I was back at it. The morning started out fast and never really stopped. I first seen a doe she seemed really funny. She would run one way, then another way, then stop and another way, all while she kept looking behind back were she came from. i figured she had to be in heat and had a boyfriend with her. Well she did a nice shooter eight point showed up and trailed her just out of range. As i was heatbrken as that doe took that buck right out of my dreams. That didn't last long cause a ten point came through with his nose to the ground and followed the same trail as the doe did, just out of range. So i was heartbroken again. All while staying positive a six point came out and wouldnt you know it he came 5 yards from my tree, go figure. Then a four point came out of the thicket below me and he crossed within 10 yards of my tree to. i was thinking this is just my luck. He kept looking back into that thicket so i kept my eye's focused in that area and noticed a doe in that area. Then i Seen horns but he went the other way and up the opposite bank. So guess what happens a button bucks comes up the hill and wouldnt you know it he came five yards from my tree. So at this time I have a 4 point right behind me at 20 yards, a button buck right next to me and a doe 60 yards away in the thicket. Then i look back in the thicket and that doe has a boyfriend. He came on my side of the ridge. But i am still sitting and a bow is in my hand. So i had to make a move so i slowly stood up grabed my bow and turned to my left and the big buck made the mistake of getting in the open for me. But at this time the 4 point and button buck knew something was wrong and did there little foot stomp. I was hoping for him to get closer but i knew he was going to leave me heartbroken as well. So i estimated him at 50 yards. I practice this distance all the time. i drew and put my pin on him and let the arrow fly. I watched the arrow make contact and blood was all over him with in seconds. He tried to make his way up the hill but stumbled down into the creek bottom. It is about 9 at this time. So i called my buddy who was hunting with me and told him that he had to get over as there were deer moving everywhere. So he came over to sit with me for a while and calm me down and keep me thinking strait(i have two stands in one tree). Well a big 9 point came out of thicket and my buddy was getting ready for a shot but he managed to go up the other side of valley. Then wouldn't you know it a button buck came within ten yards of the tree. That deer wondered off. Then a buck showed up right were i seen my deer stumble. Looked like he might have spotted us and jumped up the other side of the hill. It was know about 11am. Thinking this might be the deer that i shot I asked my buddy to go check and see if he could see anything in the valley. He went down there and gave me a big thumbs up. He came back up and said wait till you see this deer. I said he looked like a half decent 8 point. We sat there till noon and i couldn't take it anymore, and had to get out of the woods to vote. So we waited for another buddy to come celebrate with us before i went to get my hands on him. Well wasnt i surprised. This deer has a typical 11 pt. frame with three 2-3 inch kickers off of his right base and brow. Making him be a 14pt.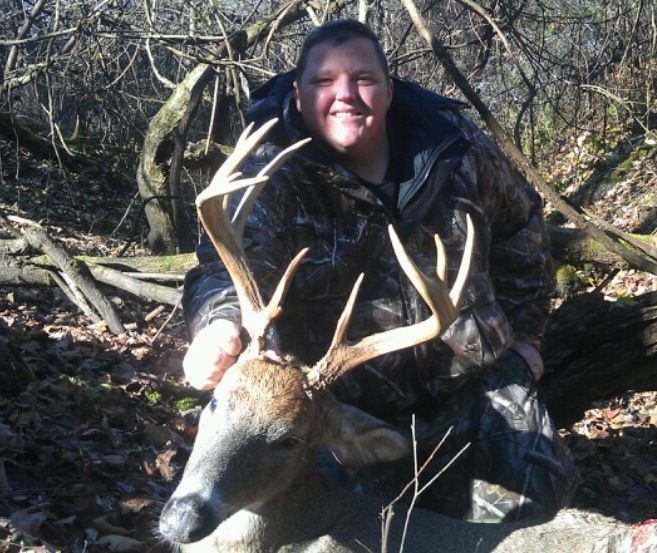 14pt, 50 yard shot, 20 yard recovery, Hoyt bow, Gold tip arrows, Spitfire broadheads.