Discussion Starter
·
#1
·
Becoming a father has been the greatest experience of my life. I remember sitting in the hospital as my wife slept, recovering from her surgery, and looking down and thinking, "I have never held something so beautiful in my life."
I took this picture just after the thought. My eyes were misty as I thought to my self, "How can I be this lucky to have the greatest gift,that a human can receive, given to me just a few short hours ago. As my wife slept on, I just sat there and stared on. Visions of the future with my son, the ups and downs of being a parent, the un-easy feeling of, am I too young for this? And all of the other thoughts that I had expressed in my earlier father hood post.
Bringing him home was a lot of fun. I must say I have never drove more slow or cautious in my life. You would have thought that I was carrying plutonium in the back of my wife's Pontiac Vibe.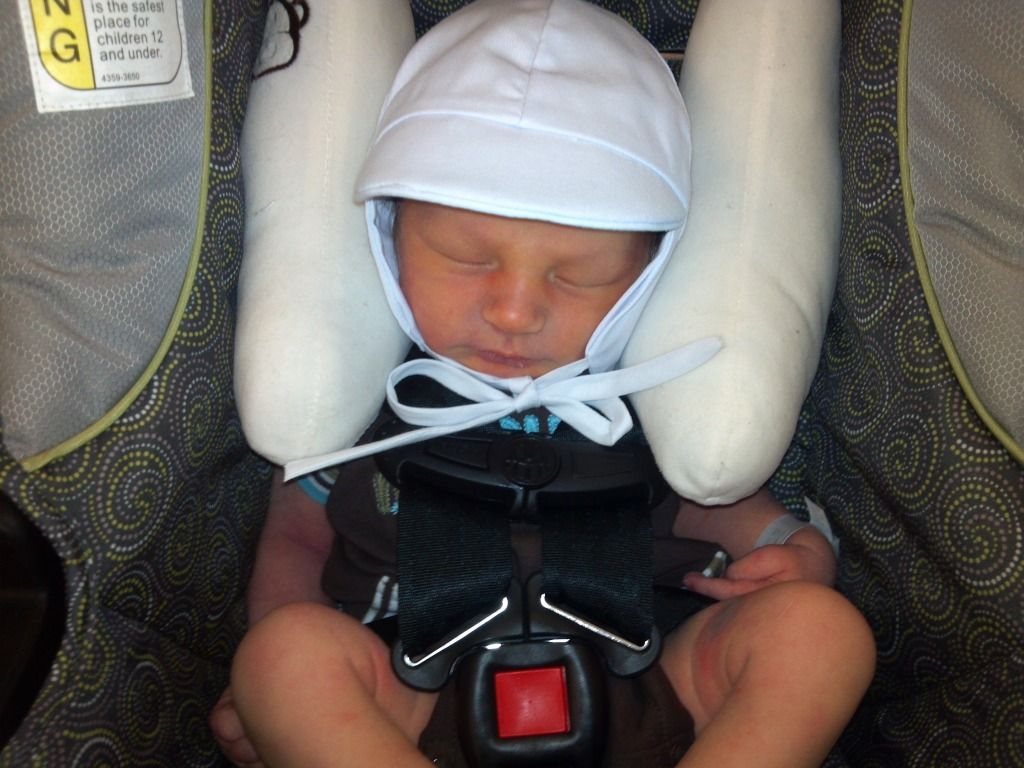 Introducing Corbing to his big sister , Lilly the Labrador, was also a treat. She was so excited to see her brother. She wimpered as if she was a 3 month old pup again.
The next 2 weeks, were great. My company gave me extended Leave to be with my new family. I enjoyed just holding him and feeling him close to me. the months of anticipation all were finally over. Mama was still recovering so I got to be his main care taker.
Well as June turned to July and July turned to August my usual anticipation for archery season started to ramp up. I found myself even dressing the little guy in Camo.
When he was 7 weeks old he got to go with Daddy on his first trip to the woods. We walked a bit on the easier tram roads and checked my trail camera. On the way to the stand 2 young bucks crossed our paths. A 7point and a small 6 point. I wondered if I would get to see them again.
My mind began to wander around as september came in. I was shooting my bow more and trying to sneak in some scouting time. One of my camera produced this guy.
I couldn't help but become hooked on the though of waiting it out no matter what to get him. I also saw my number 1 hit list animal.
This monster doe has busted me every year for the past 3 and I wanted to harvest her. I have more respect for this doe than any other deer. She is a true survivalist.
Well the night before archery season was full of excitement for me, as it usually is. I had a few freinds over and had a cook out at my dads house. The grilled backstrap that i had saved tasted well with a few choice beverages.
That first morning was great. It was a little cooler then normal with a little humidity. The morning was pretty uneventful. My mind raced with the thoughts of maybe seeing the monster buck. It was about 10:30 when I started to feel sick in my stomach. It was that kind of feeling you only feel, when you are homesick."How can this be?" I thought. "I am in my favorite place on earth." My heart was pounding hard and that strange guilt/sadness feeling came over me. I missed my son. I got out of the tree and walked back to my car. Got in and sped home.
"Hey buddy," i said to him with my face still painted. He looked up and smiled, and it that lonesome feeling went away. I spent the next hours with Mama and the baby. We hung out until roughly 2:30 when I hopped back in the shower to get ready for the evening.
My heart was lifted again, and back in the ladder stand I went. At roughly 5:00 i could make out a large deer coming my way. I got about half way up, then POP! up gos the deers head and ears. At this moment I knew it was the big MAMA doe. I let her and her fawn get to the trail. She was off of the trail and my typical first day blunder happened, I held to high. I watched my arrow go over her back and knew again that she had won.
I got settled back in and began to think of Corbin again. Oh how i couldn't wait to get him involved in the outdoors. I began to think of the months leading up to his birth and how close his mother and I became.
SNAP! I hear a branch break. I see a deer coming up the same trail as the BIG MAMMA. I get ready and wait. I can tell by looking at the width of this deers back it is a nice mature buck. I am completly ready this time. The buck is coming into an opening when I begin to pull my bow back. CLLINK! My ladder stand abrubtly makes a metal clink, from no one being in it for a year or so, as my weight shifts from drawing my bow. The buck imediatly stops. He doesn't move for about 5 minutes and begins to make his way into the thicket. My grunts and snort weezes hit home, as I watch the roughly 16" wide 8 point shred some sapplings and make a scrape.
I had just completed a swap on this site for a new climber and had been practicing but did not feel confident in climbing just yet. A near death experience and my new family, made me want to take extra precautions when trying to climb again.
That sunday was spent with the family, as I try to keep my Sundays that way. Monday was a long day at work. On Tuesday morning i got into work a bit early, checked HPA, and then the weather channel. I looked at the projected wind and temps fort he evening and i just knew that if I was in my stand I would see deer.
I begged my boss to let me go, and even promised him jerkey, because I knew that the conditions were the best for this spot. So he let me go, mainly because of the jerkey bribe. I raced home, jumped in the shower, and off I went.
I decided that I would try and get a little closer to the main trail. So then up I go. The weather had a slight misty October rain. The tree was a bit hard and slippy. I get up to where i want to be. Anchor the platform. I turn around and everything is good. I take a seat and after 3 seconds the seat slipps. I nearly thought i was going to die i was so scared. I adjusted everything and sat back down. Slipped again. What the heck is going on with this. I never had issues when i was practicing. So I get it all situated sit down and, my harness is to high.
I set it up sit down. Grab my bow, and look to my left and 2 bucks are sparing about 60 yards away. "WOW! I think to myself, how in the heck did i just perform the YMCA in a tree and they didnt see me" The bucks continued to spar and one looks to be the big 8 point.
They make there way down the hill. "Nice, I knew that conditions were right."
I sit back down and look to my right and see a deer swiftly trotting my way. " No, way, i knew i was good, but was I this good" I arragantly thought to myself. As he made his way a little closer I knew he was just a little guy, so i rested my bow down...."Wait a minute, thats Corbin's buck" the typical thoughts of a meat/almost trophy hunter ran through my head. I kept thinking back to the trail cam photo of the big buck. Then the though popped into my head of the homesick feeling. I knew at that moment, that spending more time with him was more important to me than getting the big buck.
I let the buck get to about 18 yards when he stopped. He could tell that something was in the tree but couldn't put his hoof on it. He shook his tail and continued on to my shooting lane. MMEEEHHHH He stopped and my new bow,(which I bought when in the "going to be a new father" panic mode set in [which can be likened to that "HOLY COW IM GOING TO GET MARRIED SOON" panic mode] sent an perfectly placed arrow into his lungs. WWHHHSSSS. I heard the air go out of his lungs, and knew that it would be a short track job. I let my bow down and collected myself. I did my trademark Tiger Woods fist clench and YES! and climbed down.
I was so proud of myself for overcoming my fear, and the fact that I read the weather perfect. I got my gear all set up and approached my buck. I got misty eyed when I found him a short 40 yds from the tree. This was my first buck as a father. This was the first buck Corbin had ever seen. This buck meant that my buck season was over and I would get to spend more time with my buddy.
I sent a picture to my dad who was hunting with my nephew. "Pap, we need to go help Uncle Mike get his buck".."Ganyn he will be ok until dark."...."Pap, what if he forgot his flashlight"
I drug the buck to the trail and waited for my dad to get there. It was still way early, 5:30 and I could set back up for a doe, but i was content on sitting there with Corbins buck. I knew I would have my work cut out for me tonight to just get the buck butchered, and would rather save my doe tag for another day.
Just then I see a mushroom hunter coming down the trail. This was the guy that 5 years before was going to go turkey hunting. I begged him to wait just 15 minutes before he walked in. When he told me where he was going i knew he would kick the deer that were in their bedding area right to me. The guy said "ok bud, 15 mins is all you get" I harvested a beautiful doe about 18 mins later
I am not sure but i think that I owe him a drink, because i bet he helped push Corbin's buck to me. We sat and talked a while. He went on his way and I just sat with my buck.. Corbins buck.
It was just about dark when i saw the headlights of the jeep coming up the logging road. My nephew bailed out, before the jeep was totally stopped i think.
He told me about their hunt and we loaded my buck on the roof and made our way out to where I parked my car. The ride back to my house was great. I could not keep reliving the memory of harvesting the buck, and Corbins first trip to the woods.
When I got home I could not wait to tell MAMA that I shot the buck we all saw together. This buck will forever bee embedded in my mind. Everytime i look at the small 6 point rack I will think of Corbins first trip to the woods. I was lucky enough that my wife was along as well for that trip. The photo session was great with Pap, my nephew and Corbin all getting in on the pictures.
This hunt will forever be in my mind. This is why I hunt. These memories will outlive the future memories of harvestin larger deer. The rest of my season was spent with short morning and evening hunts, with the middle of the day being spent at home with my family. I can not wait for the years to come and the more memories I can add to my memory bank. I love being an outdoors man and only hope to pass this love on to Corbin.
Everytime I pick up or feel these horns I will be brought back to the day I first held my son, and the day he went to the woods for the first time. God has blessed me very much!