Discussion Starter
•
#1
•
What a year it has been. After spending many of the last ten archery seasons studying and taking tests I finally graduated from college this past May and promised myself that this year I was getting a crossbow and getting back out in the archery woods and hunting some birds with the dog. After a few weeks of hunting the northcentral part of the state at the cabin and only jumping one buck, getting a bear and a flock of turkeys in bow range, and busting up some woodcock and grouse, I decided I couldn't take not seeing deer any more, so I decided to hunt the inlaws farm locally where one of our friends shot an 8 point this week and where the deer are numerous and rutting.
If you read my last post, I passed up a smallish rack buck a few nights ago that just didn't feel right. He gave me a perfect broadside shot at 20yds and then walked right under the stand and I never even raised the crossbow, even though I have never harvested a deer in archery season. Well as my wife says "There is a reason for everything". After passing up that buck I saw three more buck the next night; 1 nice rack and a four point chasing doe out of range and a six point that came in when it was too dark.
Well this morning around 8:30 this strapping fella came cruising down the creekbed and was on a mission in a direction away from me until I layed on the grunt tube. At about 60 yards he stopped and looked back in my direction. I decided to give him one more grunt to show him my exact location, and that is when he put his head down, crossed the creek and headed directly my way. At 10 yards, he was almost directly under me but was in some serious thorns. Not wanting to shoot through the tangle at a moving buck I waited until he would step through an opening. Suddenly he looked up and picked out my outline as I was now sillouted rather nicely from the side. After he made two bounds toward the creek bed I made a poor grunt noise with my mouth that was enough to stop him to turn around to see what was in the tree and to try and figure out what he just heard. I settled in behind the shoulder, let one fly and it hit with a THWAAAKKK!! Passed through behind the right shoulder hit lung and passed through the front chest cavity. After watching it cross the creek, I heard the sounds of lung shot deer 40 yards away quickly passing it's last breath. I waited an hour and walked over with my friend Blaine to the downed deer. As I saw him on the ground I dropped to one knee and thanked the Lord for my good fortune and accepted the deer's spirit as a hunter should.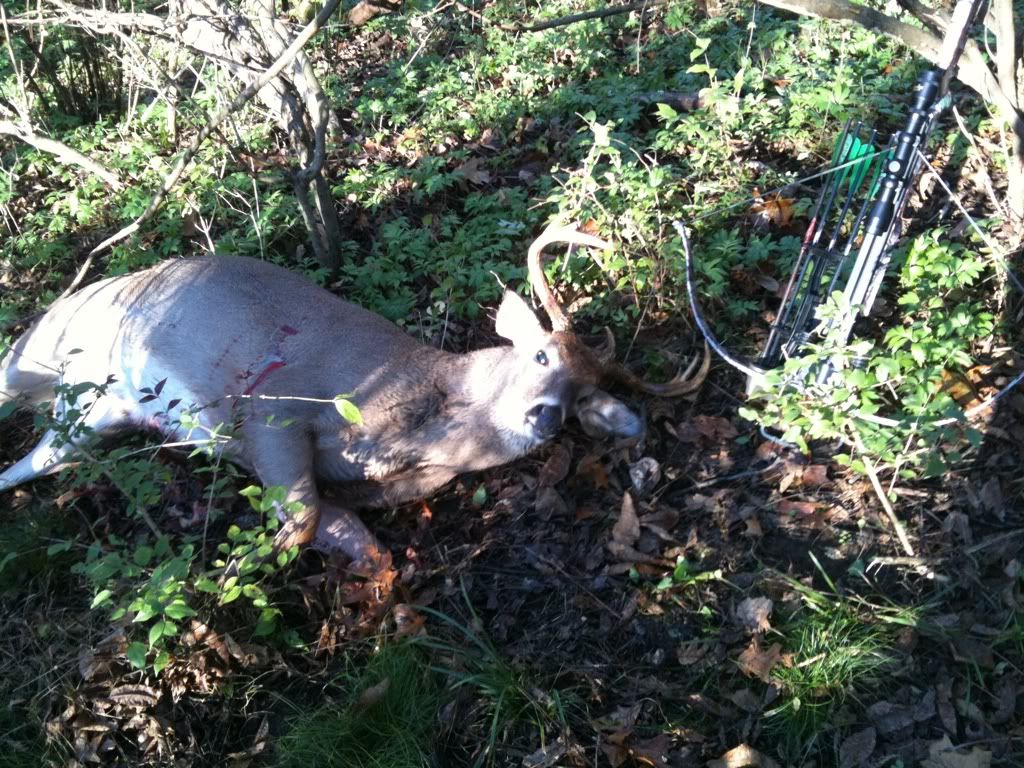 Me and Blaine with our Cumberland County 8 Points