Discussion Starter
·
#1
·
Writing this post was equally as hard and frustrating as my season. I had it written 3 or 4 times but each time it got deleted when switching back between this and photobucket for the links.
Well my season started out up in the ANF. I usually hunt with my dad first day but he was on vacation so I talked to a buddy and we decided to head north and take advantage of a half day of turkey hunting and trout fishing till dark. Had birds roosted not roasted on Friday night and we were ready to go. Had another buddy stop into camp late, on his way to another camp. We stayed up catching up, eating leek cheese, smoked trout and deer bologna. Needless to say, we got to the roost about 20 minutes too late and couldn't get around the birds to where we needed to be. We setup blind and the birds flew down and worked away from us directly to where we were supposed to be. That's turkey hunting and that's what happens when you stay up too late. Had a blast though and absolutely hammered the trout in the afternoon.
Hunted hard the entire first week before work. I hunted a bird that was 15 minutes from work and was a monster. Everyday, no matter how I setup or what I did, I could not call him away from his 3 hens and 4 jakes. He was a ghost, a king of the spring, and my drive to harvest this bird increased everyday I didn't. He gobbled a total of 7 times the entire week which frustrated me beyond belief. This was a challenge and I knew I would get a crack at him eventually. By Friday, and with a another hunt under my belt without an opportunity, I was exhausted and frustrated. I knew I had to give it a rest and try elsewhere.
Saturday May 7, at our farm we lease. I went to battle with the flock in their usual roost in the morning. Hens, jakes and gobblers were abundant and I had a 50/50 chance. Their roost is on the property line. They either fly up and land on the ridge and work out to our field, or fly down and into the neighbors cow pasture. They went to the cow pasture, so I met my father out there at 9 am and we fertilized the clover plots. At about 10:00, I was in our corner plot and heard the birds gobble to a crow. I did a crow call again with my mouth and they answered. I looked at my dad and said, "we gotta get moving, I need to go". He laughed and said ," your crazy". There is plenty of time I responded. To make a long story short, setup on them three different times. Had a lone gobbler that lost his hens hit the field at 11:10 about 200 yards out . I quietly called to him and he fed slowly in my direction. Seemed like an eternity. I called win more excited yelping and cutting, and then threw in fighting purs. He immediately closed the distance in half strut and my heart was pounding out of my chest. I killed him at 11:58 on the dot. Thought for sure I was either gonna get busted with how many times I checked my watch, or run out of time. I was thrilled I had just filled tag #1. 10" beard and right spur was 1.5", left was broken off with maybe 1/4" left.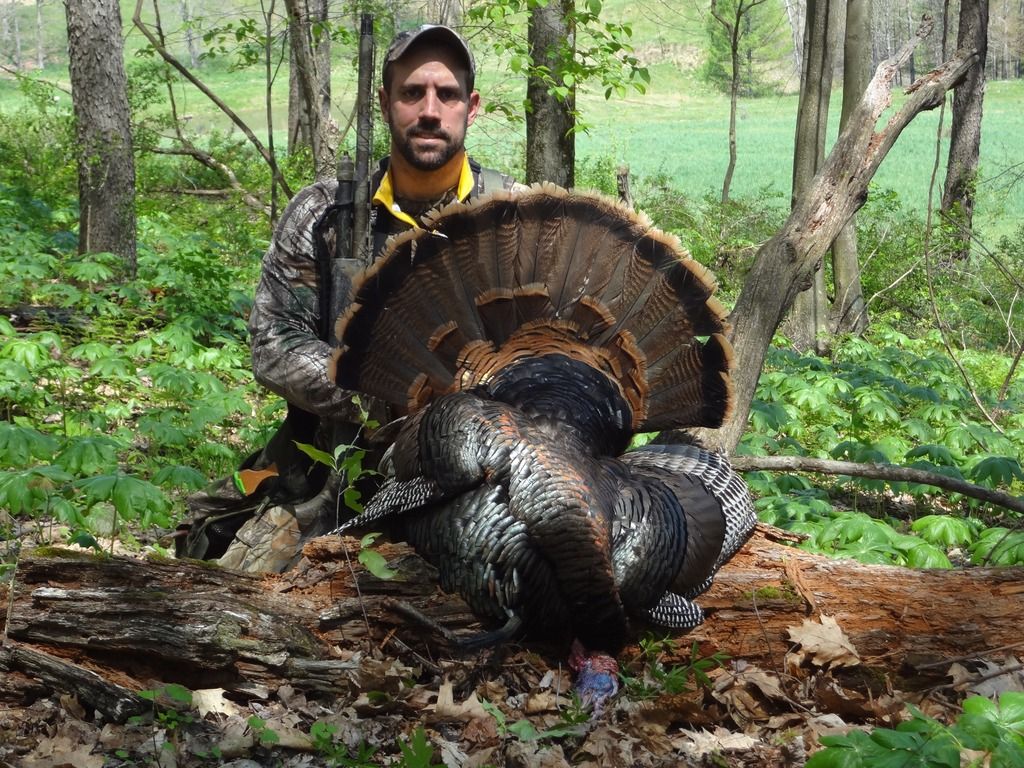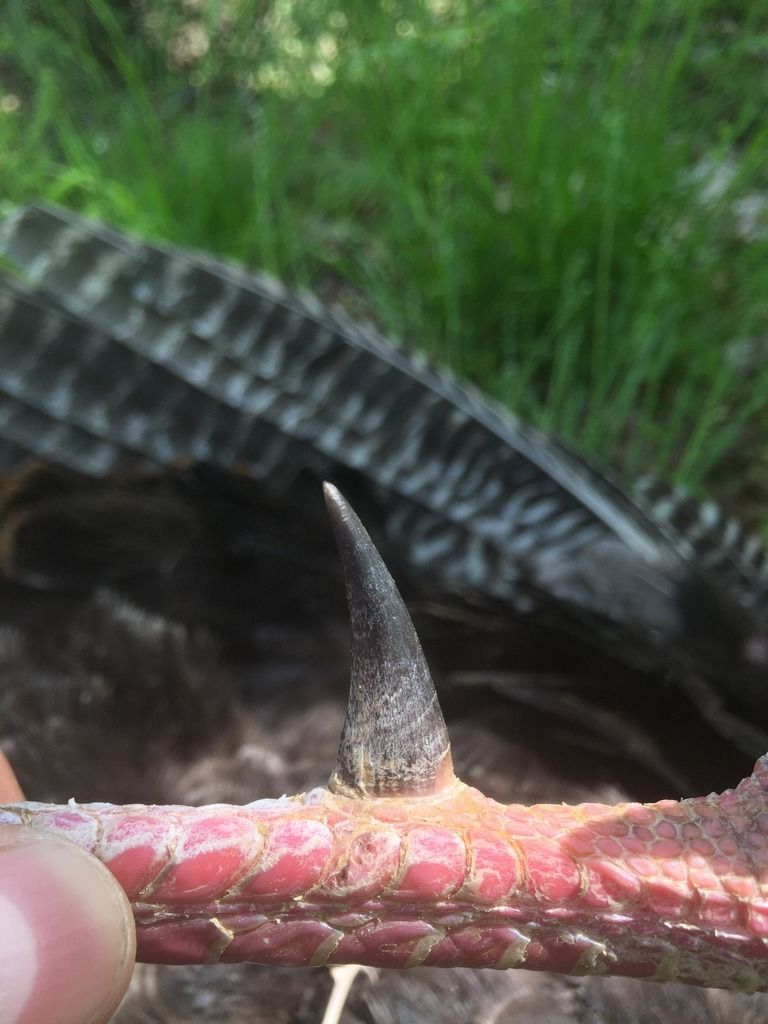 Fast forward to May 16. I decided to give him another shot before work. I gave him 9 days off and was I hoping things had changed. This time he was gobbling his head off in the morning. I called to him on my box and he answered. I called again and he answered. I shut up and he kept gobbling. I knew he was fired up and without hens. I had my avian Jake and two hens setup in his usual strut zone. I new he would be able to see them from a long distance at this spot. I heard another gobble and this one was closer and he was on the ground. I looked through the tree branches and across the valley. I could see 4 jakes working in single file toward my setup. I called 3-4 times, no answer. I shut up. I am watching the Jakes work in through my binos and catch movement out of the corner of my eye and to my right. Another Jake steps out at 15 yards. Thankfully I had great cover. I slowly laid flat and got my gun to my knee . No sooner did I do that and I catch movement to my left. It's him, the ghost coming in full strut to attack the Jake decoy. He gave it a serious whooping and eventually knocked it off the stake. I let him do his thing for a few minutes and enjoyed he show. I gave a few alarm puts with my mouth call. He put his head up and I let him have it. He was a giant and I couldn't believe it worked out. I was ecstatic. He had a 12.5" beard and Spurs were ivory L 11/4" R 11/8" and weighed 18.7 lbs. He was all strutted out and had a bald patch from breeding. The game was over, checkmate on this spring ghost and another season on the books. Took him to Ralph Scherder taxidermy and I'm getting a full strut mount done with morels on the base. Can't wait to get it back. While hunting I managed to find a few nice morels along the way, one of which was a giant. Also, thanks to Kip Feroce from Ferocious Game Galls for making a great box call.