Discussion Starter
·
#1
·
Got one with the Tornado 11-03-09...
The story,
Got busted on my way to my ladder stand by a 4 point at 12:45, while kicking up a mock scrape, and thought, MAN, today is gonna stink!
Then the little guy got curious and before I had even sat down in my stand, he's in my new mock scrape.
He kicked it up, took a wizz in it, and tickled the branches. Then he did a semi circle, and bed down about 35 yards in front of me!
I thought that was cool, but I still had to put on my last layer of clothes, and he was facing me.....
I took my time, got on my clothes, and just sat watching him and about 700 red squirrels...
After about an hour he got up, walked around, and out of sight.
SO I sat enjoying the woods and the crazy squirrels for couple more hours, and started getting that "I'm not going to see anything else" feeling. Said to myself, only takes 2 seconds for things to change. About 20 minutes later at 3:25, they did.
I hear something coming from behind and left of me, that's definitely not a red squirrel. See what looks like a decent rack coming up the creek bed. A guy who also hunts at my father in laws camp sent me a text a few minutes earlier, saying he saw a decent 6 point, so I didn't think to much at first. But then I saw the brow tine . Wasn't sure till he looked in my direction if I was gonna take him cuz I was hoping for something a little bigger but figured he was a good 15 or 16 incher, and couldn't let him go.
I'm Happy as heck! He's my biggest so far.
22 yard shot - 50 yard recovery. Shot was slight quartering away, behind the right shoulder-through the left, perfect pass though. Blood everywhere. BOOYA BABY!!!!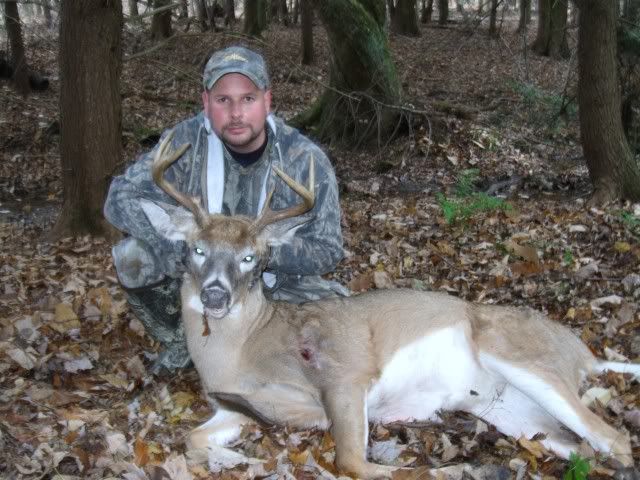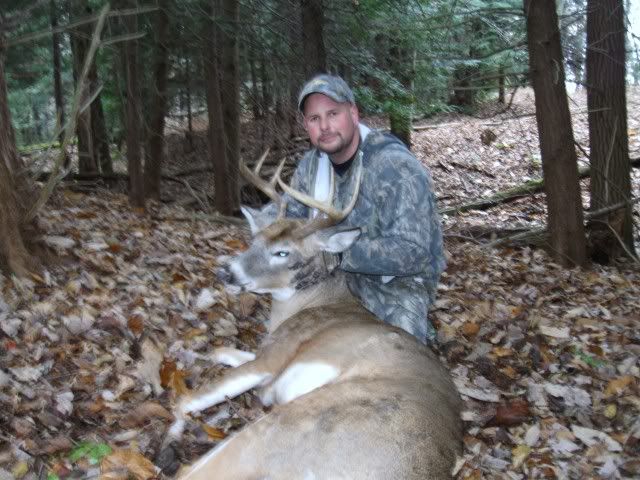 Cell pic Just after I found him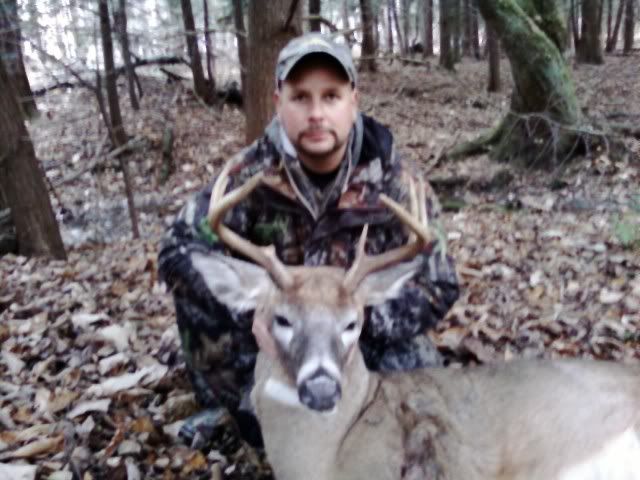 If you look close you can see the 4 point in the mock scrape at @ 30 yards... Another cell pic sorry.