Discussion Starter
•
#1
•
Have this up in the Spirit forum, but wanted to make sure it got shared with all our fellow crossbowers...
Story of John's Buck, 11/5/2011
Over the course of a hunting career there are certain days that rank up there with the very best days in your life, that is why we hunt, but when you have one year that seems to have one after another of these days it makes you wonder. The Pessimist in me figures I must be heading for a big fall in luck, the optimist says, luck is earned keep earning it and it will continue.
All you guys who are regular readers likely know about my son Joey's (8) first deer that kicked off our 2011 season on the archery opener, maybe about both my niece (12) and nephew(10) that tacked on their first deer harvests the consecutive Saturdays(the 8th and 15th ) after that, and you even might of read a story about this old boy having one of those blessed days himself back on the 29th. Well that should be enough luck for one year, it seems logical to me it would be after hunting PA for 31 years, but the optimist in me says well only if we quit trying…so pedal down let's set up that next weekend hunt and get out there.
Now the one guy that got me started in this game, my best friend, my best man and also my father had heard about enough of all this news coming from "the hill" , no longer did he want a phone call on a Saturday night from 2 hours away telling him news of this hunt or that, the archery season is growing short and it was time for a visit. So leaving his hunting mecca at his home in WMU 2E, my father arrived on a Thursday night to hunt Friday solo, then with John and I on Saturday on my property here in Warren county. After a debriefing of recent events, stand locations, trail camera pictures we came up with a plan and set him off to hunt as Johnny and I went about our Friday rountines to end out the week. Well after a surprisingly windy day, Dad saw several does but no bucks but no matter because for any of you grandfathers out there, you know he did not drive two hours to come up here and get one while solo although he enjoyed the change of scenery, he came here for Saturday , so onto Saturday Nov. 5th we go.
The alarm goes off at 4 AM but it is not for those going hunting, but for my wife, daughter and son Joey who were traveling to Hershey for the ACC marching band Championships, needing to be at the High School for a 5:45 Bus departure. Hussle and bussle gets them on their way just in time, and after hugs and kisses and wishings of luck in both our pursuits it now leaves John, Pap and I to get on with out long awaited 3 generation hunt. We are a little later then we would be otherwise and are greeted to an incredibly HEAVY frost as we pull into the property's driveway. With lots of gear, and clothing we decide to take the ATVs up to the second to last bench like I did the week before, to save on time and sweat to be smelled later by the deer. At our location, we gear up and head up to the last bench and ridgetop. Pap will be heading to the corner of the property on the ridgetop to the a stand I call the boulder stand as there are two boulders as big as buses up there. John and I will be snuggly fit into the ridgeline stand a first year stand location that has already turned All-star.
As we walk in I spray some estrus scent on the log trail , then make sure our mock scrape is fresh as can be and we settle in. Man it is chilly and frosty, mid 20's I would guess. Very glad we did not sweat up climbing the hill for yet another reason. The sun brightens up the forest fast rising behind our shoulders on the clear day and it brightens up the remaining brilliance of the fall foliage we stand perched in..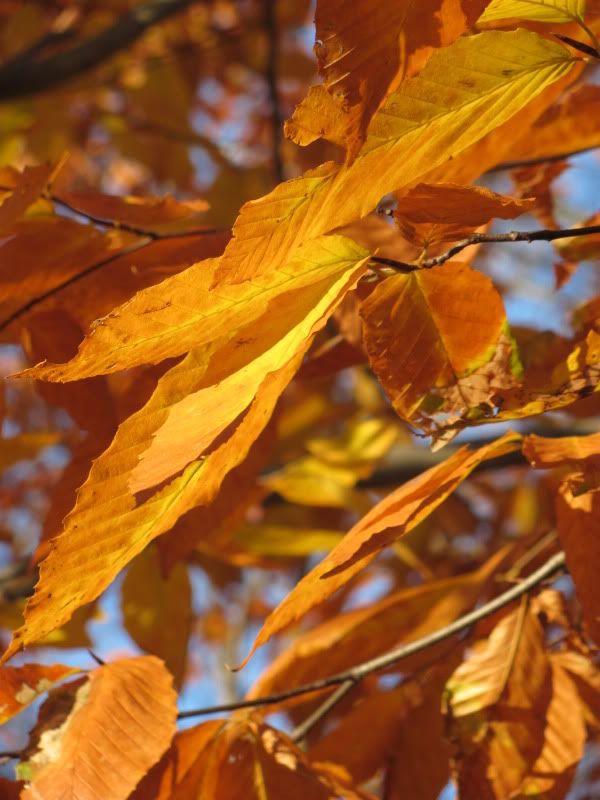 The first hour or so goes quickly and the first deer of the appear, four does moving right to left about 80 yards out, heading up towards my camp plot, a little excitement in the air. The woods gets still again and we decide to check in with Pap on the walkie talkie to make sure he is OK..he says he is shaking bad ..I figure cause of the cold, NOPE he had a big buck come picking its way up thru the boulders, never stopping like it had a place to be, he was going to try to call back "good luck Pap", I chuckle as it is good to hear big deer still rattle your lifelong mentor. We sign off til the next check in.
About 10 AM, we once again see the 4 does coming down the same secure trail they went up on. They are moving quick like they got spooked, but then slow, then trot, regather all on edge and then we spot two more deer higher up that move them all off but they are over 100 yards away. Another 10 minutes pass and I turn to whisper something to John and catch a doe coming at us at quick clip right down the logtrail we came in on…then behind here we see a white Y rack coming thru above the briar tops…the buck steps out on the log trail then turns and follow the doe directly towards us. Should they continue on the logtrail they will run behind the stand at 15-20 yards however due to the tightness of in the stand having John maneuver to make that shot will be tough without getting spotted, I start thinking how to do this when the doe get to my mock scrape and stops, looking back at the oncoming buck, this makes her make a turn and come up the hill so she will pass right in front of our stand…no if only the buck will follow, HE DOES, and I watch John prep for the shot on his own getting the cross bow to right where the doe passed thru 15 yards from us , the buck reaches that point and I do the stop grunt and he stops on a dime and looks forward at his departing lady friend, ready to continue his path…that it the shot I think…THWACK…the lumenok shows a beautiful path and entry and passes right on thru..shining in the leaf clutter like a Christmas light.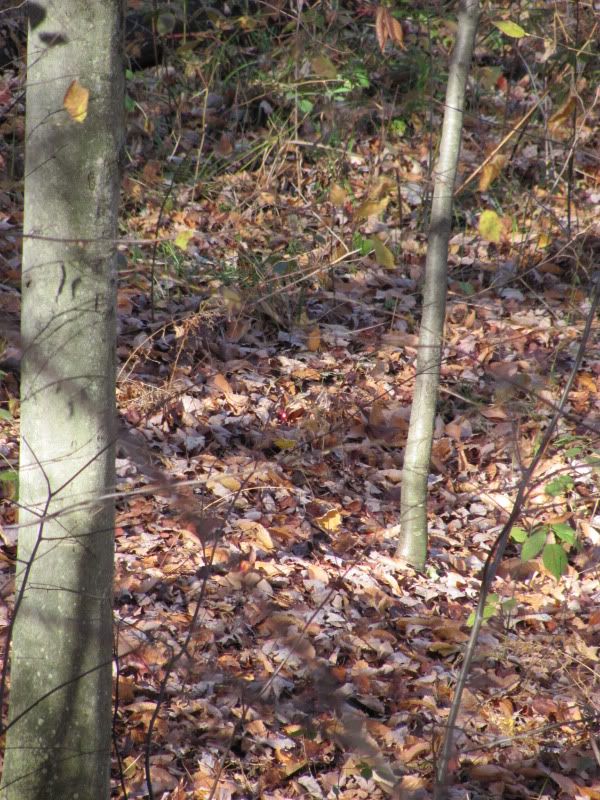 The buck trots up the hill about 20 yards and starts to get dizzy…he wobbles, then flips onto his back, crashes down and lays still. I give John a hug and high five and we talk about the shot, I hear the walkie talkie signal and answer…it is Pap, he heard the crossbow shot from his stand just up the hill… I call him and said the buck is down, but we will wait for him before climbing down and tracking it as this is the stuff he has missed with all the other deer we have taken from our hill, and there is not a second of it I want to do without him there. After 25 minutes, we see his orange hat coming up the logtrial the deer did and we start our descent from the stand…Pap gives John a hug and back slap and they proceed to find the bolt. (You can see the stand we were in between and behind them)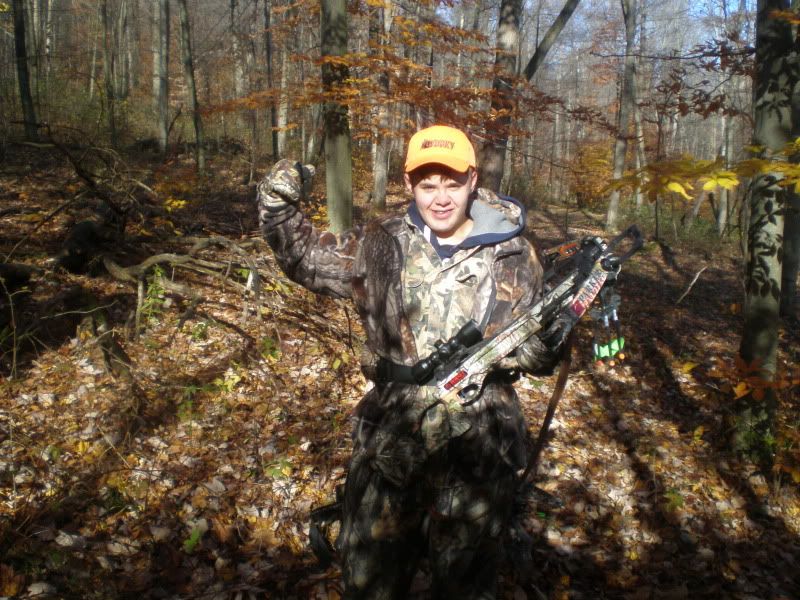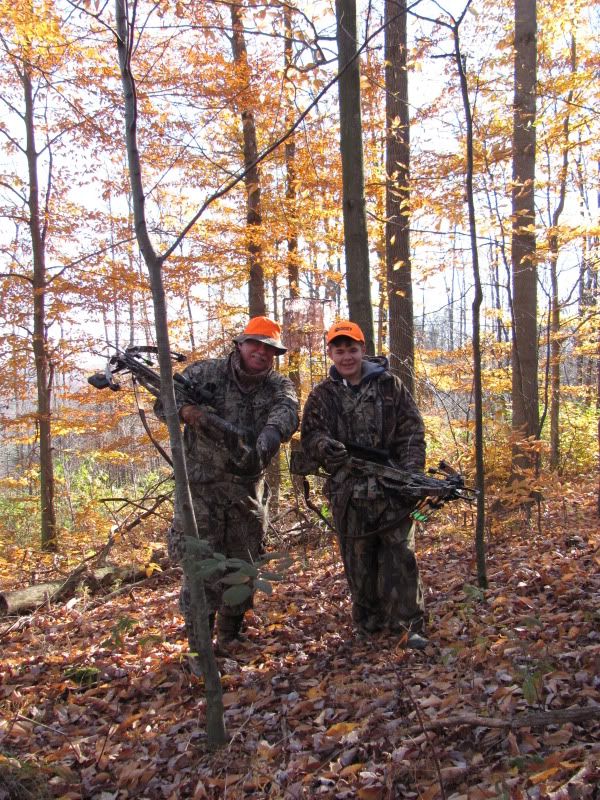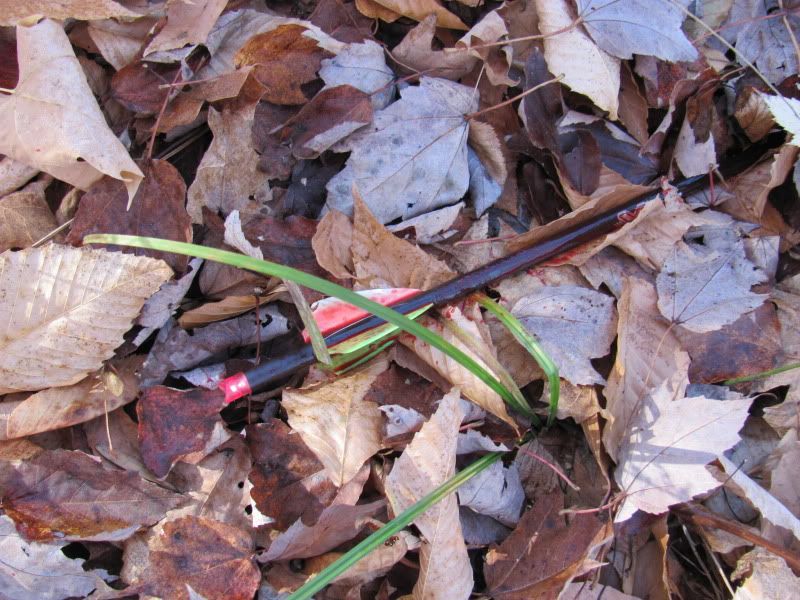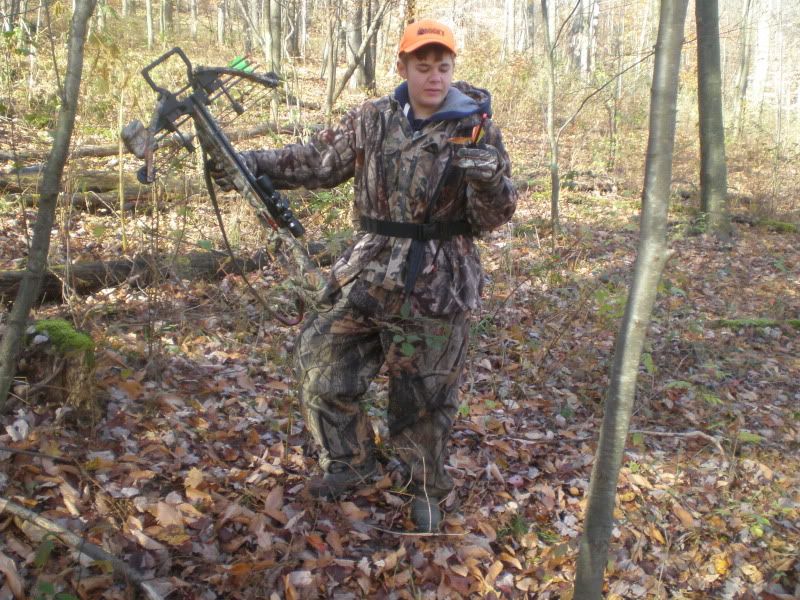 We know the deer is down but will do the tracking just the same, part of the fun, part of the training..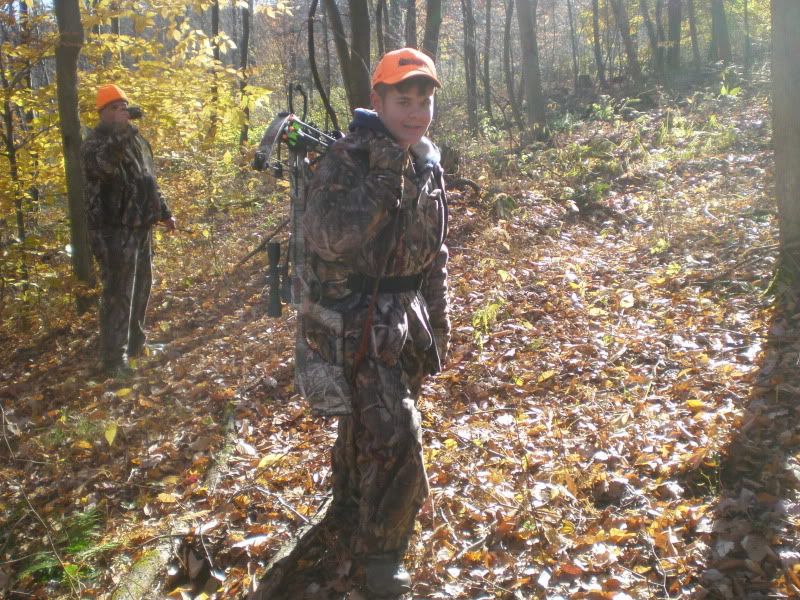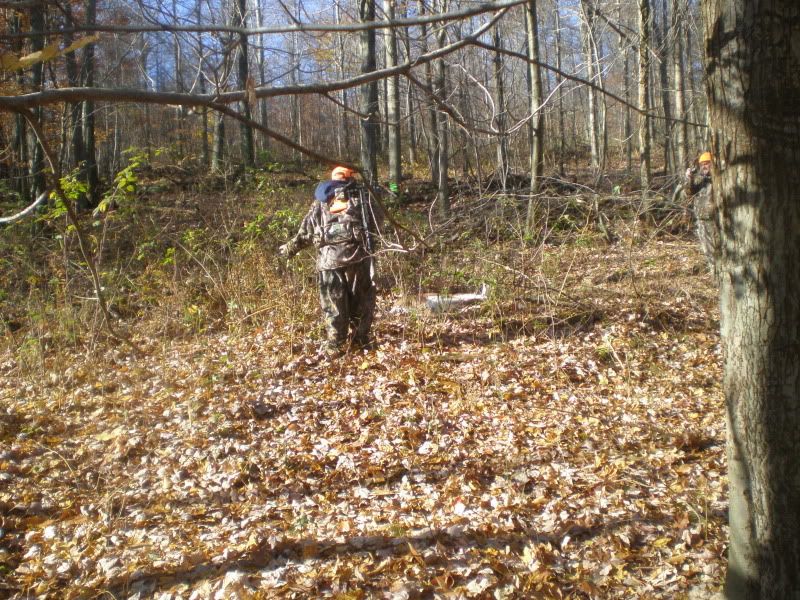 We all gather around the buck, just excited to get a good look. Johns shot was devastating and the exit hole on right side is still bubbling bright red but the buck lays still and is expired.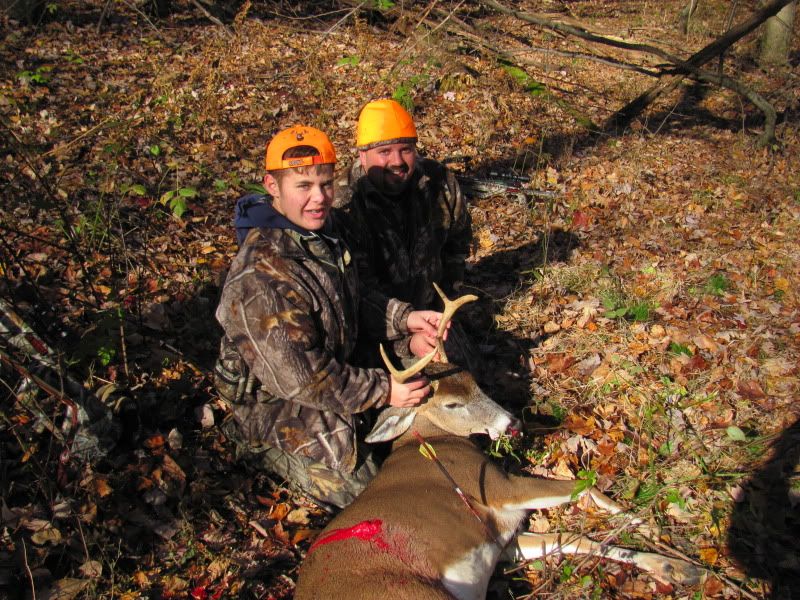 We take 100's of pictures knowing how quickly the vivid colors of Fall, the chill in the air, and the specialness of moment will dash past only to be kept alive in our minds.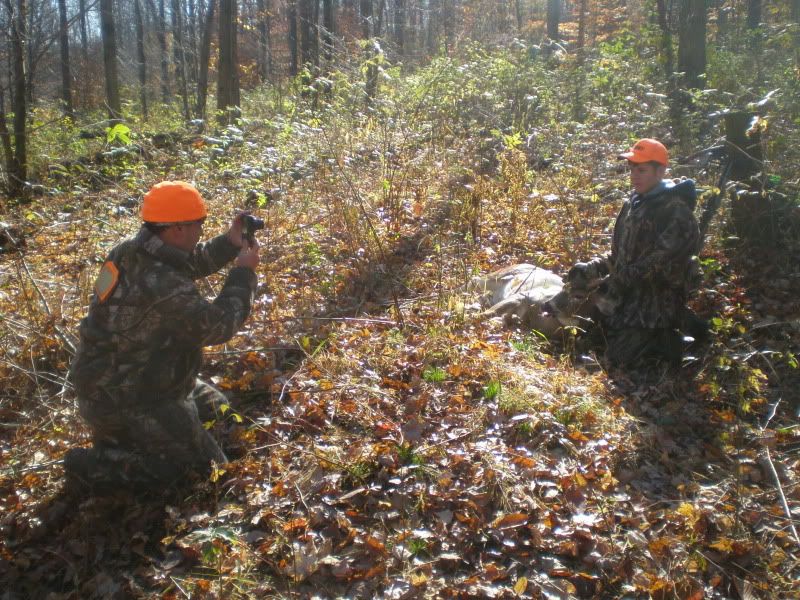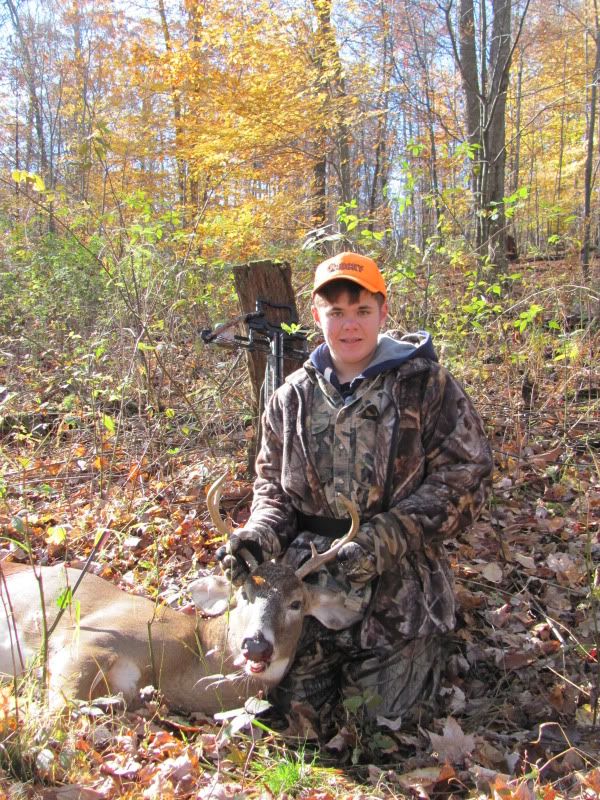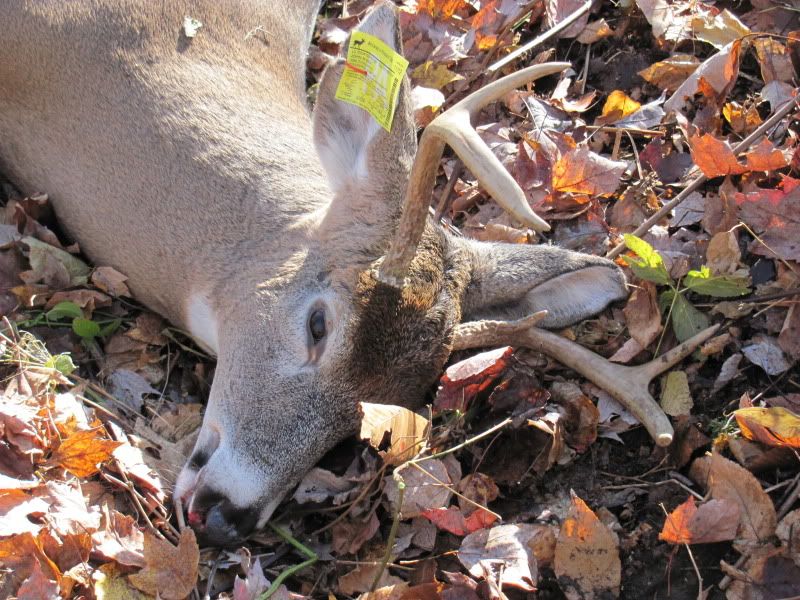 It is this moment when it sinks in all that is taking place, and i get engulfed in it all. The events bot actual and spiritual that just took place on land in which I have steward and have put the last five years of my ife and finances into…there surrounded by its beauty, and there with your mentor as well as the one you are mentoring, along with GOD and all those hunters in your family that are no longer here on earth but make their prescence known at moments like this. It is a moment in life I will not forget.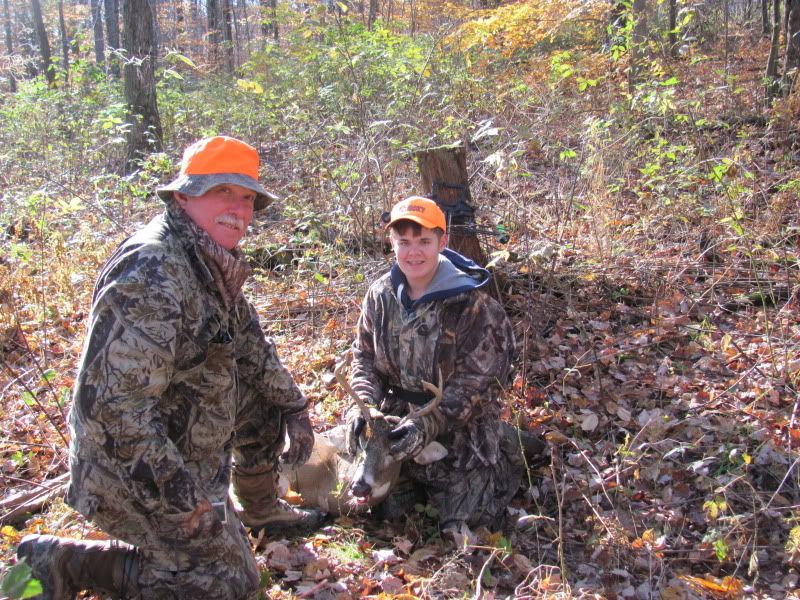 We get to the work of tagging and decide like the others to take him down to the bottom of the hill before dressing to keep the spot as fresh as possible for the remainder of the day for Pap, and season for all others. Somehow I get to do the paperwork and dragging while Pap and John continue joking about and living in the moment…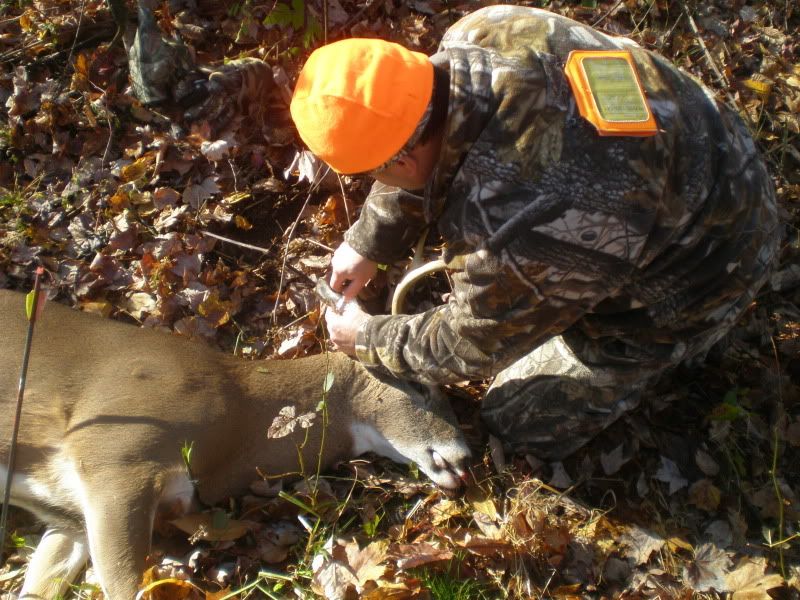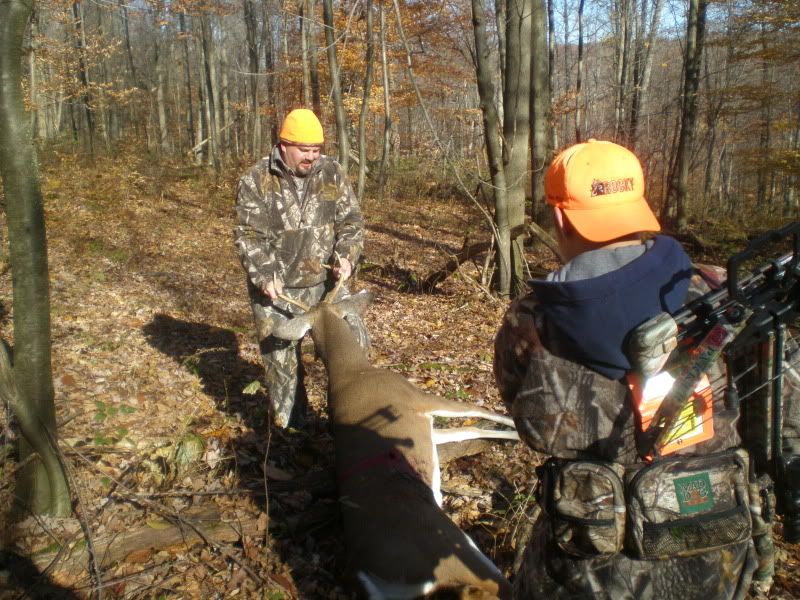 I get it down to the logtrail and John gets the ATV, his life for 10 months of the year revolves around ATVs so it is only fits that it is part of this moment too…although I did consider having him drag it, I mean it is all downhill.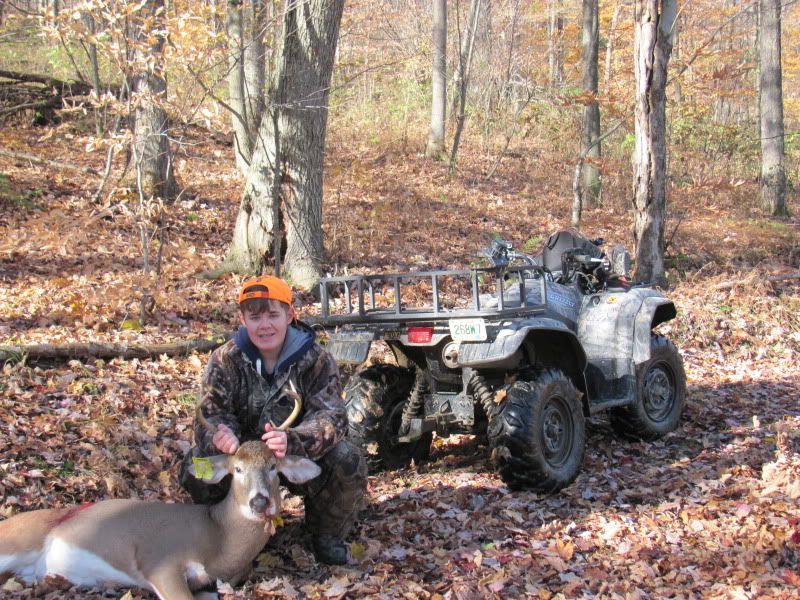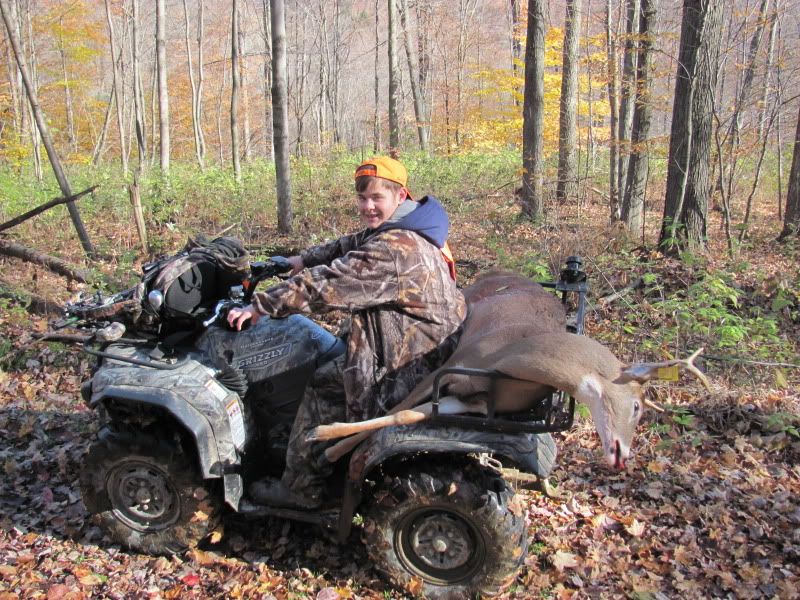 No room for me I send him on his way, I can almost see his BIG smile from the back of his head..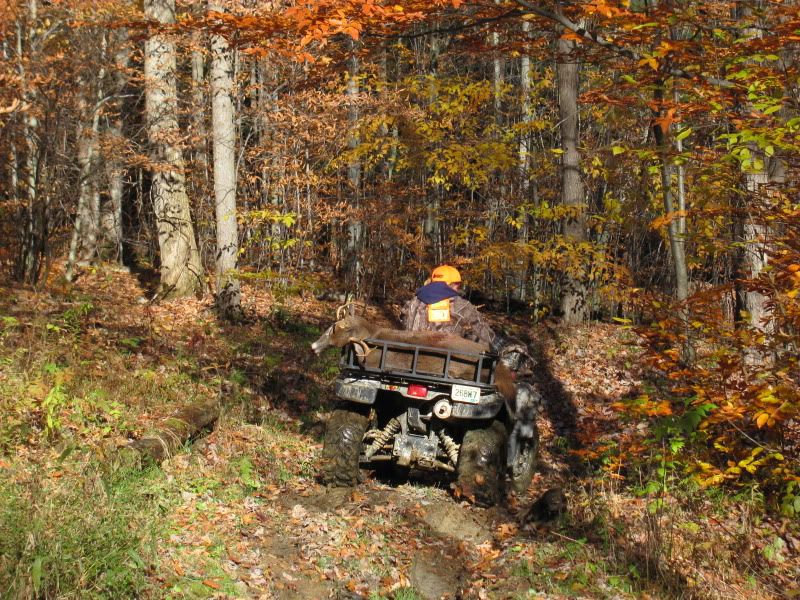 I am so glad my dad got up here to experience one of these hunts firsthand and not over the phone. To see him, my boy, and I having that good of time on a peice of deer dirt I have poured alot of my sweat and heart into...for it all to come together in year we thought about getting rid of it. Hunting just amazes me how it reveals true emotion and what is important in life.
And to my son, what can I say kiddo...you have matured into one outstanding young man, and I am proud of you from excelling in that math that is more letters than numbers, to the sportsmen I see devloping in the field and to others.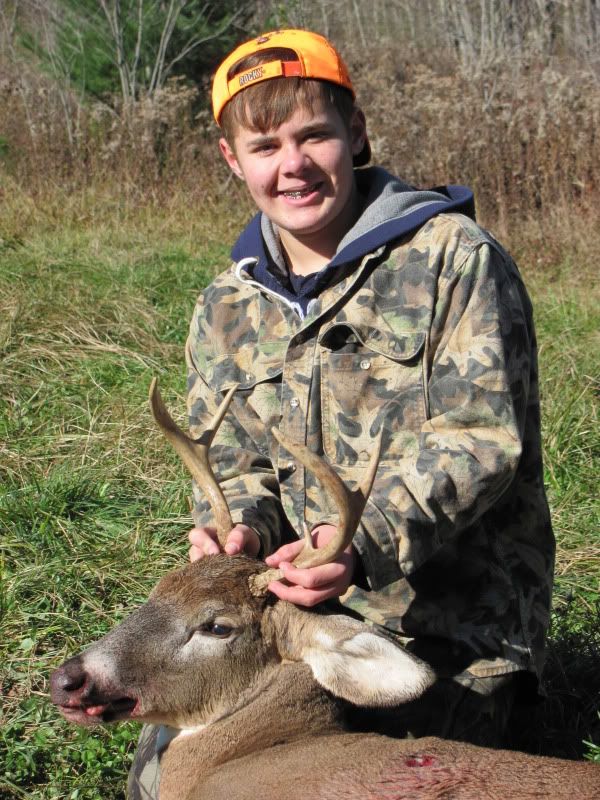 And to the ridgeline stand as inanimate as it may be, funny how 17' of metal strapped to a tree can make you view things so clearly and lift your spirits well over that 17'.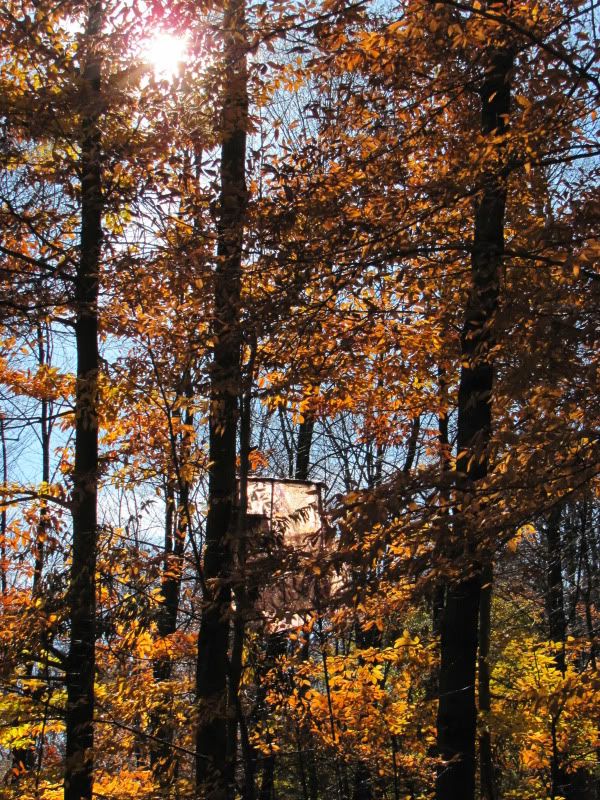 GOD BLESS!!! I hope this read finds you well.
John