Discussion Starter
·
#1
·
Had the best flintlock season I've ever had. It'll definitely be a memorable one to say the least! Over the past few years I've missed and had many miss fires on my fair share of deer with the flinter.. only being fortunate enough to harvest 3. One each year for the past 3 years. Well this year was a completely different story, connecting 3 times on 3 shots! Took my dad's TC Hawkens out, boy does that thing shoot good!
Shot my first deer in 2B after chasing deer all day with my buddy, finally got some turned coming down over a hill. I circled around and got set up expecting a quick arrival.. set up next to a tree and 3 deer came cruising through, closest one being 60 yds. Anchored on tree, kaboom... smoke cleared and before I knew it, I watched it crash into a tree.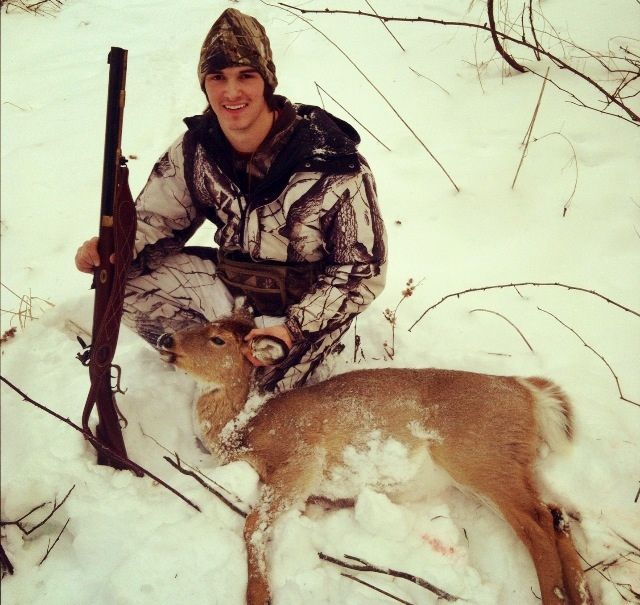 My 2nd deer I harvested with the hawkens was in the same day!! Just a couple hours later, went back in and caught up to some more deer. My friends gun missfired on a couple does bedded down right off the bat. I told him if that happened again, I was going to try to fill my last 2b tag. Walked up on another doe bedded down about 35 yds away. His gun clicked.. doe looked up. His gun clicked, she started to turn her head. I had my front sight centered and some calm breathing. Kaboom... smoke cleared. Rolled her right in her bed. 2 in one day!!! I couldnt believe it, I was on cloud 9!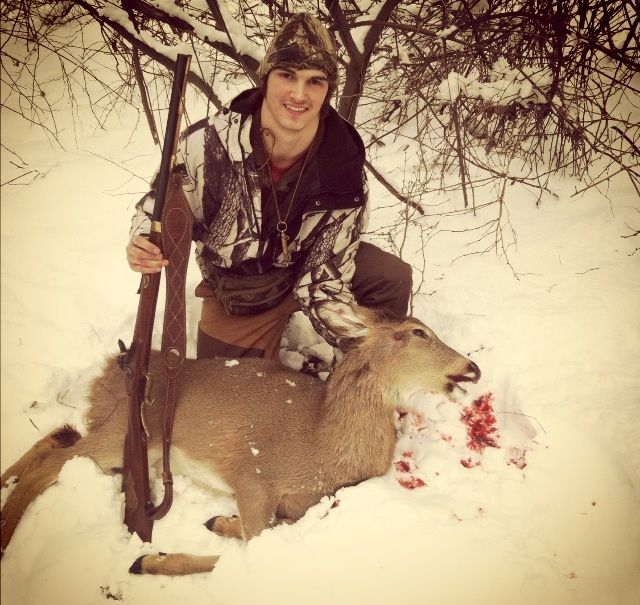 The third doe I harvested was one of the most fun flintlock drives I've ever been on. I was a solo driver for 3 posters and saw almost 40 deer. Couple small groups eluded me and didnt present shots. Got on a herd of 30 in one group... pushed them right to the one poster! I couldnt believe my eyes. He shot, some broke right, some left. I ran far right to get them down over hill to other guys... they turned left running back other way... so I ran left across hill top to turn them again... I couldnt cut them off. 5 were trotting out at 70-80 yds and 2 were big big does. I had 1 doe tag to fill for 1A.. so I leaned against tree and anchored. When the smaller of 2 big ones cleared tree. Classic mehhhh kabooom! Hammer time. She bucked and took off spraying blood all through the snow. Easy trail to follow, leaving patches of hair and blood everywhere. And my third flintlock doe was down. Wrapped up the season on a great note! Got to share in the fun with friends on every outing. It is by far the funnest hunting I do every year, and I love it more and more every season.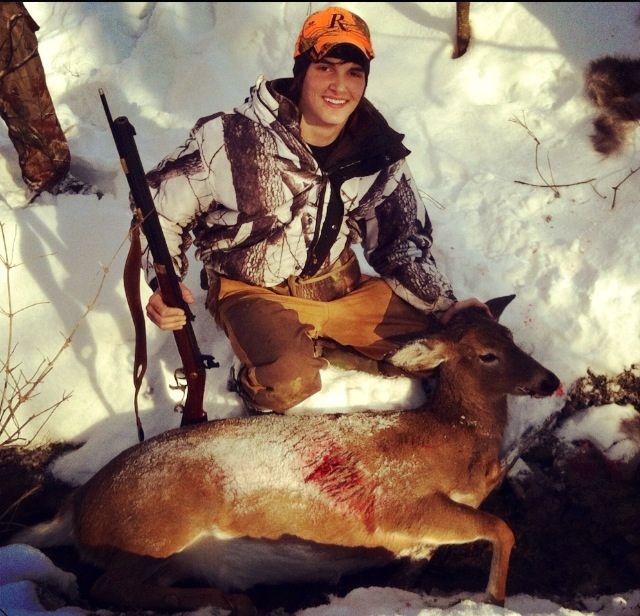 Thanks for looking! Congrats to all who connected!
Thompson Center Hawkens
.50 Cal .495 roundball .005patch
90grains 2F