Discussion Starter
•
#1
•
May Fishing Binge - Part 2
The first half of my eight-day spinner fishing binge went pretty well considering how the low water limited stream choices and likely lowered my catch in the streams I fished. With four more days remaining, I was concerned about making the correct stream choices. Usually stream selection this time of year is easier than at any other time.
On Sunday morning, May 24th, 2015, I got up at 3:30 a.m. under a clear sky and drove to a section of a small stream that I usually fish four or five times per year. The air temperature was a cool 40-degrees and the water temperature was 48-degrees.
A streamside meadow showed a cattail representing the past year and aromatic dame's rocket representing springtime and the year ahead.
The fishing was good but gradually slowed down as I neared the mid-point of this stream-section. In four hours I caught 60 wild brown trout. I was pleased, but where would I go next?
I decided to do some exploring, so I drove to a place I had never fished before. The stream was small and required accurate casting. We spinner fishermen know you've got to place that first cast accurately into each good spot and surprise the trout. Taking trout by surprise is a key to successful spinner fishing.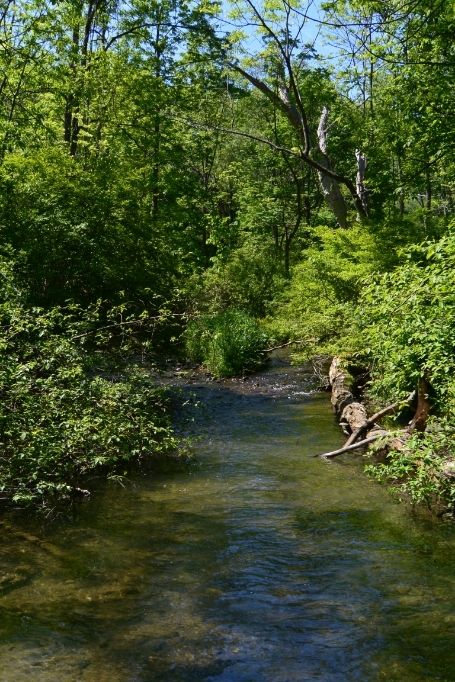 It took twenty-three minutes before I hooked my first wild brown trout, and I had seen only a handful of trout in that period of time. But I was exploring and felt the action surely would improve. Then I came to some good habitat and cranked out eight trout in fourteen minutes.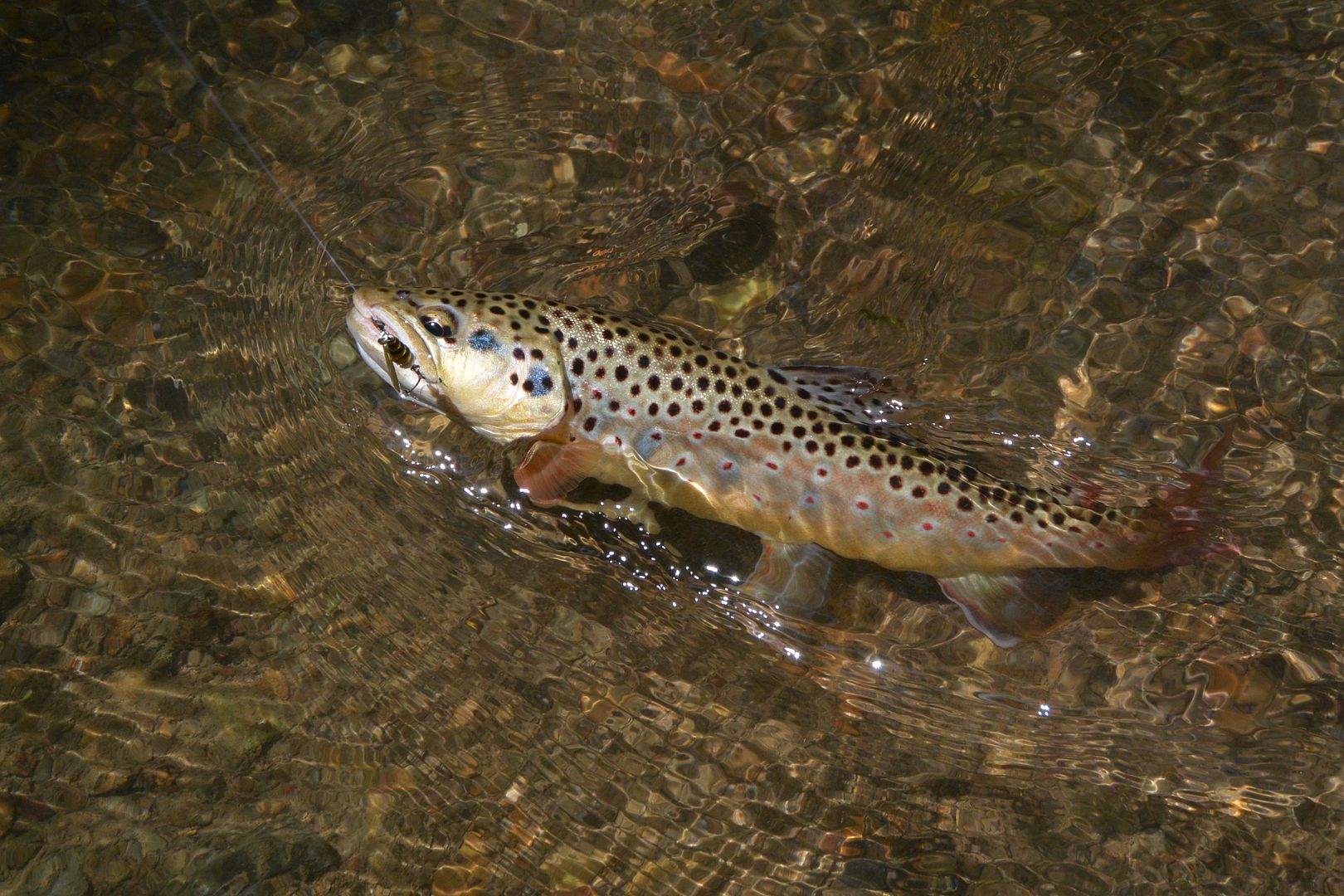 I smiled to myself, knowing something special was at hand.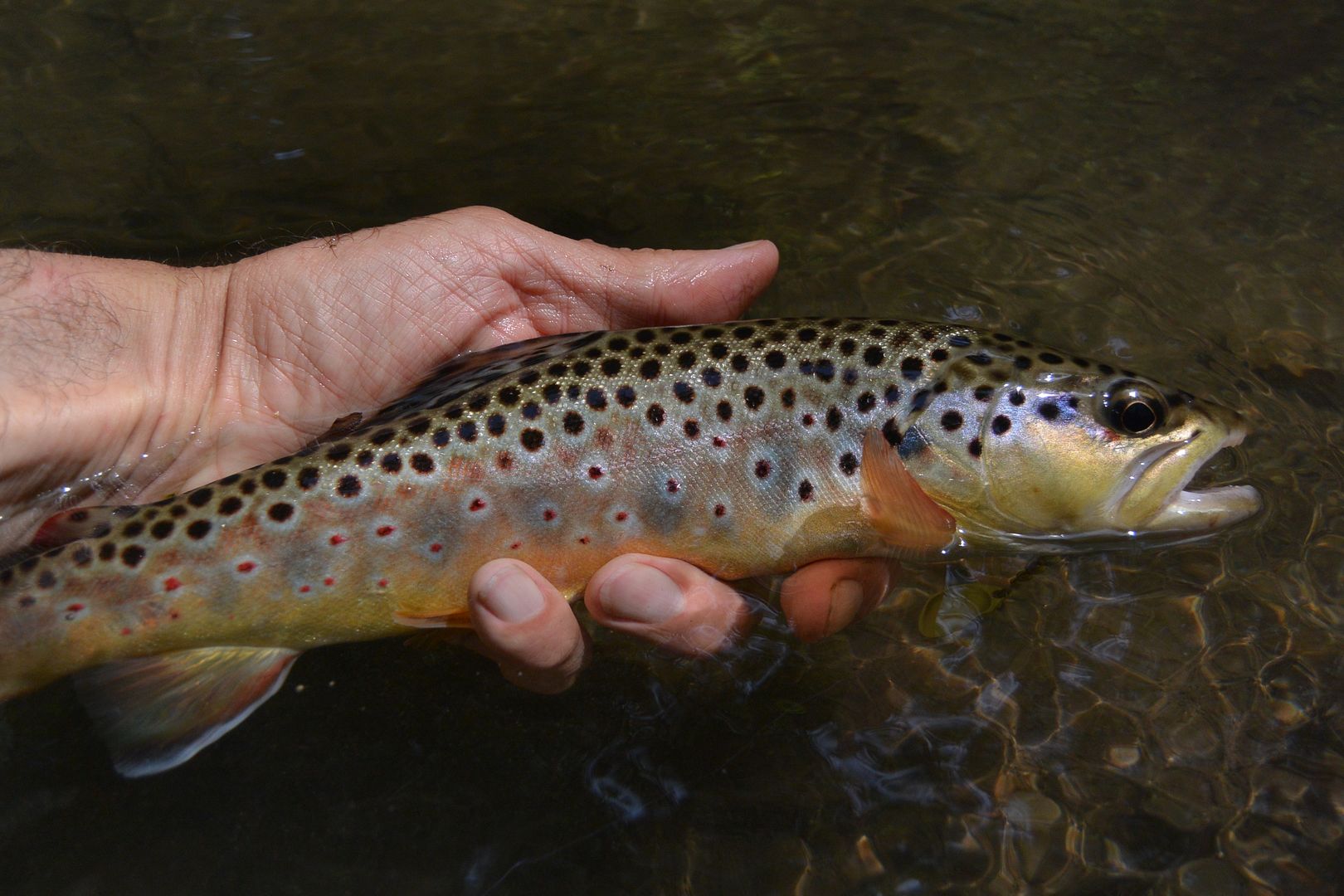 I fished there for a total of 3.75 hours until I came to the dreaded "No Trespassing" signs, complete with a rope across the stream. This 15"er was caught in the final pool. I caught and released 72 trout here and closed the day with 132 trout in 7.75 hours.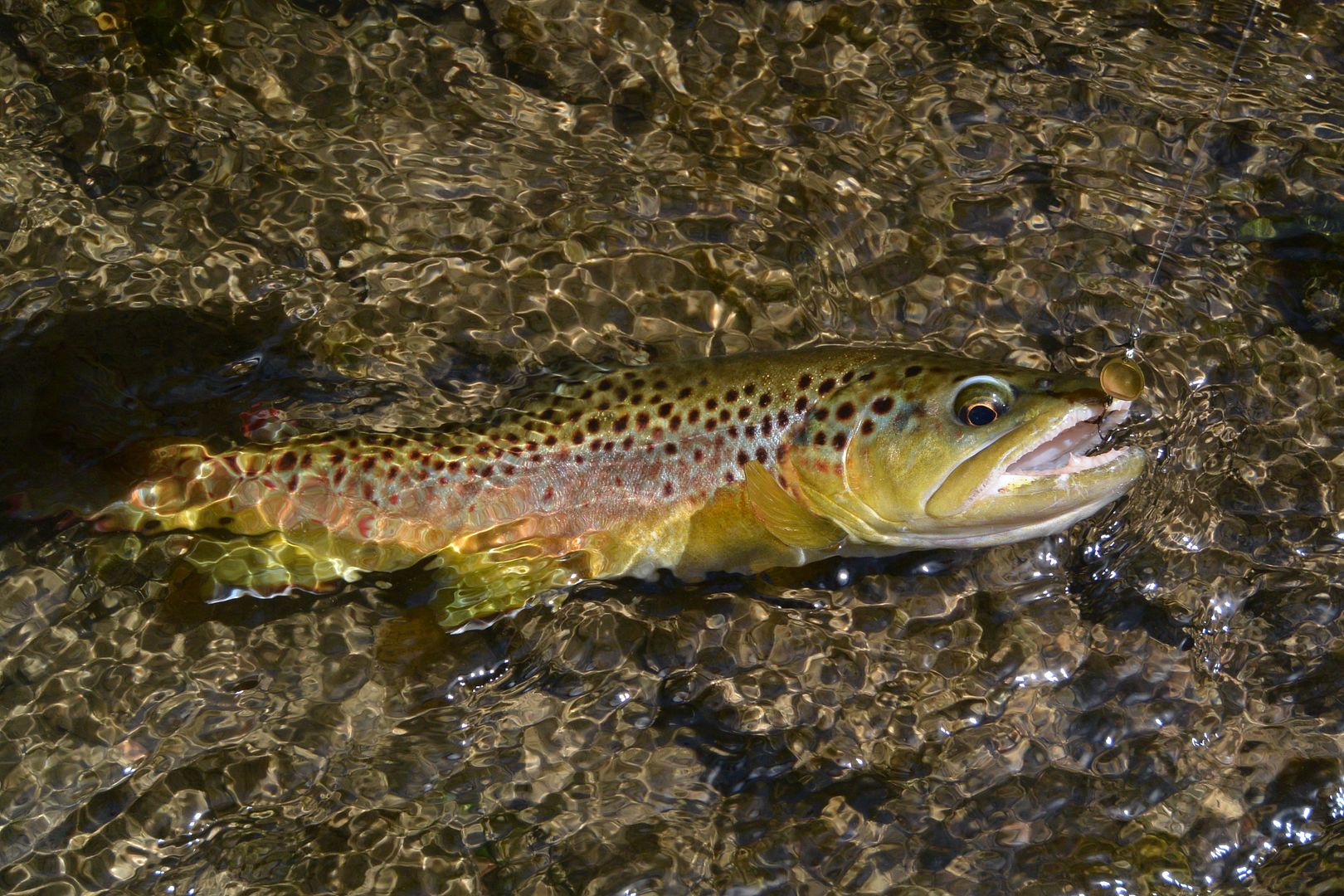 On Memorial Day I again got up at 3:30 a.m. and went to a rather large stream. I wanted to take advantage of cooler water temperatures and likely won't return to this stream section until autumn. My hope was to get in a few hours of quality angling before the expected droves of kayakers came and ruined the fishing for the day.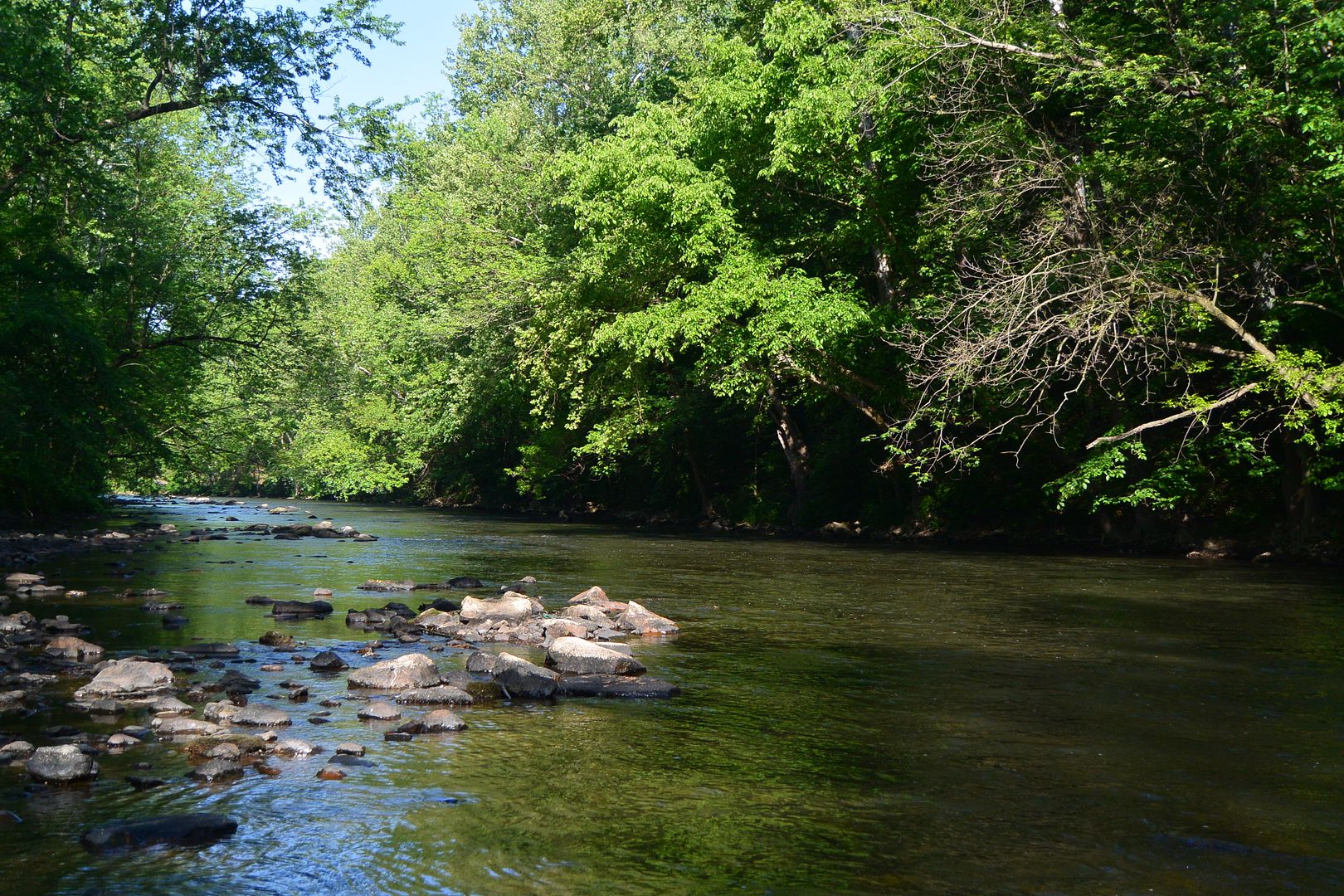 Four 14" wild brown trout were the highlight of the morning, and I was pleased to have caught 47 trout in 4.50 hours before the boaters arrived. I headed for the bank and left before they reached me. I already had Plan B in mind and was looking forward to it. Of note today was the sighting of a bald eagle.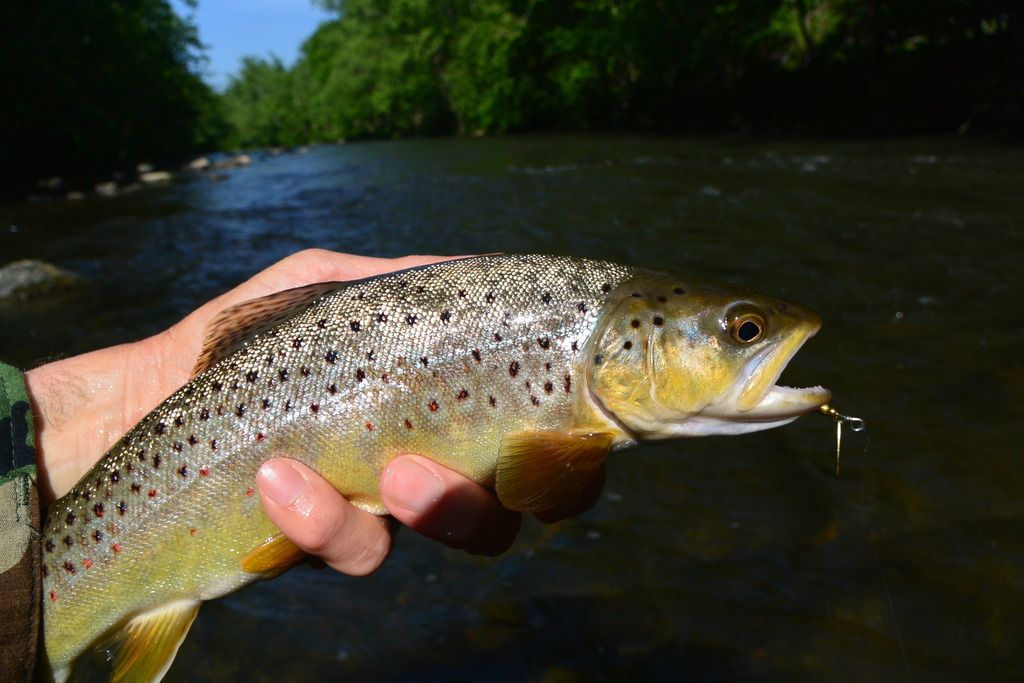 From there it took over one-and-one-half hours before I began casting my White Bead Gold spinner on this small mountain freestoner. For some reason unknown to me I really enjoy fishing this stream.
It's not just the fact that it has a few native brookies.
Or a dominant population of wild brownies.
Or that some of the scenery is nice, too.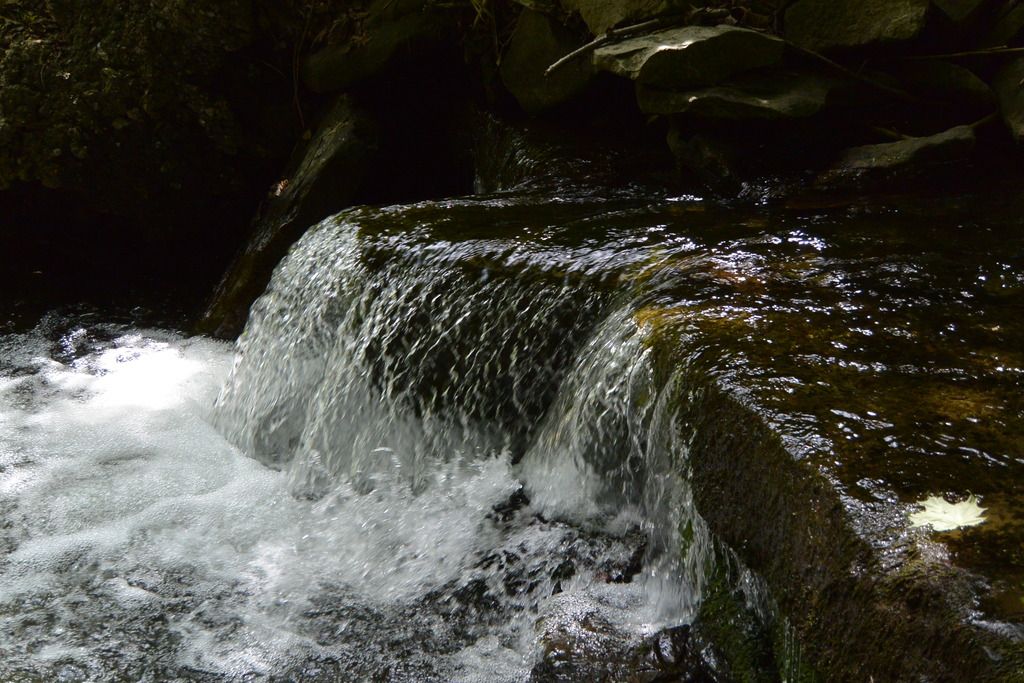 Even after the creek turns into a trickle I still like it. Maybe it's because it appears few anglers fish here? In 4.00 hours I caught 58 wild trout, giving me 105 in 8.50 hours for the day.
On Tuesday morning, May 26th, I returned to the same stream I had fished on the previous day, but to a different section. The water temperature was 64-degrees and the air temperature was 61-degrees.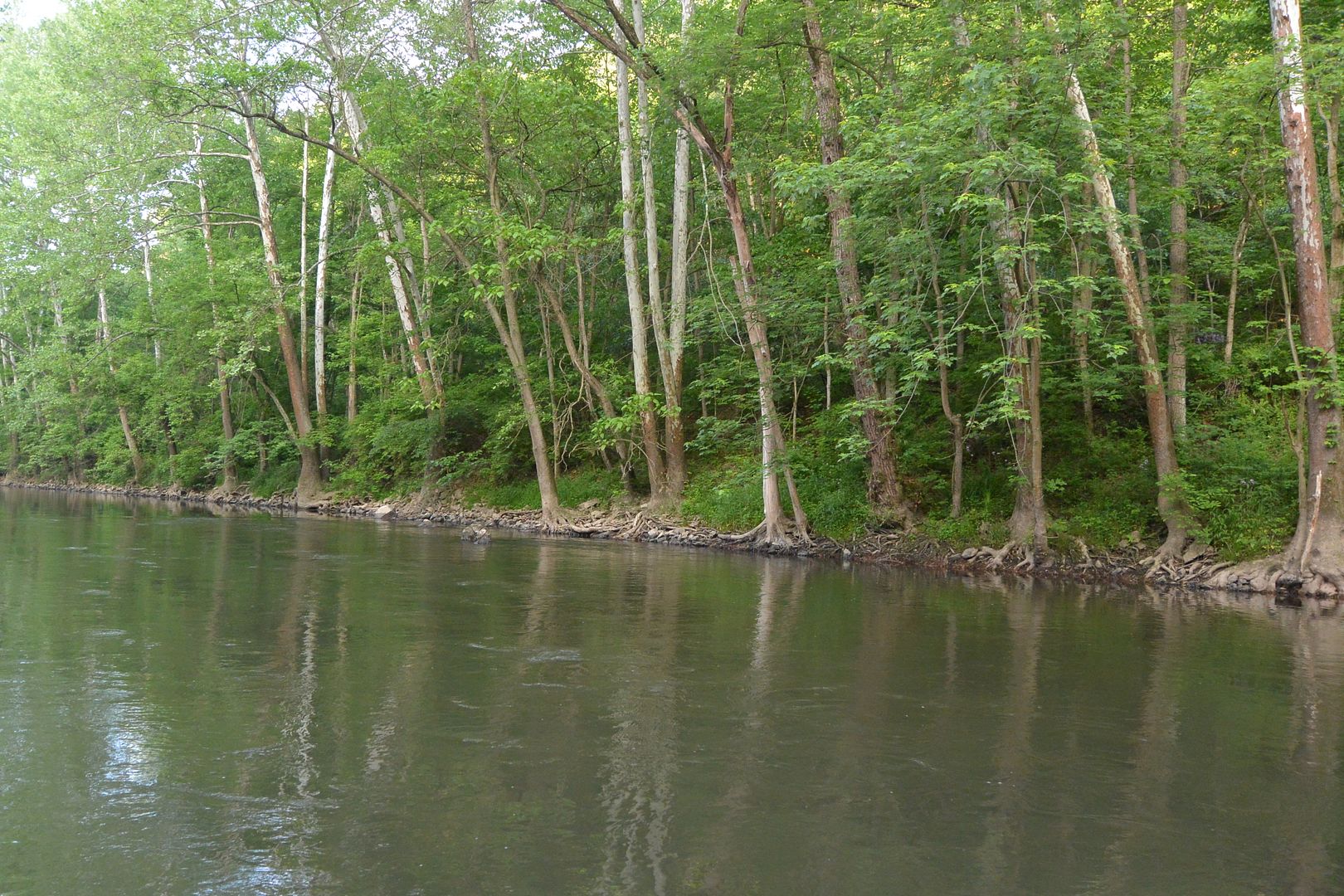 The action was slow and got slower as the morning progressed. Maybe someone got ahead of me? I caught only 16 trout in 3.25 hours, but this included a 15.5"er and a 16"er.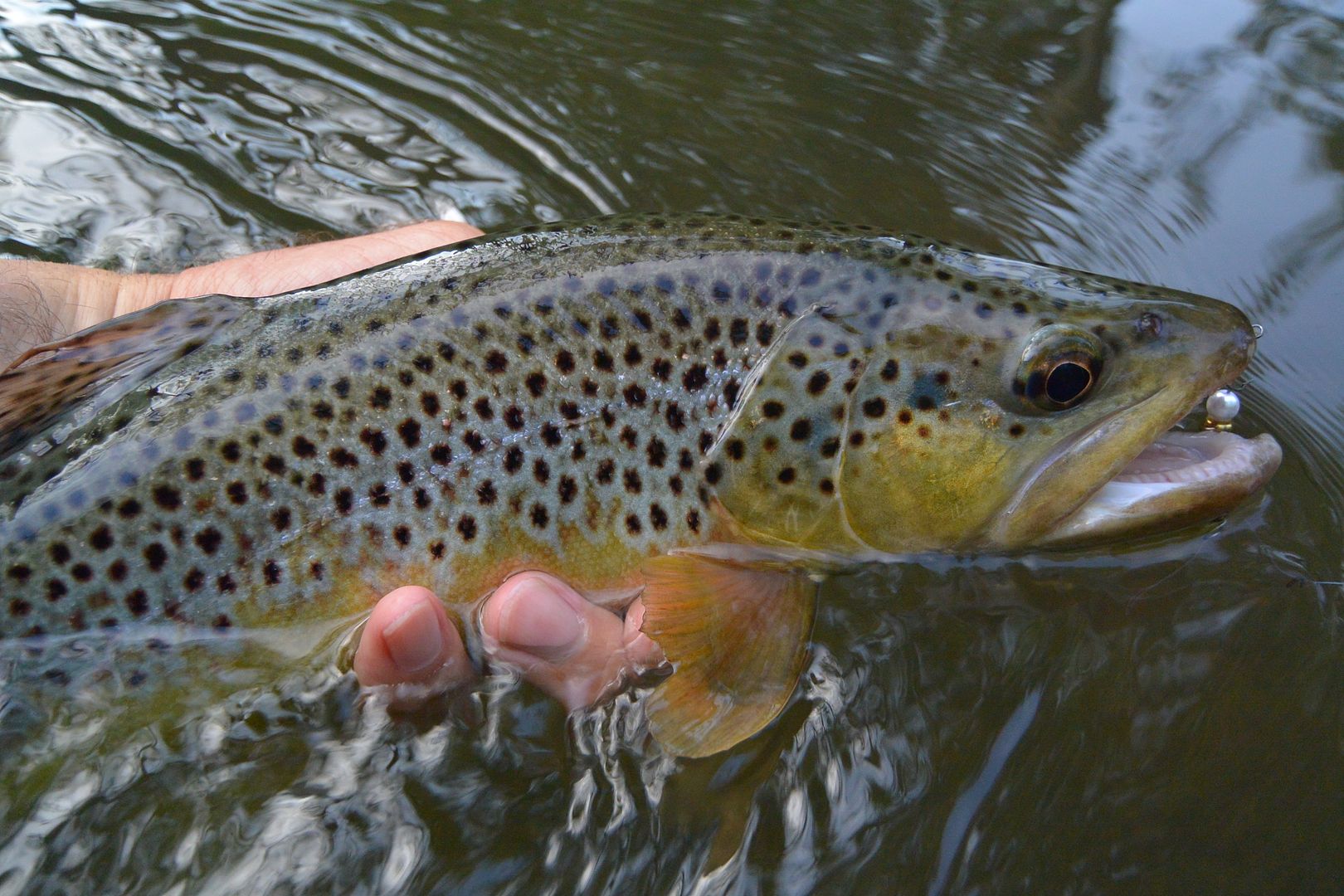 Next I drove to a small creek to see if I could salvage the day. My expectations were low because I knew the water volume would be down. This photo makes the water seem much higher than it really was.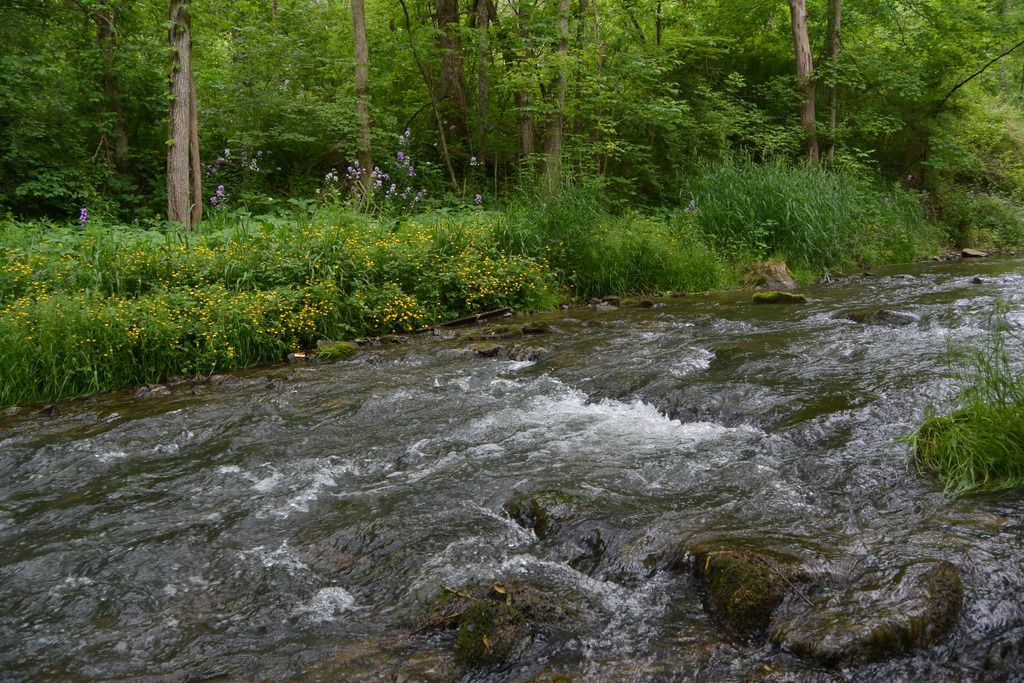 It seems to be happening a lot this year, but again the action was slow in the beginning with only two trout landed in the first twenty-one minutes. But then it was like something turned the trout on, and after a total of 5.25 hours I had landed 101 trout, giving me 117 in 8.50 hours for the day.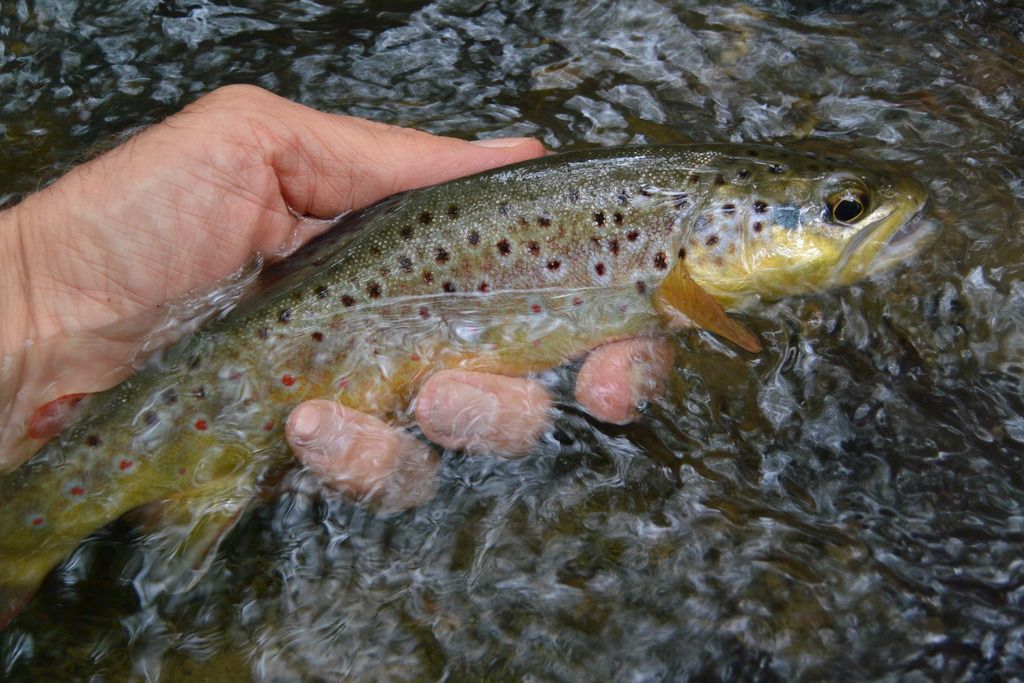 There's a small mountain stream that I really like to go to on a weekday during my vacation. The creek is heavily fished and going there on a weekend can be very disappointing since there aren't any other good options nearby. On Wednesday morning, May 27th, I got out of bed at 3:30 a.m. and drove to this stream. I kept my fingers crossed that the water level would be okay.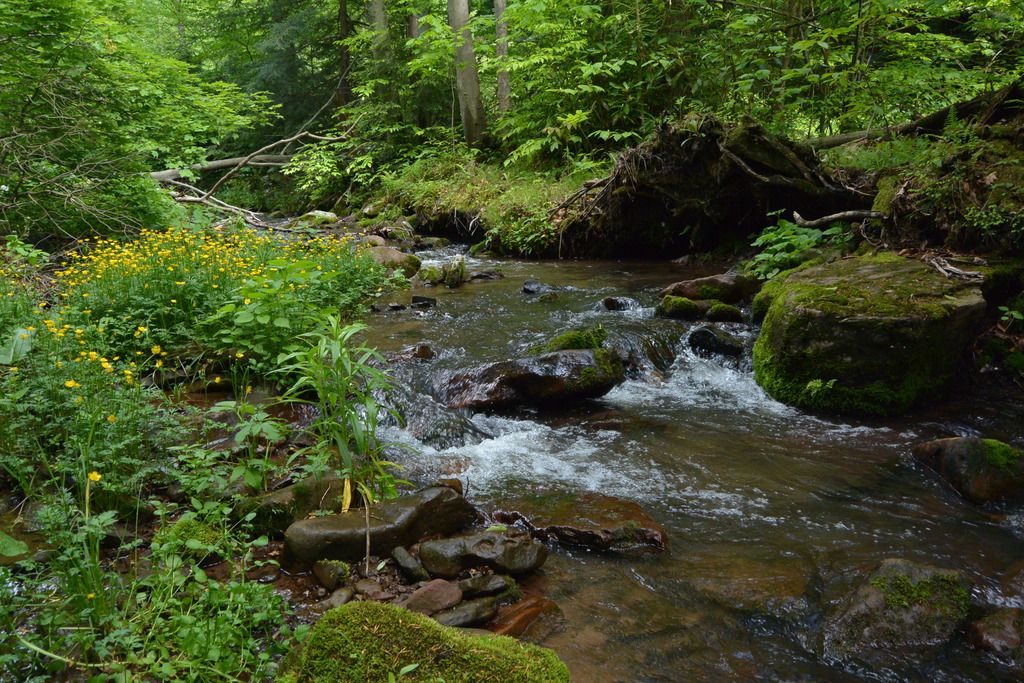 As it turned out, the stream was in fact quite low. I cast from farther away than normal. The action was much slower than I had hoped, and after 4.00 hours I had just 40 trout.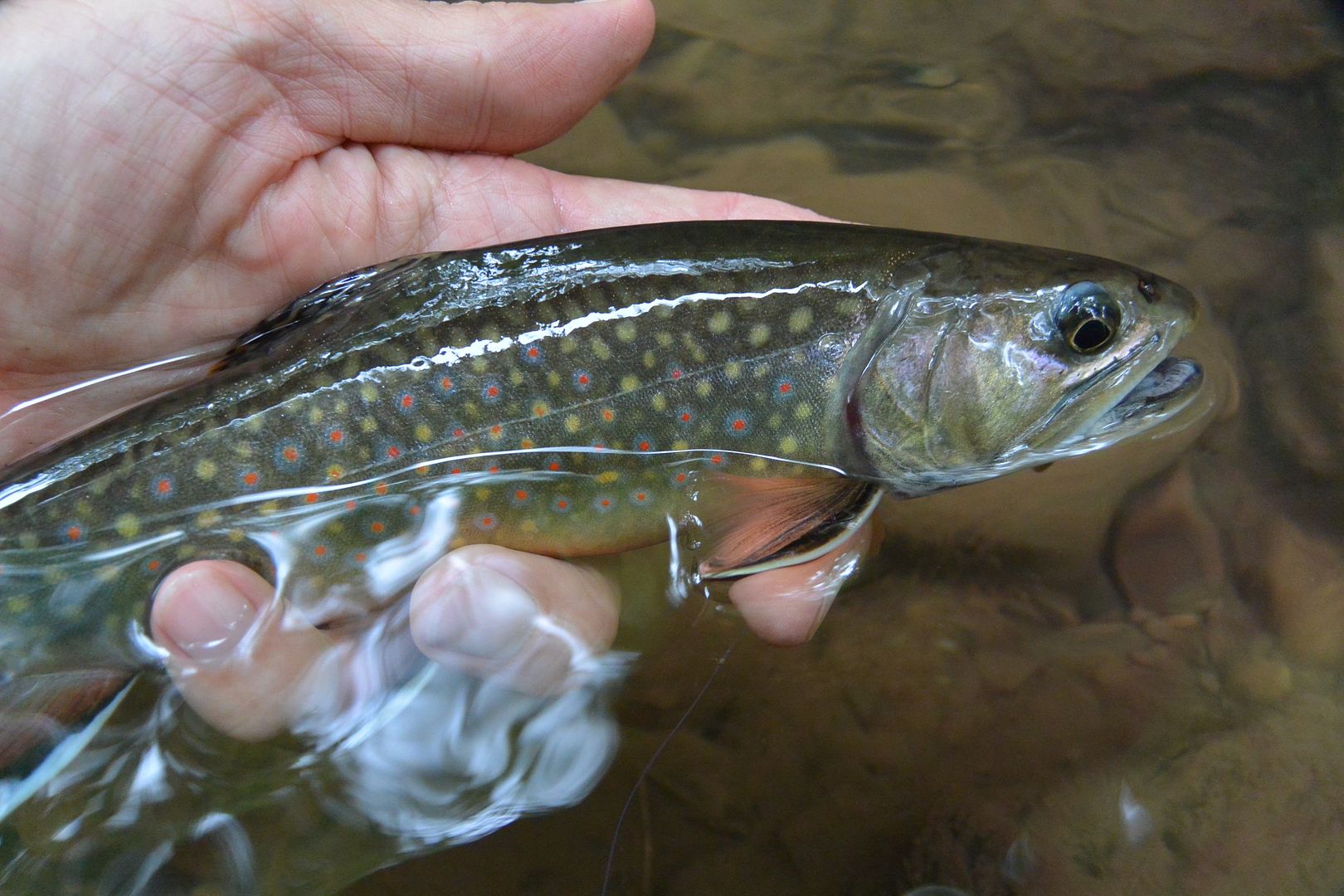 This 14" brown was my largest trout of the day. Note that I interrupted this trout's mealtime.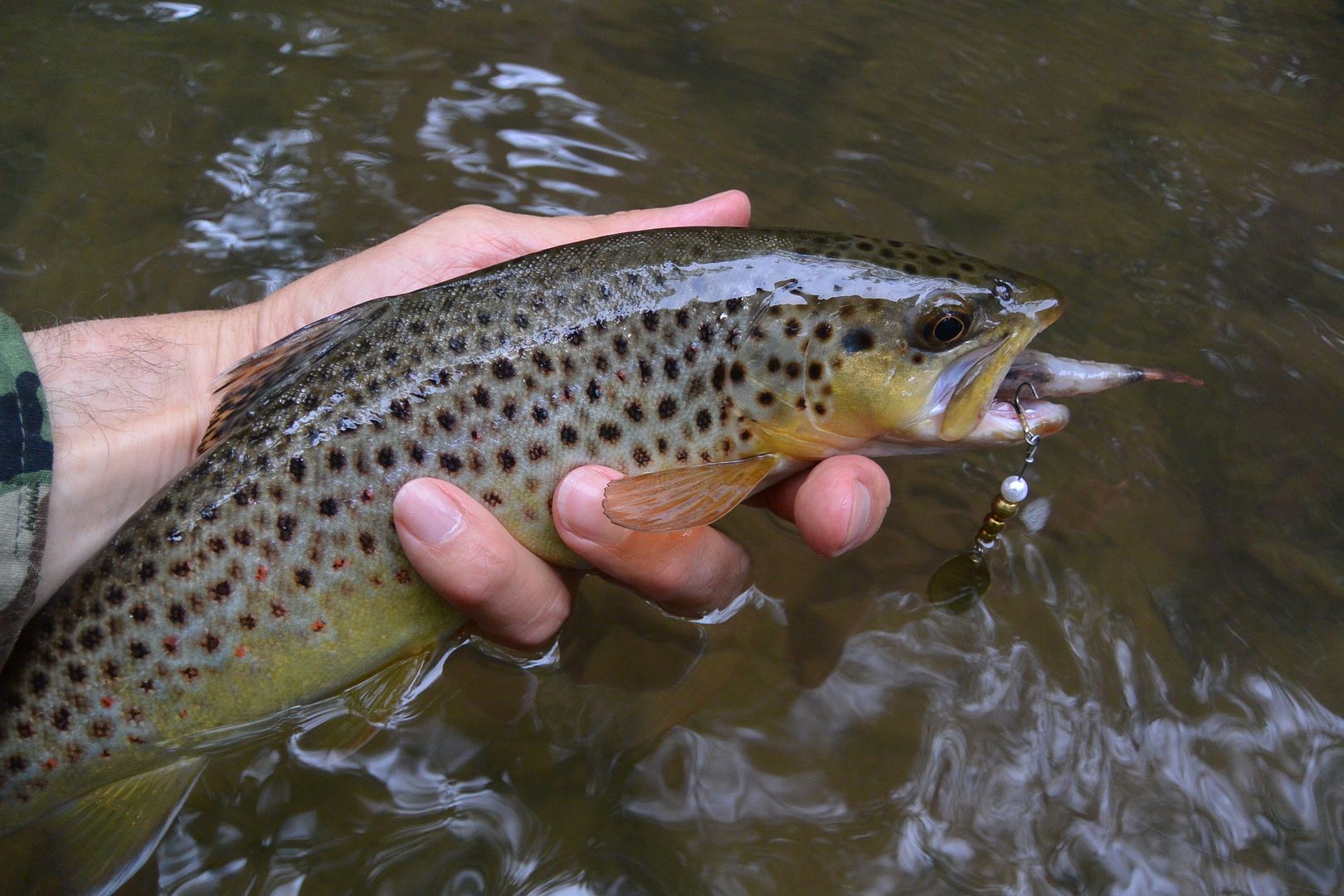 But as often happens, the farther I got away from the last access point the more trout I caught. After 9.50 hours I had 134 trout logged in my notepad.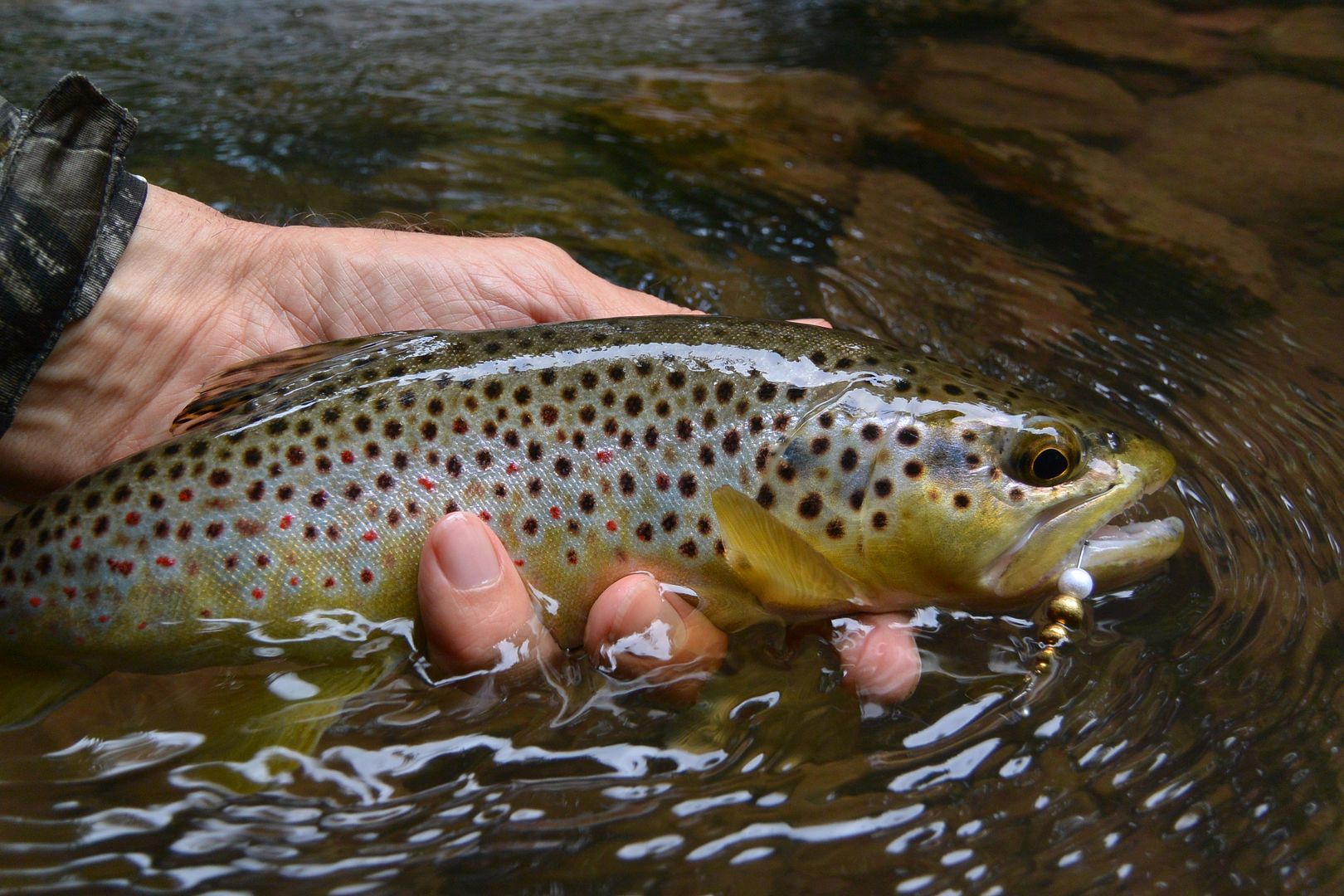 The hike back to my SUV took ninety minutes, but I actually look forward to and enjoy the long walks. That's part of being a spinner fisherman - you need to cover a lot of water. This gave me time to think about all of the fun I had during the last eight days.
A calculation at home later revealed that I caught 488 trout in 34.25 hours during the second half of my binge, giving me a total of 953 trout in 69.00 hours during the eight days. We're going to need a lot of rain to keep the good fishing going. Right now water levels are more like a typical July than late May. I'm concerned.
- Frank Nale -