Discussion Starter
•
#1
•
My nephew's son, Maxwell, has been preparing for the mentored youth hunt. We had him shooting the .22 real well, then, moved him up to my 260 Remington, with a slightly reduced load. His first shot with the 260 at 100 yds was this: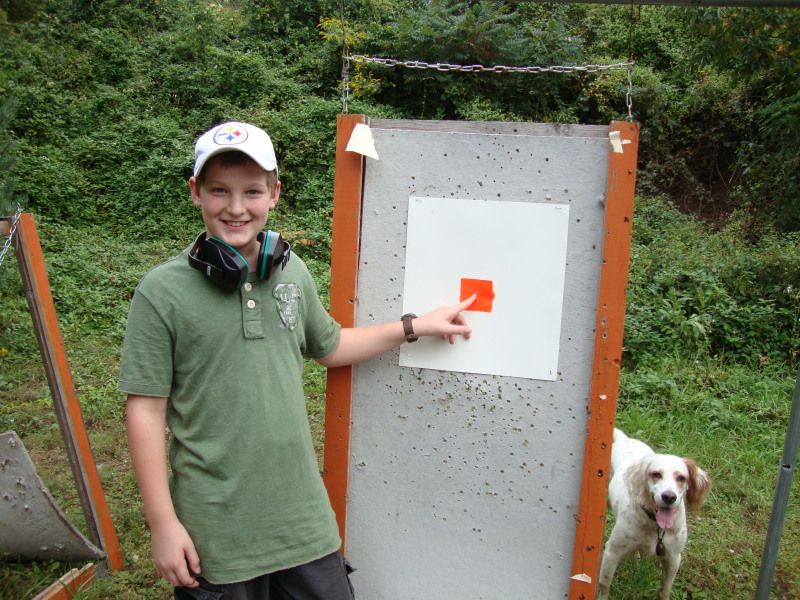 He continued to practice and shot a 5 shot, 2 inch group at 100 yds. The gun had a youth stock that I bought on here, and it fit him well and he was comfortable with the gun.
A friend of mine invited us to hunt his property this evening. Last Saturday, a MY shot a doe with a muzzleloader on his property. He was nine years old. Maxwell is also 9, but will be 10 the end of November.
We got in the stand, Maxwell, his Dad, and myself, at 4 PM. Afternoon was perfect. I expected action in a hurry, but, time wore on, with nothing moving. I, personally, have always had bad luck seeing any deer from this stand, but, my friend said no one had hunted the spot in a week, so, deer had to be there.
Well, the golden hour arrived and Maxwell was getting fidgety. I kept watch in a corner of the field that I just felt a deer HAD to come out of. At 6:20, I noticed a deer come out of the woods. Told Maxwell and his dad to turn around and get ready. Put the binocs on the deer to be sure it was a doe. Max got on her. When she came under a crabapple tree and he had a safe shot, I told him to take her. He did.
I saw her hunch up and knew he hit her, but suspected a little far back, but she was quartering a little away. She ran to the corner, and stood there with her fawns. I had the binocs on her, and saw her tail twitching furiously. Due to some trees in the way, Max didn't have a chance at a second shot. I watched her head into the woods and disappear.
We sat there a little bit, then got down and walked over to see if we had blood. Max found it first. Looked at it and thought mebbe it was gutshot? So, we marked the blood and waited for help to arrive.
Soon, my friend brought my Dad, Maxwell's great grandfather, and my brother, Maxwell's grandfather, down from the barn where they were hanging out waiting for some good news. We set out tracking the doe. Max did well, that's for sure. Followed the blood about 75 yds, then, decided that maybe we should give it a bit more time. One last shine of the flashlite down the fencerow revealed a white belly! There she lay. Bullet entered back, took out the liver and also a lung.
We dragged her back to the field, a few yards from where he shot her and took many pics. I think Maxwell is now blind from the flashes. LOL It was dark, so, I didn't get quite the composition I wanted, but, here is Max with his doe: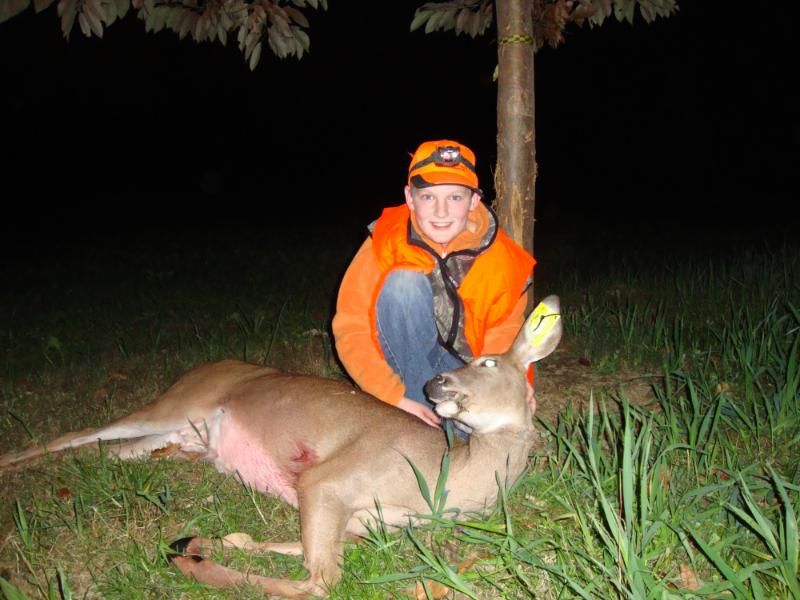 And here is 4 generations of my family sharing in Maxwell's first deer.
Maxwell, thank you for one of the best experiences I have ever had hunting. Looking forward to sharing more memorable hunts with you and your Dad in the future.