Discussion Starter
•
#1
•
Well, I got off work at 3:30, and hauled tail to the new property I obtained permission on this year. Now, i don't need anymore deer meat, but the landowner asked that i try to get him a deer (right after rifle season ended) as he wouldn't have a chance to deer hunt this year. So pressure's been on this whole late season. I had numerous close calls with my bow back there, and had a few little fella's right in the "kill zone" with the flintlock...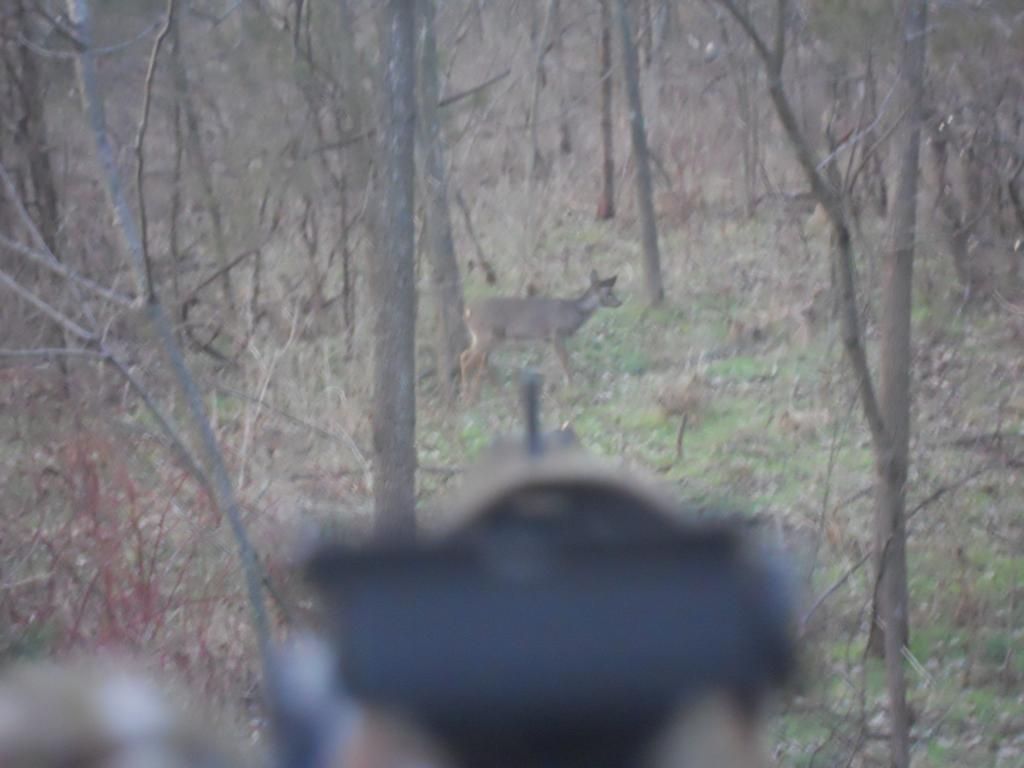 but there's quite a few BIG does running around, and I was after a decent doe to give to the landowner.
Well tonight after work i jumped into my insulated bibs, new LL.Bean Wool hunting jacket, grabbed my beanie, flinter and possibles bag and ran back into the woodlot. I went up to the nearest ladder stand and climbed in.
I was set up by 4:00, and at 4:20 the start of the "Magic Hour" i look over my right shoulder and here comes a big doe and a little one. They stop about 40 yards away, and i have a pretty clear shot at the big doe, pull the set trigger, squeeze the trigger and CLICK! WT_!!!!!! The big doe went on alert, but didn't know where the sound came from... I slooowly pulled the hammer back to full cock, reset the frizzen, set trigger, realigned the sites.... squuueze CLICK!!! WEll i fully expected the doe to be gone, however she stood there, just looking around for the source of the sound. I saw a good spark the 2nd time, so I slowly reached into my pocket, grab my priming powder, and give another good tap into the pan. go to full cock again without spooking her, set trigger... align sites... squeeezzzeCRACKBANG!!!!!!!!!! All i saw was a deer jumped straight into the air at least 5' high, like a pogo stick. STRAIGHT UP!.. then i heard her take off crashing through the brush. I knew she was hit, but wasn't sure how good.
After reloading, went down and inspected the impact zone. Found a HUGE pile of brown hair, and about 5 yards away found really fine sprays of blood. To make this long story short, i jumped her off her bed about 40 yards into the track, so i backed out and came back in after dark (6:20) after letting her go for about 2 hours. About 40 yards past where i jumped her, there she lay. It was an awesome end to a great season!