Discussion Starter
•
#1
•
Made Some Hay
There's an old saying among farmers that says you have to make hay while the sun is shining. Translated to trout fishing, this means that if you want to catch a lot of trout you have to take advantage of good fishing conditions when they are presented.
Knowing that my PTO bank at work was nearing capacity, while at work on Monday, July 27th, 2015, I began to draft a plan to use one of my two excess days before conditions were destined to deteriorate with the expected heat wave.
On Tuesday morning, July 28th, I woke up just before my alarm that was set for 2:45 a.m. My destination -- a small stream in the Susquehannock State Forest in north-central Pennsylvania where I hoped the wild trout hadn't seen a spinner in quite some time.
At 3:32 a.m. I began the 105-mile journey. Fog hung on the highway in places, and my eyes constantly scanned ahead looking for whitetail deer crossing the road.
While driving north I listened to some vintage John Anderson CD's and thought back to the prior weekend.
On Saturday, July 25th, I had visited a little mountain freestoner that I had been itching to fish since the rains began over a month ago. Unfortunately, the action there was relatively slow and I felt lucky to catch and release 102 wild trout in 7.50 hours.
The highlight of the day, believe it or not, was taking a side trip to explore a tiny tributary that I had ignored for nearly thirty years. I've seen this rivulet nearly dry many times.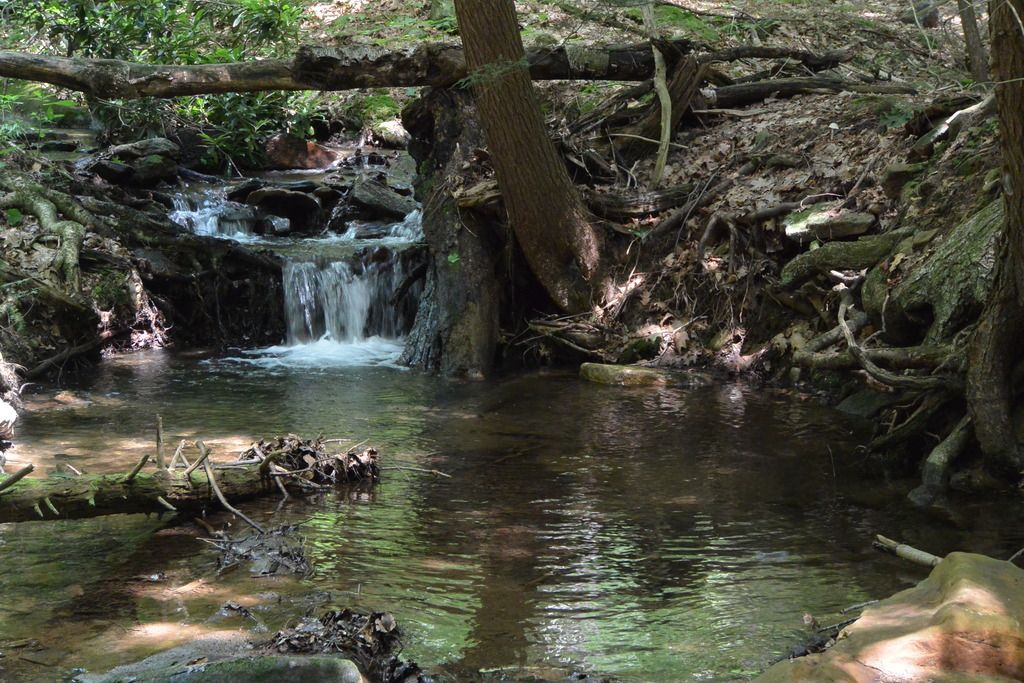 My hope was to catch just one native brookie to prove that trout could live there, but in a half hour I was able to dupe five trout. I closed the day with 107 trout in 8.00 hours.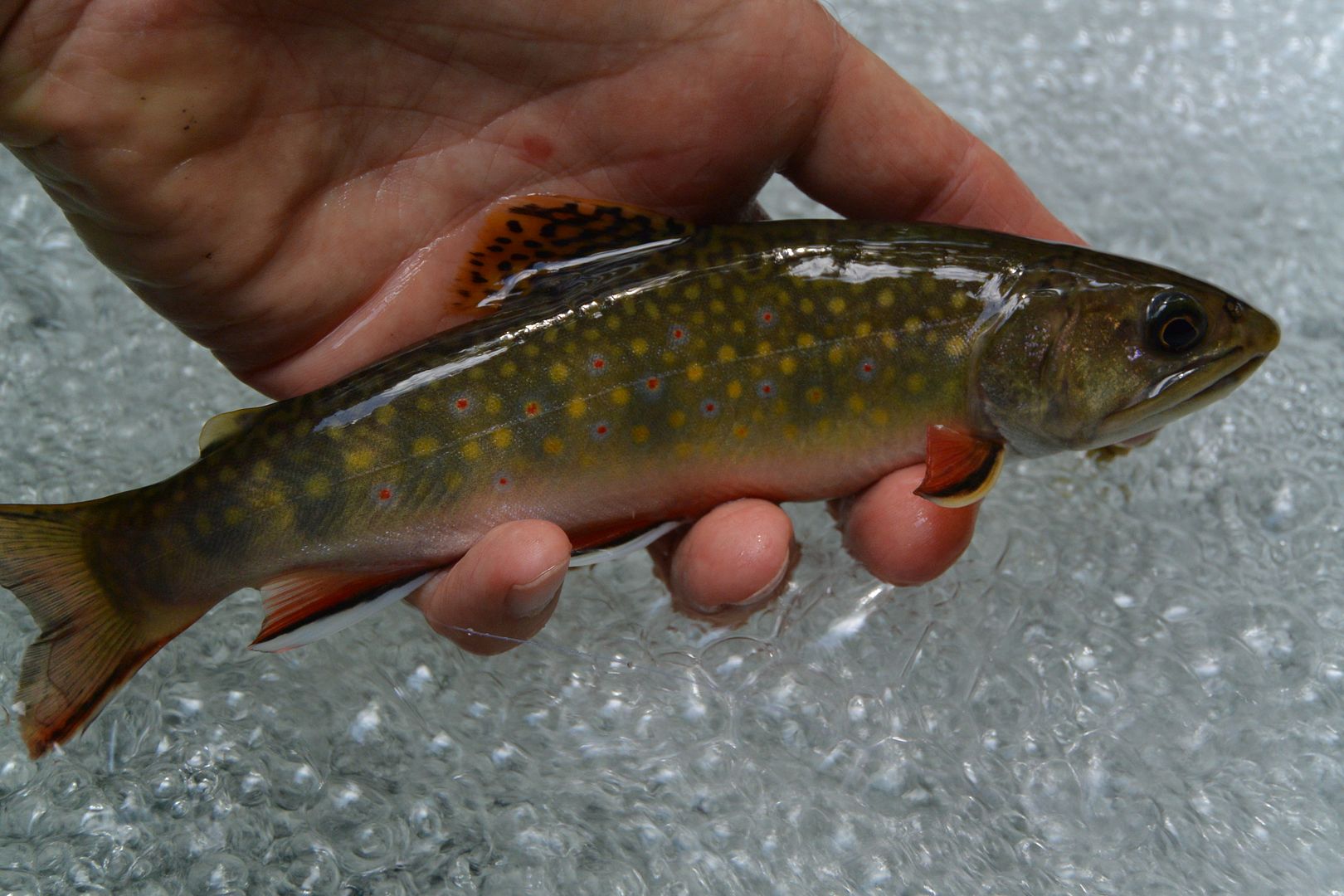 On Sunday, July 26th, I had visited another mountain freestoner. The action in the beginning was really slow -- I was expecting at least 20 trout per hour -- so after 2.25 hours and only 27 trout I concluded the trout had seen some spinning metal recently so I quit and went to another section of the same stream.
My expectations were again high as I began to wade the 61-degree water.
The first hour gave up 20 wild trout.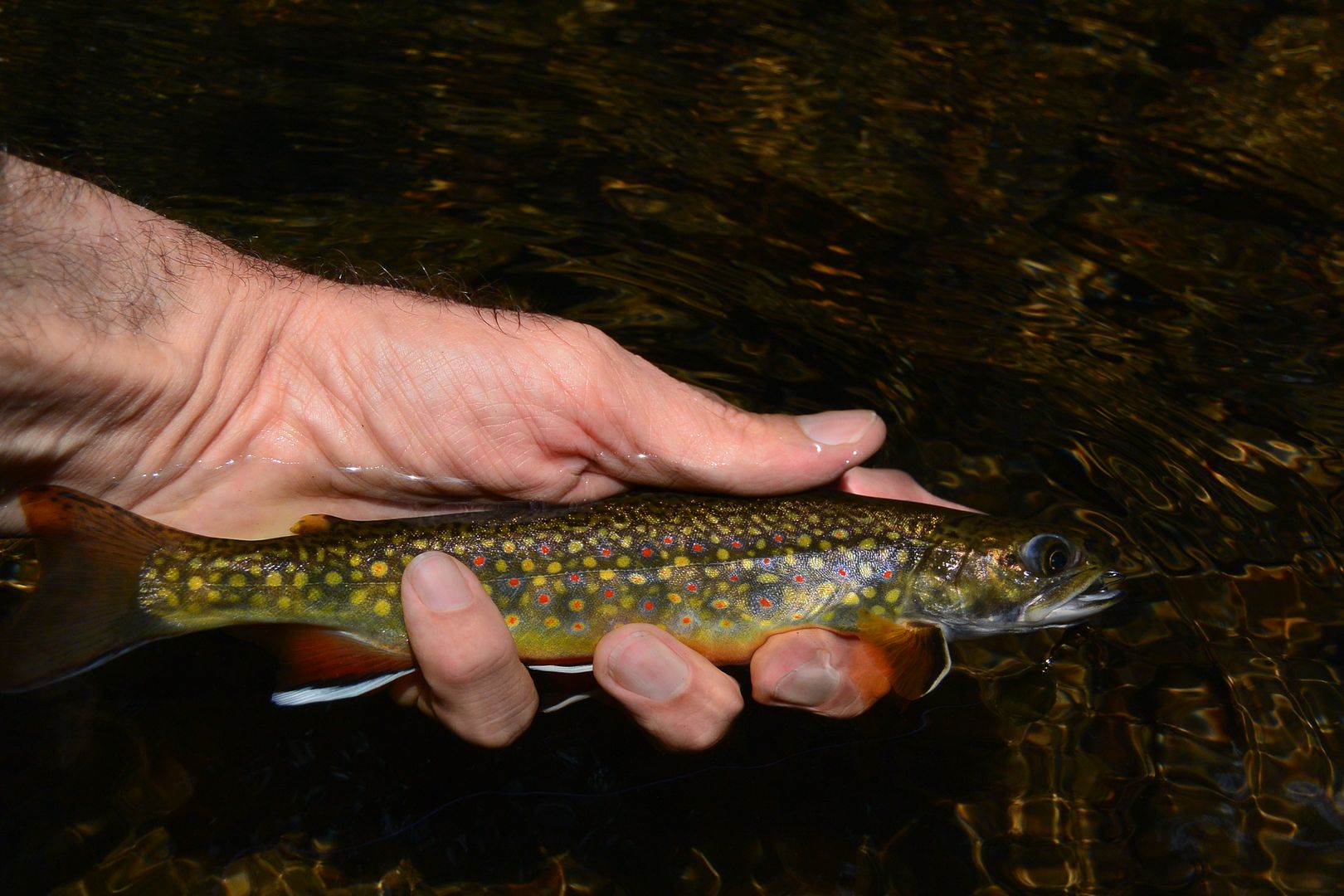 And after 5.75 hours I came to the end of the open water. I had tallied 86 trout in this section, giving me 113 trout in 8.00 hours for the day.
Once in the Susquehannock State Forest on Tuesday morning, I drove across a streamlet that feeds my destination stream. It was low. Quickly, I decided to not drive as far into the headwaters as I had planned.
The main stream had an acceptable flow.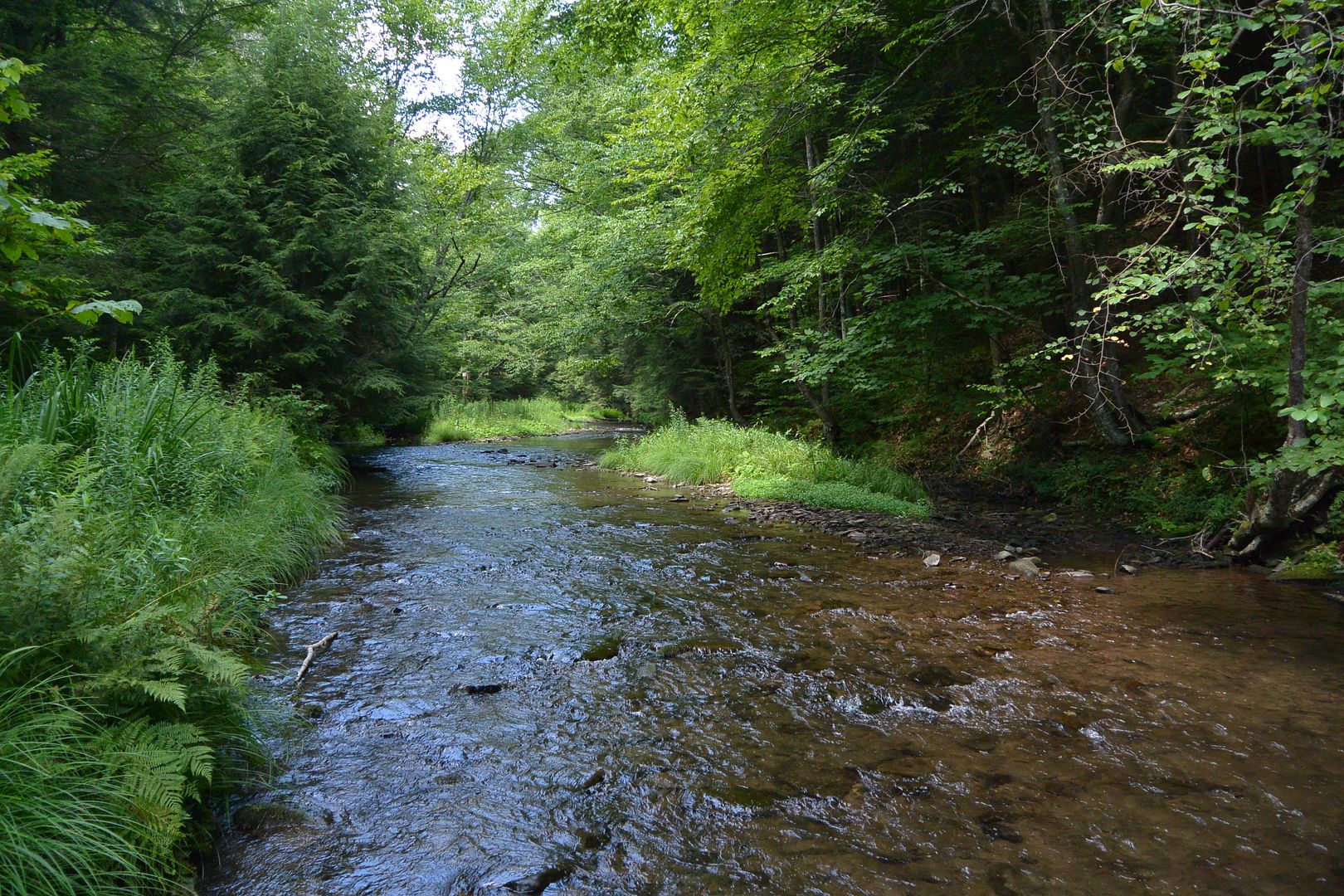 Early on a muscular 10" native brookie couldn't resist my White Bead Gold spinner.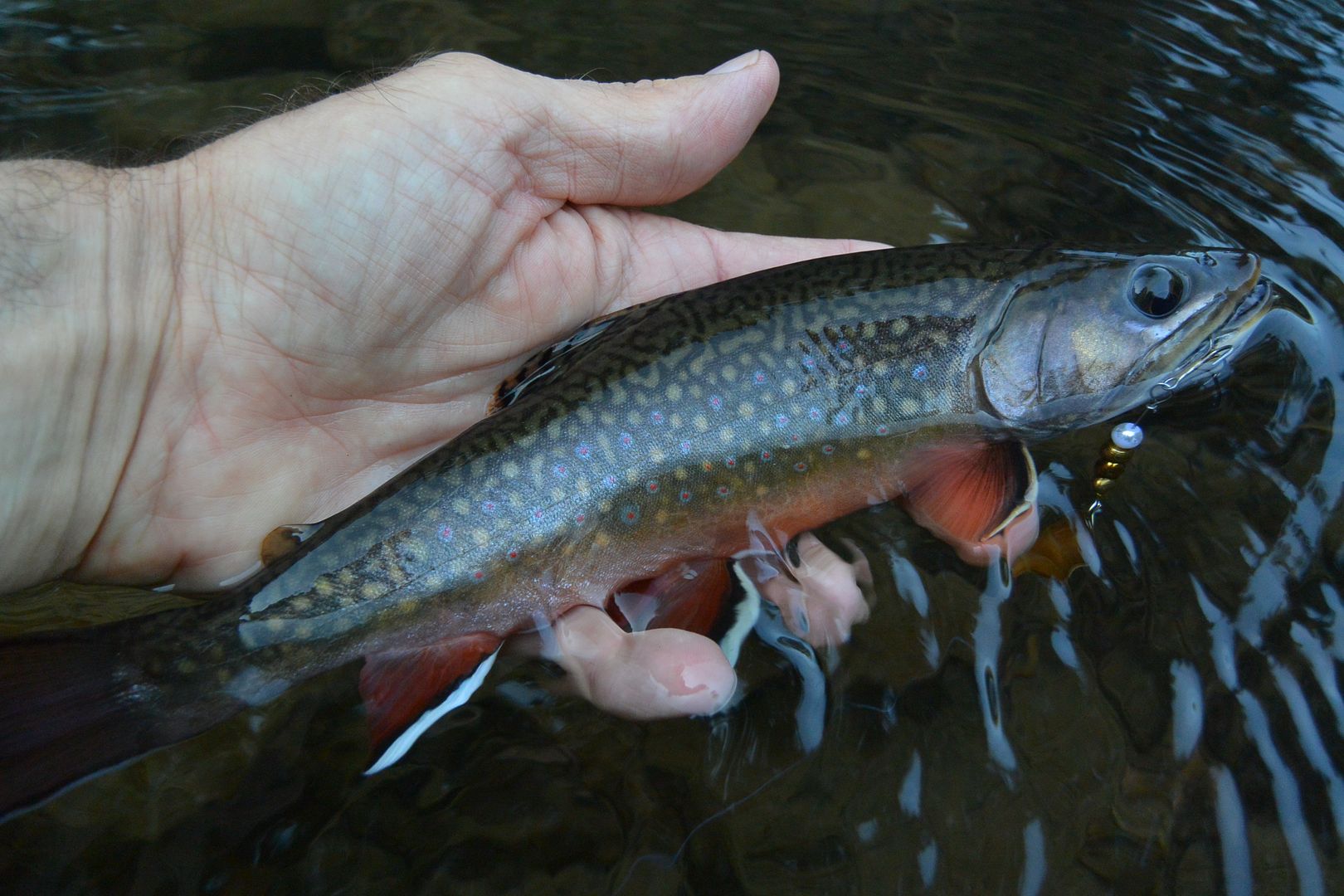 Neither could this plump 14" wild brownie!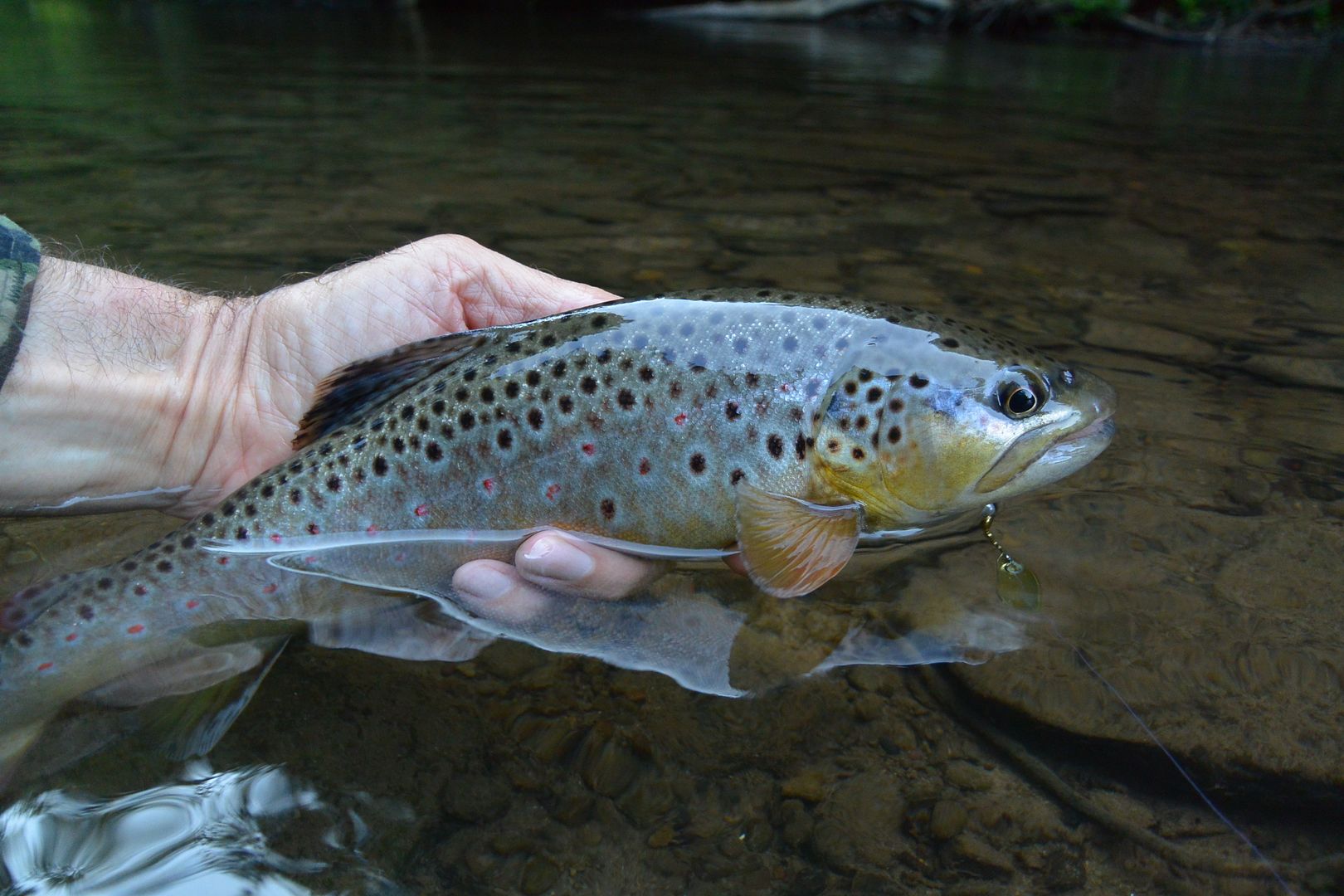 Most of the trout were native brookies, and I was very impressed with their size. After just four hours I was just a few trout short of 100.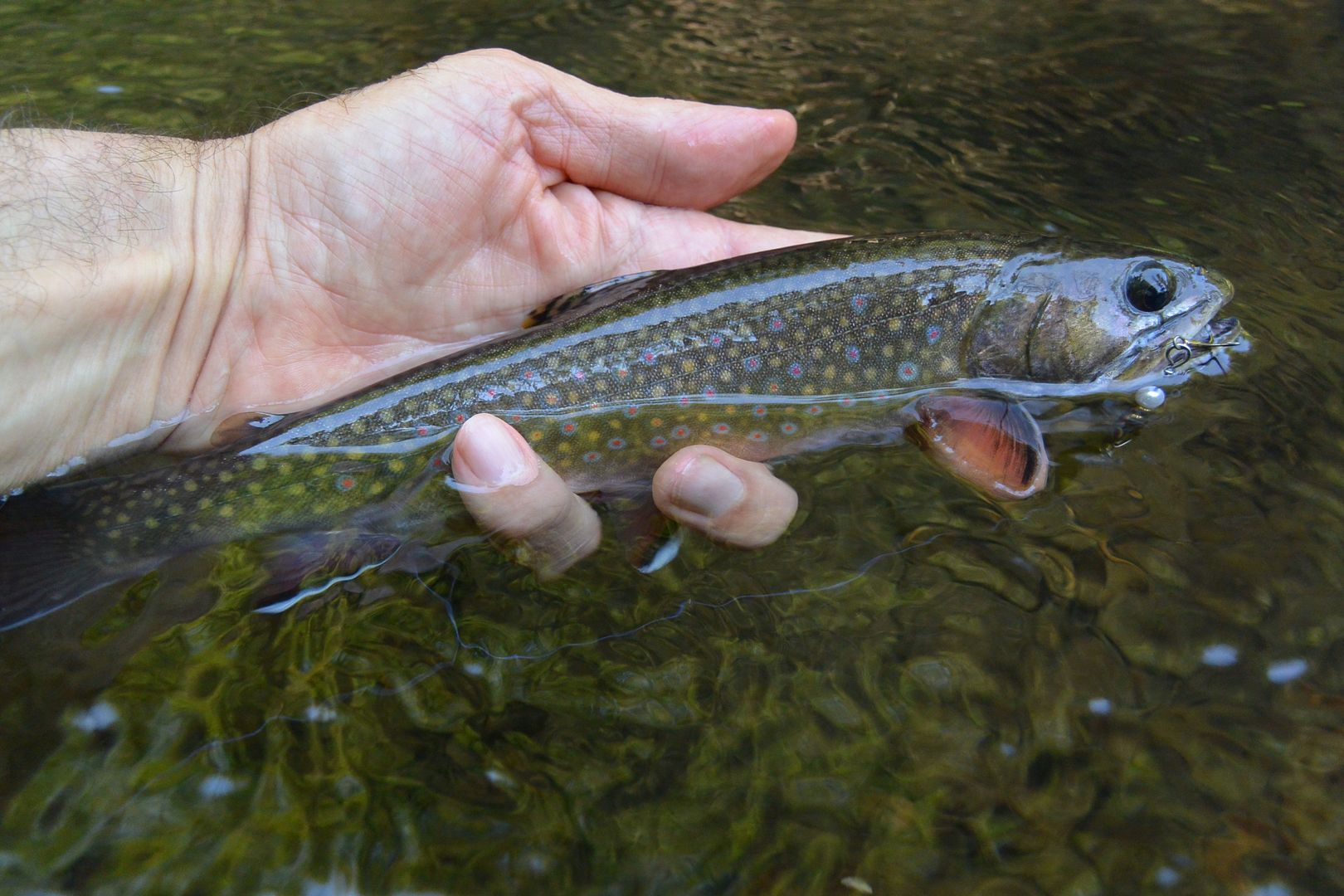 The stream had a decent amount of what I call "kingfisher water". Surprisingly, when a great blue heron wasn't ahead of me shallow places like this actually held some yearling trout.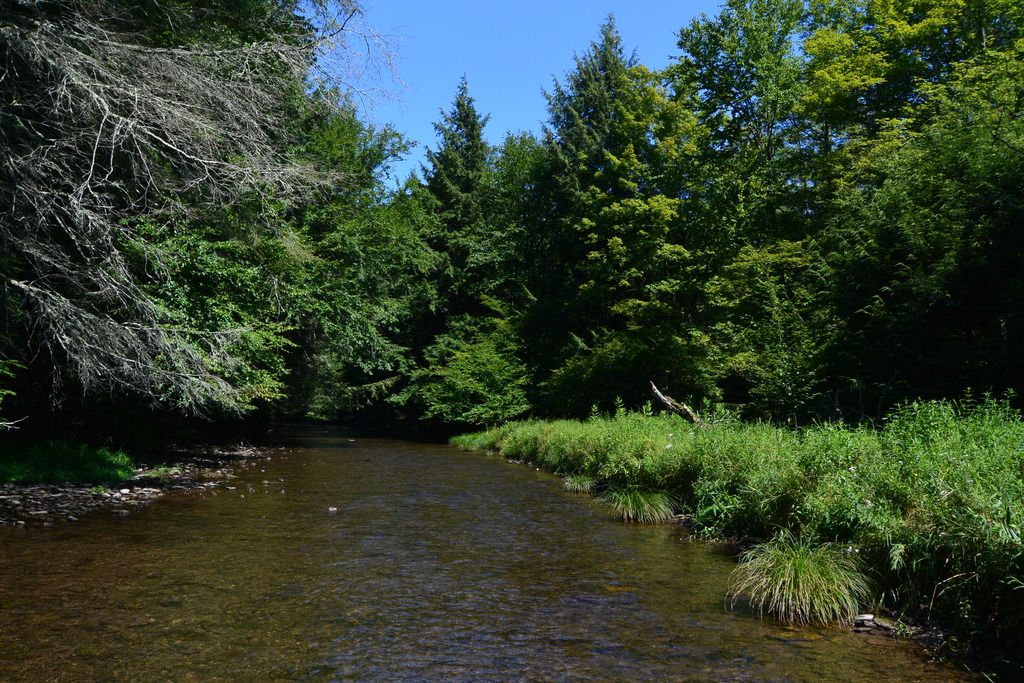 Turtlehead bloomed here and there on the banks.
And in a few of the meadows Virgin's Bower climbed up and draped some of the shrubs.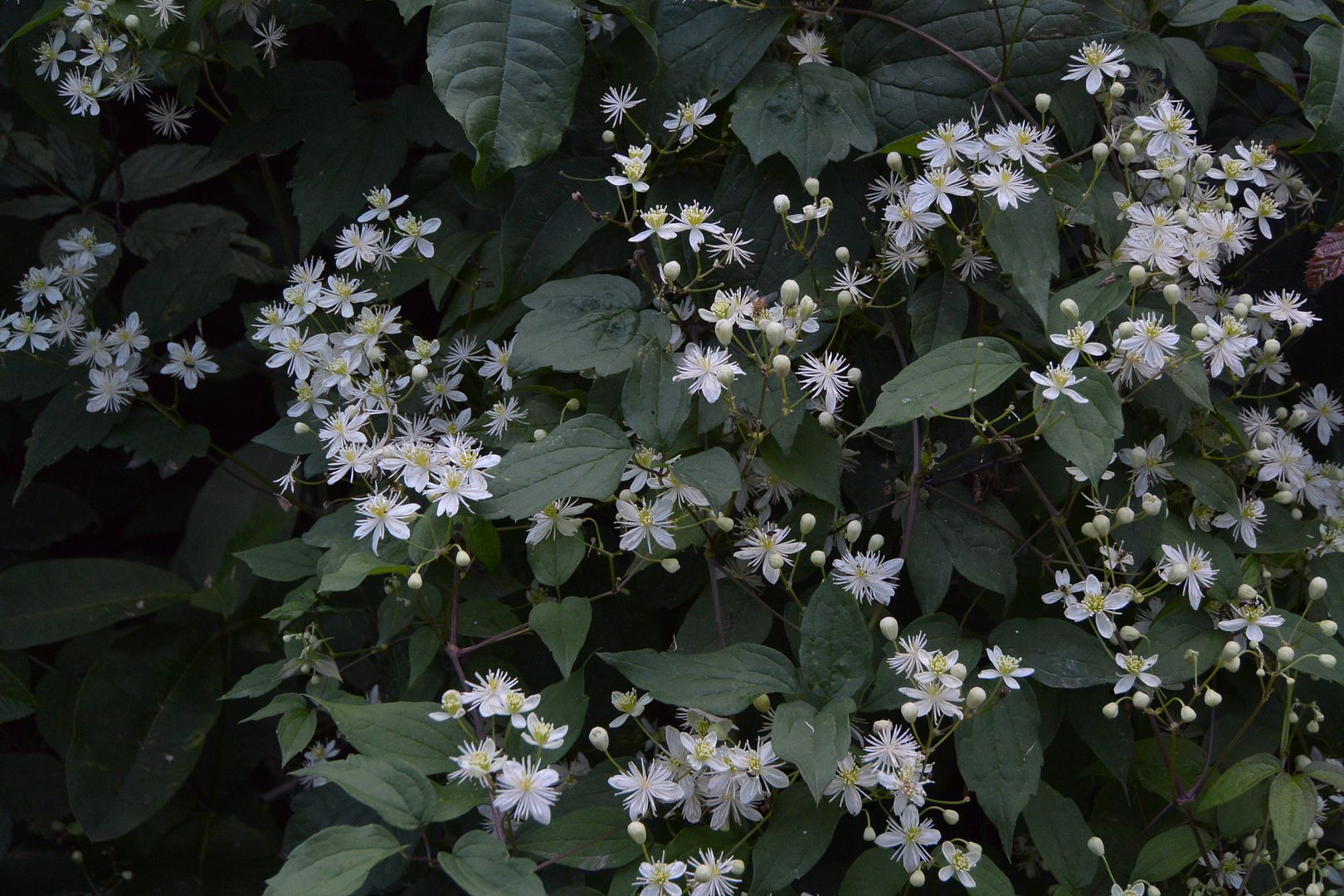 A remnant of a bygone era poked out of the bank.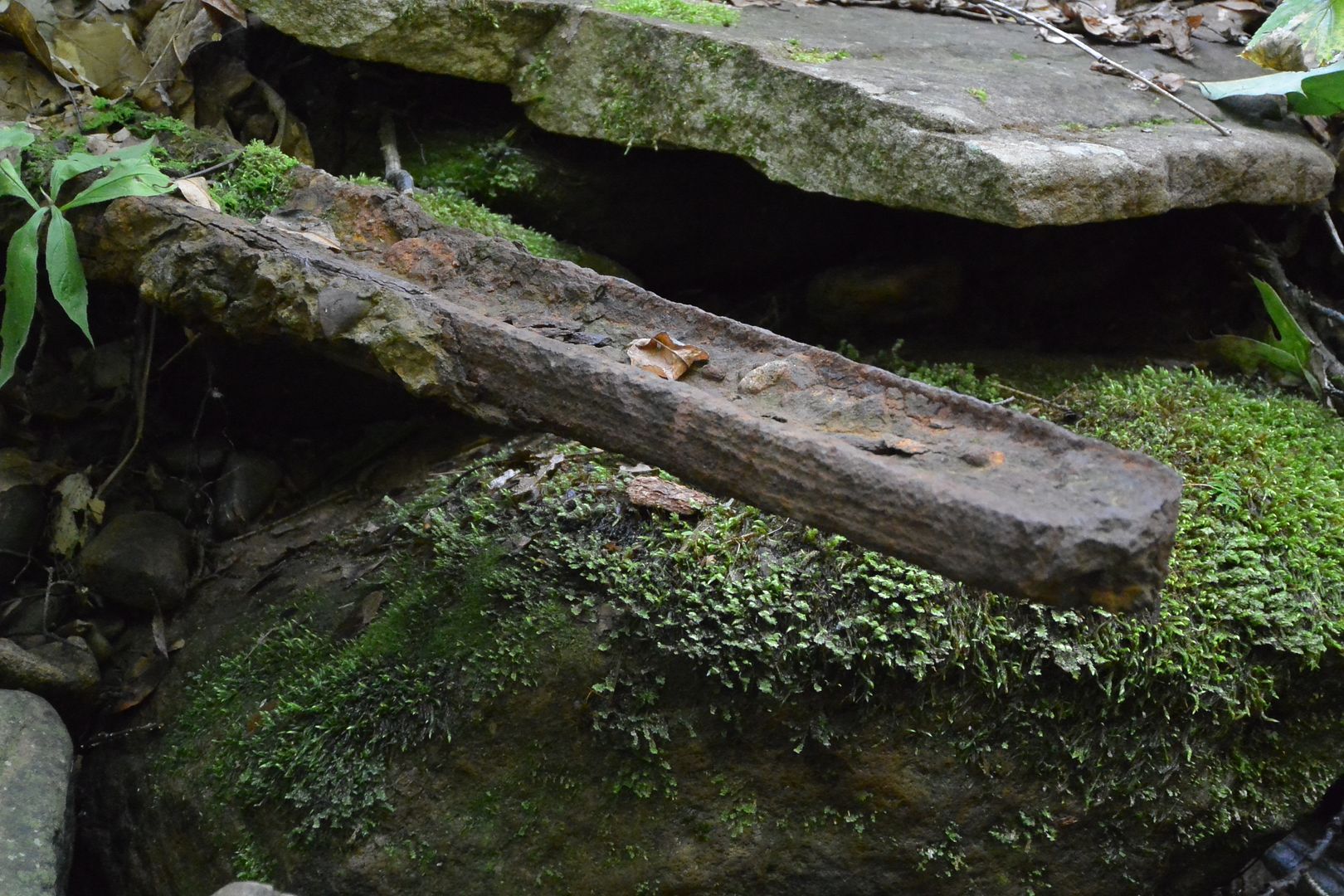 And what I believe is common polypody clung to a boulder hanging over the cool water.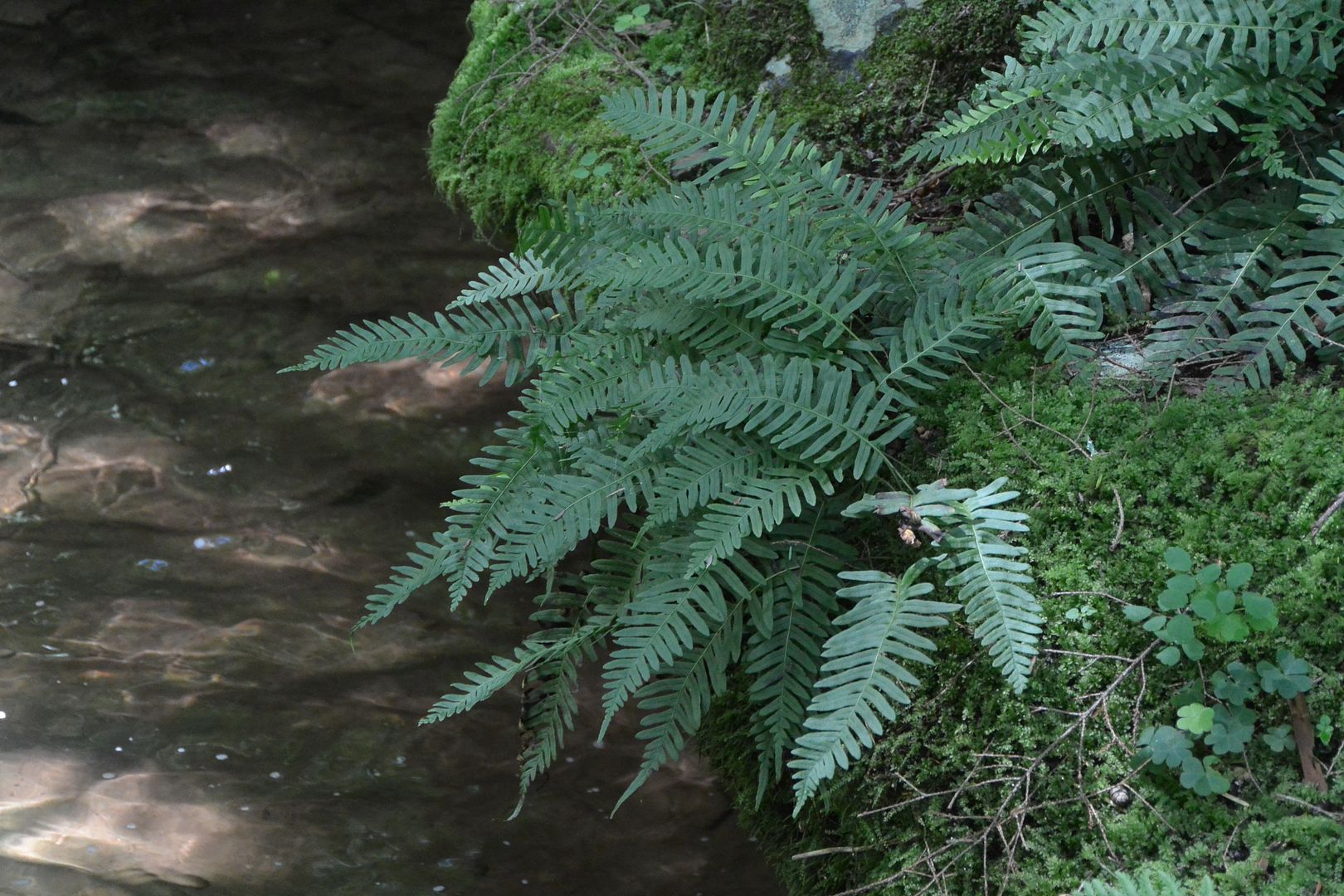 But I came here to catch trout, and I wasn't disappointed.
Even riffles like this sometimes yielded trout.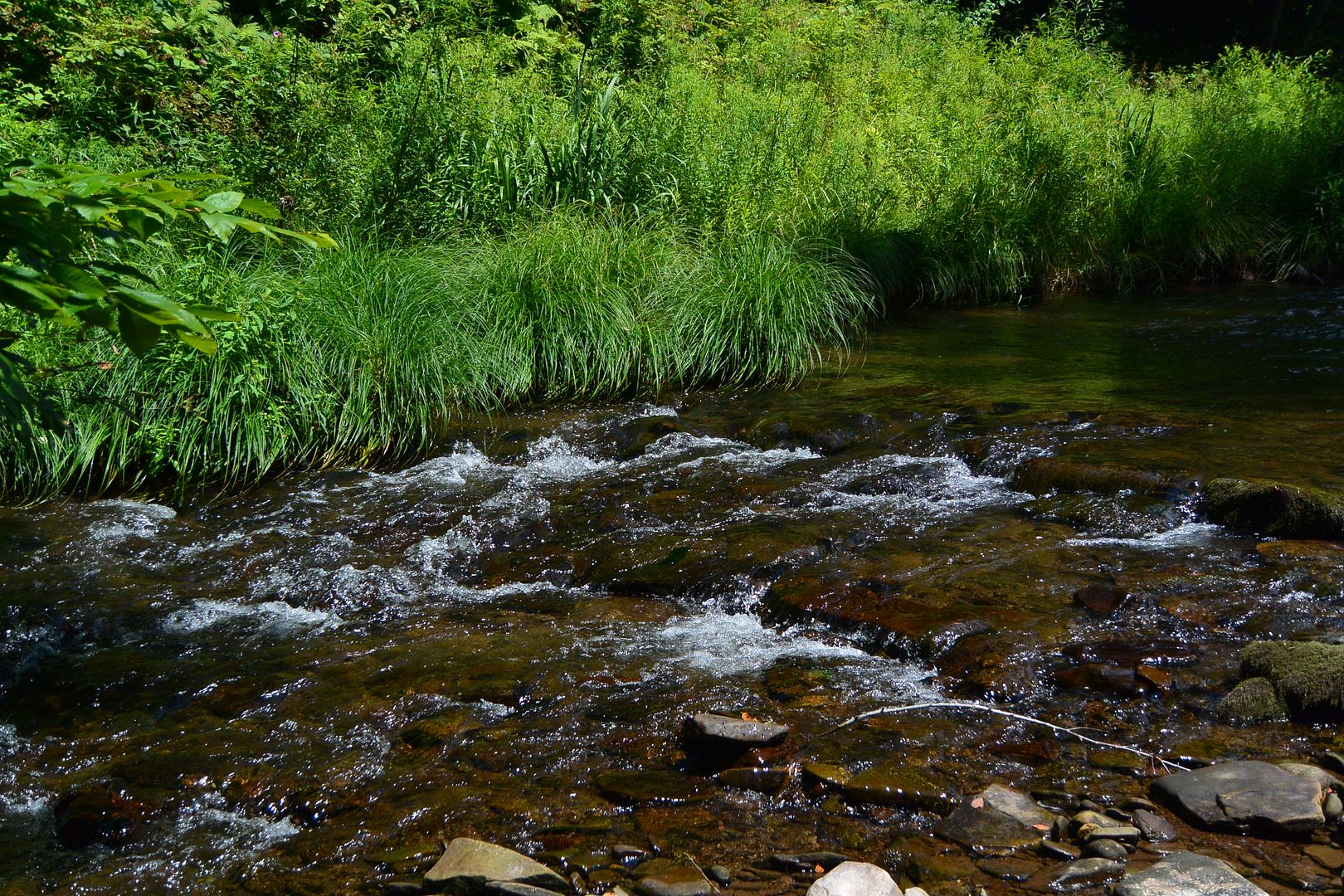 My smallest trout of the outing was this 2.5631058" young-of-the-year native brookie.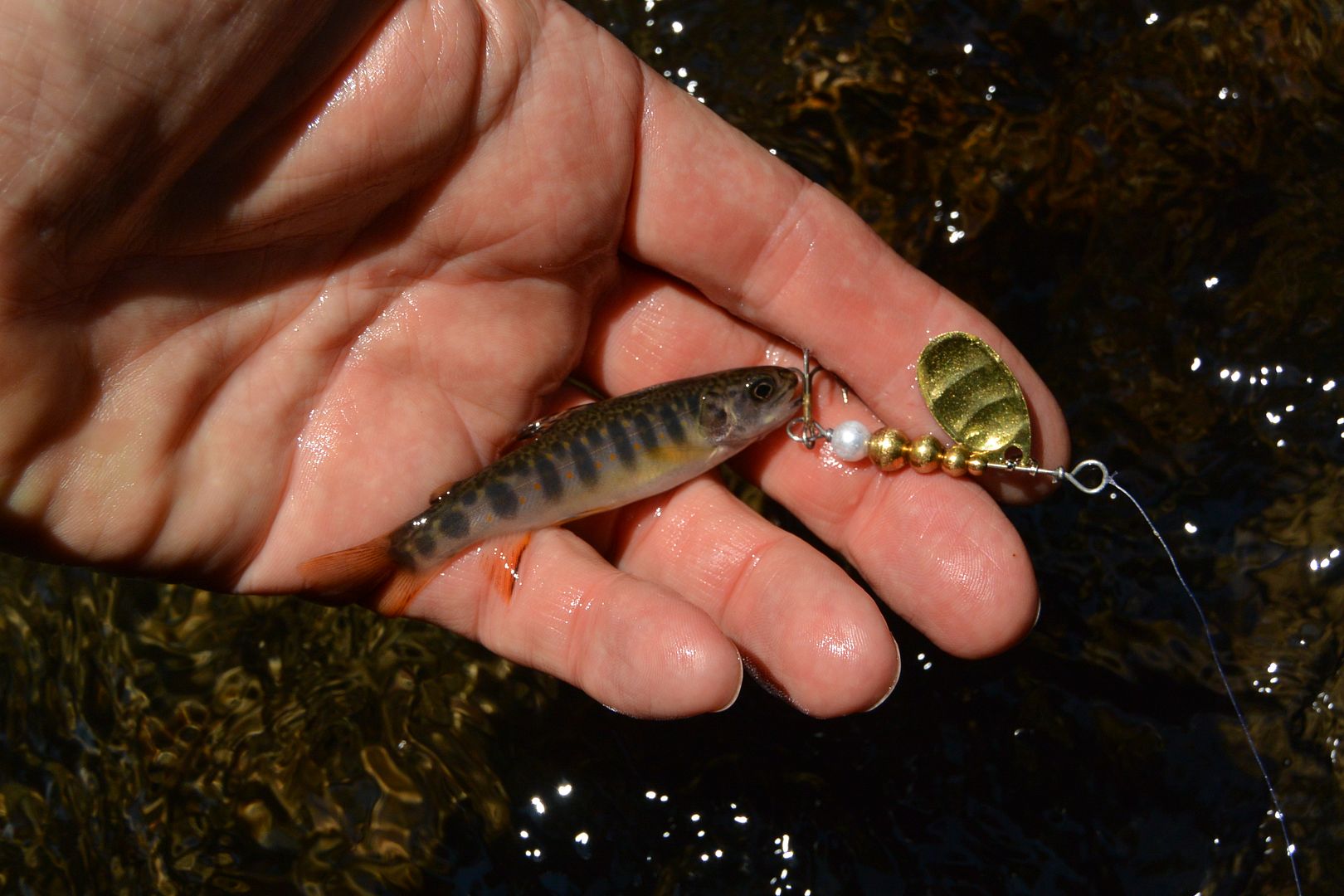 Like my last trip north, large brookies were the story of the day. I landed fifteen 9"ers, seven 9.5"ers, and seven 10"ers.
I fished for 9.25 hours and caught and released 205 trout.
It took me exactly 60 minutes to hike the approximately three miles back to my SUV. While walking I thought about the doe I jumped in head-high weeds along the stream. When she jumped up she just stood there momentarily not more than fifteen feet away looking for the source of the disturbance. Shortly after that a doe and fawn splashed across the stream in front of me.
I have three equally good routes to drive home. This time I chose Route 144, the Elk Scenic Route, from Renovo to Wingate. Though I didn't see any elk, I've heard that there is a herd of 50 to 60 elk in this area to the south of the West Branch of the Susquehanna River. During the drive I saw a small flock of turkeys, including three or four hens and about seven or eight poults. I also saw a bear cross the highway. That morning I had seen a six-point buck cross the pavement in front of me.
Overall it was an eventful day. I got home slightly before 8:00 p.m.
- Frank Nale -